Choosing the right sports lighting company for a new LED installation or retrofit project
If you run a sports facility, you know how important lighting is to the quality of the games and events you host. Good lighting improves the visibility for players and spectators. Still, it can also create a more exciting and dynamic atmosphere that enhances the overall experience.
LED lighting is becoming increasingly popular for sports facilities due to the many benefits over traditional lighting sources. Suppose you are considering upgrading your facility to LED lighting. In that case, it is crucial to choose a reputable and experienced lighting company to ensure a successful installation or retrofit project.
Whether installing lighting for the first time or retrofitting your existing facility with LEDs, asking the right questions will help immensely.
We also recommend to get a cost estimate for your project by using our sports lighting cost calculator before you talk to any potential partners. The cost breakdown will help you ask all the right questions.
Before you can hire a sports lighting company for installation, there are a few things you should do to prepare: 
1 – Obtain the required permits and other paperwork
If you're new to the LED sports lighting world, you may want to consult an outside expert. Partnering with an experienced project manager will give you access to the knowledge and resources necessary to ensure your project goes smoothly.
They'll work with your internal team and stakeholders, local and state governments, and any other involved parties to make sure you have the permits and approvals needed before any work can begin.
2 – Understand the overall costs involved
To begin purchasing and installation, you need to understand the costs associated with the project. This includes the cost of the fixtures and equipment and the cost of labor, permits, inspections, and other incidentals that may be required.
Having a clear budget identified early will help you and your project manager select the most appropriate manufacturer and installation partner possible.
Need help understanding the costs of installing or retrofitting LEDs? We've built an easy-to-use cost calculator. Just input your information, and you'll receive a comprehensive estimate for your project.
3 – Determine if your project is economically feasible
We'll be honest, the price tag for new LEDs can be significant. However, the long-term energy and maintenance savings often make LED projects economically feasible, even for smaller facilities.
To determine if your project is a good investment, you need to calculate the return on investment (ROI). This will help you understand how quickly the project will pay for itself through energy savings.
4 – Secure funding for your project
Before hiring an installation company, you'll need to have the funding for your project secured. This may come from various sources, including private investment, government grants, or utility incentives.
Your project manager can help you identify and apply for any relevant incentive programs that could help offset the cost of your project. In some cases, these programs can cover up to 100% of the costs.
There are plenty of resources available to help schools and communities secure funding for their sports lighting projects. See a full breakdown of your options here, and choose the right combination of the financing for your project.
Once you've checked these four items off your to-do list, it's time to search for the right sports lighting company or contractor. Read on to find out how to find a partner who can deliver your new LED sports lighting system quickly, safely, and within budget!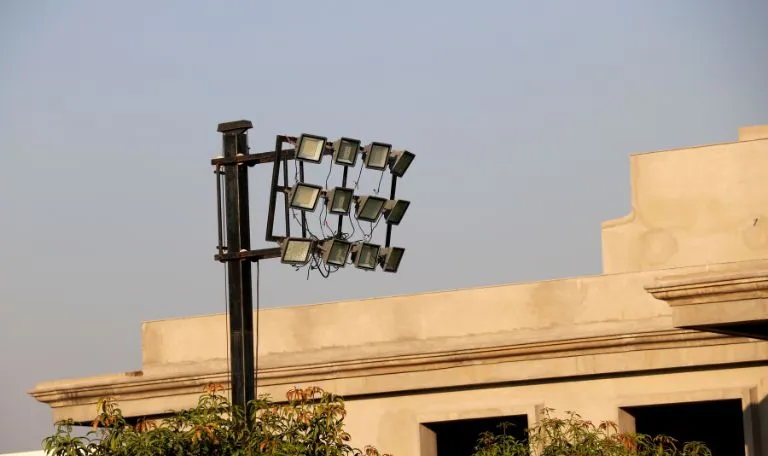 The 3 Types of Sports Lighting Companies
To better choose the right sports lighting company for your project, it's easy to think to break them into three distinctive categories.
1 – Sports lighting manufacturers
Manufacturing companies will handle the production of your lighting fixtures and equipment. They will not, however, be responsible for the installation process.
The company you purchase your fixtures from will have a preferred installation partner in many cases. Working with the recommended contractor may help streamline the process and ensure that your warranty is valid.
However, you're not obligated to use their recommended installer. You can choose any contractor you want, as long as they're qualified to work with your selected fixtures.
2 – Sports lighting Installers
Installation companies will come to your facility and install the lighting system you've purchased from a manufacturer. In some cases, they may be able to help you select the right fixtures for your project.
However, their primary responsibility is the installation process.
If you are on a tight budget, you could potentially purchase your equipment overseas and hire a local company. Foreign-made fixtures are often cheaper than domestic products.
However, it's important to remember that you'll be responsible for the shipping costs and any import tariffs that may apply. Additionally, you may have a more difficult time getting a warranty or customer support for foreign-made products.
3 – Manufacturing and Installation Companies
The last type is a one-stop-shop for both the manufacture and installation of your new LEDs. These companies will often be able to offer a comprehensive solution, including designing and engineering a system specific to your need. They can then manufacture your fixtures and manage the installation from start to finish.
These companies can be found in both the United States and abroad. Often, companies outside the US will use local partners for the installation.
We recommend finding a partner that will handle the entire supply chain of the project. That means a company that both manufactures and installs in-house.
This will save you time and money in the long run, as you won't have to manage multiple contractors. It will also help ensure a seamless installation process and a single point of contact for any issues.
Now that you understand the different types of sports lighting companies, it's time to evaluate your options. Here are the key factors you should consider when making your decision.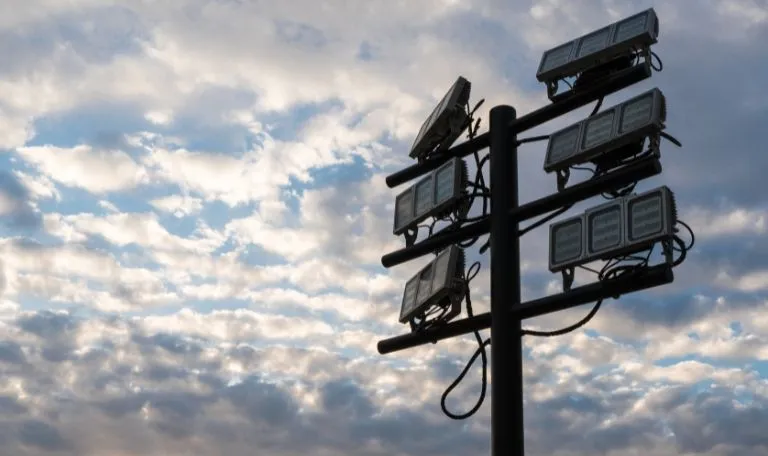 Checklist for Choosing Your Partner
1 – Do they have experience?
You want a company that has previously installed sports lighting. Do they have a portfolio of projects? If so, ask to see it.
2 – How is the quality of their products?
If you're choosing a company that manufactures, ask about the longevity of their fixtures.
3 – What is their warranty?
What is the period you have for fixing mistakes or problems for both product and service?
4 – What is customer service like?
Do they have someone you can talk to during installation if there are issues? How about after installation? Communication is vital throughout the lifespan of a lighting project. Find out who to ask to talk to before starting.
5 – What are the project management capabilities?
Some projects will be more complex than others. If you have a larger, more involved installation, you'll want to ensure the company can handle it.
6 – Run a background check or ask for referrals
You'll be working with this company for months, or even years. You want to make sure they're reputable and have a good track record.
7 – How much will it cost?
This is always a key consideration. Get quotes from multiple companies before making your decision. Before choosing, we usually recommend getting quotes or talking with at least three potential candidates. To get some perspective on the costs, you can use our sports lighting cost calculator to get a customized cost estimate for your project.
8 – How soon can they start?
Be sure to ask about their project timeline and if they can accommodate your schedule.
9 – Do they have any industry certifications or awards?
Look for companies that their peers have recognized. This can be a good indicator of quality.
10 – Do they have insurance?
Make sure the company is insured in case of any accidents during installation. You want to minimize your liability for any potential accidents.
Choosing the right sports lighting company
Deciding on the right partner is a critical decision. Be sure to do your research and ask plenty of questions before making your choice. With the right expert, you can be confident that your new LED installation or retrofit project will be a success. 
To kick things off, try our sports lighting calculator to get a solid understanding of the costs related to installing or retrofitting LED lighting for sports fields and courts.