LED Sports Lighting Companies in the United States - The Top 10 List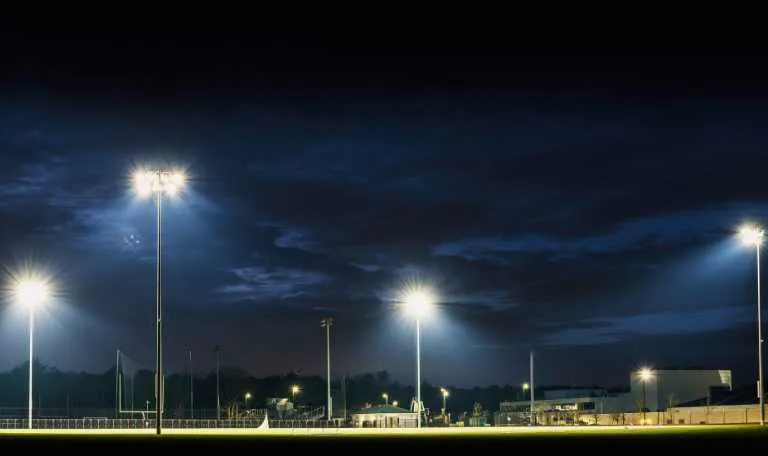 LED lighting is becoming increasingly popular for sports facilities due to the many benefits over traditional lighting sources. Suppose you are considering upgrading your facility to LED lighting. In that case, choosing a reputable and experienced LED sports lighting company is crucial to ensure a successful installation or retrofit project.

If you run a sports facility, you know how important lighting is to the quality of the games and events you host. Good lighting improves the visibility of players and spectators. Still, it can also create a more exciting and dynamic atmosphere that enhances the overall experience.
Whether installing lighting for the first time or retrofitting your existing facility with LEDs, asking the right questions will help immensely.
In this article, we have listed the top 10 LED sports lighting companies operating in the United States.
We recommend getting a cost estimate for your project by using our sports lighting cost calculator before you talk to any potential partners. The cost breakdown will help you ask all the right questions.
TOP 10 LED Sports Lighting Companies in the US
1 - Ephesus Sports Lighting
Ephesus Sports Lighting is one of the leading LED sports lighting companies in the US. The company was founded in 2010 and has its headquarters in Syracuse, New York. The brand is owned by Cooper Lighting company, which in turn is owned by Signify. As the name suggests, Ephesus operates as the Sports Lighting division of Cooper Lighting.
Area of expertise
Sports lighting manufacturing company
Outdoor & indoor stadiums, sports fields, indoor arenas, and sports courts

Ephesus Sports Lighting company designs and delivers LED lighting systems for various different outdoor and indoor sports venues from big stadiums and arenas to recreational facilities, gymnasiums, and sports courts.
Products
The Lumavision and Lumasport luminaires are high-performance sports lighters that can be used for both outdoor and indoor sports facilities thanks to the six flexible mounting options available. These lighting fixtures are designed for long life and zero maintenance. The lighting solution always includes the Airmesh Hub which is the system that allows you to wirelessly control the lights from a mobile phone or a laptop.
Warranty
Ephesus sports lighting fixtures have a standard warranty period of 5 or 10 years depending on the product.
Certificates and awards
As a partner of the ENERGY STAR program, the company is committed to taking action on behalf of its customers to save energy, money and to help protect the environment.

Winner of the Sports Business Awards "Best in sports technology award" in 2016

Winner of the 2017 SportTechie Award for Outstanding Sports Technology
Featured LED sports lighting projects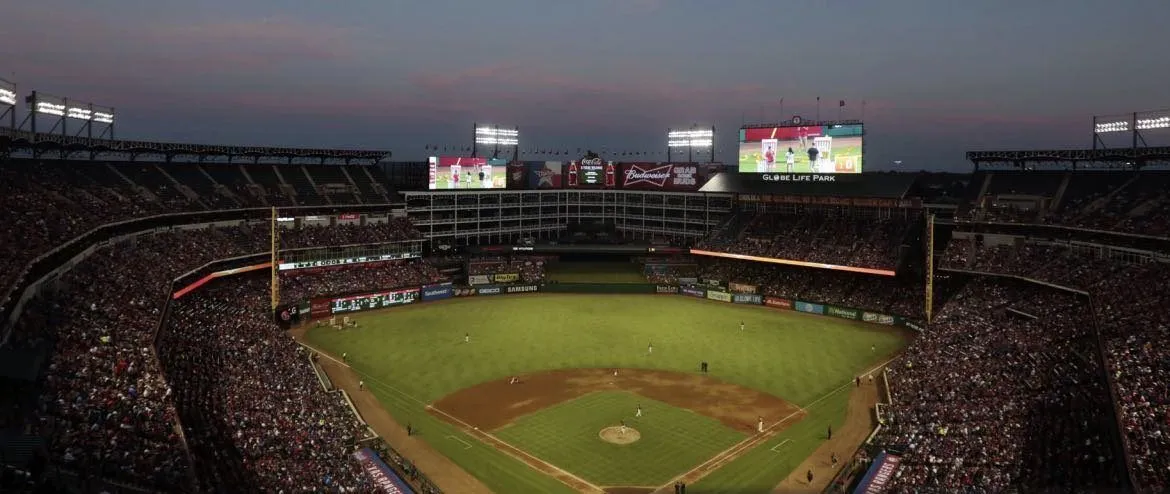 Globe Life Park, MLB, Arlington, TX
"While reducing the fixture count and being more energy efficient represent significant advantages, we're especially impressed with the improved field lighting for our players, fans and broadcast partners. The Rangers are thrilled to be among the early adopters of this new technology." 
– Rob Matwick, Executive Vice President, Business Operations, Texas Rangers
Virginia Tech Thompson Field
"In our first fall season with the lights, they have been beyond fantastic. Besides the obvious, which is the district will save money using the energy-efficient lights, it's great to hear from spectators, coaches and students how amazing the lights look. The clarity of the game is at a professional level and there are no dead spots – the entire field is evenly lit. Another great feature of the lights is being able to control them from your phone. People are blown away when they see that with just a simple click of a button, the lights can turn on and off." 
– Chris Campolieta, Director of Athletics, Baldwinsville Central School District
2 - GeoSport Lighting Systems
GeoSport Lighting is an important player in the LED sports lighting market in the US. The sports lighting company was founded in 2015 in Louisiana and joined the TenCate Grass family in 2021. Since then the sports lighting company has been committed to designing and installing tailor-made LED lighting solutions for all kinds of sports facilities. They offer an end-to-end solution that is produced fully in-house.
Area of expertise
Sports lighting manufacturing and installation company
Outdoor sports lighting: stadiums, sports fields, sports courts

GeoSport Lighting designs and delivers LED sports lighting systems for outdoor stadiums, sports courts, and sports fields. The company operates all across the country and has clients from nearly every state covering all competition levels from professional and collegiate levels to high school, municipal and recreational levels. 
Products
The CLIR series LED is a high-performance sports lighting system (630 or 1260 watts) designed for outdoor recreational facilities or high school sports fields for example.

If you are installing LED lighting for a professional stadium or a high-end college stadium, you should go for the Stadium Series LED option. This lighting system delivers the lighting quality required for HD TV broadcasting and stadiums with tens of thousands of spectators. 
Warranty
Certificates and awards
ASBA Project of the Year Award 2021
Featured LED sports lighting projects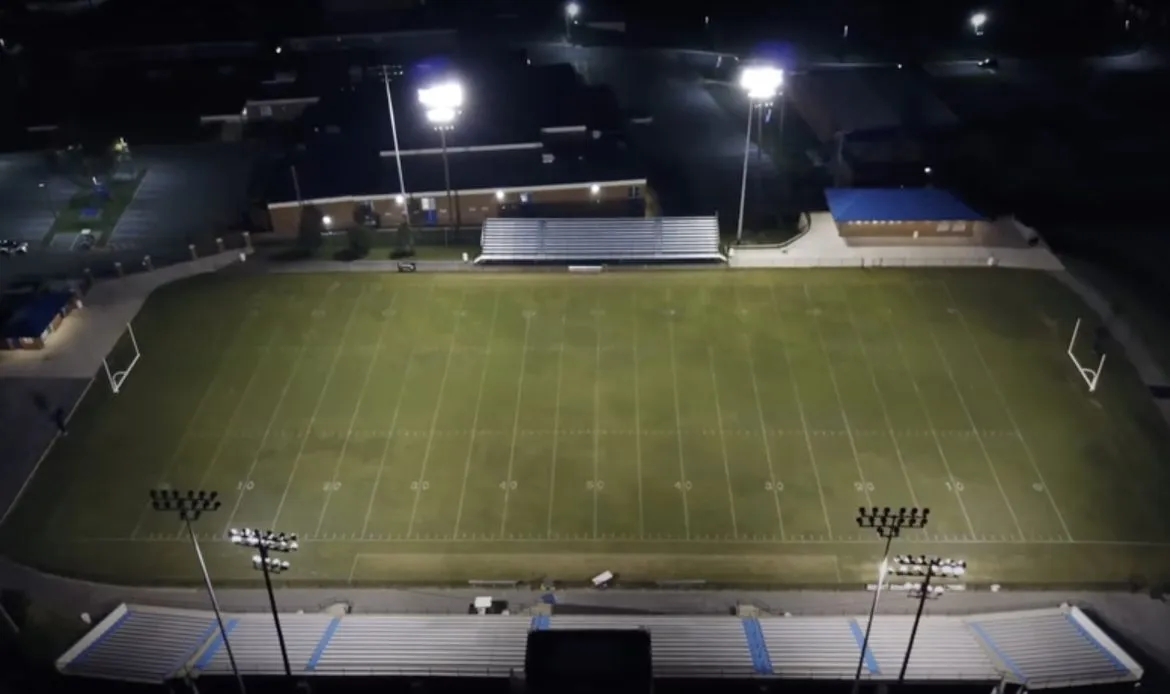 Goodpasture Christian School, Madison, TN
GeoSport Lighting retrofitted this football field in Madison, TN with brand-new LED sports lighting fixtures. Click on the image above to see the video and compare the difference in brightness and lighting uniformity between the old metal halide system and the new GeoSport LED lighting system.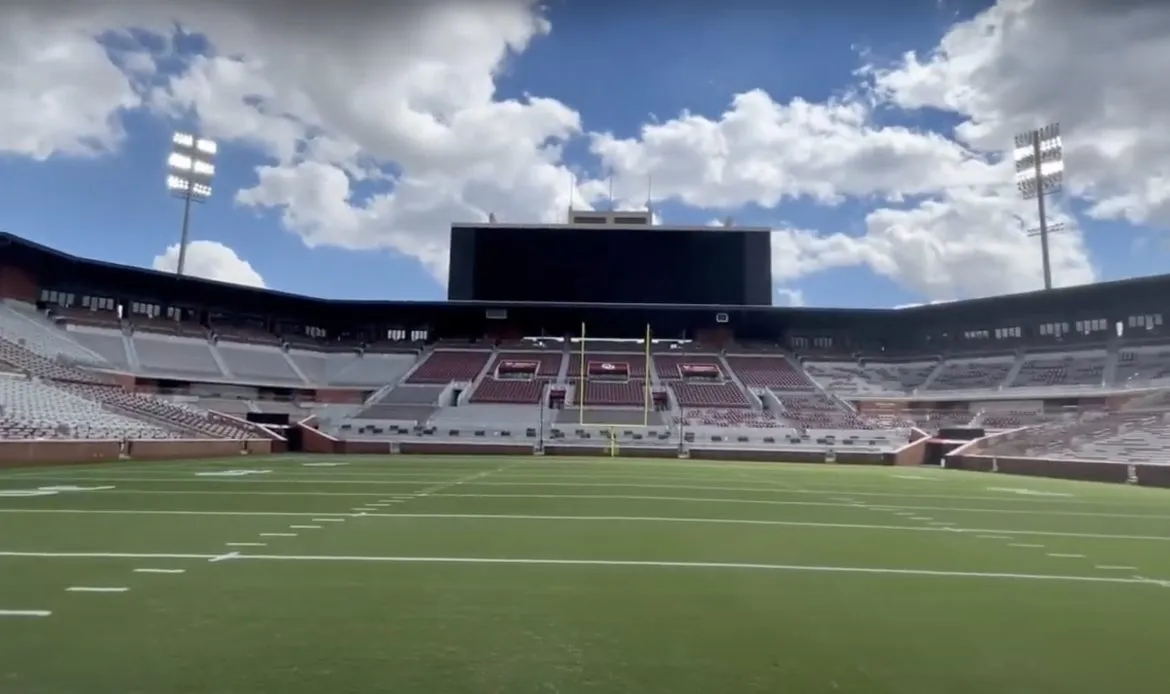 OU's Gaylord Family Memorial Stadium
GeoSport LED sports lighting systems are light show ready. Make your sports lights flash, dance, celebrate, and lift the atmosphere in the stadium with a flick of a button. Check out this example video of a lighting installation at OU's Gaylord Family Memorial Stadium. 
Sportsbeams Lighting is an LED lighting technology company based in Texas. The sports lighting company designs and manufactures some of the most high-performance LED sports lighters in the industry using its own patented single-glass optic technology. 
Area of expertise
Sports lighting manufacturing company
Outdoor & indoor sports lighting: stadiums, sports fields, indoor arenas, sports courts
Sportsbeams lighting fixtures can be found across the country at sports facilities on different levels from professional stadiums to indoor arenas and high school sports fields. 
Products
The Court LED 350W is designed for outdoor and indoor sports courts (for ex. tennis, pickleball, multi-sport courts, and basketball)
If you are installing sports lighters at a high school or college sports field, you might go for the Field LED 600W or 900W luminaires.
For the large professional stadiums with the highest lighting requirements, your best choice might be the Chromabeams 900W or 1500W which ensures great performance and viewing experience for the spectators at the stadium and in front of the TV.
Warranty
Sportsbeams Lighting offers a 70,000-hour warranty for its lighting fixtures.
Certificates and awards
The Sportsbeams engineering team has won an Emmy award for innovation in LED lighting technology for TV broadcasting. 
Featured LED sports lighting projects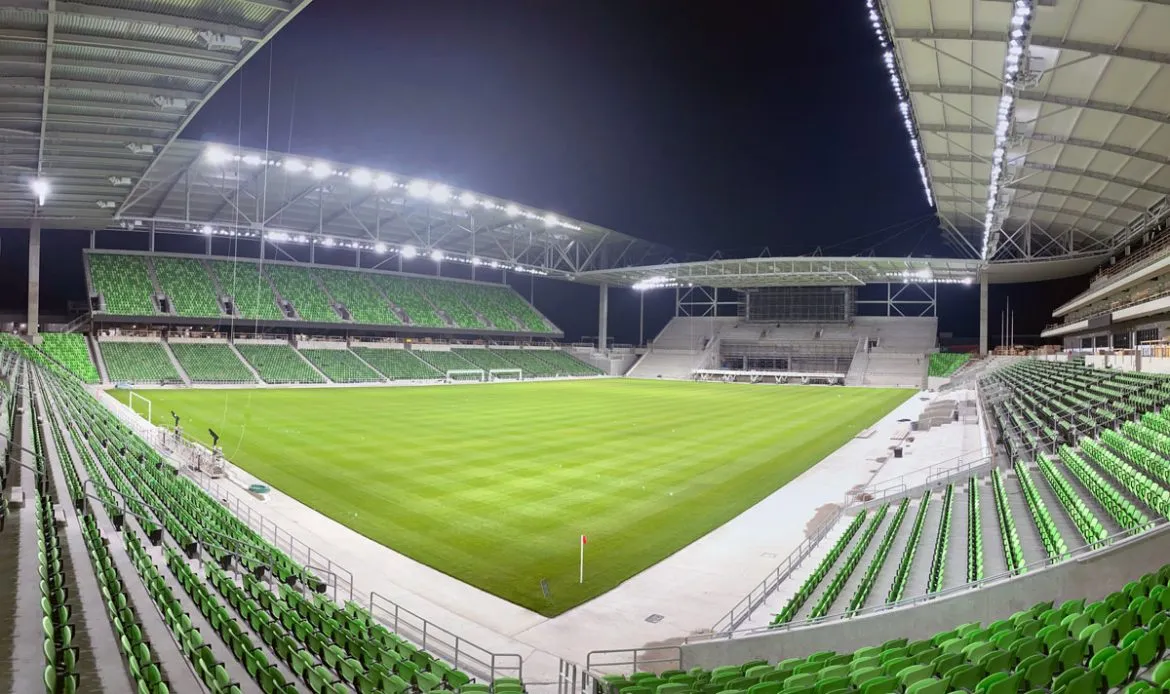 Austin FC Stadium, Austin TX
"The illumination within Austin FC's venue will represent the most advanced stadium lighting system available in the world, and it is very fitting that our tech-forward lighting package is supplied by an Austin-based specialist in sports lighting,"
– Andy Loughnane, Austin FC President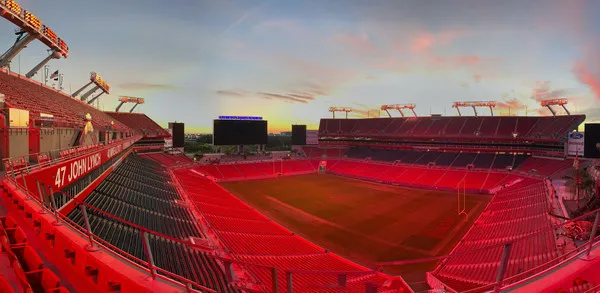 Raymond James Stadium, Tampa, FL
"We are very proud to be the first stadium in the world to utilize this advanced Chromabeams technology. This stadium improvement, combined with the many premium upgrades over the last few years to Raymond James Stadium, provide fans an enhanced event experience,"
– Eric Hart, Tampa Sports Authority CEO 
AEON LED Lighting designs and delivers high-quality, proprietary, and patented LED sports lighting luminaires that save money and are energy-efficient. AEON is a division of HyLite LED Lighting company, which is based in Charlotte, North Carolina. AEON not only provides top-of-the-line LED lighting solutions but is also committed to leaving behind a better environment for our children and future generations to come.
Area of expertise
Sports lighting manufacturing company
Outdoor & indoor sports lighting: stadiums, sports fields, sports courts
AEON LED lighting offers lighting solutions specifically designed for sports lighting. The sports lighting company designs lighting systems for outdoor and indoor use from large baseball and football stadiums to indoor arenas, basketball courts, and natatoriums.
Products
AEON's LED sports lighting fixtures come in five different categories in terms of potency. The smallest, 230W, lighters are perfect for pickleball and tennis courts. The 310W and 440W models are a good fit for a little bit bigger courts like basketball courts for example. The high-potency 520W and 750W luminaires are designed for large sports fields and stadiums.
The LED lighting system comes with a wireless control system – HYLINK – which can be used for indoor and outdoor lighting systems. 
Warranty
All AEON Luminaires carry a standard 10-Year Warranty.
Certificates and awards
Featured LED sports lighting projects
5 - Techline Sports Lighting
Techline Sports Lighting is headquartered in Austin, TX, and for the past two decades, they have been one of the leading sports lighting companies nationwide. From professional and college stadiums to high school fields and municipal sports complexes, Techline Sports Lighting has the right solution for your sports facility.
Area of expertise
Sports lighting manufacturing and installation company
Outdoor sports lighting: stadiums, sports fields, sports courts
Products
Techline Sports Lighting's LED retrofit solutions will have a major impact on your utility bills and improve the lighting quality while drastically reducing your impact on the environment.
If you are installing a lighting system from scratch, Techline has the experience and deep knowledge in designing and installing LED lighting systems regardless of the competition level or the size of your sports venue.
Warranty
Techline Sports Lighting offers comprehensive warranties with options of up to 25 years.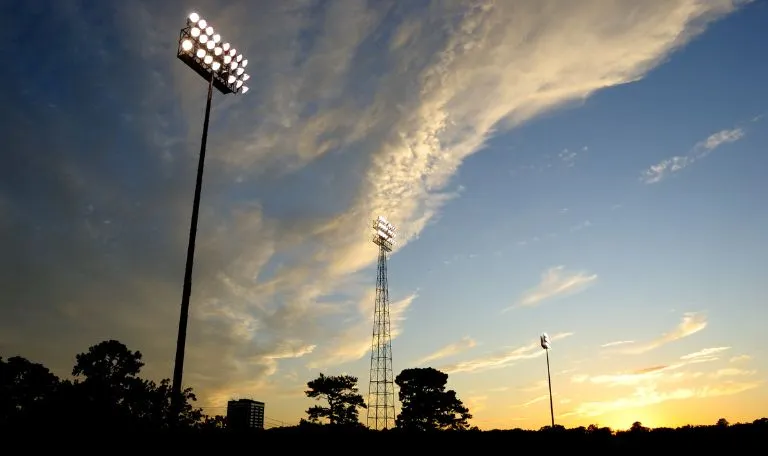 NGU Sports Lighting, a solid-state technology expert, designs LED lighting solutions to match the high expectations of their customers on different levels of competition from the pros to high schools and recreational facilities. NGU was founded in 2012 and they operate out of their HQ in Palm Beach Gardens, FL.
Area of expertise
Sports lighting installation company
Outdoor & indoor sports lighting: stadiums, sports fields, sports courts
Products
NGU Sports Lighting has a strategic partnership with Ephesus Sports Lighting and leverages its high-quality LED sports lighting products in its own lighting installation projects all across the US. NGU designs and installs high-quality and energy-efficient LED sports lighting systems for outdoor stadiums, indoor arenas, and sports courts.
Warranty
NGU offers a 5 to 10-year warranty for their LED sports lighting luminaires depending on the product.
Midstream Lighting is a leading LED sports lighting company that has its headquarters in London, UK. As an international company, they also operate in the US. They pride themselves on innovative design and a wealth of experience in delivering sports lighting systems around the world.
As a world leader in modern LED lighting, Midstream combines innovative design with an extensive track record of sport-specific installations around the world – giving you everything you need to save money and minimize the environmental impact of your lighting, without compromising on performance.
Area of expertise
Sports lighting manufacturing company
Outdoor sports lighting: stadiums, sports fields, sports courts
Their award-winning, proprietary, LED luminaires offer unbeatable performance while saving you money and minimizing the impact on the environment. Midstream has completed thousands of lighting projects globally which gives them a unique perspective on delivering sports lighting systems regardless of the project type (new installation or LED retrofit), geographic location, venue type, or competition level.
Products
The Modus S Series is designed for small and medium-sized sports areas: This product is ideal for sports facilities located in and around residential areas thanks to its excellent light-spill control that keeps the neighbors happy.
The Modus R Series: Designed specifically for larger venues such as stadiums: These LED sports lighters are high-powered, low glare, and flicker-free which makes them perfect for sports venues that need to be ready for HD TV broadcasting.
Warranty
Midstream Lighting offers a warranty period of 60 months or 5 years for its LED sports lighting fixtures and infrastructure.
Certificates and awards
Midstream Lighting is a Certified Lighting Provider to field hockey clubs and venues under the FIH Quality Programme.
Financial Times 1000 Fastest Growing Companies in Europe, 2020
8 - Musco Sports Lighting
Musco sports lighting company is one of the pioneers of sports lighting design and installation in the world. The company began its story already back in 1976 and has since been driving innovation in the sports lighting industry, first with Metal Halide technology and more recently with the revolutionary LED lighting technology. Musco has completed thousands of new lighting system installations and LED sports lighting retrofit projects around the globe. Their lighting solutions can be found on all competition levels from recreational facilities to high school sports fields and the professional leagues.
Area of expertise
Sports lighting manufacturing and installation company
Outdoor & indoor sports lighting: stadiums, sports fields, arenas, sports courts
Products
The Light-Structure System is a complete solution for outdoor sports lighting installations. This system is easy to install, is energy efficient, and delivers excellent light control.
The SportsCluster System is your choice if you want to retrofit LED sports lighters to your existing lighting system. The system is also an excellent solution for indoor sports arenas as it can be mounted in the ceiling and delivers awesome light shows that will lift your game day atmosphere and boost the spectator experience inside your arena.
The Mini-Pitch System is specifically designed for quickly and easily turning abandoned spaces into small soccer synthetic turf pitches that feature high-performance Musco LED sports lighting and amenities such as fencing and goals.
Musco sports lighting systems come with the Control-Link control system that allows you to schedule and control your lights from a mobile phone or a laptop.
Warranty
Musco Sports Lighting offers a 10-year warranty period for parts and labor.
Certificates and awards
Winner of the 1993 Paul Waterbury Award of Excellence for Outdoor Lighting at the Charlotte Motor Speedway.
Operating out of Racine, WI, Cree Lighting is a LED lighting pioneer with a long history of LED sports lighting installation projects in the US and internationally. CREE lighting systems have proven their performance, light quality, and control time and again on different competition levels.
Area of expertise
Sports lighting manufacturing company
Outdoor & indoor sports lighting: stadiums, sports fields, arenas, sports courts
Products
Cree Lighting's LED area floodlighting can be found at many sports fields of academic campuses and outdoor venues of different sizes around the world.
Cree Lighting high-bay and low-bay solutions with TrueWhite Technology save up to 70% on energy and are a perfect fit for indoor sports facilities regardless of the competition level.
Warranty
Cree Sports Lighting offers a warranty period of up to 10 years depending on the lighting product.
Certificates and awards
Winner of the 2022 LEDs Magazine Brightstar Award
10 - Qualite Sports Lighting
Operating out of Hillsdale, Michigan, Qualite Sports Lighting company has provided sports facilities at high schools, colleges, municipalities and minor league clubs with cutting edge LED sports lighting solutions since 2009.
Area of expertise
Sports lighting manufacturing and installation company
Outdoor & indoor sports lighting: stadiums, sports fields, arenas, sports courts
Products
Qualite's Q-LED sports lighters are a true all-rounder that are built for all kinds of sports facilities. You can find them on all competition levels from youth leagues to the pros all over the country. Q-LED combines awesome connectivity and functionality with seriously affordable pricing.
Warranty
Q-LED GameChanger comes with a 25-YEAR or 10,000-HOUR warranty.
Certificates and awards
The Edison Awards gold winner for innovation in the outdoor adventure category in 2017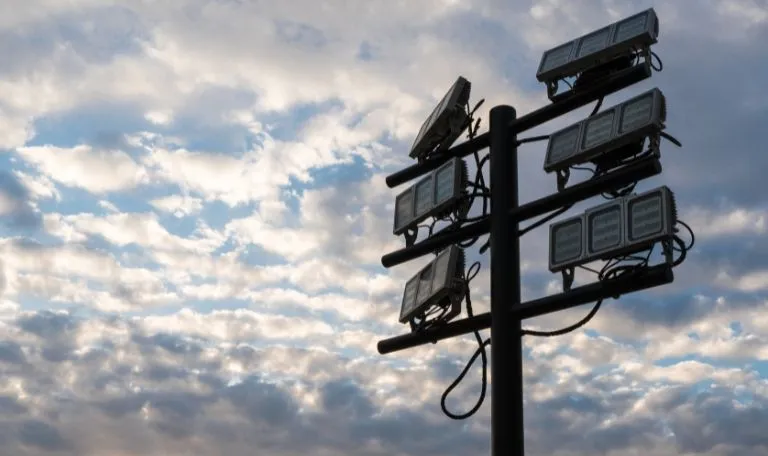 LED Sports lighting companies explained
To better choose between sports lighting companies for your project, it's easy to think to break them into four distinctive categories.
1 – Sports lighting manufacturing and design companies
Manufacturing companies will handle the design, engineering, and production of your lighting fixtures and equipment. They will not, however, be responsible for the installation process.
The company you purchase your fixtures from will have a preferred installation partner in many cases. Working with the recommended contractor may help streamline the process and ensure that your warranty is valid.
However, you're not obligated to use their recommended installer. You can choose any contractor you want, as long as they're qualified to work with your selected fixtures.
2 – Sports lighting distribution and contractor companies
Distributors and contractors represent one or several sports lighting brands in a specific geographical area. They consult customers, design the lighting solution to meet customers' needs, install the new lighting system and take care of support and maintenance also. Sometimes, contractors may use outside installation companies to handle the actual installation of the lighting system.
3 – Sports lighting installation companies
Installation companies will come to your facility and install the lighting system you've purchased from a manufacturer. In some cases, they may be able to help you select the right fixtures for your project.
However, their primary responsibility is the installation process.
If you are on a tight budget, you could potentially purchase your equipment overseas and hire a local company. Foreign-made fixtures are often cheaper than domestic products.
However, it's important to remember that you'll be responsible for the shipping costs and any import tariffs that may apply. Additionally, you may have a more difficult time getting a warranty or customer support for foreign-made products.
4 – Full in-house sports lighting companies
The last type is a one-stop shop for the design, manufacture, installation, and maintenance of your new LEDs. These sports lighting companies will often be able to offer a comprehensive solution, including designing and engineering a system specific to your need. They can then manufacture your fixtures and manage the installation from start to finish.
These companies can be found in both the United States and abroad. Often, companies outside the US will use local partners for the installation.
We recommend finding a partner that will handle the entire supply chain of the project. That means a company that both manufactures and installs in-house.
This will save you time and money in the long run, as you won't have to manage multiple contractors. It will also help ensure a seamless installation process and a single point of contact for any issues.
Now that you understand the different types of sports lighting companies, it's time to evaluate your options. Here are the key factors you should consider when making your decision.
Different companies for different use cases
There are several types of companies that fall under the umbrella term of sports lighting companies. It's important to keep in mind the area of expertise of the companies you talk with to be able to make the most educated decision on the sports lighting partner for your project. Some companies specialize and focus on a different application of sports lighting than others.
Here's a brief overview:
Stadium Lighting Companies – These companies focus on designing and installing sports lighting systems at large stadiums, (professional leagues and colleges/universities). They use very high-powered, top-of-the-line LED lighting fixtures to ensure they meet the high lighting requirements of these sports facilities.
Sports Field Lighting Companies – These companies specialize in providing lighting systems to large outdoor sports and athletic fields (college / high school fields and recreational ballparks). They use high-powered LED lighting equipment that can distribute light uniformly across the whole field of play.
Arena Lighting Companies – These companies work across all levels of competition providing top-quality indoor sports lighting solutions (indoor basketball/hockey arenas, gymnasiums, etc.) They understand the ins and outs of indoor sports lighting design and know how to illuminate indoor sports venues the right way while also boosting the fan experience in the stands.
Sports Court Lighting Companies – These companies are experts in installing LED sports lighting systems for different kinds of sports courts (tennis, pickleball, outdoor multi-sport courts), that require less wattage but oftentimes are located in residential areas, where light spill can be an issue.
Preparations for the supplier selection phase
Before you start contacting sports lighting companies for installation, there are a few things you should do to prepare: 
1 – Obtain the required permits and other paperwork
If you're new to the LED sports lighting world, you may want to consult an outside expert. Partnering with an experienced project manager will give you access to the knowledge and resources necessary to ensure your project goes smoothly.
They'll work with your internal team and stakeholders, local and state governments, and any other involved parties to make sure you have the permits and approvals needed before any work can begin.
2 – Understand the overall costs involved
To begin purchasing and installation, you need to understand the costs associated with the project. This includes the cost of the fixtures and equipment and the cost of labor, permits, inspections, and other incidentals that may be required.
Having a clear budget identified early will help you and your project manager select the most appropriate manufacturer and installation partner possible.
Need help understanding the costs of installing or retrofitting LEDs? We've built an easy-to-use cost calculator. Just input your information, and you'll receive a comprehensive estimate for your project.
3 – Determine if your project is economically feasible
We'll be honest, the price tag for new LEDs can be significant. However, the long-term energy and maintenance savings often make LED projects economically feasible, even for smaller facilities.
To determine if your project is a good investment, you need to calculate the return on investment (ROI). This will help you understand how quickly the project will pay for itself through energy savings.
4 – Secure funding for your project
Before talking to sports lighting companies, you'll need to have the funding for your project secured. This may come from various sources, including private investment, government grants, or utility incentives.
Your project manager can help you identify and apply for any relevant incentive programs that could help offset the cost of your project. In some cases, these programs can cover up to 100% of the costs.
There are plenty of resources available to help schools and communities secure funding for their sports lighting projects. See a full breakdown of your options here, and choose the right combination of the financing for your project.
Once you've checked these four items off your to-do list, it's time to search for the right sports lighting company or contractor. Read on to find out how to find a partner who can deliver your new LED sports lighting system quickly, safely, and within budget!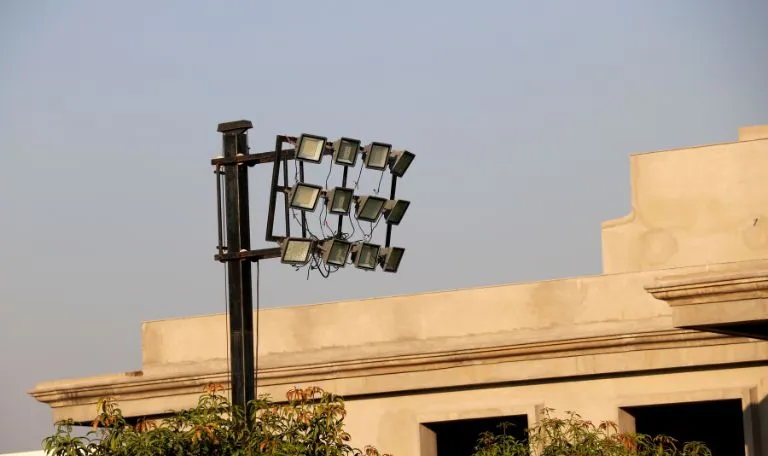 Checklist for Choosing Your Partner
1 – Do they have experience?
You want a company that has previously installed sports lighting. Do they have a portfolio of projects? If so, ask to see it.
2 – How is the quality of their products?
If you're choosing a company that manufactures, ask about the longevity of their fixtures.
3 – What is their warranty?
What is the period you have for fixing mistakes or problems for both product and service?
4 – What is customer service like?
Do they have someone you can talk to during installation if there are issues? How about after installation? Communication is vital throughout the lifespan of a lighting project. Find out who to ask to talk to before starting.
5 – What are the project management capabilities?
Some projects will be more complex than others. If you have a larger, more involved installation, you'll want to ensure the company can handle it.
6 – Run a background check or ask for referrals
You'll be working with this company for months, or even years. You want to make sure they're reputable and have a good track record.
7 – How much will it cost?
This is always a key consideration. Get quotes from multiple sports lighting companies before making your decision. Before choosing, we usually recommend getting quotes or talking with at least three potential candidates. To get some perspective on the costs, you can use our sports lighting cost calculator to get a customized cost estimate for your project.
8 – How soon can they start?
Be sure to ask about their project timeline and if they can accommodate your schedule.
9 – Do they have any industry certifications or awards?
Look for companies that their peers have recognized. This can be a good indicator of quality.
10 – Do they have insurance?
Make sure the company is insured in case of any accidents during installation. You want to minimize your liability for any potential accidents.
Choosing the right LED sports lighting company
Deciding on the right partner is a critical decision. Be sure to do your research and ask plenty of questions before making your choice. With the right expert, you can be confident that your new LED installation or retrofit project will be a success. 
To kick things off, try our sports lighting calculator to get a solid understanding of the costs related to installing or retrofitting LED lighting for sports fields and courts.