Sportsbeams Lighting: Transforming the Game with Advanced LED Solutions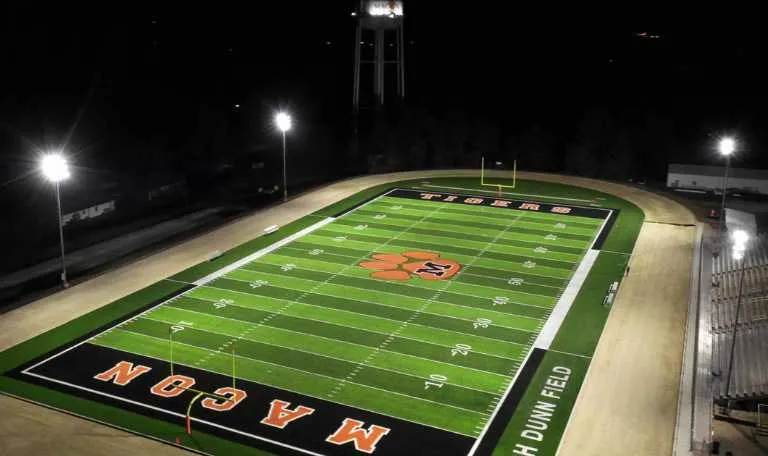 Sportsbeams Lighting, a leading LED lighting technology company headquartered in Texas, is revolutionizing the sports lighting industry with its cutting-edge innovations. Specializing in the design and manufacture of high-performance LED sports lighters, Sportsbeams utilizes its own patented single-glass optic technology to create exceptional lighting solutions. What sets Sportsbeams apart from its competitors is its ability to offer full RGB and tunable sports white (RGBW) all-in-one fixtures, making it the only company in the industry to provide this comprehensive lighting solution.
At the core of Sportsbeams' success lies its unique patented lighting fixtures. Utilizing single glass optic technology, these fixtures are unparalleled in the industry and surpass the current status quo by leaps and bounds. What further distinguishes Sportsbeams is its ownership and operation of its own state-of-the-art manufacturing facility. Sportsbeams Lighting brings unparalleled quality and craftsmanship to every light it produces. The company's extensive manufacturing experience, unmatched by any other sports lighting company, shines through in the exceptional performance and reliability of its lighting solutions.
If you are currently planning to install a new sports lighting system or retrofit an existing system with LEDs, try our sports lighting cost calculator to get a customized cost estimate in a matter of minutes.
Sportsbeams Lighting Product Portfolio
Sportsbeams Lighting offers a range of cutting-edge sports lighting solutions to cater to various sporting environments. Whether it's a small sports court or a grand stadium, Sportsbeams Lighting delivers high-quality, energy-efficient lighting solutions that enhance visibility, optimize performance, and elevate the overall sporting experience for athletes, spectators, and viewers alike.
The Court LED 350W is specifically designed for both outdoor and indoor sports courts, including tennis, pickleball, multi-sport courts, and basketball. This luminaire provides optimal lighting conditions for enhanced visibility and performance on the court.
For high school or college sports fields, Sportsbeams Lighting provides the Field LED 600W and 900W luminaires. These powerful lighting fixtures are ideal for illuminating larger outdoor spaces, ensuring excellent visibility and a safe playing environment for athletes. With their high-performance capabilities, the Field LED luminaires meet the rigorous lighting requirements of educational institutions and provide superior lighting quality.
For large professional stadiums that demand the highest lighting standards, Sportsbeams Lighting offers the Chromabeams 900W and 1500W luminaires. These state-of-the-art fixtures deliver exceptional performance and meet the exacting needs of stadiums. Designed to create an immersive and captivating viewing experience, the Chromabeams ensure optimal lighting for both spectators at the stadium and those watching the game from their homes on television.
Indoor/outdoor LED light fixture for sports courts
Power: 350W
CRI: 90+
Lumen output: 44,600+
Outdoor LED sports light fixture for large recreational, high school and college fields
Power: 600W – 900W
CRI: 70-90
Lumen output: 70,400-106,000
Indoor/outdoor LED sports light fixture for sports courts
Full RGB + tunable white
Power: 350W
CRI: 70-90
Lumen output: 42,000+
Chromabeams LED 900 & 1500
Outdoor LED sports light fixture for large sport stadiums (college / professional)
Full RGB + tunable white
Power: 900W – 1500W
CRI: 70-90
Lumen output: 91,000-161,000
Sportsbeams Lighting Projects Showcase
Sportsbeams Lighting Patented LED Technology
Sportsbeams Lighting stands out in the industry with its exclusive patents that drive the innovation and advancement of its products. These patents give Sportsbeams a unique technological advantage, setting its LED fixtures apart from the competition. The company's extensive collection of patents speaks for itself, showcasing its commitment to pushing boundaries and delivering cutting-edge solutions.
GLASS SINGLE OPTIC LED
Sportsbeams' design features a single glass lens that achieves a uniform lumen density of 346 lumens/sq. in. This design maximizes the emitting area of the luminaries, ensuring even light distribution over a larger surface area compared to individual LEDs. This significantly reduces glare, making Sportsbeams' Sports Lighting Fixtures an ideal choice.
SYMMETRICAL LIGHTING
Sportsbeams' symmetrical lighting ensures that the beam of light has equal horizontal and vertical axes, addressing the issue of players losing sight of the ball in the dark. This lighting solution offers multiple benefits:

enhances visibility and enables them to perform at their best.

creates a comfortable viewing experience for fans, allowing them to fully enjoy the game without any visual hindrances.

prioritizes dark-sky friendliness, minimizing light pollution and preserving the natural beauty of the surrounding environment.

 
NO PLASTIC
Sportsbeams' light fixtures are built with durable full die-cast aluminum construction, completely eliminating the use of plastic. This design choice ensures the longevity and resilience of our lighting solutions, allowing them to withstand various weather conditions for years without compromise.
FULL RGB AND TUNABLE WHITE
Chromabeams are the only fixtures in the industry that offer full high-powered tunable sports white and the full spectrum of saturated RGB lights in one.
COOLING SYSTEM
By implementing active cooling, they have extended the fixture's lifespan, reduced weight, enabled versatile mounting angles, and expanded the ambient temperature range. These advancements have significantly improved their lighting products' performance and durability.
Their passion and dedication for LED lighting shines through their extensive ongoing research and development efforts. The company makes substantial investments to continually push the boundaries and develop better, more innovative LED lighting solutions, setting new industry standards along the way.
SportsBeams Lighting has received Emmy Awards for their groundbreaking contributions to the industry. Their innovative and influential work has significantly impacted television recording, revolutionizing the use of LED lighting technology in the field.
Sportsbeams Lighting Warranty
Sportsbeams Lighting offers a 70,000-hour warranty for its lighting fixtures.
LED floodlights have become increasingly popular in sports lighting due to their remarkable ability to enhance sports fields and prolong their usability. For decision makers exploring financing options for such projects, there are several alternatives available, including grants specifically tailored for LED sports lighting. These grants are offered by various federal, state, and local sources and serve as valuable financial support for transitioning to LED technology. Not only do these grants encourage the adoption of energy-efficient solutions, but they also promote cost savings in the long run.
Read more about funding opportunities in our sports facility grants section.
In conclusion, Sportsbeams Lighting stands as an industry beacon, redefining sports lighting with its cutting-edge technology, customized solutions, and unwavering dedication to customer satisfaction. By choosing Sportsbeams as a partner, decision makers can be confident in investing in lighting solutions that elevate performance, safety, and the overall experience of their sports facilities.
Use our sports lighting cost calculator to get a cost customized estimate tailored to your project in under three minutes.
To ensure well-informed decisions in the dynamic sports lighting market, decision makers are encouraged to explore the comprehensive article on the Top 15 Sports Lighting Companies in the US. This article serves as a guide for decision makers seeking the ideal partner to fulfill their unique sports lighting needs.