Hockey rink lights: design, costs and grants
For those of us in colder climates, ice hockey, and skating are among the most exciting winter activities. But with temperatures often dropping to uncomfortable levels and darkness taking over the rink, indoor rinks are the best way to keep the action going.
That's why proper lighting is essential for any ice hockey or skating rink. Whether you're a professional or recreational player, having the right lights can make all the difference in your experience.
A properly lit skating rink is a wonderful addition to any community – no matter the climate. Hot, cold, dry, or humid – hockey rink lights can elevate the experience for athletes and spectators alike.
How much do hockey rink or skating rink lights cost?
On the surface, hockey rink lights seem simple enough. Choose your lights, wire them up, and mount them, and you're good to go… right? The truth is, the deeper you go in the process, the more complex and costly the solution can get.
The cost of lighting a hockey rink varies depending on size and required intensity. You'll need to factor in the wattage, number of lights, type of installation, and desired light pattern. Additionally, you'll have to consider any permits or inspections that may be necessary for your project.
Although many factors impact the cost of an indoor hockey rink lighting system, you can expect your price to be between $95,000 and $675,000.
Let's consider what you need to consider when selecting and installing the right hockey rink lights.
What type of lighting systems are used in ice hockey rinks?
Hockey rink lights play an essential role in creating a safe environment for the players and a pleasant atmosphere and viewing experience for the spectators. Especially, when games are broadcast on the TV, the lighting system needs to be of high quality to ensure proper image quality for television audiences.  
For a long time, metal halide lighting was the best lighting solution for hockey and skating rinks. However, the new and innovative LED sports lighting technology has overtaken metal halide practically in all aspects when it comes to light quality. LEDs provide uniform illumination without flickering and less glare compared to metal halides. In addition to the general illumination, an LED lighting system can be used for in-game light shows that uplift the mood in the stands and boosts the fan experience. LEDs are also much more energy-efficient, environmentally friendly, and require near-to-zero maintenance. 
Hockey rink light fixtures
You have two options for lighting, for your hockey rink:
HID – High-Intensity Discharge lighting is an older technology. The most common HID light fixtures are metal halide. Cheap upfront investment but has a shorter lifespan and longevity.
LED – LED lights provide better performance and long-term savings. They also last longer (typically over 100,000 hours) and require much less maintenance than HID fixtures. The initial investment may be higher, but the long-term cost savings are worth it.
LED High-Bay (UFO) light fixtures are the most common type of LED lights used in hockey rinks and skating arenas. They are mounted on the ceiling and they provide ideal, uniform light for the hockey rink below. These lighting fixtures can also be focused on specific parts of the hockey rink when necessary. High-bay light fixtures for hockey rinks consume up to 75% less energy compared to metal halide fixtures, and their wattage can be as low as 100-200 watts per fixture. 
Replacing metal halide fixtures with LED hockey rink light fixtures
The wattage of LED hockey rink light fixtures ranges from 60W to 600W depending on the size of your hockey facility and the competition level of the players. Here's a quick guide to converting metal halides to LEDs at your hockey rink.
60W – 100W LED hockey rink light fixture replaces a 250W metal halide fixture
100W – 200W LED hockey rink light fixture replaces a 400W metal halide fixture
300W – 400W LED hockey rink light fixture replaces a 1000W metal halide fixture
400W – 500W LED hockey rink light fixture replaces a 1500W metal halide fixture
600W LED hockey rink light fixture replaces a 2000W metal halide fixture
If you are planning to replace your existing metal halide hockey rink lighting fixtures with LEDs, try our 
hockey rink lighting cost calculator
 to get a customized cost estimate for your project.
Examples of LED ice hockey rink light fixtures
LED Ice Hockey Rink Light Fixture
600W
67,000 lumens
CRI 70-90
CCT 2700K-6500K
LED Ice Hockey Rink Light Fixture
Full RGB and tunable white
350W
1800K-10000K
CRI 70-90
LED Ice Hockey Rink Light Fixture
Ceiling-mounted
100-200W
Up to 26,000 LM
3000K-5700K
CRI 70-90
LED Ice Hockey Rink Light Fixture
Asymmetric lighting
70W-400W
Up to 56,000 LM
3000K-6500K
CRI 70-90
LED ice hockey or skating rink lighting standards & requirements
As stated before, the level of play will dictate the lighting required for your ice hockey facility. Amateur training facilities can skate by with only 30 to 50 footcandles. However, professional-level play, or televised competition, needs somewhere between 100-200 footcandles.
In addition to the level of lumens, you'll need to consider the placement of your lighting fixtures, the distance between them, and their angles. You'll want to ensure there are no hotspots or shadows on the ice and that all areas of the rink are evenly lit. Lighting uniformity is crucial to success.
Recommended lighting levels and requirements for ice hockey and skating arenas
| Hockey rink lighting Levels | Footcandles | Uniformity | CRI | Temperature |
| --- | --- | --- | --- | --- |
| Class I: Professional competition | | | | |
| Class II: Amateur competition, high schools | | | | |
| Class III: Training/Recreational | | | | |
LED ice hockey arena lighting design & layout
There are various options for designing your lighting for a rink.
For indoor rinks, you need to pay attention to how close your lights are to the rink's surface. Ice is a highly-reflective material; if your lights are too close, you risk creating glare. Additionally, if you are mounting your lights on the ceiling, the lumen level can decrease if your cord is very long. Many facility owners choose to hang their lights rather than mount them directly to the ceiling.
Be sure to consult with a lighting professional to devise the best layout for your lights. Your rink's size and shape may differ from other rinks, and you'll need to create a custom plan for yours.
How many fixtures for the ice hockey or skating arena?
To calculate the number of LED lighting fixtures you would need for your hockey or skating arena, you will need to first understand the dimensions of the rink and the competition level of the main users of the facility. 
Here's a simple calculation to give you an idea of how many LED lighters you would need for a standard-sized ice hockey rink for recreational vs. professional use:
LED Lighting fixture efficiency: 130 lumens per watt (LPW)
Dimensions of the ice skating rink: 200′ x 85′
Area of the hockey rink approx. 17,000 square feet
Lumen output needed (footcandles x square feet): 340,000 – 1,700,000 (recreational-pro)
Total wattage needed (lumens / LPW 130)

recreational: approx. 2,600w
professional: approx. 13,000w

For a recreational ice hockey arena, you will need at least: 15 x 200w LED sports lighters

For a professional

ice hockey arena, you will need at least: 35 x 400w LED sports lighters
Indoor ice hockey rink LED lighting layout for recreational use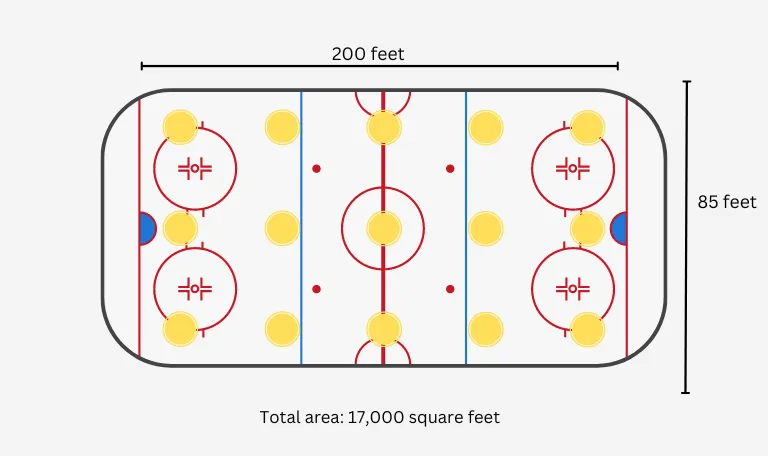 Indoor ice hockey rink LED lighting layout for professional use
Other hockey rink lighting design considerations
There are creative ways to optimize your lighting design — and you should consider this before starting your project. For instance, indoor hockey rinks can use a mixture of high-bay and floodlights to create an even and diffused coverage of the playing area. This eliminates hotspots and ensures your players have enough visibility on the ice.
It's also important to consider the Required Color Rendering Index (CRI) for TV broadcasts (NCAA or Pro level). Of course, if you're hosting younger athletes or recreational play, you won't need to worry about this. But if you know you will be hosting televised events, make sure your lights are rated for TV broadcasts.
Finally, don't skip out on a control system for your new lights. Modern solutions offer amazing control and programmability of your rink lights. This way, you won't have to worry about manually turning them on and off — or dimming them for specific events.
What influences the cost of ice hockey and skating rink lighting?
New lights vs. LED retrofit
The biggest factor in the cost of your hockey rink lights is whether you're starting from scratch or retrofitting existing lighting. A full LED conversion can typically be less expensive than new fixtures, but depending on your setup, it's not always possible.
That's why taking with a lighting professional is crucial early in the process. Understanding what you can (and can't) reuse from your existing infrastructure will help you plan more precisely.
Who are the main users of the ice hockey or skating facility?
Next, you need to consider who will be using your facility. Are you a school, recreational rink, or professional organization? Each of these users has different lighting needs and budgets. Student-athletes or amateurs won't need as much light as professional players, so you'll want to adjust accordingly.
Additionally, competitive organizations have specific rules and regulations that must be followed. Be sure to check out the guidelines of your sport's governing body to ensure you're compliant with all applicable standards.
Size of your ice hockey facility or skating rink
Having precise measurements for your facility is another essential part of your lighting plan. Knowing the size and shape of your rink and the type of surface you're using will help determine which lights are best suited for your project.
For indoor rinks, the geographic location of your will dictate your lighting.
US & CAN (NHL): 200 by 85 feet (60.96 m × 25.9 m)

International (IIHF): 196.9 ft × 98.4 ft (60 by 30 meters)
These numbers are vital to understanding the amount of light you'll need and which lights are best suited for these dimensions. In addition to the rink size, you need additional space around the play area so your spectators and athletes can move safely.
The bottom line is that planning and preparing for your rink lighting project is essential to creating a successful system. When done correctly, it can make all the difference in your ice hockey or skating experience.
Indoor hockey rink or skating rink?
Indoor facilities usually require less power since they are contained in a controlled environment. However, mounting your lights can be tricky since you must ensure the fixtures won't interfere with gameplay or create glare and shadows.
LED sports lights are usually mounted on a catwalk or ceiling grid for indoor rinks. This setup allows for more focused coverage of the playing area and better control over light spillage from the rink onto spectators. They use high-bay lighting fixtures or something similar to provide the necessary illumination without interfering with gameplay.
Geographical location
Finally, you need to consider where you are located in the country. Labor, parts, and materials can vary greatly between regions. You'll want to factor in these costs when calculating your budget so you don't overspend on your rink lighting project.
Ice hockey rink lighting companies
Companies specializing in ice hockey rink or arena lighting provide solutions tailored to the unique requirements of these icy environments. These professionals design systems that ensure optimal visibility on the ice, enhancing the experience for both players and spectators. Proper lighting in hockey arenas is crucial for spotting the puck, identifying players, and ensuring safety during fast-paced games. Given the reflective nature of ice, it's essential to minimize glare and shadows. When considering lighting for an ice hockey rink or arena, it's vital to engage a company with specific expertise in this niche to guarantee the best illumination and durability of the system.
Pro tip: If you are currently looking for a reliable and knowledgeable sports lighting vendor, try our sports lighting partner finder and get connected with suitable lighting partners.

Funding tips for LED ice hockey rink lighting
If you're just starting the process of lighting your hockey rink, you may be concerned about how you'll finance the project. But with so many financing options available, it's easier than ever to get quality lighting for your rink.
First, plenty of grants and government funds are available to finance your project. Many governments are offering incentives for facility owners who install energy-saving lighting fixtures to increase energy efficiency.
Additionally, you could take out a loan from your local bank or credit union. Many lenders have programs specifically tailored to businesses, and you may be able to find one that matches the size of your project.
Finally, you can choose to crowdfund or use a fundraising platform. Many people are passionate about rinks and ice sports, so you may be able to find potential backers who can help finance your project.
Check out our database on sports facility grants here to get a better idea of your options.
We have also written about LED sports lighting grant programs for schools and businesses. Take a look! 
Get a cost estimate at an early stage
Lighting your rink isn't a cheap endeavor, so getting an accurate cost estimate early on in the process is important. Many factors come into play when estimating the costs of lighting a rink — from labor and materials to fixtures and control systems.
It's best to consult a professional lighting designer familiar with your use case. This will ensure you get the best possible estimate for your project.
Ready to get an estimate today? Use our ice hockey rink lighting cost calculator and we'll provide you with a free cost estimate. We'll connect you with leading professionals in your area to help streamline the process.