Tennis & Pickleball Domes: From Design Concept to Reality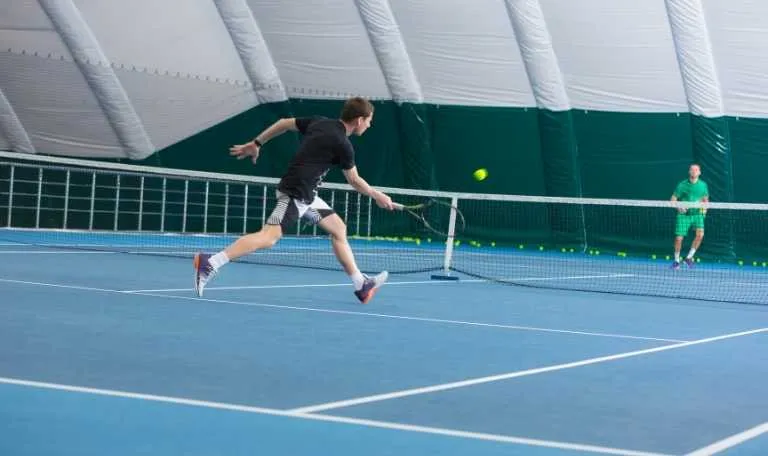 Tennis and pickleball are sweeping the nation as two of the most popular sports to be played by casual players and professionals alike. They are fast-paced, energetic games that can be played outdoors on local community courts.
However, outdoor tennis and pickleball season is only as long as the weather cooperates.
This is where a tennis & pickleball dome comes in as the perfect solution for year-round play. A dome protects players and equipment from sun, wind, rain, and snow, making it possible to enjoy these sports no matter what the weather is like outside.
If you have an existing court, installing an air dome is a great way to extend the playing season and get the most out of your investment.
If you are looking to install a tennis or a pickleball dome in the near future, try our sports dome cost calculator to get a customized cost breakdown for your project.
But what should you consider when designing a tennis & pickleball dome? Here are a few things to keep in mind.
So, why air domes for tennis or pickleball?
Air domes are much easier and faster to install than traditional structures, for starters. Permanent domes, roofs, and other hard-sided buildings can take weeks or even months to construct. They're expensive, complicated, and take considerable effort to maintain.
On the other hand, Air domes can be up and ready to use in a matter of days.
Additionally, air domes are much more cost-effective in terms of initial investment and long-term operating costs. Considering an air dome can be up and ready to use in a fraction of that time, you'll use fewer working hours and resources to operate.
While air domes aren't cheap, they are much more cost-effective than traditional buildings.
The average cost of a tennis & pickleball air dome is $1,000,000 to $2,900,000. This includes the cost of materials, installation, and shipping. Traditional buildings can easily cost double or triple that amount. Plus, you'll need to factor in the ongoing costs of maintaining a permanent structure.
Flexibility for the future
One of the incredible features of an air dome is its impermanence. Because your dome is not fixed on the ground, you can take it down and store it when not in use.
This flexibility is especially useful in climates where the warmth of summer is coveted. When you only have a few months out of the year in the sun, you want your athletes and spectators to be able to enjoy it at your facility. With a permanent structure, your court will always be indoors.
Furthermore, adding a dome to your facility can open you up to new revenue opportunities. Many air dome owners rent their space for events, parties, and other gatherings when not in use for sports.
This is a great way to offset the cost of your investment and generate additional income for your business or organization.
Dimensions of tennis and pickleball domes
Now that you know the why of air domes let's discuss the what and how.
When choosing an air dome for your court, you need to start with the size. You'll need space to accommodate the playing area and room for maneuverability.
If you have a regulation tennis court that measures 78 ft x 27 ft, you will first need to consider the space immediately around the court because players constantly run off sidelines and baselines when chasing balls. Typically tennis court construction companies plan for an area of 60 feet by 120 feet per court (7,200 sq ft). This will give players enough room to move around and stay safe during play.
Next, you'll need to decide how many courts your facility will have. Whether building a new facility or adding a dome to an existing recreational center, deciding on your court count is an essential step. While one court is easier to maintain, it will reduce the number of patrons you can have at one time. You'll want to maximize your space while maintaining proper safety regulations. Each court will increase the size of the dome accordingly.
Thirdly, the air dome membrane has to cover all the amenities of your sports dome such as bleachers, changing rooms and toilets. Be sure to measure properly the area needed for all the extrs and include them in the calculation. 
Pickleball courts are smaller than tennis courts and typically you can fit two pickleball courts (20 ft x 44 ft) in one tennis court. Just make sure to add line markings for both sports, so that the court can be used for either sport when necessary. 
Who are the primary users of the tennis dome?
Another deciding factor in choosing the right dome is understanding your use case.
Who will be using your facility?
Suppose you're building a space for high school students, college kids, or professional level players. In that case, your requirements will be different than, say, recreational players.
If you are building a private sports complex, what opportunities do you have to host different levels of competition? Understanding who you want to play before you begin construction will help you determine the right size, court count, and type of air dome for your needs.
What is the climate like where you live?
Air domes can be used in any climate. Still, they are instrumental in cooler temperatures where the playing season is shorter.
Looking Beyond Sports
If you plan to rent your facility for non-sports-related activities, you'll need to consider this before choosing.
Lighting, sound systems, and other features can turn your air dome into a music venue, theatre, or additional event space.
You can also use an air dome to create a safe, controlled environment for storage or other commercial uses. We recommend partnering with an air dome expert. These professionals will help you see the true potential of an air dome and how it can benefit your business or organization.
No matter what you are planning on using your air dome for, it's essential to consider all of the possibilities before deciding.
Is the tennis dome meant for seasonal or permanent use?
The spring and summer months have long been considered tennis and pickleball season. Although having a dome allows you to play year-round, you may choose to use your dome seasonally.
Seasonal use means that the dome is up for part of the year and down for the remainder. This works well for those who only want to use the dome during inclement weather.
Seasonal Use
If you choose to use your dome seasonally, where will you store the dome when it's not in use? You'll need a safe, dry, and secure space to keep your dome when it's not in use. Be sure to factor this in when considering costs.
Permanent Use
If you decide on leaving your air dome up permanently, you'll need to consider a few other amenities. Offices, storage rooms for equipment, changing rooms for athletes, restrooms for patrons, and a break room for staff are all necessary when running a permanent facility.
You'll also want to consider the HVAC system needed to keep the air inside the dome regulated. This is especially important if you live in an area with extreme weather conditions.
Customization of the tennis or pickleball dome
Did you know your new air dome can look however you want it to?
Thanks to the many customization options available, your air dome can be as unique as your business.
You can choose from various colors and designs for the membrane to create a look that is all your own. You can also add company logos or other custom graphics to make your mark.
While similar, pickleball and tennis are different sports. If you intend to host both types of events, you'll need line markings for each. You can choose permanent markings or order removable ones to change things up on the fly.
Air domes build community.
Now that you know all about air domes, it's time to start planning your own. These structures are an excellent investment, but they also build community.
When you bring people together for sports and other activities, you create bonds and memories that last a lifetime. With an air dome, you can bring together pickleball and tennis enthusiasts all year round.
What are you waiting for? It's time to get started on your air dome project.
If you need help getting started, we've created an easy-to-use pricing calculator. Just enter a few details about your project, and we'll provide you with an instant estimate!