Designing a Soccer or Football Air Dome: Tips and considerations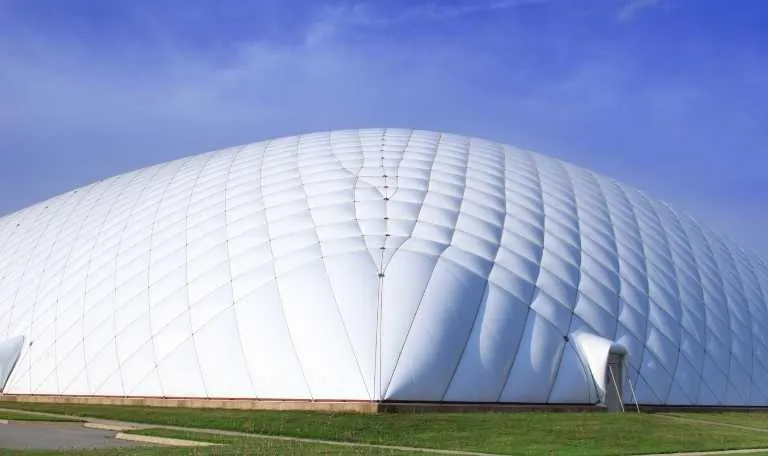 In some communities, sports fields and facilities are the epicenters of activity. They host not only games and practices but also serve as a gathering place for social events, festivals, and more. In these instances, the facility must be able to accommodate a large number of people while still providing an enjoyable experience.
One way to do this is to build a soccer or football dome.
Wait, before you run – building a dome for a soccer or football facility doesn't have to be as expensive or complicated as you might think. New technologies in the air dome space help alleviate the high price tags and complex workflows of erecting traditional structures.
Let's walk through some of the things you need to think about when selecting a dome for your facility. 
If you are planning to install a soccer or football air dome, try our sports dome cost calculator to get a customized cost estimate for your project.
Benefits of air domes for soccer and football
Before we get started, you must understand the value that an air dome can bring to your facility. While cheaper than permanent construction, an air dome is still a significant investment. But there are a few ways you can recuperate those costs and maximize your return.
1 – Generate more revenue during the "off-season"
With an open-air soccer or football facility, you have a limited number of months to generate revenue. An air dome will allow you to rent out your facility year-round. This is especially valuable in climates with long winters or harsh summers.
When games aren't on the schedule, you can safely and confidently rent your space to your community. This could be for local leagues, other sports teams, or even private events.
A year-round facility will keep foot traffic high, games aplenty, and revenue consistently coming in – even when the weather outside is frightful.
2- Keeps players and spectators safe
If you've ever played soccer or football in the summer months, you know that the turf on the field can get hot. These temperatures are a threat to the safety and well-being of your athletes and fans.
With an air dome, you can keep the temperature inside the facility at a comfortable level – no matter what it's like outside. This creates a safer and more enjoyable experience for everyone involved. Crowds will want to be there, athletes will perform better, and your field will be a focal point for entertainment.
3- Increased practice and game season
An air dome over your facility will also protect your field from terrible weather conditions. You can still hold practices or games. This decreases the time your field is closed, which means more games and practices for your athletes.
An air dome provides the opportunity to get creative with your programming. If you have the space, you can introduce new activities that wouldn't be possible without a roof overhead. Winter soccer, spring and summer football clinics, the possibilities are endless.
Dimensions of soccer and football domes
Now that you better understand the potential for a soccer or football dome, it's time to dive into the specifics.
The first thing to consider is the size of your structure. The space your field requires will dictate the size of the dome, and the size of the dome will dictate the price, permits, and installation process.
Size breakdown
Your sports dome membrane will need to cover quite a large area of space. Not surprisingly the soccer or football field is the component that will mostly determine how big your sports dome will need to be.  
For football it's quite straight forward because the field dimensions never change from the tried and tested 360ft (length) and 160ft (width). In soccer, the pitch dimensions vary depending on the level of competition and age of the players. A FIFA regulation sized pitch is 330 – 360 feet long and 210 – 240 feet wide. So even FIFA's own dimensions offer some flexibility. At the other end of the scale a high school soccer pitch typically measures 165 – 240 feet wide and 300 – 360 feet long. 
You may also want to add extra space for a small training field or possibly a gym. Depending on the use concept of your sports facility you might have to consider installing bleachers for spectators, changing rooms, toilets and storage space.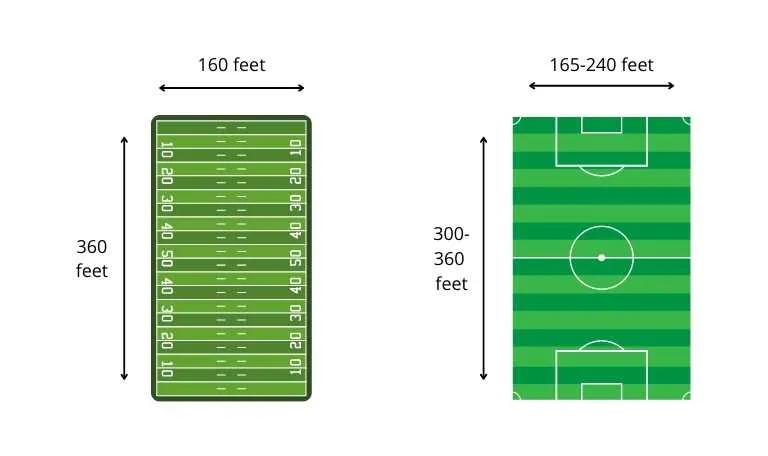 Local requirements

As with local parking or housing laws, there will be specific requirements in your area for dome building.
We'd be remiss in telling you we know every nuance of every community, city, or state.
However, you'll need to know what local laws pertain to your structure. For instance, there may be a height limit for temporary structures like air domes. The height of your structure will directly impact the width and circumference of your dome. You need it to be stable and steady, so working with a professional on the design is crucial. An expert partner will know how to work within the parameters set by your local government.
Who will be using the soccer or football dome?
The next step in designing your dome is to consider who will be using it and what purpose.
This step ties in closely with local requirements as you'll want to make sure your facility can accommodate the groups who will use it most. For instance, if you're building a dome for a professional team, you need to factor in locker rooms, offices, and training facilities.
On the other hand, if you're mostly going to host youth leagues and local tournaments, you won't need as many bells and whistles. But you will need to consider space for things like bleachers or concession stands.
Turf Materials
Each level of play has its unique requirements, so it's important to consider who will be using your facility before moving forward with the design. However, higher levels of competition require higher-quality turf for the field.
Fibers, infill, and shock pads are just a few considerations when building a high-performance indoor facility. Also, it's important to note that these elevated materials aren't just nice to have. For many organizations, they're a pre-requisite and are monitored by associations. So do your research and make sure you're using the best materials for your facility.
Lighting Your Field
Like your turf, you'll need to consider the level of lighting required for your facility. This will be a simple process of adding in more light fixtures for some. However, for others, it may require a complete lighting upgrade.
Televised events have specific preconditions that need to be met. If you're hoping to host any televised matches, you'll need to factor in the additional cost of upgrading your lighting.
The best way to determine your needs is to consult with an expert who can help you understand what's required for the level of play you're supporting. With their help, you can ensure you have the proper lighting for your facility.
Sound System
Are you planning on spectators? You're going to need a sound system. The more people in the arena, the louder it will be. You'll need a system to handle the noise and keep everyone engaged in the game.
Your sound system will also play a role in any events you host outside of soccer or football matches. So, if you're looking to use your facility for a variety of functions, then make sure your sound system is up to the task.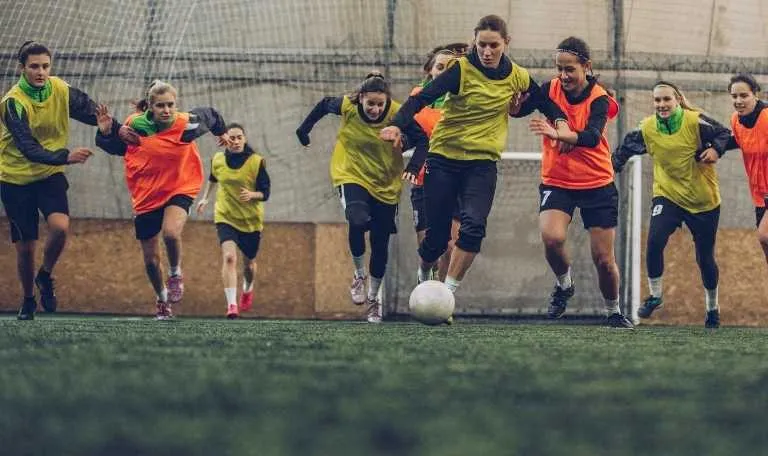 Extracurricular activities for additional revenue
If you plan on taking full advantage of your new air dome, you'll want to plan for events that fall outside of sports.
Here are a few ideas:
Concerts

Trade shows and conventions

Fundraisers and parties

Children's inflatable bouncy house play days

Community events like graduations
Each has its own set of needs, but with a bit of planning, you can make your facility a go-to destination for various events.
What kind of amenities does your soccer dome need?
We spoke a little about this above, but it bears repeating. Think about the amenities you'll need for your athletes and spectators. These requirements will shift depending on your level of play, but here are some examples:
Bleachers or grandstands

Seating for VIPs or press

Locker rooms

Showers and toilets

First-aid station

Concession stands

Storage space

Parking lot
Customization of the soccer or football dome
Next, you'll want to decorate your dome a little. This will give it some personality and make it feel like home. And depending on your budget, you can go as simple or elaborate as you want.
One way to personalize your dome is with team colors or logos. This is a great way to support your local team or add some school spirit to the facility. You can also use branding to attract attention from potential sponsors.
You can even customize the dome materials to be opaque or translucent. This type of tailored look can add some real personality to your facility.
Panoramic windows are another option. They provide an unobstructed view of the field. They can give the impression that the facility is much larger.
Line markings should also be considered. Facilities hosting multiple sports will need to find a way to delineate the playing area. This can be done with removable line-markings or by painting the turf.
Do you need a dome for your facility?
Now that we've gone over all of the factors, it's time to answer the big question: do you need a dome for your facility?
While no one answers this question, a soccer or football dome is a fantastic way to take your facility to the next level. They provide various benefits that can't be found with traditional construction methods.
If you're looking for a way to improve your facility, then a dome should be on your radar. You can create a perfect space for your needs with proper planning.
To get a good idea of the overall installation costs of a sports dome, type in your project specs in our sports dome cost calculator and you will get a cost breakdown in your email in a matter of minutes.