Horse Arena Lighting Design & Cost Guide
LED horse arena lighting is nowadays the go-to solution for lighting up your facility. In the world of equestrian sports,  having the right lighting is critical. Horse arena lighting needs to be bright enough for riders and audience members to safely see the action but not so bright that it's blinding or causes discomfort for horses. But lighting an entire arena can be expensive, so it's important to know you have the right solution for your budget. 
One of the most important features to consider when choosing an arena light is its lumen output. Lumens measure the amount of visible light emitted from a source and should be chosen based on the size of your facility. 
The most effective horse arena lighting setup will provide uniform illumination across the entire space; this helps both riders and observers to easily track movement and take in the entire scene. To achieve this, you can use spotlights or other directional lighting to illuminate obstructions and dull spots in the arena. 
In this article, we will discuss the important considerations regarding design and costs that horse arena owners should be aware of when planning to install new lights or retrofit an old lighting system with LEDs. 
If you are interested to know how much an LED horse arena lighting project will cost, there is no exact price tag to give, but you can expect the total costs to range somewhere between $75,000 and $650,000 depending on various factors that we explain in this article. You can also try our horse arena lighting cost calculator to get a customized cost estimate for your project.
What type of lighting systems are used in horse arenas?
Historically, metal halide sports lighting systems have been used to light up horse arenas thanks to their high lumen output and good quality of light. Many horse arena owners still use this technology, but its popularity is dwindling due to the higher maintenance costs, shorter lifespan, and fairly long warm-up time. Even the bright and uniform illumination gradually gets worse as the light bulbs lose their brightness over time. 
This is why LED sports lighting has taken over as the first choice when choosing the best horse arena lighting solution. LEDs are electrical and do not use gas. This makes them last much longer and they require basically zero maintenance. They are around 50% to 75% more energy efficient, require no warm-up time, and are environmentally friendly thanks to not containing any toxic chemicals.
Equestrian and horse arena lighting fixtures
When choosing your horse arena lighting fixtures, you should always consult a professional sports lighting company. The decision-making process comprises roughly three questions:
What is the competition level of your horse arena?
How high is the ceiling in your arena?
What is the total area that needs to be lit up?
Once you have clarified those three points, you can choose from three different types of horse arena lighting fixtures:
LED Floodlights – These lighting fixtures are popular because they provide broad and even illumination for a large horse arena. Equestrian arenas that host competitive events typically go for LED floodlights to ensure proper safety and visibility for the riders, horses, and spectators. 
LED High-bay lighting fixtures are typically used in horse arenas that have a high ceiling. They can be mounted on the ceiling to provide uniform illumination for the arena below. High-bay fixtures can also be used to focus on a specific part of the arena if needed.  
LED Strip lights can be used in horse arenas that have a low ceiling, where high-bay fixtures or floodlights would not be a good fit. Strip light fixtures produce less light so they are suitable for training facilities for example
How can LED horse arena light fixtures replace metal halide fixtures?
Thanks to the high energy efficiency of LED lighting fixtures, the wattage per fixture can be as low as 60W and up to 300W. If you are planning to retrofit LEDs to your existing metal halide lighting system, check out this brief guide for LED to metal halide fixture conversion:
60W – 100W LED fixture replaces a 250W metal halide fixture
100W – 300W LED fixture replaces a 1000W metal halide fixture.
Examples of LED horse arena light fixtures
Horse Arena LED Light Fixture
600W
67,000 lumens
CRI 70-90
CCT 2700K-6500K
Horse Arena LED Light Fixture
Full RGB and tunable white
350W
1800K-10000K
CRI 70-90
Indoor Horse Arena LED Light Fixture
Ceiling-mounted
100-200W
Up to 26,000 LM
3000K-5700K
CRI 70-90
Indoor Horse Arena LED Light Fixture
Asymmetric lighting
70W-400W
Up to 56,000 LM
3000K-6500K
CRI 70-90
LED Horse Arena Lights Design
An LED horse arena lighting system consists of several components that need to be prepared and installed with proper care. You should always hire a professional sports lighting contractor with relevant experience.
Components and configuration of an LED horse arena lighting system
Putting together your brand-new LED lighting system starts with locating and ensuring you have the correct power supply for your horse arena (local grid or a generator). From the power source, an electrician starts working on the wiring and cables that must reach the lighting fixtures on the ceiling and the control system.  Oftentimes, the light fixtures can be mounted directly on the ceiling, but sometimes special mounting hardware (brackets or trusses) is needed to ensure optimal quality and uniformity of illumination. The most common LED light fixtures in horse arenas are high bay fixtures. Finally, you will need to connect and configure the control system so that you can adjust the settings (brightness, dimming, scheduling) according to your needs.
LED horse arena lights layout
Another important consideration is the design and layout of your horse facility. Here are a few details to contemplate when planning your project.
Minimum ceiling height
If your arena has a low ceiling, it will limit the type and size of lighting fixtures you can use. Typically horse arena LED lighting fixtures are hung from the ceiling at a height of 16 feet. 
Type of fixtures
Choosing the right type of fixture is just as critical as the right amount of light. For example, installing high-bay lights are great for tall ceilings but may not be suitable for low ceilings.
Number of fixtures
This is determined by the type and size of your arena and its purpose. As discussed earlier, a recreational horse arena needs 20 footcandles per square foot, whereas, a top-level equestrian facility needs 70 footcandles. To figure out how many lighting fixtures your facility needs, here's a simple calculation:
LED Lighting fixture efficiency: 130 lumens per watt (LPW)
Total area to be lit: 13,000 square feet
Lumen output needed (min-max): 260,000 – 910,000
Total wattage needed (min-max): 2000 – 7000
For a recreational horse arena, you will need at least 17 x 120-watt LED lighters. 
For a top-level equestrian arena, you will need at least 18 x 400-watt LED lighters.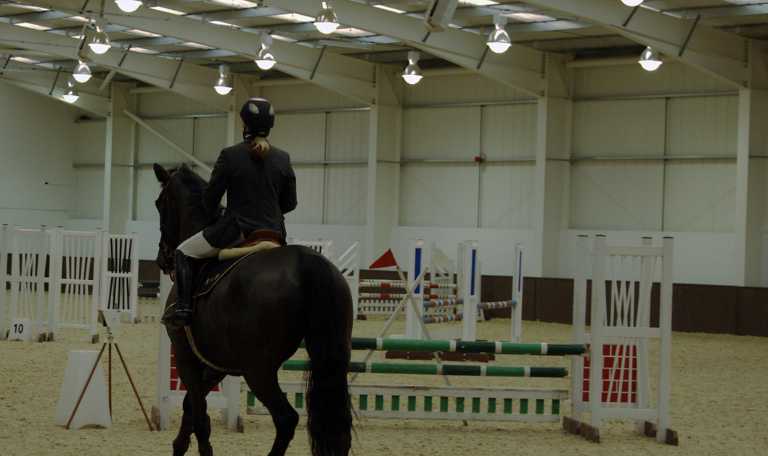 LED Horse Arena Lighting Standards & Requirements
Understanding what you will use your horse arena for – both now and in the future – is crucial to designing your lighting solution. If you think you might want to host competition-level events, it's best to future-proof your design. Here are some of the standards and requirements for different levels of competition/training.
Generally, the luminance for outdoor training areas can accept 200-300lux, although this depends on the arena's size. Here are some general guidelines for other common equestrian events: 
Hunter/jumper training – 300-400lux

Dressage – 500lux

Competitive performance – 700lux
Additionally, the positioning of lighting fixtures is important to consider. At a competition level, you'll need your lights placed evenly across the arena – on each side of the railings and in a line down the center. Competition arenas should have uniform lighting so that all arena areas are equally lit. 
Uniformity of lighting simply means that light across the horse arena is evenly distributed and dark spots and shadows that may reduce the viewing experience and safety in the arena, are removed. Normally, for non-televised events, a uniformity level of 0.6 is maintained, whereas, for televised events, you will need at least 0.7. 
| Horse Arena Lighting Levels | Footcandles / Lux | Uniformity | Glare | CRI |
| --- | --- | --- | --- | --- |
| Class I: Top level competition | | | | |
| Class II: Dressage / competition | | | | |
| Class II: Hunter / Jumper training | | | | |
| | | | | |
For television broadcasts, the requirements get a bit more tricky than just being bright enough. Color temperature and quality are important factors to consider. Be sure to bring this up with your lighting partner so that you can design a solution that meets all requirements. Here, the color rendering index (CRI) is an essential metric that ensures colors are rendered as naturally and accurately as possible. The higher the competition, the higher the CRI requirement.
Other horse arena lighting considerations
Beyond the number, type, and luminance of lighting fixtures, there are a few other key considerations.
Get LED lights with glare control
In equestrian sports, safety is everything. Installing LEDs with glare control can minimize the risk of distractions during competitions. It's also important to select a fixture with a beam angle that will prevent light from being reflected off the arena surface, which can cause glare and interfere with the rider's line of sight.
Reduce shadows with the right height
Horses hate shadows, which cause a safety risk for both rider and animal. Higher fixtures can help reduce the presence of shadows and improve visibility.
Overall, planning the right lighting for your horse facility takes time and there are a lot of details to consider. Pole-mounted fixtures are typically mounted at a height of 20 feet, but this is too low to eliminate shadows. Mounting the fixtures at 30 feet or above in height will usually do the trick.
Invest in LED lights that come with a modern control system
Once you've designed your lighting solution, you want to find a system that's easy to control. Modern systems have apps and remote controls via wi-fi and can be programmed to adjust the lighting levels for different events. You can even schedule timing to reduce energy consumption during low-use periods.
How much do horse arena lights cost?
Like the horses they host, no two arenas are the same. The lighting system you choose for your facility will depend on the size and type of horse arena, the type of events you plan to host, and your budget. 
Although there's no single answer to how much my horse arena lighting project will cost, there is a range for most. On average, horse arena lighting costs between $75,000 and $650,000.
What influences the cost?
A host of factors will influence the cost of your horse arena lighting system, but it's easiest if we break it down into seven main categories.
1 – The type of lighting you choose
For starters, the type and number of lights you select will influence how much your horse arena lighting project costs. LED lighting systems are usually more expensive than traditional incandescent or fluorescent bulbs, but they are also longer-lasting, lower in maintenance cost, and more energy-efficient. 
2 – The size of your arena
The size of your horse arena is another factor that will affect how much you spend on lighting. Generally speaking, larger arenas require more lights and need higher wattage to be properly illuminated. 
The standard size for a competition horse arena is 65 by 200 feet (20m by 60m) or around 13,000 square feet. Ensuring full coverage of your facility requires intensive measurements and mathematical calculations. It's best to work with an experienced lighting designer or electrician to plan your lighting layout. 
3 – The geographical location
Where your horse arena is located will greatly impact the total cost of your project. Things like labor, materials, and permits vary by region and can add to the cost of a project.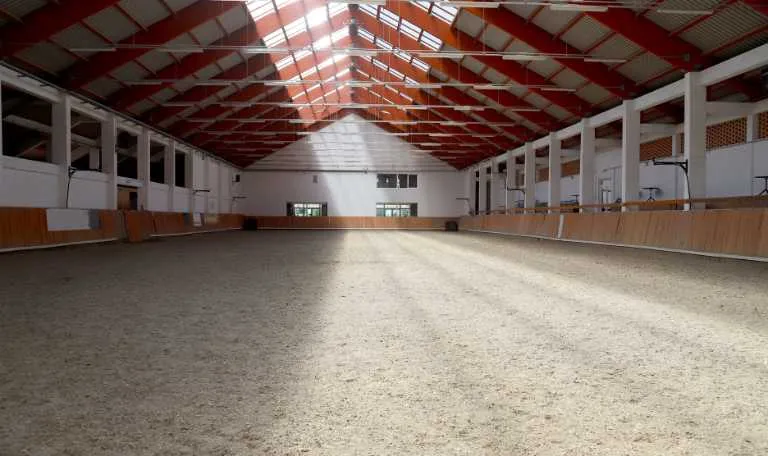 4 – The main use concept for your facility
What will be the main use of your horse arena? Will it be for competitive riding, recreational riding, or both? Are you planning a personal and private facility project, or will you be hosting professional or semi-professional riders for events like jumpers, dressage, rodeo, and more? 
The type of use will determine the type and number of lights you need. For instance, if you plan to host competitive events, you'll likely need lighting that meets all the standards your sport's governing body sets. Below, we've compiled a list of standards and requirements for easy access. 
5 – The level of competition
The competition at your arena will also play a role in the cost of your lighting project. Professional arenas often invest in more expensive and high-quality lighting systems to ensure that competitors can see their surroundings clearly and riders have the best possible experience. 
6 – New installation for LED retrofit
If you're choosing to install a new lighting system, you'll need to consider the cost of labor and materials. But if you're opting for a LED retrofit, you may be able to save money by reusing some of your existing lights and wiring. 
Working with an experienced lighting professional can help you maximize your existing infrastructure. No one wants to spend money if they don't have to — your partner can help you determine the most cost-effective solution and offer advice on the best lighting products for your needs. 
How to finance LED horse arena lighting projects?
If you're wondering how to finance your horse arena lighting project, there are a few options you can explore. Your local government may offer grants and incentives for schools and businesses for energy-efficient projects like this one. 
Additionally, many suppliers of LED fixtures have financing options that allow you to spread out the cost over time. You can check out our list of grants and financing options to help make your horse arena lighting project a reality.
Get a cost estimate at an early stage
As you can see, quite a bit of work and planning goes into designing an LED sports lighting system for your horse arena. To ensure you don't blow through your budget, it's important to get an accurate cost estimate early. 
Your lighting team should be able to provide you with detailed information on the lights, fixtures, and other components that are required for the project. This will ensure you have a clear understanding of the costs involved. 
To get started, use our horse arena lighting cost calculator and receive a free estimate for your horse arena lighting project. We'll put you in touch with some of the top professionals in your area so you can hit the ground running.