LED Stadium Lighting Cost, Design and Funding Guide
When you think of a sports stadium, you can instantly feel the excitement in the air. The athletes on the field, the roaring crowd in the stands, and the anticipation of the game – it's all-electric. And a big part of what creates this feeling is the stadium lighting system.
Think about it – when you're watching a game on TV, the quality of the lighting can really affect how exciting or interesting it looks. The same is true for a live game. Good lighting can make all the difference in creating an enjoyable experience for both the fans in the stands and the players on the field.
If you're planning to install a lighting system for a sports stadium, there are a few things you need to keep in mind. This guide will cover essential considerations for stadium lighting cost, design, and funding.
LED Stadium Lighting Cost
The cost to install a new LED lighting system for a stadium in most cases ranges from $120,000 – $880,000 for a mid-to-high-end LED floodlighting system. In the end, LED sports lighting costs vary depending on the sport, the level of competition, field size and product quality, as well as regional price differences.
Many times lighting systems are installed or upgraded as part of a larger project, such as the construction of an artificial turf field. Therefore the best practice approach is to calculate the cost of LED stadium lighting at an early stage to make sure the project stays within budget. Depending on the stadium's size, the competition level, and the sport in question, an 

LED retrofit for an existing stadium lighting system can cost you anywhere from $95,000 to $440,000.

The upfront costs of installing an LED stadium lighting system may seem high at first, but thanks to the significant cost savings in utility bills and maintenance, the investment pays itself back quickly. On average you'll save 50% – 75% in electricity consumption compared to a metal halide lighting system, you won't need to replace light bulbs and the LED fixtures last approximately five times longer.  
LED Stadium Lighting Design


Before you start looking at the details of the new lighting solution, you need to establish the use case: Who are the main users of your stadium? What is the competition level? How many spectators attend games? Are games being broadcast on TV? 
Choose LED over metal halide: LEDs offer a better quality of light with lower operating costs and close to zero maintenance.
The amount of lighting output on the playing surface varies between sports and competition levels. The more illumination is needed, the higher the costs. A professional sports lighting company will always provide a photometric study to ensure lighting requirements are met.

LED lighting fixtures

 can be mounted on 

light poles

, on the 

ceiling

, or attached to 

trusses

. The number of light poles and lighting fixtures you will need depends on the total amount of illumination your stadium needs.
LED stadium lighting offers a better quality of illumination with lower operating costs, and close to zero maintenance costs. 
LED Stadium Lighting Funding
There are many funding sources (grants, sponsorships, donations, loans) available to sports facility operators that are planning a stadium lighting installation. Visit our sports facility grants and funding database to learn more about them.
If you are currently looking for a reliable and knowledgeable sports lighting vendor, try our 
sports lighting partner finder
 and get connected to suitable lighting partners. 
Overview: costs for an LED stadium lighting system
Type of stadium

Stadium lighting cost
The cost calculations include the following items:
Lighting masts

Lighting fixtures (LED or conventional)

Wiring and installation 

Earthworks and cabling 

Documentation, measurement and light alignment
As can be seen in the table above, the price range for a new LED stadium lighting system can be very broad, with the details shaping up from the factors we mention further down this guide.
If there is existing equipment and infrastructure that can be reused, the prices will come down. However, any existing equipment should be inspected to ensure it is still structurally and functionally sound. The life span of new equipment should not be compromised by the age of the old equipment.
The costs associated with LED sports lighting can be calculated in detail using the stadium lighting cost calculator. When upgrading to LED floodlighting sports facility operators should verify if components of the existing lighting infrastructure can be reused in order to reduce project costs.
Get Your LED Sports Lighting Project Started
We've created a comprehensive set of tools designed to assist facility managers and project planners in initiating their projects and connect them with the professionals in the industry.
What influences the installation cost of stadium lighting systems?
LED stadium lighting system costs first depend on whether a floodlight system needs to be built from scratch or if an existing system needs to be upgraded to LED lighting.
The type of stadium lighting system you choose to install. Historically, sports stadiums and athletic fields have used metal halide lighting systems. Due to the slow rate of change, these systems are still probably the most common systems in the U.S. However, thanks to innovations in lighting technology, the fastest-growing lighting solution currently for stadiums is LED stadium lighting. In terms of costs, you can expect a higher upfront cost for LED vs. Metal Halide, thanks to LED's energy efficiency (50-75%), much longer lifespan (up to 100,000 hours), and basically zero maintenance requirements, you can expect your investment to be paid back very quickly. 
If existing floodlight poles can be used, a cost saving is possible. However, in this case, a photometric study around the lighting system is recommended. This takes into account the size of the playing field and the locations of the poles, and uses this data to create the optimum lighting concept for the sports facility.
If a lighting system is not already in place, there probably will be additional costs for relocating the power supply to the field. The costs for the construction of the masts depend, among other things, on the condition of the ground and whether the locations can be easily reached with heavy construction equipment.
Once these questions have been clarified, it is a question of which playing field zones are to be lit and at what luminance levels. The size of the playing field as well as paths and stairs need to be factored into the scope of the lighting. The more light that is needed, the higher the cost of the system.
The light intensity is crucial for the optimal illumination of the sports facility. Here, the requirements for a professional stadium, where games that are broadcast on television take place, are higher than for a playing field at a school or a training field. The stronger the light needs to be, the more LED luminaires you'll need.
In addition to the different requirements depending on the power class, the requirements also differ according to the type of sport. Even if all the above requirements are the same, the cost of LED lighting will be different for two different sport fields. 
The cost of LED sports lighting can vary significantly, ranging from $120,000 – $420,000 in most cases.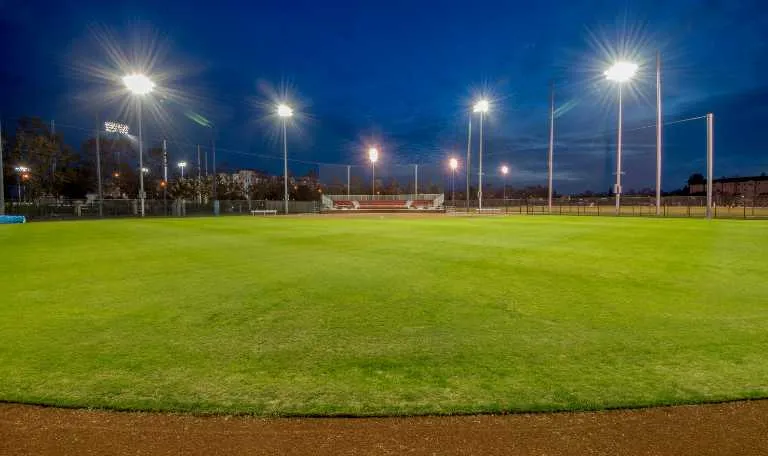 How much does stadium lighting cost to operate?
In your budget planning, you should consider future energy and maintenance costs in addition to the purchase and installation of the floodlighting system. Although the initial cost is slightly higher, LED lights are the most economical and environmentally friendly option in the long run.
Unlike halogen floodlights, the light output produced by LEDs degrades very slowly. Often, the lifespan of LED stadium lighting systems ranges from 80,000 to 100,000 hours. This significantly reduces the maintenance costs of operating the sports facility because fewer bulbs or fixtures need to be replaced.
An LED floodlight consumes significantly less electricity than lighting with metal halide lamps. For example, LED lamps require about 35,000 watts to generate 300 to 400 lux. With halogen, about 70,000 watts are required. Depending on the number of hours the sports facility is used, this can save several thousand dollars a month.
Modern LED sports lighting systems for sports venues are, in many cases, computer controlled. For example, floodlights can be turned on automatically at fixed times. This saves on personnel costs. In many cases, modern lighting systems can now be controlled via a smartphone app. This allows access by different people as well as very a easy and uncomplicated use of the lighting.
With an LED floodlight, you can also rent out your sports field to other groups and clubs for training or games in the evening hours. You should consider both the electricity costs and the wear and tear of the illuminants when calculating the rental costs, but balance that against the revenue you can generate from those rentals.
It's also advisable to install additional technology that may be required, such as surveillance cameras or loudspeakers on the poles, at the same time as the floodlight installation. This reduces the total installation costs for the sports field lighting infrastructure.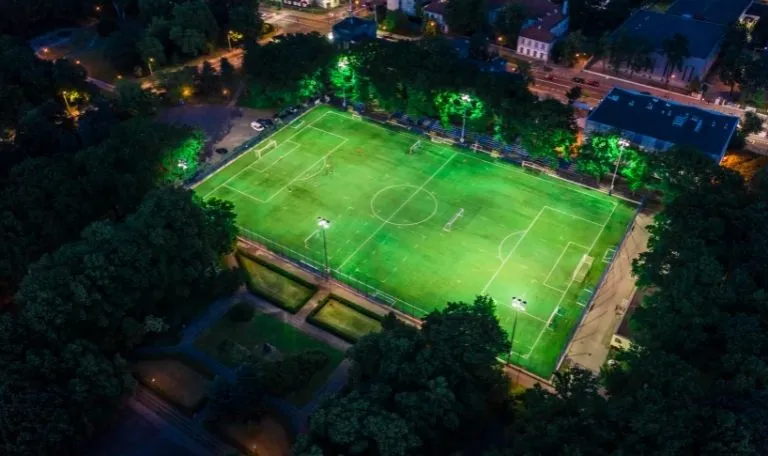 Upgrading to LED stadium lighting as part of a larger project
LED stadium lighting systems are usually upgraded or modernized as part of a broader construction project, either building a new field or renovating an existing one. Renovations will extend the lifespan of the playing surface, so it makes sense to do the same for the surrounding infrastructure. Clubs will also want to get the most out of their investment in the field, and a new lighting system will ensure they have maximum up-time at the desired levels of competition every day.
Costs accumulate quickly during these projects, and the focus is usually on the playing surface itself. However, having the right lighting systems can significantly improve the player and spectator experience, leading to increased attendance, membership and facility up-time. Moreover, using LED lights reduces the costs of electricity, maintenance and fixture replacement over the life of the system. Within a few years, these savings cover the higher up-front costs of LED's. 
Planners should consider not just the costs of construction and installation, but the impact the new facility will have on revenues and expenses over the projected life of the new infrastructure. Taking that view brightly illuminates the value of LED over conventional lighting systems.
Sports facility operators must determine in advance which sports will be playing on the newly-lit field. Additionally, they need to know what the target competitive level is for their facility, as that, too, will drive the design and product selection of the lighting. These considerations should enter the planning at an early phase. Lighting vendors and designers should be part of the conversations around the project to offer their experience and expertise. 
 The high investment costs of LED stadium lighting are offset by lower operating costs compared to a conventional metal halide system. 
Whether and when an LED sports lighting system is worthwhile for the club should be discussed with the relevant experts and planners and, above all, decided on the basis of a full cost calculation.
LED Sports Lighting Buyer's Guide
If you're planning to install or retrofit an LED sports lighting system, our comprehensive buyer's guide covers all the essential aspects including planning, budgeting, design, installation, and post-installation considerations, simplifying your decision-making process.
Get the Free Guide
Stadium lighting design starts with establishing the use case
The first step in creating a stellar lighting design for a sports stadium is to understand how the space will be used. What kind of events will be held there? Are there any specific requirements that need to be met?
Who are the main users of your stadium?
Will your stadium be used for high school athletes, college athletes, or community recreation? The requirements for each will be different. The types of users will dictate the complexity of your solution.
In addition to who, you need to consider what will be taking place in your stadium. Will it be used for football games, soccer matches, track meets, or a combination of all three? What competition level will you be hosting? The types of sports you are hosting will play a big role in determining the appropriate lighting solution.
How many spectators will your stadium hold?
This can be a tricky one to understand, but a general rule of thumb is the more spectators the more lights you need. Having adequate lighting isn't just for enjoyment, it's also important for safety.
Will games be broadcast on TV?
If you plan to host televised events, you'll need to meet specific requirements for broadcast. It's best to consult with an expert lighting installer who has experience with this to ensure your design will meet the necessary standards.
Your choice of stadium lighting system
For a long time, stadiums and sports fields around the country have been equipped with a metal halide lighting system. They offer a very bright output and are potent enough to provide uniform and high-quality illumination for a large stadium or athletic field. Despite the fact that metal halide lighting systems are still the most common solution for stadiums, there is a new kid on the block, who is quickly replacing metal halides as the go-to choice when it comes to illuminating stadiums.
I'm of course talking about LED stadium lighting. LED technology offers an even better quality of light (flicker-free, glare control, no warm-up time) while it can also save you up to 75% in energy consumption. Additionally, LED stadium lighting requires essentially zero maintenance (no need to replace bulbs) and it has a much longer lifespan (approx. 50,000-100,000 hours) compared to metal halides (approx. 5,000-15,000 hours). Taking into consideration the fact that LEDs are fully electric and do not use any toxic materials, they have a vastly reduced impact on the environment. 
Important diffefences in the stadium lighting system configuration
Technology – LED stadium lighting systems do not rely on lamps that use gas which makes them a greener option compared to metal halides. LED systems also do not need a ballast, instead, they use a driver to control the electric current between the power supply and the light fixtures. This can reduce your workload when it comes to the wiring of the system. 
Fixtures – the higher energy efficiency and better quality of light of LED sports lighters mean you will need fewer fixtures compared to metal halide systems. Another point for LEDs.
Lighting poles – LED fixtures weigh less than metal halide luminaires which means you can choose possibly choose lighting poles that are made of lighter and more economical material. 
Control – LED technology allows for advanced lighting controls that help you easily adjust the lighting levels on the field using a mobile phone or a laptop. You can also program schedules for the lights, dim parts of the field when necessary and run light shows during the breaks.
Examples of LED stadium light fixtures
LED Stadium Light Fixture
900W-1500W
91,000-161,000 lumens
CRI 70-90
CCT 2200K-6500K
LED Stadium Light Fixture
500W-1200W
48,000-144,000 lumens
CRI 70-90
CCT 3000K-6500K
LED Stadium Light Fixture
600W-900W
70,000-106,000 lumens
CRI 70-90
CCT 1800K-6500K
LED Stadium Light Fixture
300W-600W
42,000-84,000 lumens
CRI 70-90
CCT 3000K-5700K
LED Sports Lighting Buyer's Guide
If you're planning to install or retrofit an LED sports lighting system, our comprehensive buyer's guide covers all the essential aspects including planning, budgeting, design, installation, and post-installation considerations, simplifying your decision-making process.
Get the Free Guide
Choosing the right LED stadium lighting fixtures
The clear choice for a modern sports field lighting solution is LED stadium lighting fixtures. These lighting fixtures are sometimes referred to as LED floodlights, LED high mast lights or just plainly LED stadium lights. This is only semantics, as they all use the same LED technology. The main difference between them is their wattage and lumen output. LED stadium lighting fixtures are energy efficient, long-lasting, and offer superior light quality. The cost savings from LEDs are unmatched because they require less power than traditional options. Wattage for LED sports lighting typically ranges between 300W-1500W  – 50-75% fewer watts compared to legacy HID lighting systems.
Converting metal halide sports lighters to LED technology
If your stadium or sports field already has an existing metal halide lighting system installed and you want to retrofit it with LEDs, you should take into consideration that you cannot replace a metal halide lamp with an LED fixture like for like. The higher energy efficiency of LED stadium lighting fixtures allows you to install new fixtures that require 50-75% less wattage. Here are some guidelines to follow:
200W – 500W LED stadium light fixture replaces a 1000W metal halide fixture
600W – 1000W LED stadium light fixture replaces a 1500W metal halide fixture
1000 – 1200W LED stadium light fixture replaces a 2000W metal halide fixture
If you are planning to replace your existing metal halide stadium lighting fixtures with LEDs, try our stadium lighting cost calculator to get a customized cost estimate for your project.
LED Stadium lighting fixtures mounting options:
Depending on the shape, size, and location of your stadium or sports field, there are different ways to mount LED lighting fixtures.
Walls/ceilings of surrounding structures: If your sports field is located near a building or a structure (elementary school, middle school), you can use the walls to mount your LED lighting fixtures on. This will save you time and money because you don't have to install light poles/masts. 
High masts or lighting poles: This mounting option is ideal for smaller stadiums or sports fields (high schools, communal sports fields) that have a relatively small capacity for spectators and are not very tall structures. Installing masts or poles will allow you to install the lighting fixtures at an optimal height to provide high-quality illumination for the field below. When planning your layout, it's crucial to ensure you have enough space around the field or court. The beam angle needs enough space to maximize coverage and create a soft, even light. In general, you should be looking for a 12 – 60 degree angle for your lights. The height of the lights should be considered as well. Although there is no "perfect" height, you can expect 25 – 250 ft, depending on the sport.
Trusses: Modern sports stadiums are built with the spectator experience in mind, and usually, the playing field is very close to the stands, which leaves very little or no space for lighting poles. Luckily, large college or professional stadiums are normally high-capacity, tall buildings that sometimes even have roofs on top of the sports field that can be opened and closed depending on the needs of the event. Usually, there are frames, structures, and trusses high-up, on the walls and the roof of the stadium that can be used for mounting stadium lighting fixtures. Thanks to the height of the stadium, this mounting option offers a great beam angle for LED fixtures. 
Stadium light pole design
Sports stadiums on different levels of competition use light poles to mount the LED stadium light fixtures around the perimeter of the sports field. 
Stadium light poles are exposed to the elements and they have to resist all kinds of weather. They are also required to carry numerous light fixtures, which is why the poles are made of strong and sturdy materials like steel, aluminum, or composite materials.
The height of the stadium light poles varies normally somewhere between 40 feet and 100 feet depending on the size of the stadium, the playing surface size, and the level of competition.
There are different types of stadium light poles available to choose from. The most common types are:
Fixed stadium light poles – these light poles are commonly used at smaller stadiums where lighting requirements are not very high and do not change between events. These light poles are fairly easy to install and are not very expensive, but have limited functionality as they cannot be readjusted after initial installation.
Hinged light poles – these light poles can be used either stand-alone or to complement fixed light poles where necessary. They allow more flexibility and can be angled or rotated when needed. This flexibility improves the uniformity of illumination on the field. 
Rectractable light poles – these light poles are telescopic and they can be raised or lowered depending on the needs of the sporting event taking place to adjust the height of the lighting fixtures.
Mobile/portable light poles – these light poles are not fixed to the ground and can be moved around the stadium and placed where more lighting output is needed. These light poles are usually purchased to complement other types of light poles.
Stadium lighting requirements & standards
Wondering how much illuminance you need for your stadium? The short answer is it depends. We know you want answers so you can start planning, but every stadium and use case is different. You will need to take into consideration factors such as:
The shape of the playing field and stadium
The total area that needs to be lit
The competition level of the players
The capacity of the stadium
Requirements for TV broadcast
The IES (Illuminating Engineering Society) is the gold standard for reference when it comes to sports lighting. They classify stadiums and sports fields into four classes based on spectator capacity:
Class 1: Arenas with spectator capacity over 5,000
Class 2: Arenas with spectator capacity up to 5,000
Class 3: Arenas with some provision for spectators
Class 4: Arenas with no provision for spectators
Stadium lighting requirements per competition level
Sport type

Class I

Class II

Class III

Class IV
LED Sports Lighting Buyer's Guide
If you're planning to install or retrofit an LED sports lighting system, our comprehensive buyer's guide covers all the essential aspects including planning, budgeting, design, installation, and post-installation considerations, simplifying your decision-making process.
Get the Free Guide
Sport-Specific Stadium Lighting Design & Layout
The shape and size of your field will have a major impact on the lighting system design. Long fields like soccer or football will need different light coverage than a diamond-shaped baseball field. The layout of the field will also come into play – baseball parks have very specific requirements due to the infield, outfield, and stands.
On the other hand, the total area size (square feet) directly correlates with the amount of lumen output you will need to light up your sports field. The more lumens are required, the more fixtures and potency (wattage) is needed from your LED stadium lighting fixtures. Here's a brief comparison of sports field sizes to give you an idea:
Baseball diamond: 105,000 – 120,000 square feet 

Soccer field: 69,300 – 86,400 square feet
Football field: 57,600 square feet
Softball field: 32,000 square feet
Football stadium lighting design and layout
A standard-sized football field requires a total of 1,152,000 – 5,760,000 lumen output (recreational – professional level). Assuming your LED light fixtures can produce 150 lumens per watt, you'll need approx. 8,000w – 40,000w to light up the stadium. Football stadiums use LED light fixtures of around 600w – 1200w, so to reach the required wattage and to ensure uniform illumination across the field, you'll need 8 x 1000w fixtures mounted on 4 poles (recreational) or 32 x 1200w light fixtures mounted on 8 poles (professional).
Baseball stadium lighting design and layout
Unlike football fields, baseball and softball diamonds do come in different sizes. A baseball diamond on the collegiate or professional level is roughly four times larger than your average softball diamond.
College/pro: 120,000 square feet
High school: 105,000 square feet
Little league: 40,000 square feet
Softball: 32,000 square feet
Your softball or little league diamond requires 640,000 – 800,000 lumens and 4,300w – 5,300w to reach the required lighting level. You will probably only need four light poles, with each carrying two 600w LED light fixtures.
When you climb up the competitive ladder, the lighting requirements become more strict.
High school level: 3,150,000 lumens and 21,000 watts
College level: 6,000,000 lumens and 40,000 watts
Your average high school baseball diamond will probably need six light poles with four 1,000w sports lighters on each. A college diamond, on the other hand, will require an eight-pole arrangement, with four 1,200w sports lighters on each pole.
Soccer stadium lighting design and layout
FIFA regulation-sized soccer pitch dimensions have some flexibility when it comes to the dimensions. Usually, they measure 210′-240′ in width and 330′-360′ in length. The total area size, therefore, ranges somewhere between 69,300 and 86,400 square feet.  
Recreational level:

Lumens: 1,386,000-1,728,000
Wattage: 10,000w – 12,000w
Light poles: four-pole layout
Light fixtures: 4 or 5 x 600w fixtures on each pole

High school level:

Lumens: 2,079,000-2,592,000
Wattage: 14,000w – 17,000w
Light poles: six-pole layout
Light fixtures: 4 or 5 x 600w fixtures on each pole

College level:

Lumens: 3,465,000-4,320,000
Wattage: 23,000w – 29,000w
Light poles: eight-pole layout
Light fixtures: 3 or 4 x 1,000w fixtures on each pole
Request a photometric study for your LED stadium lighting solution
To get the best vision for your project, we recommend requesting a photometric study. This report uses computer-generated models to map out light distribution and coverage for your specific application. It's an essential tool for ensuring your lighting system will perform as expected. 
A photometric study will show things like:
Light uniformity across the field

The number of lumens needed   

The light output of the fixtures

The spacing of the fixtures
All professional sports lighting providers will offer photometric studies. It's vital to ask if your prospective partner has this capability when vetting them for your project. This can be a great differentiator as some companies do not have the in-house expertise to provide this service.
Recommended features for LED stadium lighting systems
Financing LED stadium lighting: What if there is not enough money?
Whether it's a football field, tennis court, or baseball stadium, any sports facility will be enhanced by the construction of an LED floodlight system. At the very least, it allows the field to be used more hours per day, especially during the darker months of the year.
However, especially for smaller clubs and schools, the upfront costs of sports field lighting is not easily affordable. Therefore, as part of the planning, sports facility funding and financing, grants and tax credits should be examined.  These are available from all levels of governments to support sports facility construction. 
Another option is to launch a fundraising campaign  targeting companies or individuals. This has often led to success in the past. Athletes, club members,students and parents should take the lead on these initiatives.
Floodlighting systems can also be financed with loans. Together with banks, some floodlight manufacturers have developed their own financing options for this purpose. The installments can then be repaid monthly, quarterly or annually.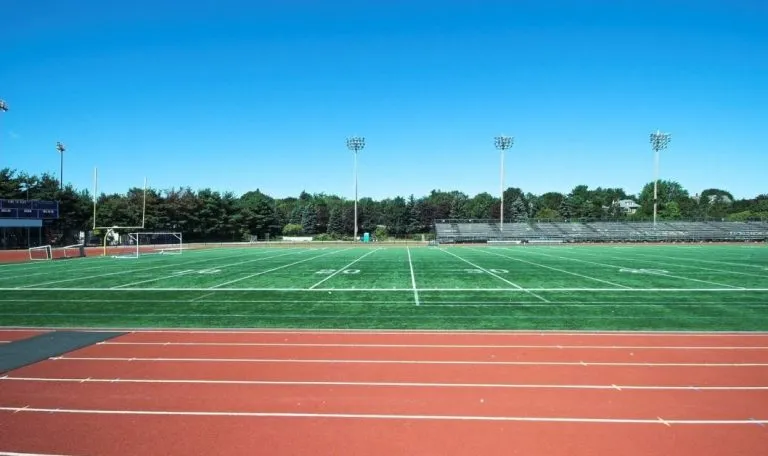 Choosing the right company for the job
In the world of sports lighting, choosing the lowest bid to save money will only result in a subpar system that doesn't meet your needs. Instead, focus on the following three criteria when vetting companies for your project: 
Experience:

Installing a new lighting system is a big undertaking. You want to partner with a company that has successfully installed similar projects in the past. Ask to see examples of their work and get references you can speak with. 

Capabilities:

Not all sports lighting companies are created equal. Make sure your prospective partner has the in-house expertise to handle every aspect of your project, from design to installation to maintenance. 

Support:

Your new lighting system is a long-term investment. You want to partner with a company that will be there to support you long after the project is complete. Ask about their maintenance and warranty offerings to get a sense of their commitment to customer service. 
We recommend securing at least three quotes from potential partners before making a decision.
Pro tip: If you are currently looking for a reliable and knowledgeable sports lighting vendor, try our sports lighting partner finder and get connected to suitable lighting partners. 
Get Your LED Sports Lighting Project Started
We've created a comprehensive set of tools designed to assist facility managers and project planners in initiating their projects and connect them with the professionals in the industry.
Calculate costs at an early stage
LED sports ground lighting cost varies depending on the type of sport and the level of illumination. How the club plans on using the field – which sports, how often, how late, under what weather conditions, among other factors – will shape the details of the lighting system.  Baseball and soccer are two very different sports played on very different fields. A diamond should not have the same lighting system as a pitch!
If existing lighting infrastructure can be reused (for example lines and cables) the costs of installing LED lighting can be greatly reduced.
The costs for installing or renovating a sports field's floodlight system can be calculated in detail with the help of our LED stadium lighting cost calculator.