Indoor LED Sports Lighting: Design, Costs & Applications
Are you looking to modernize your sports facility with LED lighting? LED indoor sports lighting is becoming increasingly popular for indoor sporting events, from stadiums to gymnasiums. LEDs offer a wide range of benefits, including energy efficiency and low maintenance requirements. 
Regarding sports lighting, there are two main types: metal halide lights (usually the traditional older type) and LED lights. Metal halide lights can still be reliable but don't offer the same advantages as LED lights. 
Proper lighting for sports activities is crucial for safety and visibility, so let's take a look at why LED lights are superior to metal HID lights.
If you are planning to install or retrofit an LED indoor sports lighting system at your sports facility, try our indoor sports lighting cost calculator to get a cost estimate in a matter of minutes.
Benefits of LED Indoor Sports Lighting
Energy efficiency
The first benefit of LED sports lighting is energy efficiency. Metal HID lights require a large amount of energy to operate, resulting in higher electricity bills and a larger carbon footprint.
On the other hand, LEDs are much more efficient and will save your facility money over time. LED sports lighting can save vast amounts on electricity bills at just a fraction of the energy cost.
Brightness and quality of light
In today's competitive world of athletics facilities, it's not enough to have lighting. You also need to have lighting that is bright and of the highest quality.
LED lights produce a much brighter light than metal HID lights, allowing athletes to see their targets during play better. Additionally, LED lighting emits pure white light, which can be adjusted to meet any illumination needs. 
Longevity and durability
When considering LED lighting for your sports arena, you need to calculate the cost for an inevitable replacement. Luckily, LED lights last much longer than traditional metal HID lights. 
Regarding operation time, LED sports lighting can last up to 100,000 hours. That's much longer than metal HID lights, which typically need to be replaced after just 20,000 hours of use. 
Low maintenance requirements
Another cost to consider is the expense of labor and materials for regular maintenance. LED lights require much less frequent maintenance than metal HID lights, meaning less money is spent on upkeep costs.
You can use the money saved to improve other parts of your facility by lowering upkeep costs and energy bills.
Fan experience and engagement
A modern athletics facility should cater to the needs of spectators and fans. LEDs provide the perfect illumination to heighten the excitement of spectators, and create an immersive experience for fans watching from home. 
LED sports lighting can also be very useful in creating a unique stadium atmosphere. The dynamic nature of LED lighting allows you to adjust colors or make special effects during events, drawing people into the event and making it more exciting and memorable.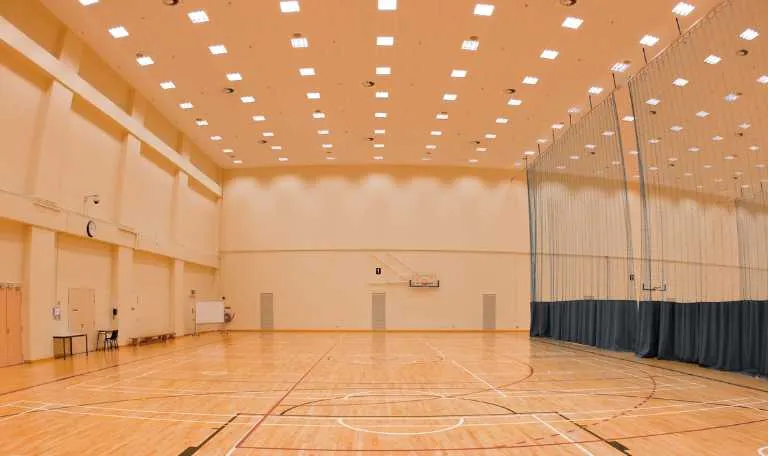 Applications of LED indoor sports lighting
You need to understand your specific use case to choose the right solution for your facility. The types of LED lighting will vary depending on the type of sports, events, and facility. 
LED sports lighting can be used for various events, from basketball and tennis to badminton and swimming. 
It can also be used in stadiums, gymnasiums, natatoriums, and other indoor sports arenas. Depending on the size of your facility, you can choose from various solutions like high bay LED lighting, floodlighting, and more. The final layout and design of your new lights hinges on your specifications and requirements. 
It's vital to consult an LED sports lighting expert early in your planning process. Working with a team familiar with your project's intricacies and specific use cases can help set you up for success. They can recommend the correct type of lighting and help you make the best use of LED technology to get the most out of your facility. 
Learn more about the sport-specific considerations:
LED indoor sports lighting systems explained
So, what types of lights are available for an indoor sports facility?
Most modern LED sports lighting systems consist of a combination of several different fixture types. 
The first is high bay lighting, ideal for large spaces with high ceilings. High bay LED fixtures produce a wide spread of light and can be used to cover entire courts or stadiums. 
Floodlights are another fixture designed to create an even, less powerful illumination in larger areas. They're the perfect solution for illuminating outdoor sporting events.
You can also include strips and other accent lights to create a visual impact for spectators. These lights can be used to highlight certain points of interest, like team logos and sponsors, or even as guides to restrooms and other facilities. 
You will need to mount fixtures to the ceiling for most of your lights. Proper mounting requires understanding the space you're working with and a plan for optimizing the lighting. Depending on your space, it can be challenging to mount properly — but a professional consultant can help. 
Lastly, you'll want to invest in an LED sports lighting control system. Some systems allow you to manipulate your lights from a laptop, mobile app, or even local controls, allowing you to adjust the brightness and color of your lights. 
With some systems, you can even program routines to further save on energy consumption when not in use. 
Examples of LED indoor sports lighting fixtures
LED Indoor Sports Light Fixture
Tunable white lights
350W
46,000+ lumens
1600K-6300K
CRI up to 93
LED Indoor Sports Light Fixture
Full RGB and tunable white
350W
1800K-10000K
CRI 70-90
LED High Bay Indoor Sports Light Fixture
Ceiling-mounted
100-200W
Up to 26,000 LM
3000K-5700K
CRI 70-90
LED Linear High Bay Light Fixture
Asymmetric lighting
70W-400W
Up to 56,000 LM
3000K-6500K
CRI 70-90
As mentioned above, the actual design of your lighting system will come down to the specifics of your use case. 
In addition to the types of sports and events, you'll need to consider the level of play you'll be hosting. For example, a high school gymnasium will have different standards and requirements than collegiate or semi-pro level athletes. 
Furthermore, you must meet broadcast standards if you plan to host televised events. Professional lighting consultants can help ensure your system meets the requirements for any situation and guide you on arranging your lights best. 
Read more about the key design considerations for installing indoor LED sports lighting systems.
How much does LED indoor sports lighting cost?
As you can see, a lot goes into designing an LED sports lighting system for indoor sports facilities. As such, you're probably wondering, "What does it all cost?" 
While there is no one-size-fits-all answer, you can expect to invest between $19,000 and $252,000 for your project. 
This will include materials, products, labor, and other associated expenses. The price will vary depending on the complexity of your system and requirements, as well as the size of your facility. 
The long-term cost savings LED lights offer can quickly pay for the initial investment. 
Consider a retrofit if you're looking for a smart way to save on your installation costs. Not all facilities, fixtures, or infrastructure can handle a full LED conversion, but you can often upgrade your existing system with new components. For example, fixtures but leaving your mounting points the same can save you money on installation labor and parts costs. 
Indoor sports lighting companies
Indoor sports lighting specialists focus on creating optimal illumination for enclosed sports venues, ensuring that athletes, referees, and spectators experience the best visual conditions. Given the absence of natural light in these settings, it's crucial to have consistent and uniform lighting that minimizes shadows and glare. Collaborating with professionals who understand the specific needs of indoor sports is essential. They design systems that cater to the unique requirements of each sport, from basketball and volleyball to badminton and gymnastics, ensuring that players can perform at their best and spectators can fully enjoy the action.
Pro tip: If you are currently looking for a reliable and knowledgeable sports lighting vendor, try our sports lighting partner finder and get connected with suitable lighting partners. 
Get a cost estimate for your project
So there you have it, LED lights are quickly becoming the standard for indoor sports facilities. 
If you're looking to upgrade your facility, working with a team that understands the nuances of LED lighting design is important. 
A professional lighting consultant can provide helpful insight and guide you in finding the most cost-effective solution for your needs. That's why we recommend getting a cost estimate early in the planning process – to help you more accurately budget with your team. 
Our easy-to-use online calculator is exactly what you need to start your project off on the right foot. Check it out here, and we'll put you in touch with some of the top lighting experts in your area!