Gymnasium Lighting Design & Cost Guide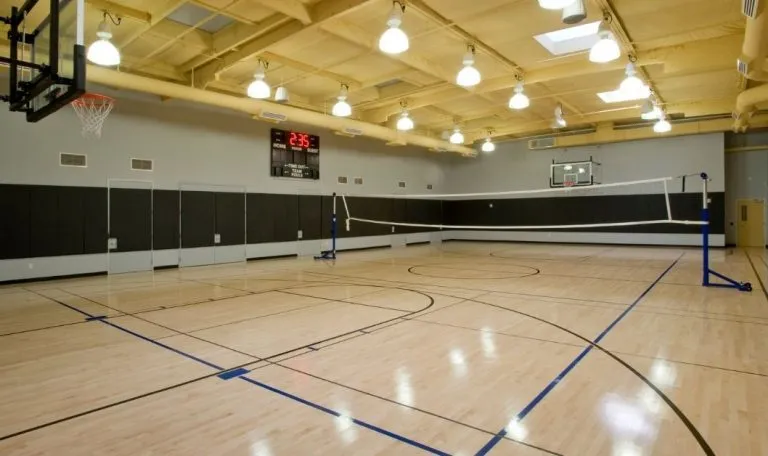 LED lighting for gymnasiums is getting increasingly popular each year thanks to the excellent quality of lighting, near-zero maintenance cost, longer lifespan, and the vast difference in energy efficiency compared to traditional indoor sports lighting technology (HID, metal halide). 
In this article, we will help you choose the best LED lights for your gymnasium by going through the key design and cost considerations gymnasium operators should be aware of when planning to install new lighting or retrofit LEDs to their existing lighting system. 
Installing new LED lights for your gymnasium or retrofitting an existing system with LEDs can set you back anywhere from $19,000 to $252,000 depending on many factors like the size of your facility, the competition level and your geographic location. Use our gymnasium LED lighting cost calculator to get a customized cost estimate for your new installation or LED retrofit project. 
What's it for? Finding the best LED gymnasium lighting system for your facility
Gymnasiums – other than those used by pro or top-flight college programs – rarely host just one sport. Most are multipurpose arenas, so everything in them from the surface to the lighting must meet all of the possible requirements. 
The lighting must be designed for both the athletes and spectators. Players have to be able to see the ball without it getting lost in glare or shadows. 
LED lights are responsive and adjustable. They can be installed with daylight-dependent control, dimmers, and tiered lighting so as many lights as necessary – from the bare minimum necessary to set up for an event to maximum illumination for a championship game – can be in use. Presence detectors ensure that the lighting system switches off as soon as the court is no longer in use. This minimizes the energy costs for the facility and extends the life of the system.
What are the different options for gymnasium lighting systems?
Your choice of lighting systems for your gymnasium or sports hall is a fairly straight forward one:
LED lighting
Metal halide lighting
LED gymnasium lighting is the new kid on the block with lots of (deserved) hype around it. Installing LEDs in your gymnasium is more costly upfront compared to traditional lighting systems, but that's where the cons end. The pros of LED technology far outweigh the cons: 
More lumen output with less energy consumption (higher lumens per watt ratio)
Zero maintenance: forget replacing old light bulbs that don't work anymore
Longer lifespan
Better quality of light – no flickering, dark spots, shadows, or heat-up time
Environmentally friendliness: LEDs do not contain toxic chemicals
Metal halide lighting has been for decades the go-to solution for indoor sports lighting systems, but the emergence of LED technology has seen the market share of metal halides drastically reduce over the last 10 years. That is not to say there are no positives about the old faithful though. The upfront costs of installing metal halides are cheaper compared to LEDs. The quality of light is also very good. But in the end, when you weigh the pros and cons, the clear winner is LED gymnasium lighting.
LED gymnasium lighting system features
Gymnasium LED light fixtures options
When choosing your gymnasium LED light fixtures, you should consult an experienced sports lighting installer/supplier. But before you do, you must have at least a basic understanding of the different lighting fixture types that are used in gymnasiums and sports halls in the US. 
High-bay gym ceiling light fixtures
These UFO-shaped LED lighting fixtures are mounted on the ceiling of the gymnasium. These fixtures are an excellent choice for gymnasiums that have high ceilings. The high-bay fixtures provide uniform illumination with a broad beam angle for the whole gymnasium floor and they can be even focused on specific parts of the floor if you want to highlight some areas over others.
High-bay gymnasium LED lighting fixtures typically have somewhere between 200W and 600W of wattage which is normally enough to light up an indoor sports hall regardless of its size.
LED strip and low-bay gym ceiling light fixtures
In case your gymnasium or sports hall has a weight room or a fitness center with a fairly low ceiling that needs to be illuminated, you may want to consider LED strip fixtures. They can be mounted on the ceiling and walls to provide more subtle illumination. Another option for gyms with a low ceiling is the low-bay LED lighting fixture, which has a more focused beam angle compared to the high-bay fixture. Therefore, they can be used at gyms with lower ceilings.
In the end, to choose the most suitable solution, you will need to consider who will be using your gymnasium (competition level), the size of your gymnasium floor, and the height of the ceiling.
How can LED gymnasium lighting fixtures replace metal halide fixtures?
100W – 200W LED gym fixture replaces a 600W metal halide fixture
200W – 400W LED gym fixture replaces a 1000W metal halide fixture
400W – 600W LED gym fixture replaces a 1500W metal halide fixture
+600W LED gym fixture replaces a 2000W metal halide fixture
If you are planning to replace your existing metal halide gymnasium lighting fixture with LEDs, try our
gymnasium lighting cost calculator
to get a customized cost estimate for your project.
Examples of LED gymnasium light fixtures
LED Gymnasium Light Fixture
Tunable white lights
350W
46,000+ lumens
1600K-6300K
CRI up to 93
LED Gymnasium Light Fixture
Full RGB and tunable white
350W
1800K-10000K
CRI 70-90
LED Gym High Bay Light Fixture
Ceiling-mounted
100-200W
Up to 26,000 LM
3000K-5700K
CRI 70-90
LED Gym Linear High Bay Light Fixture
Asymmetric lighting
70W-400W
Up to 56,000 LM
3000K-6500K
CRI 70-90
Gymnasium lighting design guide
1 – Establish the use case
Gymnasium lighting design work starts by establishing the use concept of the sports hall. Here are a few questions to ask yourself before you kick off your project:
Are you operating a simple school gymnasium with one playing surface and locker rooms?
Does the gymnasium also have a fitness center/weight room/gym?
Are we talking about a sports complex with several gymnasiums or sports courts? 
Are you running a commercial fitness center or gym?
Who are the main users of the gymnasium?
What is the level of competition? 
Consider the dimensions of the school gym or fitness center
Ideally, you should be able to clarify the total area (square feet) that needs to be lit, the height of the ceiling, and the competition level of your users. It goes without saying that the bigger the sports facility is, the more lighting output is required. The height of the ceiling determines which type of LED gym lighting fixtures you should install. On the other hand, lighting requirements become stricter the higher up the competition ladder you climb. In case your gymnasium or sports hall also hosts a fitness center/weight room with a lower ceiling, we would recommend going for linear suspension LED gym lights or low-bay LED lights. 
2 – Gymnasium lighting requirements & standards
The Illuminating Engineering Society of North America (IES) has established lighting recommendations for different sports fields and facilities including gymnasiums. Lighting levels are typically measured in footcandles in the US (amount of lumens at a distance of one foot from the playing surface). The recommended illuminance level depends on the competition level of the sports facility. See lighting level recommendations in the table below.
| Recommended gymnasium lighting levels | Lighting level | Capacity |
| --- | --- | --- |
| | | |
| Class II: High School / College | | |
| | | |
| | | |
3 – School gym lighting layout and design considerations
Standard-sized school gyms with high ceilings (min. 25 feet) used for team sports like basketball, volleyball, or indoor soccer typically use high-bay LED lighting fixtures. These luminaires are hung from the ceiling and they are arranged in three or four rows of eight or six lighting fixtures on each row (8 x 3 or 6 x 4). Normally 150 to 200 watts per luminaire is sufficient to reach the required lighting level for your gymnasium. However, be sure to check with a professional lighting contractor for the optimal setup.
How many fixtures do I need?
The number of LED gym lighting fixtures required to light up your school gym depends on the size, and shape of the gym, as well as, the competition level of the facility. 
A standard-sized school gymnasium usually hosts a full-sized basketball court of 94′ x 50′ which adds up to 4,700 square feet. Here's a simplified calculation to find out how many light fixtures you will need.
LED gym light fixture lumens per watt: 140
Footcandles needed:

Elementary school gym: 30 fc.
High school gym: 50 fc.

Total lumens needed:

Elementary school gym: 141,000
High school gym: 235,000

Total wattage needed:

Elementary school gym: 1,000
High school gym: approx. 1,700

Number of gym lighting fixtures needed:

Elementary school gym: 10 x 100w high-bay fixtures
High school gym: 12 x high-bay 150w fixtures
See an example of the school gym ceiling lights layout in the image below. 
4 – Fitness center or gym LED lighting layout design considerations
Gymnasiums or sports complexes that host a weight room or a fitness center may also need to install another type of LED lighting fixture that is more suitable for a typical, low, weight room or fitness center ceiling. There are various types of LED lighting fixtures that you can choose from. We would recommend linear suspension LED lights that look elegant and provide a high-quality and uniform light to the users of your weight room or fitness center. 
The number of LED luminaires needed for the weight room depends on the total area that needs to be lit. The bigger the fitness center, the more luminaires are needed. To calculate the number of fixtures needed, follow these instructions:
First, multiply the total square footage with the required footcandles (20-30 fc. should suffice) to get the total lumen output needed for the gym.
Secondly, divide the total lumens by 140 (lumens per watt) to get the total wattage needed to light up your fitness center.
Thirdly, divide the total watts by 100 – 200 (potency of the luminaires) to get the number of fixtures needed for your low-ceiling gym or fitness center.
5 – Important considerations
When choosing your new LED lighting system, make sure to ask the lighting company what kind of a control system comes with the lighting fixtures. Modern lighting systems can be controlled via a mobile app or a laptop. The control system allows you to adjust the lights according to your needs:

Do you need to dim the lights in one part of the gymnasium? Not a problem.
Do you need to adjust lighting levels for different user groups? Click. Ready.
Do you want to have the lights switch off every night at the same time automatically? Done.

Color temperature in your gymnasium may feel like an unnecessary detail, but it makes a big difference in the overall experience for the players and spectators. If the light temperature is too cold, your players will feel like they are playing basketball in the hospital! Set the temperature to 4000 – 5000K to reach a neutral, white light.
When talking to potential lighting companies, be sure to ask them to provide a photometric study before the installation project starts. It is essentially a 3D rendering of your future lighting system configuration and it will ensure the quality, quantity, and uniformity required in your gymnasium.
Many gymnasiums and sports centers have replaced their conventional lighting with impact-resistant LED fixtures in recent years. The prospect of cost savings from higher efficiency, longer-lasting bulbs, and less damage makes the conversion to LED attractive to many facility managers and municipalities. Ball impact-resistant LED lights are built to withstand impact with a ball: they won't shatter, break or fall off their fixture.
How much do gymnasium LED lights cost to install?
The installation of an LED gymnasium lighting system for a high school, college, or commercial sports complex costs between $19,000 to $252,000 depending on the quality of the lighting fixtures, geographical location and the competition level of your sports facility. 
What determines the price of LED lighting for gymnasiums?
Like anything else, the amount you will spend on LED sports lighting comes down to the quality of the units, the amount that you need and the labor to install them. While the lighting is an overall small portion of the budget for a full-scale sports facility renovation or new construction, it still needs to be part of the initial planning process. Lighting systems should integrate with all the rest of the work in terms of functionality and, obviously, affordability.
The following factors should be considered when purchasing LED lighting for gymnasiums:
Quality of the lighting fixtures
Size of the gymnasium floor (s)
Competition level
Geographical location
The main uses of the sports facility will determine the lighting class of the LED system. For a professional environment, where TV or livestream cameras may be used, facilities should meet the standards of Class 1 lighting. At the other end of the use spectrum – training, recreational use, school sports – class 3 lighting is sufficient. We will explain the lighting classes more in detail further down the article.
LED lighting systems offer precise, responsive control. The lights are dimmable and the set-up can be designed so you only need to turn on the fixtures you need for the game, practice or event taking place. 
9 good reasons for converting your gym to LED
Large annual cost savings possible by linking LED lighting and various apps

Energy efficient and environmentally friendly technology

Due to simple installation, installation costs drop dramatically

Complete delivery of LED systems, including cabling and suspension material

Up to 100,000 hours of uninterrupted operation without maintenance

LED lighting reaches full brightness almost immediately upon being turned on

Full gymnasium LED lighting without glare affecting the players

Almost noiseless operation of the LED lights ensures undisturbed game operation

Through regular inspections and certification, lighting systems always meet the stated specifications
Gymnasium Lighting Companies
Companies that specialize in indoor sports lighting solutions are adept at installing or retrofitting LED lights for gymnasiums and other indoor sports facilities. These experts design and implement lighting systems that cater to the unique requirements of indoor environments, ensuring that athletes have clear visibility and spectators enjoy a great viewing experience. Key factors include achieving uniform lighting, minimizing shadows, and ensuring energy efficiency. Many of these companies also provide advanced control systems for effortless lighting adjustments. When considering an upgrade or a new installation, it's essential to choose a company with a solid reputation in gymnasium and indoor sports lighting to ensure optimal results.
Pro tip: If you are currently looking for a reliable and knowledgeable sports lighting vendor, try our sports lighting partner finder and get connected with suitable lighting partners. 
Get a cost estimate at an early stage
If you are reading this paragraph, it means you have reached the end of the article and you should have a pretty solid understanding of gymnasium lighting costs and design.
If you are planning to install a new lighting system for your sports center, try our gymnasium lighting cost calculator to get a customized estimate for your project.