Running track construction costs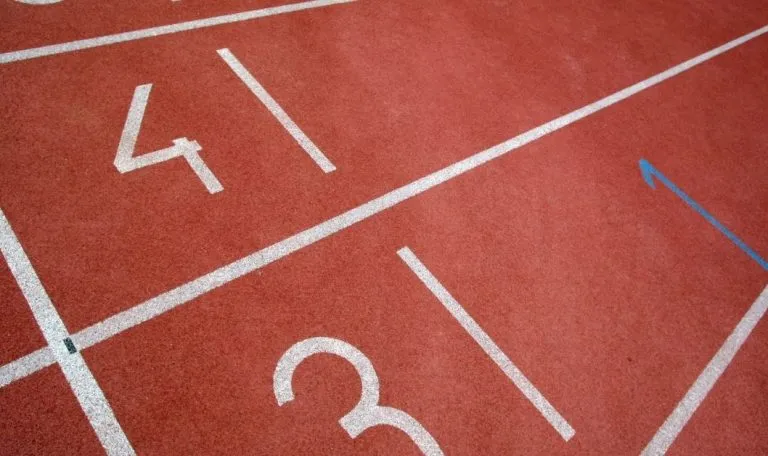 "How much will it cost to build a running track?" Common question, given that running tracks are often the centerpiece of many sports complexes. Look no further, in this article you'll get an overview of running track construction costs.
You'll sometimes hear the term "tartan track" to refer to  any type of synthetic running track. Like Kleenex or Band-Aid's, Tartan is a brand name that is now a catch-all name for any track made of polyurethane binders and rubber. These tracks come in a variety of thicknesses and colors from many manufacturers. The color selection can give the sports facility a distinct identity, such as the  blue athletics track at the Berlin Olympic Stadium or Drake University, giving the track a high recognition value.
How much does a tartan running track cost to build?
A professionally installed and regularly maintained track can maintain its functionality and quality for a very long time. Because it has the potential to be a long-term investment, it's absolutely worth getting it right the first time by involving experienced professionals from Day One. Quality has its price, but it also has its returns.
The cost of a tartan running track ranges from $3,20-$12 per square foot for the surface and lining. Further costs come from the bonded and unbonded base layer as well as for the drainage. In addition, further costs for site equipment, planning activities,soil surveys and tests should be calculated as part of the project planning.
If you are interested in learning more about what the running track construction process looks like, we've written a full article about that topic also!
Calculate costs and compare prices
Planning a sports field used to be easy: make a 400-meter oval, fill it with cinder. There's your track, and the field is whatever fits inside it.
Now, if that track is to do anything more than have people casually running laps, there are specific dimensions for the geometry of that oval, the quality of the track surface, the number of lanes and the markings of the lanes. The shape of the oval will also determine the size of the field within. If you want to host competitive football, baseball, soccer, lacrosse or field hockey games, the oval has to allow for the correct dimensions. It's also important to consider whether you should go for a high maintenance natural grass field or, project budget permitting, install a turf field with a lower total cost over the lifespan of the field.
And then there's the matter of what surfaces the track and field will need to support their activities. Will the field support all of a school's or club's outdoor sports and activities, or will it host national-level or pro competitions in a single sport? Does the surface need to support a high level of play, or just people playing?
The answers to these questions will determine the costs of building or resurfacing a running track with a playing surface on the field inside it. Facility owners can get an estimate of those costs by using the Outdoor Sports Flooring Cost Calculator.
Running track construction costs for a sports facility depend on the size, choice of playing surface for the field and soil conditions. All costs should be calculated at an early stage and from several running track construction companies so you can make worthwhile comparisons of the product offerings and prices.. 
For an estimate of the area of tracks based on number of lanes:
8-lane track: – 49,500 sf.
6-lane track: – 38,000 sf
4-lane track: – 26,000 sf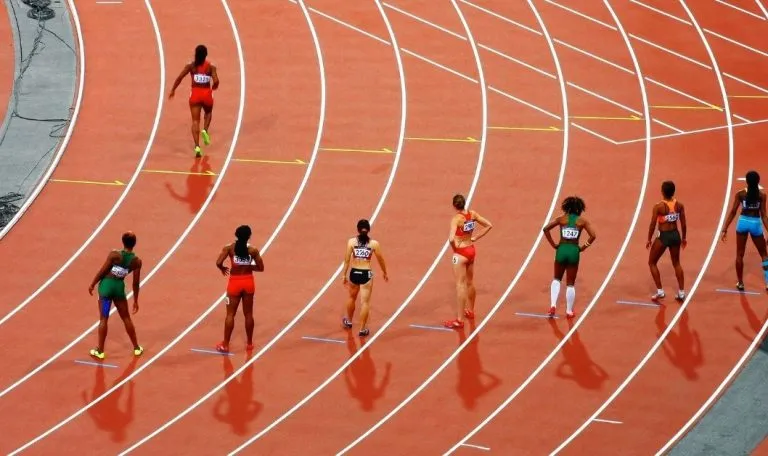 Artificial running track: A tartan track offers numerous advantages
A modern rubber running track is far preferable to a cinder or asphalt track. The cost is higher than those more primitive surfaces, but the advantages are clear: 
Tartan athletics tracks are slip-resistant and can be used even when the surface is wet, allowing athletic competitions to take place in adverse weather conditions

Rubber tracks are often jointless surfaces. This means the track has exactly the same density at all points and offers the athletes a constant feel

Rubber tracks allow the athletes to wear spikes, which most track & field athletes do during training and competition. This allows you to host competitive events and attract high-performing teams and athletes

Athletes have a strong grip, which minimizes the risk of injury and is a prerequisite for top athletic performance.
Use concept of the sports facility
A track that is being built to host Olympic Trials or collegiate national championships faces much more stringent requirements – and, therefore, costs – than a track used by an elementary school and the general community for walking and jogging. Before you start surveying the land, know exactly who and what will be on it so you can build the right facility on the right budget.
Read our 10 questions and answers about outdoor sports flooring for more information about what to consider when planning a new running track.
Running track surface for multiple purposes
Tartan surfaces are installed at a large number of  sports facilities. The track can be water-permeable or water-impermeable, depending on its bound base layer, and can be used for school or club competitions, training or all-purpose activities. 
The classic tartan track was red. However, you can design the color scheme to match your team, club or school colors – or just some color that will catch the eye and look great on Instagram! College tracks across the US are shades and combinations of blue, green, yellow and, of course, red.
Tartan shows up in more outdoor sports facilities than just running tracks. Multifunctional sports courts often have floors made of tartan. Especially in urban areas where playing space is in short supply, a surface that can accomodate basketball, soccer, volleyball or any other sport will be the ideal choice.
Tartan surfaces are low maintenance, even under the heavy and intense use of a running track or outdoor multisport court. The facility owner can usually clean these surfaces on own, without specialized equipment or personnel. They should still seek a sports facility maintenance specialist for the intensive maintenance that needs to be done less frequently but regularly.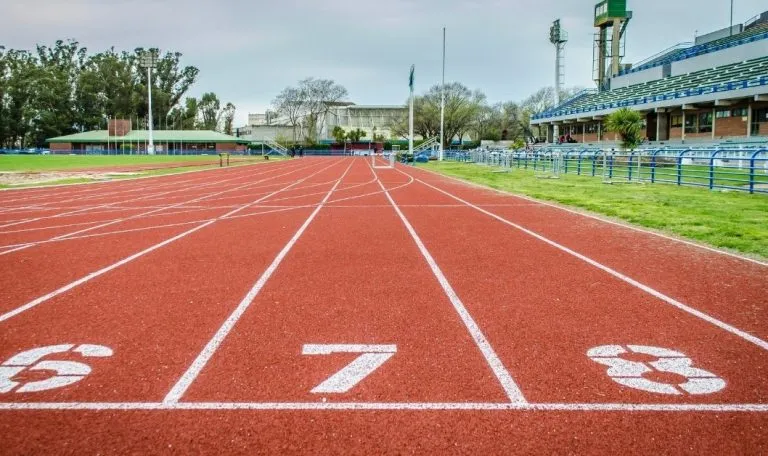 Sports facility financing for outdoor sports flooring
Running tracks are the quintessential outdoor sports surface. Their proven popularity means it may be relatively easy for the facility operator to obtain grants or donations to cover the costs of installing the track. Because these tracks are often meeting points for the running and fitness community, they are also ripe for donation drives, fundraising activities and crowd-funding. Because so many people will enjoy the finished product, they may be motivated to contribute to the building process. Find out more in our sports facility financing and funding guide. 
Get a cost estimate at an early stage
The cost of building or renovating a rubber  track depends on the use concept of the sports facility, the intensity of use and the product quality. If the track is only used for school and club sports and training, the facility can be equipped with a less expensive surface. If the competition facility is used for national or international competitions, the track must meet appropriate standards and the costs will likely be higher.
The costs for the synthetic running track can be calculated using the Outdoor Sports Flooring cost calculator and the product can be selected on the basis of the use concept.