Indoor badminton court construction costs and funding opportunities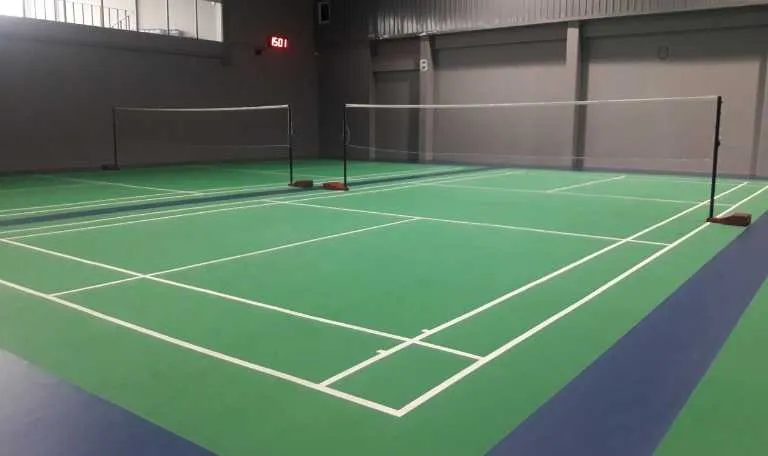 The cost of indoor badminton court construction can vary depending on several factors:
The size of the facility

The type of flooring

The number of courts

Additional features (lighting, sound system, etc.)
In most cases, the average indoor badminton court will cost between $5,000 and $20,000 to install. However, don't worry; there are ways to create an affordable indoor badminton court without breaking the bank.
If you are in a hurry, try our gym flooring cost calculator to get a customized cost estimate for your indoor badminton court installation or resurfacing project in a matter of minutes.
What are the upkeep and maintenance costs for an indoor badminton court?
To protect your new valuable asset, it is important to take into consideration the upkeep and maintenance tasks and responsibilities a sports facility operator has once the brand new indoor badminton court is installed and ready. Professional court builders typically also provide maintenance services that prolong the lifetime of a badminton court. The goal is to maximize the safety, playability, and aesthetics of the court by performing regular maintenance tasks such as cleaning, mopping, and repainting the lines, but also surface-specific tasks that vary between different flooring types. 
A wooden badminton court floor lasts a long time but it may need an annual recoating and the surface needs to be sanded and refinished typically once a decade. Refinishing a wooden badminton court costs around $2 – $5 per square foot. You can expect a total annual maintenance cost of around $2,000 – $5,000 depending on how much the court is used. 
Synthetic floors are very easy to maintain and regular mopping and cleaning are typically enough. From time to time, you will need to wax the floor to keep it in top shape. Expect an annual maintenance cost of around $1,000 – $2,000.
What influences the cost of an indoor badminton court construction project?
Size and dimensions
One of the first things you'll need to do is determine the size of your playing area. The standard size for an indoor badminton court is 44 feet long by 20 feet wide. You'll need to consider space for athletes and spectators to maneuver. 
If you're tight on space, you can shorten the length on either axis to accommodate your facility. When altering the shape of a badminton court, it is vital to maintain the proportions. So, if you take 10 feet off the length, you'll need to take the same percentage away from the width. This keeps the integrity of the playing surface.
Remember that if you plan on hosting a Badminton World Federation (BWF) level competition, you'll need to follow their strict guidelines. Altering the court is excellent for leisure play or practice facilities.
When creating a space with multiple courts, you'll want to factor in how much room you need for each. Providing a gap between courts is crucial to keep play separate and cut down on shuttlecocks landing in adjacent games. Of course, each court you add will increase the overall size of your facility, which will add to the cost.
Need help planning the layout of your indoor badminton facility? A construction partner experienced in building similar projects can help you make the most of your space and budget.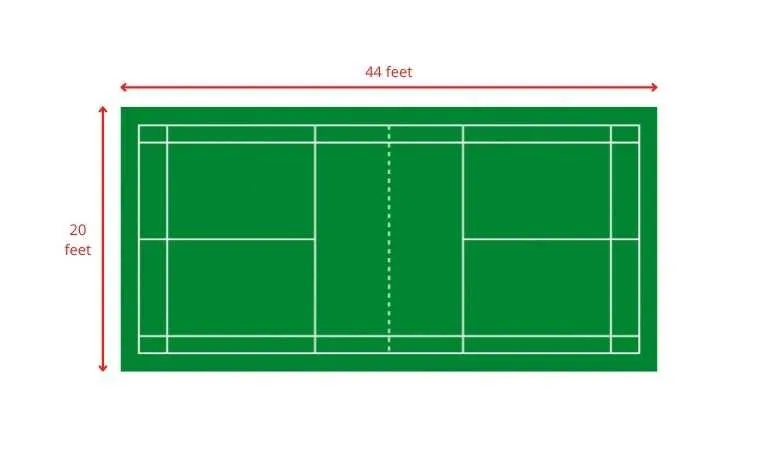 Types of flooring materials for indoor badminton courts
Next, you'll need to decide what type of gym flooring you want in your facility.
This decision starts with the base layer and subfloor. These are the layers upon which your flooring will sit – creating a foundation for your athletes to move, slide, jump and run safely.
For the floor itself, there are a few different options available on the market.
The consummate badminton court floor is constructed with elastic wood materials. Spliced horizontally, blocks of flexible wood are joined together to create a seamless, sturdy, and shock-absorbent floor. This is the preferred surface for world-class athletes as it provides consistent ball bounce and slide while also being gentle on the joints.
Another popular option is synthetic materials. For example, international competitions have adopted bitumen as their preferred flooring because it's easy to maintain, clean, and provides athletes with a consistent feel.
Choosing the most suitable material for your level of play and budget is essential. Work with an experienced contractor to find the best option for your facility.
Sleeves, Poles, and Nets
Next, you'll need to factor into the cost of your indoor badminton court is the net posts and sleeves.
Nets are a vital component of any badminton court. You'll want to choose a quality option that is both durable and easy to set up.
You'll also need to purchase posts and sleeves to hold the net in place. The most common sleeve type is made from aluminum or PVC and can be inserted into the ground or surface. These are a more affordable option, but they're not as aesthetically pleasing as floor-mounted posts.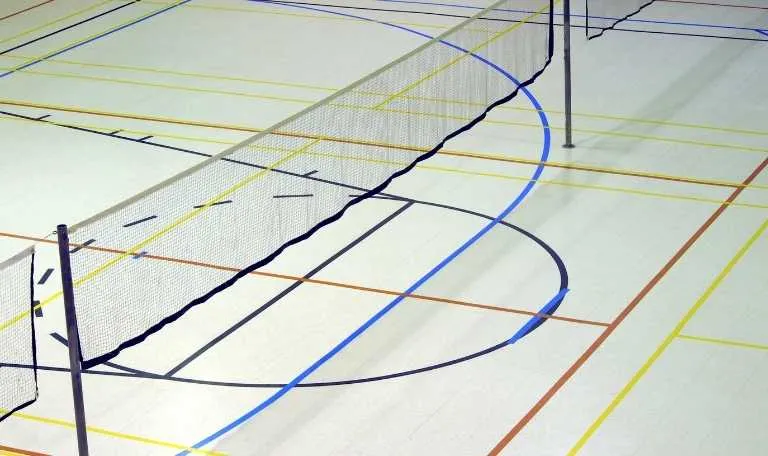 Line Markings
No indoor badminton court is complete without the proper line-markings.
As with tennis or volleyball, the lines on the court designate crucial areas for play. They also help keep athletes safe by providing boundaries for movement. Here are the lines you'll need:
Centerline, dividing the court into two halves

Service lines typically set 6′ 6″ from the center line

A set of lines for doubles, which are 3′ inside your sidelines
Line markings help players and fans easily understand the game. You'll need to consider the cost of maintaining these lines throughout the lifespan of your court.
Geographical Location
Your local area will also impact the cost of your indoor badminton court.
Labor costs can fluctuate dramatically depending on where you are in the United States. It's crucial to find a partner that is familiar with creating badminton courts. This will help your project run efficiently and reduce the number of hours needed for completion.
Customization of the Court
Be sure to factor in some style to your court construction budget.
You can customize the color of the floor to fit your brand, school, or team. A unique color can positively impact the aesthetic of your facility. Plus, you can add logos for your organization, national and local sponsors, and more.
Amenities
If you're building an indoor badminton court, you are making a destination for lovers of the sport. Therefore, your facility will require some additional amenities to support the activity. Here are a few things you'll need:
1 – Led lighting systems
In case your sports facility doesn't have a lighting system installed, you will need to consider it in the budget. LED sports lighting systems are the go-to solution for lighting indoor badminton courts. Their upfront costs may be higher compared to a conventional HID lighting system, but the energy efficiency and the lighting quality make up for the initial investment quickly. Here are the lighting requirements for different levels of play: 
Training or Recreational play: 200 – 300 lux (20-30 FC.)

High school: 300 – 500 lux (30-50 FC.)

College / professional: 500 – 700 lux (50-70 FC.)

BWF world championship level: 1000 – 2000 lux (100-200 FC.)
2 – Netting
No one wants to play on a sagging net. Make sure you invest some money and time into choosing a suspension system that will keep your net tight and taut.
3 – Scoreboards
Players and fans need to be able to see the score easily. You'll need at least one scoreboard, but you may want more depending on the size of your facility.
4 – Bleachers and ben
ches
Your indoor badminton court will need some places for people to sit. This can be anything from fold-up chairs to full bleachers.
5 – Storage
You'll also need a place to store all of your badminton equipment. This may include posts, nets, shuttlecocks, and more.
6 – Roofing
This may not apply to your project if you are installing your court in a pre-existing facility. However, if you are building from scratch, one of the most affordable and flexible ways to cover your court is with an air dome. Check out this article for a full breakdown of costs associated with sports air domes.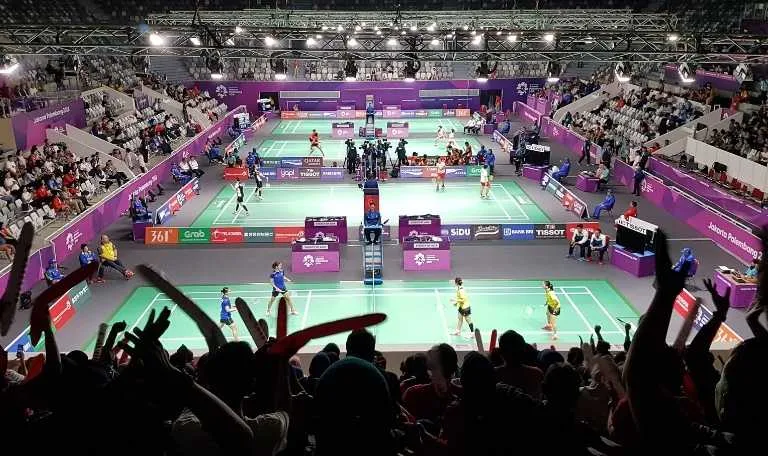 Grants and funding opportunities for indoor badminton court construction projects
As you can see, there are a lot of pieces to a functional and stylish indoor badminton court.
The good news is that plenty of funding opportunities are available to help offset the construction cost. Here are a few places you can look for grant money:
The Badminton World Federation (BWF) offers several grants and programs specifically for developing badminton facilities, including indoor courts.
The United States Olympic Committee (USOC) offers grant money to construct indoor and outdoor badminton courts through its Olympic & Paralympic Facilities Grant Program.
Local government organizations also offer grant opportunities to develop indoor sports facilities, including badminton courts. Check with your state's parks and recreation department or your city's office of recreation to see what might be available in your area.
Badminton clubs and associations may also offer funding opportunities to construct new badminton facilities, including indoor courts.
Federal grants are also available for the construction of indoor sports facilities. They can be more challenging to obtain, but if you qualify, they can be a great funding source.
Crowdfunding and donations are another great way to raise money for your indoor badminton court construction project. Platforms like GoFundMe make it easy to start a crowdfunding campaign. You can also reach out to businesses and individuals in your community to solicit donations.
As you can see, many different funding opportunities are available to construct an indoor badminton court. Be sure to do your research and explore all the options that might be available to you. Your construction partner can also help you identify potential funding sources and guide the grant application process.
Get a cost estimate at an early stage.
Before you start applying for grants or choosing what color the bleachers will be, you need to know how much your indoor badminton court installation or resurfacing project will cost.
One of the best ways to get a fast and accurate estimate is with our gym flooring cost calculator. Just input the information for your project, and you'll get an instant cost estimate.
Need help finding a construction partner for your badminton court? We can help! 
Our team works with some of the top experts in the United States. We'll connect you with a construction partner that has experience building badminton courts, and we'll make sure you get the best possible court for your facility.