Ultimate guide to Gymnasium Flooring: costs, materials and selection criteria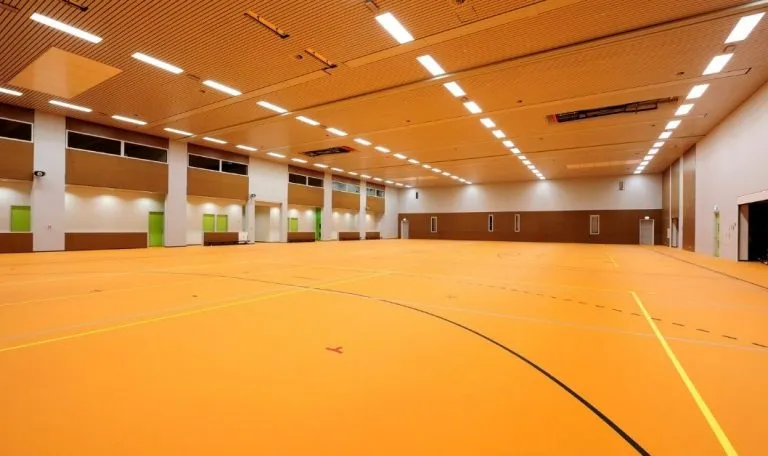 If you are in a hurry…
Gymnasium flooring cost varies depending on the type of flooring, size of the facility, product quality, and regional as well as seasonal price differences. To give you an idea the cost of an indoor sports floor for a basketball court ranges from $55,000 to $98,000, depending on substructure, flooring selection and regionality. 
Maple Hardwood is the most commonly used sports floor in the United States. Maple is dense, and its ball bounce and maintenance properties make it the ideal wood for sports floors.
Gymnasium flooring must meet a wide variety of requirements. The playing court's floor should minimize the risk of injury, meet the requirements of different sports and withstand the stresses of near-constant use. Especially when the facility is used as a gathering or assembly place for more than just sports activities, indoor sports floors must be able to withstand heavy use and demands.
The financial planning should also take into account the follow-up costs for cleaning and maintenance of the floor, as well as upkeep and any repairs that may arise. Another important factor is the expected life cycle of the flooring surface. Some need to be replaced after just 10 years, while others can last for up to 40 years.
Use our gymnasium flooring cost calculator to get an accurate estimate for your project.
What is the cost of gymnasium flooring?
Different floors offer different advantages for specific sports. Surfaces built for multiple functions may not meet the precise needs of highly competitive players in one specific sport, but they offer the versatility to satisfy most players of most indoor sports in addition to the demands of non-sporting uses. Roller hockey players are not going to play on a maple hardwood, and no one who owns a parquet floor would allow it anyway!
Each option varies in price, configuration and colors. Once those design features are met, the cost is determined by the area to be covered, the substructure and the top layer.
With so many choices, facility managers must maintain their focus on the use concept and not allow price or aesthetic concerns in isolation to affect the final decision. Below you can find pricing information for two of the most common choices for sports hall flooring: maple hardwood and linoleum.
What does a linoleum sports floor cost?
A single linoleum sports floor (approximately 3,000 sf) costs between $9,200 to $14,600 for just the top layer. There are then costs for waterproofing, impact and sound insulation and the substructure Linoleum providers offer different thicknesses and colors, so the floor can be customized for the intended uses of the court.
Cost of a Maple Hardwood sports floor
A Maple Hardwood sports floor ranges from $54,000 to $92,000,  plus the costs for the substructure (e.g. an area-elastic double-swing floor), impact and sound insulation and sealing.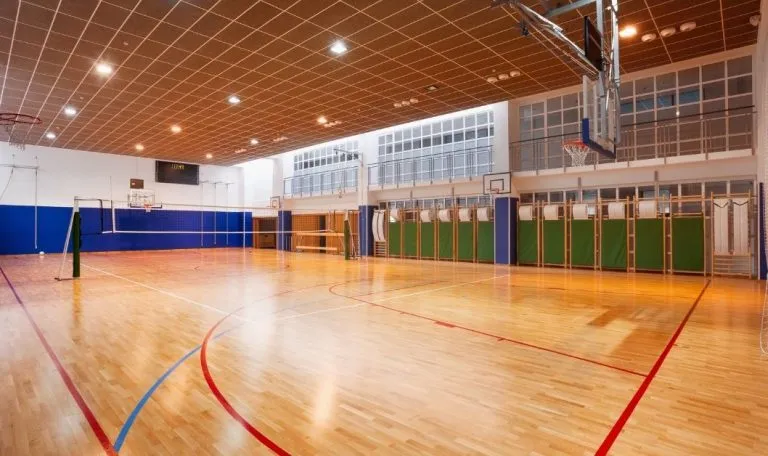 Plan for the maintenance costs
Be sure to plan enough of a buffer in your sports flooring budget, because additional expenses can always arise that were not considered at the beginning of the planning process. Consider the cost of planning the sports facility project as well as materials and construction costs for the indoor sports floor. Long-term care and maintenance of the indoor sports floor should be considered.
The costs listed below should be used as a guide. They may vary depending on the manufacturer, on the size of the order and due to the market situation.
In addition to the cost of cleaning, occasional touch-ups and repairs must also be considered. The maintenance of the sports hall floor should also be considered in the budget planning. The better a sports floor is maintained, the longer it lasts. 
Planning steps on the way to a new gymnasium floor
The most precise possible utilization concept for the construction or renovation of the sports hall and the corresponding gymnasium floor is the be-all and end-all.
It is advisable for the sports hall operator to consult an expert as early as possible in the planning process and to have him advise him throughout the rest of the process. The large number of floor coverings available for the gymnasium, as well as various properties of the substructures that need to be taken into account, make it virtually impossible for the layman to implement the gymnasium floor renewal project on his own. A first important step, with a view to the purpose that the hall will essentially serve, is the preparation of a detailed utilization concept.
On the basis of the utilization concept drawn up and the criteria and sports focal points mentioned therein, the specialist planner can determine the gymnasium floor suitable for your needs or at least sensibly narrow down the product selection in a first step. An inspection of halls in which the respective material has been installed as a sports hall floor can provide an additional decision-making aid in the selection of the right gymnasium floor.
If international competitions or other events are also to be held in the planned sports hall, for which a special floor is required that complies with the regulations of the respective federations, the expert can also point out possible ways here or advise with regard to the choice of a suitable mobile floor system that can be laid over the actual gymnasium floor if required.
Which gymnasium floor for which sport?
Many gymnasium are used for multipurpose purposes. A suitable sports hall floor is a crucial basic requirement for hall use for training and competition purposes, and furthermore, if necessary, for events such as concerts or meetings. On the one hand, the sports floor in the indoor area must meet various sport-specific requirements. Criteria such as the slip and slip resistance of the hall floor, the ball bounce behavior, but also the load-bearing capacity due to castors, for example of wheelchairs or equipment trolleys, must be taken into account. Overall, it is important to minimize the risk of injury during sports and to protect the joints as much as possible by choosing the right floor covering.
If the hall is also to be used for cultural events such as parties or concerts, this must also be taken into account by observing specific criteria. To maintain uniform standards when planning or renovating a sports hall, there are specifications from associations and institutions that define the requirements for sports floors, their construction, and testing and maintenance. Other standards apply to flooring work and define norms on topics such as fire protection or risk minimization through the use of harmless ingredients. The latter also takes into account the increased health and environmental awareness among the population. For example, the strict German requirements serve to control manufacturing processes and ingredients and thus to curb the import of inferior products from abroad.
Good impact sound insulation, the avoidance of disturbing light reflections or electrostatic charging, the possibility of installing underfloor heating and hygienic properties can be further selection criteria for the gymnasium floor. At the same time, the gymnasium floor should be as hard-wearing and durable as possible, and in terms of acquisition and maintenance costs, it should be good value for money.
Our gymnasium flooring cost calculator will help you determine the cost of your sports center floor.
Gymnasium flooring options: overview
When looking for a suitable sports floor, clubs, municipalities and sports complex operators are not lacking for choices. A wide range of manufacturers provide an even wider selection of products  to meet the requirements of different sports. The majority of popular indoor sports floors can be installed without hesitation for most athletic purposes in gymnasiums, sports centers and multi-purpose facilities.
Other criteria for selecting the floor include suitability for installing a floor heating under the system, or visitor experience features such as sound insulation.
An overview of the various sports flooring systems and their suitability for different sports is given in the following overview:
Maple Hardwood
Sports: Basketball.
Advantages: Expected life of 35-40 years, variety of system designs.
Maintenance: Daily dusting;, annual 1 x per year recoating, HVAC monitoring and regular re-polishing required; also regular re-polishing required, HVAC monitoring, floor protection needed in case of multiple uses.
---
Sports Vinyl
Sports: Basketball, volleyball and other activities.
Advantages: Good shock absorption and uniformity reduce risk of injury. Ideal for multi-purpose halls.
Maintenance: Low maintenance cost, no surface protection required, clean every one to two weeks with scrubber and detergent.
---
Sport Linoleum
Sports: Can be used for a variety of purposes.in a variety of ways
Advantages: Lifespan of up to 50 years, environmentally friendly, well-suited for general-purpose gyms.
Maintenance/Care: Easy to maintain and repair. Cleaning with scrubber and detergent every 1-2 weeks. No surface protection required.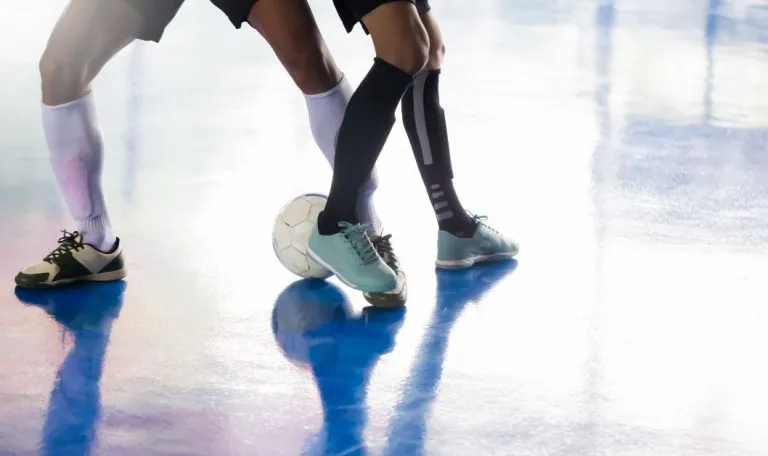 Vulcanized Rubber
Sports: Multifunctional floor.
Advantages: Can be used with heavy equipment, even vehicles. Will withstand skates or spikes (depending on thickness).
Maintenance: Easy to repair and maintain, but harder to keep clean. No surface protection required.
---
Pad & Pour Polyurethane
Sports: Versatile
Advantages: Seamless surface suitable for heavy equipment; and withstands high point and rolling loads.
Maintenance: Polyurethane spray every 10 years, no surface protection required.
---
Combination System
Sports: Basketball, volleyball, aerobics and others.
Advantages: Good shock absorption and very uniform, therefore reduced risk of injury;, multifunctional floor.
Maintenance: Regular dusting, cleaning every 1-2 weeks with scrubber and detergent, polyurethane spray every 3-5 years, no surface protection required..
In the indoor sports flooring knowledge section, we have compiled all the information you need about flooring options for sports centers and gymnasiums. You can easily calculate the costs of the corresponding floor  using the Indoor Sports Floor cost calculator. 
Most common gymnasium flooring surfaces in the US
The following is a brief introduction to the most common gymnasium floor coverings in the United States. They have all been developed specifically for use as indoor sports flooring, are compliant with standards and are certified. These floor coverings have already proven their worth in countless gymnasiums.
Maple Hardwood sports flooring can be found in many gymnasiums across the United States. A maple hardwood sports floor is dense, and its ball bounce and maintenance properties make it the ideal wood for sports floors. A parquet sports floor is also easy to maintain and durable. If the gym is used for multifunctional purposes, the parquet floor should be protected with an appropriate covering system during events.
Sports linoleum as a gym floor is often the material of choice when it comes to a multi-purpose hall. Linoleum floors are extremely robust, available in various colors and can be found in sports centers across the country. Linoleum is also suitable for various roller sports.
PUR-coated gymnasium flooring is a different variant from the two coverings mentioned so far. They can be applied on site in a liquid state and can be visually customized. With proper care, the gym floor can be used for several years, but must be resealed at regular intervals.
PVC sports flooring, with a smooth or grained surface, is also a fairly durable floor covering and is available in a wide variety of colors.
Although rubber is also an easy-to-clean gym flooring that is very similar to linoleum, it is rarely used in gymnasiums. One reason may be the costly installation of this indoor sports floor.
Indoor sports flooring selection criteria
Especially for new construction projects, you should use the following points to determine your needs around the new sports hall floor.
Use concept of the gymnasium
Gyms can be used for different sports, different competition levels or even non-sport activities. The gym floor should always be matched to the usage concept and the main sports. Using the space for meetings or parties can also influence the choice of flooring. 
Some indoor sports flooring is more suitable for multifunctional use if it is robust and less susceptible to intensive use.
Size of the gymnasium floor
What is the intended size of the hall? Pay particular attention to the specifications of the sports associations for match operations. For basketball, for example, should it be a half court or a full court, and what are the basketball-specific requirements?
Utilization concept and types of sports
Will the sports hall be used primarily by a club with one sport, such as basketball or volleyball? Or is it a multi-purpose hall where concerts and other events may be held in addition to a wide variety of sports and school classes? Based on the type of use, frequency of use, and expected soiling, it is possible to determine which surfaces to consider. 
For example, Maple Hardwood is the standard surface for basketball. However, it is more expensive to purchase and not as versatile as other options.
Budget and financing of the gymnasium floor
Already at the beginning of the planning phase, you should start thinking about the budget. In this context, it may become clear at an early stage that certain materials are out of the question for cost reasons. However, the focus should not only be on the budget for the sports floor. High-quality sports hall flooring has its price and in many cases a longer durability than supposedly low-cost sports flooring.
Life cycle and durability of sports flooring
While engineered wood sports floors are characterized by a long life expectancy, synthetic sports floors require less maintenance. Both factors should be weighed against each other. The intensity of use and the type of activities should also be taken into account, as both also have an impact on wear.
However, not only the price should be converted to the total service life here. Rather, it should also be evaluated what quality the sports flooring still offers after a certain number of years.
Care and maintenance of the sports floor
To maintain the quality of the sports hall floor, all floor coverings, whether wood or plastic, must be regularly maintained and cleaned. This includes sweeping or cleaning, and the immediate removal of heavy soiling, for example, from overturned drinks.
In addition, regular airing, heating and cooling, and checking for expansion or contraction of the floor are also necessary. On average, wood floors need to be sanded, painted and refinished after 10 to 15 years. Synthetic flooring requires frequent replacement after this period, but is less maintenance intensive until then.
In general, the wear marks caused by improper footwear cause the most wear and tear on synthetic sports floors. 
The subfloor in the sports hall
When choosing a subfloor, there are three main systems: floating, fixed and anchored. In addition, there are different variations in each case. Which subfloor is right for your hall depends, among other things, on the type and frequency of use.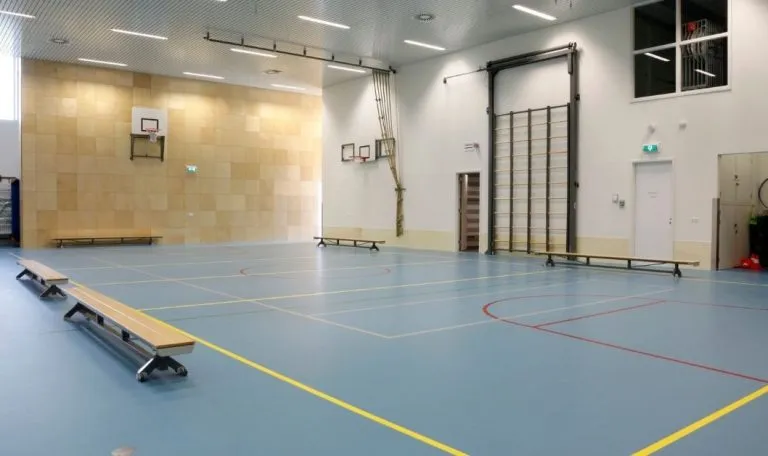 Financing tips for sports hall flooring
Not every club or school can finance the replacement of a gym floor or the construction of a new sports complex on its own. As part of the financial planning, then, investigate whether subsidies or grants are possible. Municipal, state and federal level grants and tax credits are all common options.
The construction of an additional sports area or renovating an existing site should motivate club members or students and parents to get involved. Together, they can raise money through a fundraising campaign. Companies and individuals can be considered as potential donors, as can former players and students.
For more tips check out our guide to sports facility financing and funding.
Gymnasium flooring: Calculate costs - compare prices
When planning a new gymnasium floor, the costs play a decisive role. However, the lowest possible initial cost should not be the main factor when deciding to buy a gymnasium floor. A high-quality gymnasium floor can serve its purpose for several decades if well maintained. In addition to the use of high-quality materials, it is essential that the floor is installed in accordance with the relevant standards and by specialists.
When awarding a contract, therefore, it is not directly the cheapest offer that should win the contract; the client should also take a closer look at the references of the individual sports floor manufacturers. Make use of the possibilities for sports facility subsidies. Contact the relevant state sports association to find out which subsidy programs are currently running and which funds can be applied for.
The cost calculator for indoor sports flooring can be used to calculate the costs for the gymnasium floor construction, including substructure, sports flooring, installation and disposal.