Cost of Tennis Court Resurfacing and Repair for Schools and Sports Clubs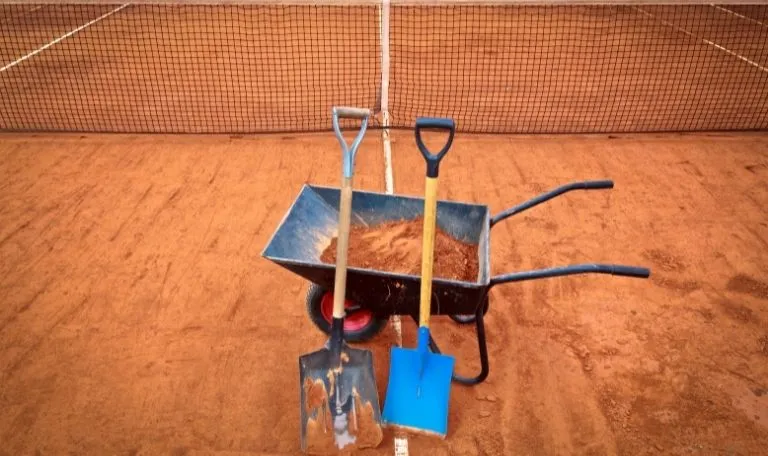 Tennis court resurfacing cost
A basic tennis court resurfacing cost generally ranges from $4,000 to $10,000. Major resurfacing costs can range anywhere from $15,000 to $80,000 if the needs are severe or the court being resurfaced is a synthetic grass court.
Planning to resurface your tennis court in the near future? Get an instant cost estimate for your project by using our tennis court resurfacing cost calculator.
Tennis court surface conversion cost
If athletic directors are looking to convert a hard court over to clay or grass, the cost can range up to $20,000. Installation of a new clay court takes only about 2-3 weeks due to the fact that clay courts can be installed directly on top of the old hard court.
A conversion from a hard court to a synthetic grass court will range between $30,000 to $60,000. The cost to convert to a grass court will vary depending on the current court's existing base, size of the court, and if any repairs need to be made before the court can be resurfaced.
Tennis court repair cost
A tennis court repair job can run anywhere from $1,000 to $5,000, not including labor. The labor can vary depending on the company a school may hire.
Cost to remove a tennis court
When your tennis court comes to the end of its life cycle or priorities change at your sports facility and a tennis court needs to be removed, you should be aware of the fact that this is not a simple and cheap process. It costs around €10,000-€15,000 to remove a full-sized tennis court depending on several factors like geographical location and distance to the disposal facility.  
What Determines The Cost Of Resurfacing?
When asking the question, "how much does tennis court resurfacing cost?" there are several factors that play into the answer. Some of these factors include where the court is located geographically, the condition of the surface, and the number of cracks or low spots.
When it comes to the number of surfacing coats and if schools or sports clubs are trying to convert the court over to another type of playing surface, that figure can vary depending on the company they choose to resurface the court with.
This article will cover the process and price of resurfacing the tennis court and help schools, athletic directors, and club presidents to determine which route is best for them, depending on what type of court they have.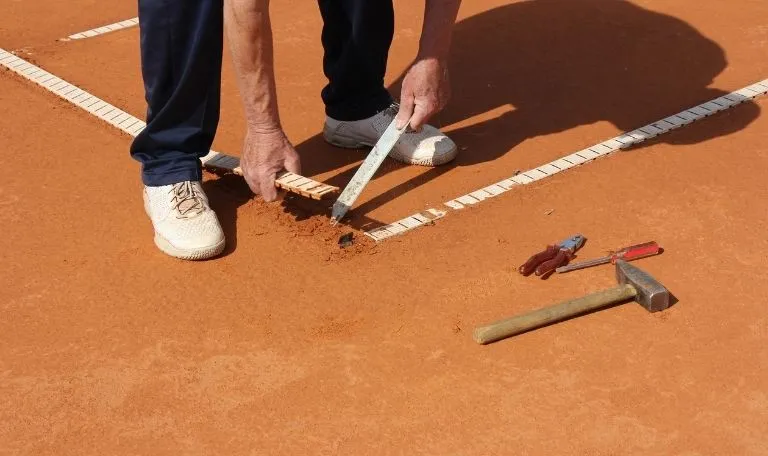 How Often Should A Tennis Court Be Resurfaced?
The consensus regarding how often tennis courts need resurfaced states that courts should be resurfaced approximately every 4-8 years. The type of court surface, as well as what kind of weather the court will have to endure, will determine how often the court needs to be resurfaced.
Make sure to keep a meticulous eye on the court. Cracks, peeling, puddles, or other factors that may cause people to trip while playing on a court may occur quicker than the typical 4-8 years. Once court deterioration is observed, it is crucial to address the issue, even if the court has been resurfaced more recently than 4-8 years ago.
Is It Better To Resurface Your Tennis Court Yourself Or Hire A Professional?
Handypeople are often inclined to fix any issues they may have with their houses, cars, and just about everything else in their lives.
Tennis courts present another issue; however, that is because the process of resurfacing a tennis court is very intensive and needs to be followed precisely.
It is cheaper if a club president chooses to do their own resurfacing, but the trade-o is running the risk of causing catastrophic damage to their court if they do it wrong.
For those who are very experienced working with tennis courts, there are kits available to allow them to do it themselves.
Tennis court resurfacing is very complex and should be left to the pros. Tennis court resurfacing costs are certainly not cheap; however, letting a professional handle it will likely save a lot of headaches.
It may cost more upfront, but repairing any damage caused by doing it yourself would most likely be far more expensive.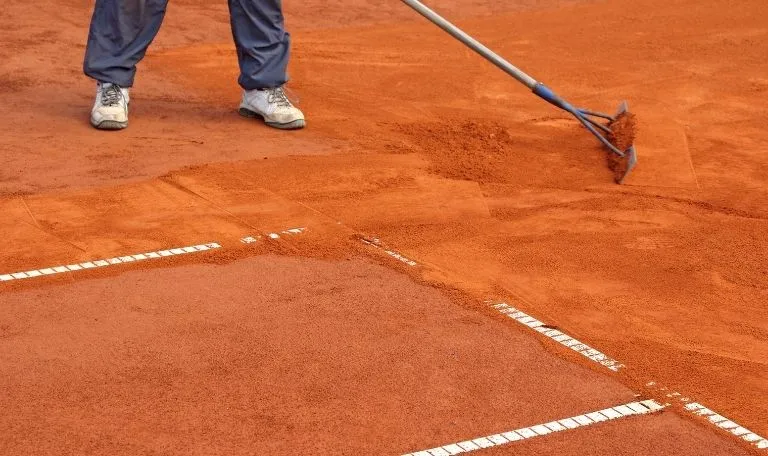 How To Resurface Tennis Courts?
There are many options available when it comes to tennis courts and some options may serve better than others depending on where the court is located. Regardless of what type of court is installed, they will all eventually need some sort of repair or resurfacing.
The tennis court resurfacing cost and the entire process will vary depending on the type of court being built.
Hard Court
Repairing a hard court is a two-step process. The first phase of the process is known as the repair phase. The repair phase repairs any cracks with a cement layer. Low spots and depressions are fixed with skim coats before being covered with an acrylic coating. The second phase in hard court resurfacing is known as the surfacing phase. When courts get resurfaced, they are coated with a multi-layer coating of paint that seals any voids and gaps in the asphalt.
Clay courts
These courts offer a relatively easy resurfacing experience. Though it still should be handled by a professional, it is usually easier for a pro to clean a clay court than other court types.
With a clay court, the process looks a little different. The process includes removing old lines and tape to get rid of any large debris, leveling the playing surface, and top dressing with new clay. After that is done, new lines are laid to finish the court.
Synthetic Grass
The synthetic tennis court resurfacing costs are the most expensive to perform because of the work required to resurface them.
When athletic directors are considering resurfacing a synthetic grass court, you should inspect the court for pooling. If you notice pooling and decide to have the court resurfaced, a professional will remove the top layer to inspect the base for cracks, shifting, or any displacement.
Should you choose to keep the synthetic grass on top, the top layer will be laid back on top once any issues on the base have been resolved
Get A Resurfacing Estimate At An Early Stage From A Professional
Our company works with some of the leading tennis court builders all over the United States. When getting a tennis court resurfacing cost estimate, it is best to get the quote before any court needs to be resurfaced so pricing options can be weighed.
Professional companies tend to provide a warranty for their work as well as a wealth of experience in the industry and, if necessary, will provide regular maintenance and cleaning services, allowing you to get the most out of your investment.
Instant and accurate quotes for the resurfacing of a tennis court can be found using our resurfacing cost calculator.
Read about grants and funding opportunities for tennis court resurfacing projects in our separate article.