Sports Field Irrigation & Sprinkler System Cost and Funding Guide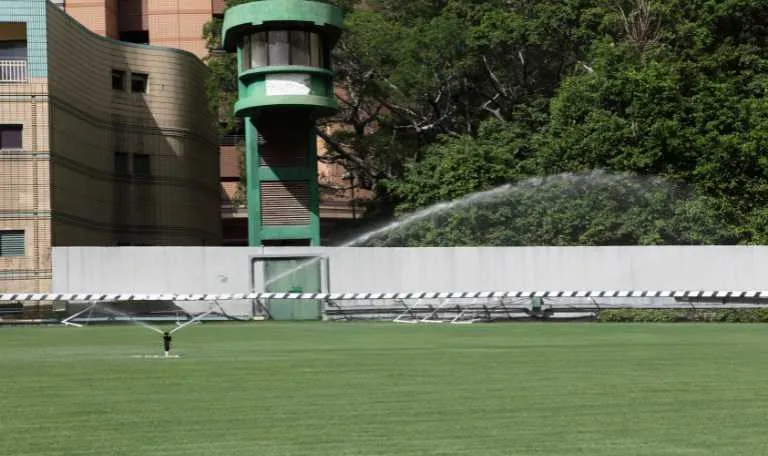 For sports enthusiasts and athletes alike, the quality of a playing surface can make all the difference. Whether it's the lush expanse of a football field, the precision-maintained diamond of a baseball field, the expansive green of a soccer pitch, or the compact dynamics of a softball field, each has its unique requirements. Central to meeting these needs is understanding the costs of installing sports field irrigation and sprinkler systems. 
This guide provides a deep dive into the costs, funding opportunities, intricacies, and benefits of irrigation systems tailored for these specific sports fields. Beyond just the financial aspect, it emphasizes the value these systems bring in terms of game quality, player safety, and overall field longevity. Join us as we navigate the world of sports field irrigation, highlighting the importance of making informed decisions for the best playing experiences.
Sports Field Irrigation and Sprinkler System Installation Cost
The financial commitment to install an irrigation system varies significantly based on several factors. On average, a standard football or soccer field, whether natural or artificial, might see installation costs ranging from $30,000 to $150,000. 
However, sport-specific nuances can influence these figures. For instance, baseball fields, with their combination of grass and dirt areas, may necessitate a more versatile and, consequently, a more costly system. Other influencing factors like the type of system, level of competition at your sports facility and the labor costs in your geographical area play an important role in determining the final price of the irrigation system.
Overview: costs for a sports field irrigation or sprinkler system per sport
| Type of sports field | Irrigation / sprinkler system price range |
| --- | --- |
| | |
| | |
| | |
| | |
| | |
| | |
| | |
Sports Field Irrigation System Replacement Cost
Replacing an existing irrigation/sprinkler system is often cheaper than installing a completely new one, primarily because of the existing infrastructure. When you replace a system, certain components, like piping or wiring, might still be usable, reducing material costs. Additionally, the groundwork, such as trenching, which constitutes a significant portion of the installation cost, is typically already in place, leading to reduced labor expenses. Moreover, the process might require fewer permits and less landscaping restoration, further minimizing costs.
General estimates suggest that replacing an irrigation system on a standard field might range from $15,000 to $60,000, while smaller fields could start from $5,000 to $20,000. These costs can also encompass the disposal of old components and any necessary field restoration post-installation. For precise figures tailored to specific situations, consulting local irrigation specialists is recommended.
Sports Field Irrigation System Maintenance and Upkeep Cost
Maintaining an irrigation or sprinkler system for sports fields involves a combination of routine checks, repairs, and seasonal preparations. Annual routine maintenance, which encompasses tasks like checking for leaks, cleaning filters, and adjusting sprinkler heads.
Additionally, components might need occasional replacements due to wear and tear, adding to the annual expenses. In colder regions, the system requires winterization to prevent freezing damage and a subsequent restart in spring.
Overall you should budget somewhere between $200 – $1000 per year for the upkeep and maintenance of your irrigation / sprinkler system. 
One of the most significant annual expenses is water usage. A standard football or soccer field might consume between 500,000 to 1,000,000 gallons of water annually, depending on various factors like climate and grass type. Given an average water cost of $2 per 1,000 gallons, the annual water expense can range from $1,000 to $2,000.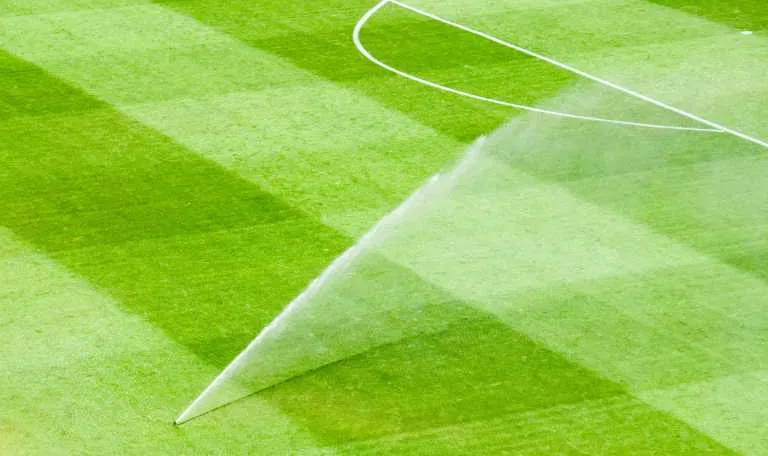 Factors Influencing the Cost of Installation
Several elements come into play when determining the cost of an irrigation system. Here's an overview of the influencing factors that you should be aware of early on in your project. 
Field Size and Type: Larger fields require more materials and labor. Additionally, specific sports fields, like baseball diamonds with their mix of grass and dirt, might have unique irrigation needs.
Level of Competition: Fields designed for professional or high-level competitions might require more advanced and precise irrigation systems to maintain optimal playing conditions, leading to higher installation costs compared to fields intended for recreational or community use.
System Complexity: Advanced systems with multiple zones, sensors, smart controllers, and other features will be more expensive than basic setups.
Geographical Location: Labor and material costs can vary based on the region. Urban areas might have higher costs compared to rural ones.
Soil Type: Certain soils might require specialized equipment or techniques for trenching and installation.
Water Source: The proximity and accessibility of the water source can influence costs. For instance, connecting to a distant water main or drilling a well can add to expenses.
Quality of Materials: High-quality, durable materials and components will be pricier than their cheaper counterparts.
System Brand and Manufacturer: Premium brands might have higher costs compared to generic or lesser-known brands.
Permitting and Inspection Fees: Some regions require permits and inspections for irrigation system installations, adding to the overall cost.
Landscaping Restoration: After installation, there might be costs associated with restoring the landscape, especially if significant excavation was involved.
Water Conservation Features: Systems designed for water efficiency, such as drip irrigation or moisture sensors, might have higher initial costs but can offer savings in the long run.
Additional Infrastructure: Costs can rise if additional infrastructure, like electrical systems for smart controllers or backup water storage tanks, is needed.
Key Considerations for Planning
Establish the use case: What is the level of competition at your sports facility and what are the sports being played on your fields and courts? Generally speaking, the higher the competition level, the more complex the system needs to be. 
Future proof your system: Are you planning changes to the usage and/or layout of your sports field/court? Choosing a system that offers adaptability to future changes may be a winning choice! 
Smart irrigation systems: Integrated with real-time monitoring and automated adjustments based on weather data, are becoming the norm. These systems, while potentially having higher initial costs, promise long-term savings and enhanced turf quality.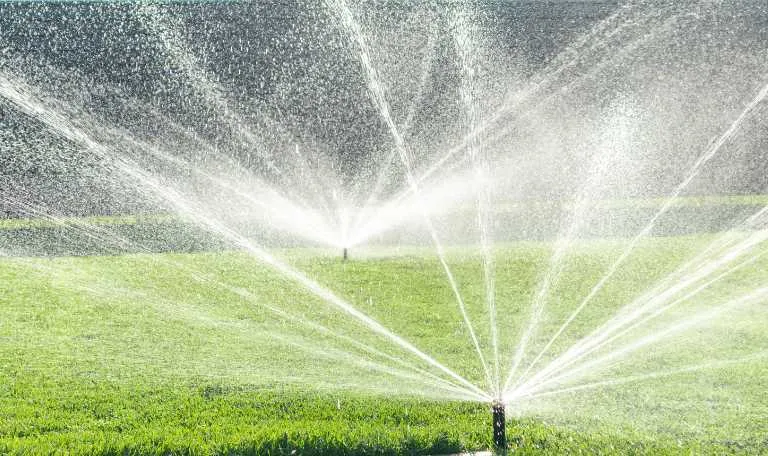 The decision to invest in a top-tier irrigation/sprinkler system for a sports field, while seemingly daunting due to the initial costs, can yield substantial returns in the long run. One of the most immediate benefits of such an investment is the enhancement of the field's quality. A well-maintained, lush, and consistent playing surface isn't just aesthetically pleasing; it's a magnet for events. From local leagues to high-profile tournaments, a pristine field can become a preferred choice for organizers, leading to increased bookings and, consequently, heightened revenue streams.
Beyond the direct financial gains from hosting more events, there's an underlying economic advantage to having an efficient irrigation system. Modern systems, designed with precision and water conservation in mind, optimize water usage. This not only ensures that the field receives the right amount of moisture but also significantly reduces wastage. Over time, this efficiency can translate to noticeable savings in utility bills, especially in regions where water costs are on the higher side. Additionally, in an era where environmental consciousness is paramount, having a water-efficient system can bolster a venue's reputation, making it more appealing to eco-conscious organizations and audiences.
Given the substantial costs involved, exploring diverse funding avenues is essential. Grants, both governmental and private, can provide significant financial relief. Local sponsorships, crowdfunding campaigns, and traditional loans are other avenues worth exploring.
Many municipalities also offer rebates for water-efficient irrigation systems. Additionally, energy-saving pumps or controllers might come with incentives, further reducing the overall cost.
Check out our sports facility grants section for relevant funding opportunities! 
The world of sports turf irrigation intertwines technology, finance, and foresight, underscoring the importance of a well-maintained playing field. While the initial outlay for an advanced irrigation or sprinkler system can be substantial, the long-term dividends—in terms of enhanced gameplay, environmental stewardship, and financial returns—justify the investment. With a plethora of funding avenues available, from community partnerships to grants, equipping fields with top-tier systems becomes an attainable goal.
As we conclude this exploration into sports turf irrigation costs and funding, it's evident that the right investment decisions today lay the groundwork for a vibrant sporting future. By balancing immediate costs with long-term benefits, stakeholders can ensure their fields remain in prime condition, reflecting a commitment to excellence in every match.