Outdoor LED Sports Lighting: Design, Costs & Applications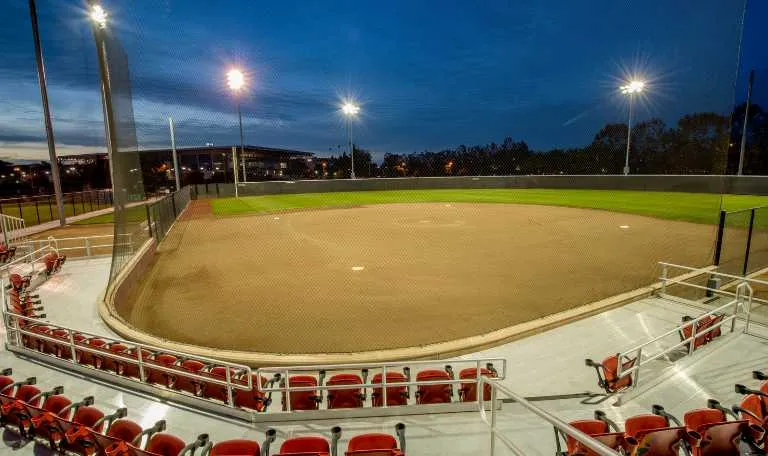 Every outdoor sports field needs effective lighting to keep players safe and ensure the game can be seen from every angle. To provide even visibility, investing in quality and reliable outdoor LED sports lighting is important.
When you search for the right outdoor sports lighting solution for your venue, you'll find two types of lighting. 
The first is more traditional (and a bit outdated) metal halide lighting. These fixtures are usually high-pressure sodium bulbs, notorious for flickering, taking a long time to turn on, and giving off a yellow light that tends to cause shadows.
On the other hand, LED sports lighting is an efficient solution that offers uniform coverage and brighter illumination. With no warm-up period required and instant switching capabilities, LED lights make it easy for referees to keep track of plays in real time. And, with a lifespan of up to 100,000 hours, LED lights are extremely durable and require less maintenance.
As technology advances, more and more facilities are switching to LED, as it provides much brighter, whiter light that makes
In this article we will explain some of the important considerations regarding the design, costs, and applications regarding outdoor sports lighting installation. 
If you are planning to install a new outdoor sports lighting system or retrofit an existing metal halide lighting system to LED, try our LED outdoor sports lighting cost calculator to get a customized cost estimate. 
Benefits of LED Outdoor Sports Lighting
Although it's not a new technology anymore, LED sports lighting is at the cutting edge of lighting and offers many benefits, from cost savings to environmental friendliness. Here are some of the top reasons to consider LED lighting for your outdoor sports facility. 
Energy efficiency
LED lights are up to 80 percent more energy-efficient than traditional lighting sources, meaning they consume less power and emit fewer greenhouse gas emissions. They run cooler than halide bulbs and won't add additional strain to your power bill.
Brightness and quality of light
LEDs emit a much brighter and whiter light than traditional bulbs, which makes it easier for people to see the game or event in front of them. Moreover, LED lights produce less ultraviolet radiation, making them safer for athletes and spectators alike. 
Longevity and durability
LED sports lighting fixtures are more durable than their metal halide counterparts, with a lifespan of up to 100,000 hours. Not only do they require less maintenance and fewer repairs, but many come with long-term warranties that ensure peace of mind. 
Be sure to discuss post-installation coverage with your service provider to guarantee a long and consistent performance and lifespan. 
Low maintenance requirements
When outfitting your field or stadium with new lights, you need to consider all the project costs. Part of those costs is maintenance and LED lights require less than metal halide or other traditional lighting sources. This means fewer repairs and replacements, leading to lower long-term costs overall. 
Fan experience and engagement 
With quality light, your stadium setup and design will pack a punch for spectators and athletes alike. As neighboring cities and organizations upgrade their stadiums with LED lights, you can stay ahead of the competition by offering a premium fan experience. 
Furthermore, with the right solution, you can even host live events that are properly lit for television or live streaming. This can go a long way in boosting fan engagement and loyalty. 
Applications of LED outdoor sports lighting
So, now that you know the benefits of LED lighting, let's look at how it can be applied in your outdoor sports facility.
Understanding the specific needs of your use case is essential to crafting the right lighting setup.
Outdoor stadium lighting vs. sports field lighting
Large sport stadiums used by collegiate and professional athletes accommodate thousands of spectators in the stands, and usually the games are also broadcast on the TV. Recreational sports fields, on the other hand, by and large do not host competitive games and there is little to no need to take the spectators into consideration.
In short, the level of competition at your sports facility dictates the lighting system setup you will need: more lighting output is needed, higher uniformity of light, and better color rendering performance is required.
Read more about LED stadium lighting and sports field lighting design and cost considerations in our complete guide.
Sports-specific considerations
LED outdoor sports lights are used for pretty much all kinds of sports fields from baseball fields, football fields and soccer fields to softball fields, lacrosse fields and field hockey fields.
The lighting requirements may change depending on the size of the field and the level of competition, but the same LED technology is used to light up all kinds of sports grounds.
For a game setting, you'll want to look at outdoor sports lighting solutions that evenly distribute light across the entire field and provide adequate brightness levels (measured in lux) to ensure quality gameplay visibility. Working with a trusted sports lighting company familiar with your particular use case is best.
Read more about LED outdoor sports lighting applications for different sports fields:
LED outdoor sports lighting systems explained
The next step in creating your lighting system is choosing the right type of fixtures. There are two main types of LED outdoor sports lighting fixtures: floodlighting and high mast lighting.
Floodlighting fixtures are ideal for smaller outdoor fields, as they typically have lower mounting heights and provide brighter light at the base (with a lux level of up to 100). High mast lighting is more suitable for larger outdoor fields, as they can reach higher mounting heights and provide uniform lighting over a wide area. 
Depending on your specific layout and needs, this might mean using multiple fixtures or combining floodlighting and high mast lights in the same field. Ultimately, it's about finding the right balance between brightness and uniformity.
It also means you'll need to choose the best mounting system for your facility. Wall-mounted, pole-mounted, and post-top mounting systems are just a few options. In some cases, you'll need to add trusses or frames to support the lights.
Modern LED outdoor lighting systems always come with a wireless control system that you can operate with a mobile phone or a laptop. You can calibrate angles, program lighting schedules, adjust the brightness levels on the field and even run dynamic light shows to boost the fan experience.
Learn more about sports lighting fixtures in our separate article: LED sports lighting fixtures buyer's guide 
Examples of LED outdoor sports lighting fixtures
LED Outdoor Stadium Light Fixture
900W-500W
91,000-161,000 lumens
CRI 70-90
CCT 2200K-6500K
LED Outdoor Stadium Lighting Fixture
500W-1200W
48,000-144,000 lumens
CRI 70-90
CCT 3000K-6500K
LED Sports Field Light Fixture
600W-900W
70,000-106,000 lumens
CRI 70-90
CCT 1800K-6500K
LED Sports Field Light Fixture
300W-600W
42,000-84,000 lumens
3000K-5700K
70-90 CRI
The number of lights, the quality of light, the color rendering performance, and the uniformity of light depend on the events you will be hosting at your venue. Certain sports, like football or soccer, require a higher lux level than a basketball game, while others require more evenly distributed light. 
In the end, outdoor sports lighting requirements largely depend on the size of the sports field (total area that needs to be lit), the level of competition, the number of spectators in the stands and whether or not the games are shown on TV. 
Read more about outdoor sports lighting design considerations in our full guide: LED stadium lighting cost and design. 
How much does LED outdoor sports lighting cost?
Although there is no one-size-fits-all answer to this question, LED outdoor sports lighting solutions typically range from $120,000 to $880,000. 
Your project's exact cost depends on the system's size and complexity and any additional installation costs. The quality of materials, the cost of labor, and your location can also affect the final price. 
Use our LED sports lighting cost calculator to get a customized cost estimate for your project.
Your partner should be able to provide a detailed estimate of costs before starting your project. They can also assess your current setup, and help you decide of a new installation is required. In some cases, facility managers can save money by retrofitting existing fixtures with LED lights.
Need funding for your lighting project? We have also written extensively about grant and funding programs for LED sports lighting installation and retrofitting projects. Check it out! 
Get a cost estimate for your project
Overall, the benefits of LED sports lighting far outweigh the initial investment costs. With the right solution, you can create a safe and enjoyable environment for your players and spectators alike – all while saving money on electricity bills in the long run. 
But it's crucial to get a cost estimate as early in the process as possible. Working with an experienced partner can help you find the most cost-effective solution for your needs and make sure that all of your requirements are met. 
Want to get a head start? Our online cost calculator is easy-to-use and will give you a workable estimate. Get started today and set your project up for success.