Indoor running track design and layout considerations for project planning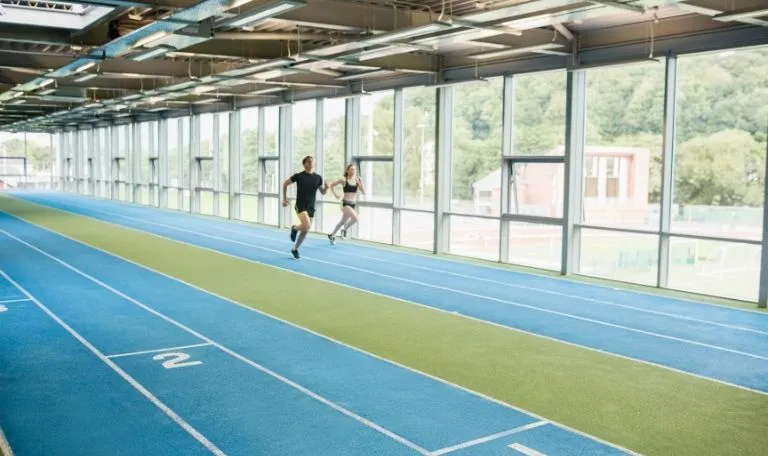 Indoor running tracks are an excellent solution for schools and sports clubs that want a year-round venue for their athletes. Especially for colder, wetter climates, indoor tracks provide a safe space for track and field athletes to train without the risk of weather interfering with their activities.
They are also great venues for running competitions. There are indoor track leagues around the country where schools compete against each other within their region, state, or even nationally. Hosting meets in an indoor track for college-level sports clubs is an excellent way to increase revenue and attendance. Indoor tracks can also serve as multi-purpose facilities during the winter season. Many sports clubs' outdoor practice areas are unusable due to winter conditions so you can move them indoors.
This article will explore some of the crucial concepts regarding indoor running track design and layout you need to consider in the planning phase of the construction project.
If you are planning to build an indoor running track try our running track cost calculator to get a customized breakdown of the overall costs involved for your project.

What are the main differences between outdoor and indoor running track design?
The space
The first difference is the space you need for an indoor track. Your venue will need a building for an indoor running track. Does your school or club already have a structure suitable for your project? 
If not, you'll need to consider the funds required to build the right facility to house your track. Suppose your club is considering building a facility. In that case, you should consider the amount of space that your facility will need for the track itself. For example, do you want to build an 8-lane 4-lane track? You'll also need to consider space for running warm-up areas and possible spectator seating (if you're planning on hosting competitions).
Perhaps you already have a building that will fit your indoor track. That's great! However, you may still need to perform some renovations to ensure you meet the authorities' guidelines and restrictions in your level of competition.
An indoor venue introduces a host of new decisions that aren't present outdoors. Namely:
Air-quality – investing in a powerful ventilation and filtration system is a must to keep both athletes healthy safe, and happy.

Lighting – you'll need powerful (but energy-efficient) lighting to help your competitors.

LEDs are the perfect solution

, offering both power and efficiency for your track.

Storage – having easily-accessible storage for equipment, supplies, and materials is necessary.
Dimensions
To better understand the building you need, you'll need to choose the dimensions of your track. 
Unlike outdoor running tracks, which are usually 8-lanes and 400-meters around, indoor tracks vary in size depending on the venue's space. Most adhere to a 6-lane, 200-meter format, making them exactly half the distance of a traditional outdoor track. But you have options. Depending on the types of events you want to host, you can reduce the number of lanes, or even the distance, to fit your track into a smaller area. 
As with the number of lanes and the overall distance, you can also reduce the width of the lanes. Just consult a professional to make sure you are leaving enough room for athletes. 
Materials
Choosing the best material for your indoor running track all depends on your needs and budget. 
First, you'll want to decide who will be using your equipment. The primary users of your facility will dictate the level of performance you need from your track. A leisure track for a community center might not need the same level of materials as a tier-1 collegiate track. 
Both rubber and polyurethane are durable options for your indoor running track. 
Ideally, you want to get the best materials you can afford. Excellent quality materials will ensure they last and hold up to the wear and tear from your athletes. 
Pro tip: Look for a spike-resistant coating. Unless you want to restrict athletes and their equipment, finding a solution that will allow all types of equipment is best. 
Read more: Running track surface selection guide
Design
One crucial distinction between outdoor and indoor running track design is banked turns. 
An outdoor track is flat around the oval. Indoor tracks sometimes have a pitch, creating a "banked" turn on the corners. Although banked turns can be either permanent or modular (installed and uninstalled before and after events), it's crucial to know if they are needed. 
Because of this difference, the types of events performed indoors vs. outdoors vary greatly. Far fewer events take place indoors, which is a critical point to consider if you want to host competitions. 
It's best to decide which events you are interested in hosting before choosing an indoor running track. You may find that an outdoor track is actually better suited for your athletes and the spectators in your community. 
Customization
Once you've decided on your venue, materials, and the equipment needed, you can dig into one of the more fun aspects of installing indoor tracks: customization. 
With your track, you can show a little school spirit or community flair with:
Special colors

Logos and designs

Signage

Arena names

Much more
Of course, with each addition, you'll probably be adding a bit to your overall cost. But what's an indoor track without a bit of excitement?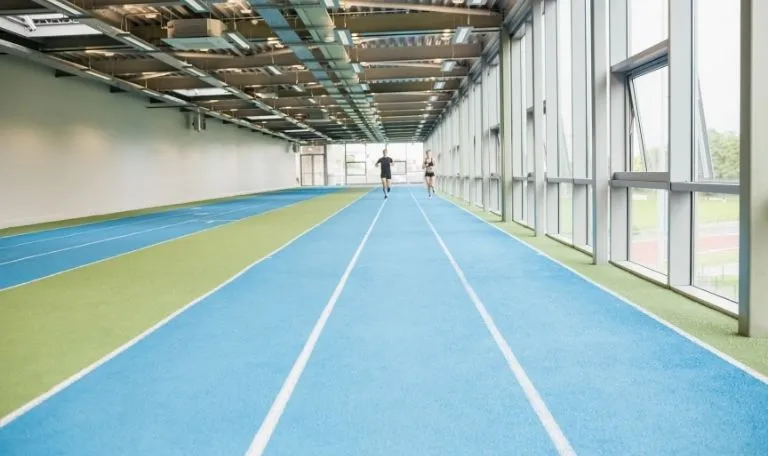 Total lifecycle costs of an indoor running track
So now that you know a little more about what goes into the construction of an indoor running track, you're probably wondering, "what does it all cost?"
While there's no easy answer to this question, there are three key cost factors to consider over the lifetime of an indoor running track when pricing your project: 
This is by far the most expensive of the three costs, and you should take your time with a trusted professional to iron out the details. It's vital to plan for everything you may need so you are not forced to retrofit for an unforeseen requirement down the road. 
You'll want to protect your investment. Running tracks get a lot of use, and with that comes wear and tear from all the jumps, strides, and sprints they endure. 
Creating a routine maintenance and cleaning schedule and investing in equipment and supplies is a must. We recommend partnering with a maintenance company skilled in taking care of running tracks. This will help you routinize care, reduce overall costs, and keep everything on schedule. 
Read more: running track maintenance costs and cleaning guidelines
One of the inevitable expenses of installing an indoor running track will be resurfacing. Now, don't panic. With proper maintenance and care, a track's surface can last years. However, over time, you will need to resurface. 
For more information about running track resurfacing, read our separate article. 
Get started with your indoor running track project
Installing an indoor running track is no small endeavor.
But the amount of joy it can bring to a school, athletic club, or community is unmatched. With an indoor running track, you create a cultural center where athletes can forge dreams and memories. Families gather, athletes shine, and your venue becomes the center of it all. 
Deciding if an indoor running track for your high school or sports complex is the right choice can be challenging. We've created a running track cost calculator to help you weigh your options.