​​Mapping out grant opportunities for pickleball court construction and resurfacing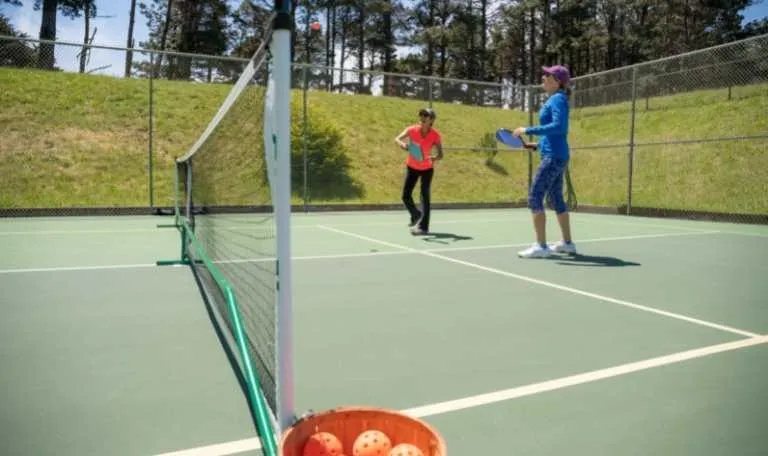 Pickleball is one of the fastest-growing sports in the United States. Even with this extraordinary growth over the last few years, pickleball is still not quite in the mainstream. While the sport has been steadily growing, one of the issues holding back its popularity from reaching a larger audience is a lack of courts.
Because pickleball requires specialized equipment and surfaces, communities have to build new courts or completely resurface existing ones. Luckily for the pickleball enthusiasts out there looking to create courts, several grant opportunities are available to help communities offset the cost of building these courts.
Pro tip: use our pickleball court cost calculator to get a customized estimate for your court project. This will help you evaluate how much funding will eventually be needed.
Types of Grants for Pickleball Courts
To help expand the popularity and reach of the sport, the USA Pickleball Association offers grants to communities and schools. However, these funds are only for purchasing equipment like nets, rackets, and balls. The actual construction of courts is not.
Therefore, when attempting to secure funding for a pickleball court, you need to look elsewhere.
The first place to look is through public sector funding. These grants are funded by the federal, state, or local governments. Many of the grants available from these sources are based on community needs. In most cases, a public agency will request a proposal for a project. They determine which applications to approve based on the overall needs of their city or county.
The second place to look is through private sector funding. Private organizations, associations, and groups are great resources for securing the money needed for construction.
Now let's look at the specifics of public grants.
Public federal level grant programs
Federal grants for pickleball courts come from a variety of different sources. Money and resources are generated from federal programs and funneled to communities and organizations that need funding for projects.
1 – Land and Water Conservation Fund
The Land and Water Conservation Fund (LWCF) is nationally financed. Federal funds are generated from offshore oil and gas leases.
According to the LWCF's website, the "LWCF is based on a simple concept: take revenues from the depletion of resources – offshore oil and gas – and use them to conserve other resources: parks, wildlife refuges, forests, open spaces, trails, and wildlife habitat."
A portion of the funds generated from harvesting natural resources is channeled back through to conservation and recreation areas. It helps stimulate the economy and support community planning.
One of the goals of the LWCF program is to help communities access financial resources for projects that can support recreational activities that are directly or indirectly related to conservation. A new pickleball court on public land would be a perfect fit.
Eligible applicants are required to have matching funds available to qualify for a grant. However, non-federal entities can receive up to 75% of the total project value.
2 – American Rescue Plan Act
The American Rescue Plan Act of 2021 offers some incredible options for your project.
Developed in response to COVID-19, this plan attempts to limit the loss of life and property due to the pandemic. However, grant applications are accepted for sports and recreation facilities, depending on your state.
For example, specific communities in Ohio have been able to secure funding for new parks through the American Rescue Plan Act. To understand if your project is eligible, you'll need to consult an expert. There are limitations to the scope of the funds and the types of projects it covers.
Public state-level grant opportunities
When searching for a grant for your pickleball court, you aren't limited to just the federal level of government. Most states offer exciting opportunities to expand your project with financial backing.
1 – Open Space Lands Acquisition & Development (OSLAD)
The Open Space Lands Acquisition & Development grant is an economical choice for pickleball court construction in states like Illinois.
OSLAD is a long-running program that has been in existence since 1972. It offers monies to municipalities and communities to purchase new lands, property easements, or development rights necessary to protect open spaces.
The grants are funded by a percentage of the state's real estate transfer tax.
In some cases, the OSLAD can be coupled with other public grants like LWCF. Talk with your local government to explore your options. The application process can be rigorous, but the benefits are plentiful. You'll need information on the total cost of the project, the amount you are applying for, and a detailed plan on how your project will improve your community.
2 – Department of Natural Resources Grants
Every state has its Department or Agency of Natural Resources. The government entities provide special grants for conservation and recreation projects.
To find out your options in your area, go to your state's official website and find the appropriate department. Alternatively, you can partner with a local expert that is familiar with the requirements.
Grants from private non-profit organizations
In addition to public sector grants, private and non-profit organizations are an excellent resource for funding. Some programs support specific projects, but others may be more flexible to accommodate a pickleball court.
1 – AARP
The AARP Community Challenge is a program established to promote the development of our local communities. The AARP provides "quick-action" grants to eligible community improvement projects with the program. A pickleball court is a prime example of bettering a municipality for its population.
In fact, communities in Michigan, Wyoming, and other states have already successfully funded their pickleball courts through the AARP.
Evanston, Wyoming, received $28,000 in funding from the AARP. With the money, pickleball courts at two parks were constructed. The scope of the project included converting an underutilized area of existing parks. The courts provided a safe and modern location for their local pickleball players to enjoy.
Next Steps for Finding a Grant
As you can see, there are plenty of options for grants and funding for your pickleball court. The great news is that it doesn't take a lot of effort to find out if you are eligible.
Find a local expert in grants and non-profits who knows the requirements in your area. Their advice can help you get started on the process.
As a first step we highly recommend to get a solid understanding of the overall costs of the pickleball court construction project. The easiest and most convenient way to do that is to use our pickleball court cost calculator.
We have also written a full article about pickleball court costs in case you want to dig a little deeper.