Padel Court Construction Cost and Design Guide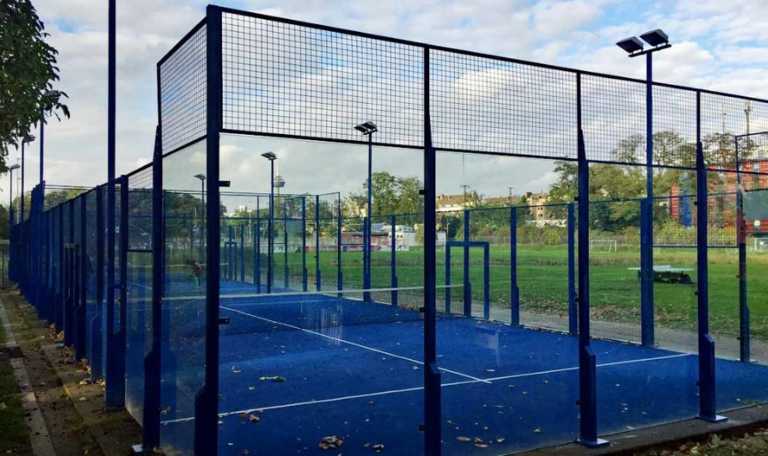 Are you obsessed with the newest sports craze, padel? Sometimes referred to as padel tennis, this sport is an exciting combination of tennis and squash. But as a relatively recent phenomenon here in the United States, there aren't many courts designed specifically for the sport. 
However, playing padel on a professionally designed court can be a thrilling experience for players and spectators. But before starting construction, you must understand the costs and design choices involved in constructing your padel court.
This guide will cover everything from construction costs to surface materials and court layout.
How much does it cost to build a padel court in the USA?
On average, you can expect your padel court to cost somewhere around $24,000 – $65,000, depending on various factors like the quality of the materials used, the competition level, and your geographic location.
If you want to get a customized cost estimate for your construction project, try our padel court cost calculator for indoor and outdoor courts.
Breakdown of padel court construction costs
Padel court cost items

Price range

Steel and glass construction of the padel court

Padel court surface: Artificial Turf

Additional equipment (sliding doors, scoreboard, netting, etc.)

Padel Start Kit (rackets, balls, etc.)
Factors Influencing Padel Court Construction Cost
As with any sport, many factors go into the total cost of your padel court construction project. Let's break each down so you can better prepare for your project.
Competition level
What type of athletes will you be hosting at your facility? If you intend to host professionals and amateurs, consider a more durable surface that can withstand the regular pounding of padel matches.
The needs of professionals will greatly differ from those of young students or casual gamers. Understanding your ideal participant will greatly help you choose the specific design features and materials necessary for your court.
Size: professional padel courts must meet the standard dimensions of 33 feet – 66 feet (approx. 2,153 sq ft.), recreational courts are not bound by such regulations.
Flooring: recreational courts may get away with installing an asphalt or a cement court surface, but professional courts need an artificial turf surface. 
Walls: Professional padel courts have transparent back and side walls made of glass. Recreational walls may use cheaper alternatives.
Lighting requirements: professional padel courts must meet lighting requirements and standards, whereas, there are no regulations for recreational courts. 
Amenities: professional courts may come with bleachers, scoreboards, locker rooms, etc. 
Number of courts and total area
Will you need more than one court, or will a single playing surface suffice?
With each playing area measuring 20 meters (66 feet) long by 10 meters wide (33 feet), you'll need to account for the space of multiple courts if that's your goal. The more courts you need, the greater your total project cost and construction timeline will become.
Additionally, if you plan on spectators, benches, and other amenities, you'll need to plan for a safe space between each court. Configuring multiple courts and accurately measuring can get complex — fast. Therefore, it's best to work with a professional court installation company that understands the requirements for padel tennis.
Outdoor or indoor court?
Next, decide whether your court will be built outdoors or indoors. While this decision is largely based on personal preference and budget, both options have pros and cons.
Outdoor padel courts
Require a court surface that can take a pounding but also resist bad weather and seasonal temperature changes. Usually, artificial turf is used for outdoor courts.
Require more maintenance due to being exposed to the elements.
Indoor padel courts
An LED lighting system is a must-have inside the padel court complex, whereas, outdoor courts may get away with only natural sunlight.
Can use various flooring materials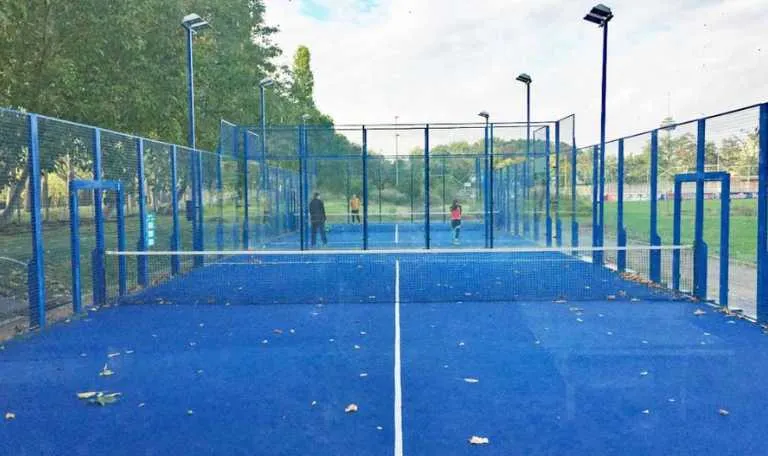 Choice of subfloor and court surface materials
Choosing the right subfloor and surface material is crucial for creating an enjoyable (and long-lasting) padel tennis court.
Padel courts are usually installed on top of either an asphalt or concrete subfloor/base layer. 
While there are many options available on the market for the padel court surface material, artificial turf is the most popular and recommended. With artificial turf in your facility, your athletes will enjoy a safe, sustainable playing surface that is optimized for padel.
Additionally, the right combination of shock-absorbing padding, turf fibers, and binding agents can create a comfortable playing experience to reduce foot fatigue and injuries. 
Other padel court flooring materials:
Concrete
Asphalt
Clay
Rubber
Synthetic materials
Modular tiles
Other concepts to consider
Believe it or not, your geographic location can greatly impact the overall cost of your project. From material sourcing to taxes and labor, your court's location will dictate your final price.
A modern sports facility isn't complete without a few extra amenities. Bleachers, lighting systems, sound systems, scoreboards, and more can elevate your facility and provide a better experience for athletes.
There are also some sport-specific considerations like fencing or back and side walls. Adding adequate fencing or walls can help keep balls from sailing away from the playing area — keeping everyone safe.
Padel Court Construction Planning Steps
Get a cost estimate for your padel court construction project
Once you have established your project team and you are ready to start planning the construction project, you should kick off the planning with budgeting and financing. Getting a cost estimate for the total cost of your project at an early stage will help you make a plan for raising funds (if necessary), and getting buy-ins from different stakeholders (municipality, school board, etc.).
Raising funds for the padel court project
There are various grant and funding programs available for sports and recreational facility development (such as padel courts) offered by public and private entities. Check out these resources to get started:
Find a suitable area for the padel court
Finding a suitable location for your padel court complex is not as straightforward as you might imagine. Firstly, there are the physical requirements i.e. the padel courts have to fit on the site that you have chosen. Secondly, there are the feasibility and profitability considerations to ponder. You can build a padel court center in the middle of the desert, but if nobody wants to become a member, your business will not stay open for long. Read more about feasibility considerations. in this article:
Build a padel court
The project team is convinced about the feasibility of the plan, the funding has been secured, and required permits have received the green light from local authorities. It's time to get your hands dirty and begin the construction of the padel court! Building a padel court requires technical expertise, special equipment and knowhow, which is why you should always leave it to the professionals. The most important decision you have at this point of the project is the selection of the padel court building company. The cheapest offer is not always the best one. You should use online (website, social media, etc.) and offline channels (padel players, other padel court facility operators, etc.) to compare different companies and ask for a quote from at least three companies.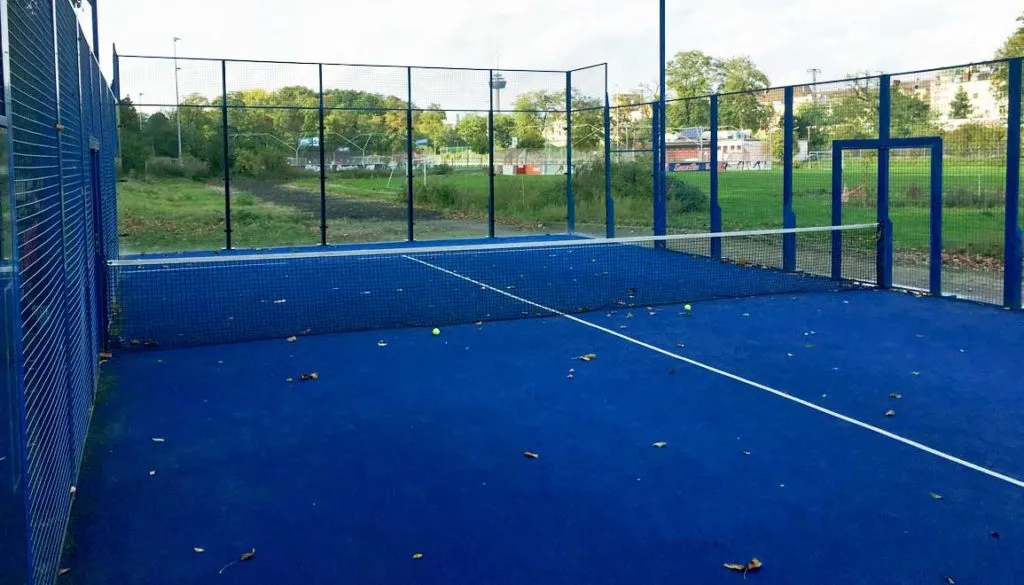 Indoor & Outdoor Padel Courts: Important design considerations
Indoor and outdoor padel courts look very similar on the surface (no pun intended). However, as you begin to dissect the finer details, you'll find that there are some very important design considerations to keep in mind.
The first is the weather in your area. If you live (and play) in a climate that's prone to extreme heat, cold, or moisture, this will greatly affect the type of materials you choose for your court. Remember, an outdoor court will be exposed to the elements year-round, so choosing a durable material is necessary.
Second, if you're building a court inside of an existing facility, you'll need to ensure your roof is at least 7 meters above the surface. Padel is a fast, intense sport; having enough vertical space is key to a good game.
You'll need to consider how to light your padel tennis court in both instances. For outdoor courts, choose a lighting system that can withstand rain, wind, and other elements. You'll need to select a bright enough system for play without causing eyestrain or fatigue for indoor courts.
Consider LED lighting for your court for facilities looking for an efficient solution. While the initial investment may be more than traditional metal halide lighting, the long-term cost savings are significant.
Common mistakes to avoid when designing a padel court
Although working with a professional padel court installer can help you avoid mistakes, you should know some common pitfalls. 
Not considering the total cost in the early planning stages

– nothing halts construction quicker than a lack of funds. Ensure you are prepared with thoughtful planning. 

Ignoring the standard dimensions – your athletes need plenty of room to move. Ensuring your court meets IPF standards is critical. 
Choosing incorrect materials

– avoid materials that put your players at risk of injury.

Neglecting the importance of lighting

– being able to see the ball as it zips around the court keeps the action moving and everyone safe

Inadequate court orientation – work with a professional that understands the logistics of court design. No one wants to play on a poorly designed padel court.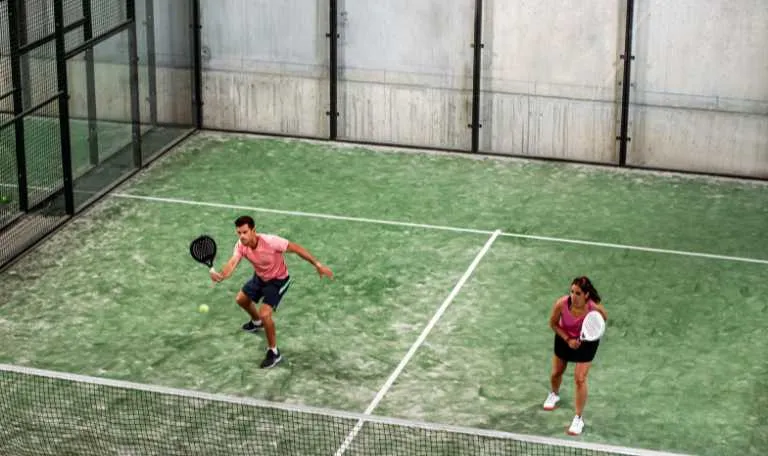 Tips for Keeping Padel Court Construction Costs Down
As you can see, the final price for your padel court can get out of hand quickly – especially if you're planning the construction on your own.
The best way to keep your costs down is to partner with a local company with experience in padel court construction. They'll be familiar with local building codes and standards and can suggest materials and processes that will save you money without sacrificing quality.
Be careful to avoid adding unnecessary extras to your court. If it isn't critical to the game's enjoyment, it's best to skip it.
Building a padel court is an exciting way to provide your athletes a unique and enjoyable experience. With the right planning, equipment, and partner, you can have a court that's safe, fun, and built to last.
Want to get a head start on planning? Use our online cost calculator to get a free estimate and set yourself up for success. We'll put you in touch with local experts to get you exactly what you need.