Ice Hockey Scoreboards Buyer's Guide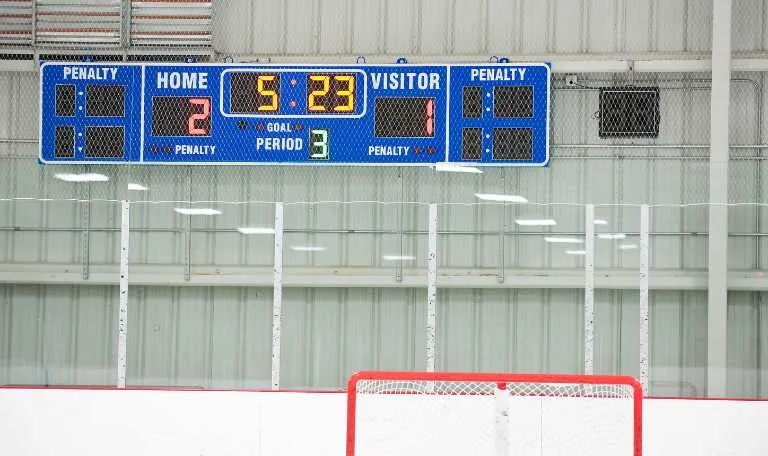 For competitive sports, a scoreboard is one of the most crucial elements of a facility. Especially in ice hockey, where the action is fast-paced, and the score can quickly change, a scoreboard is invaluable in keeping spectators and players informed.
Ice hockey scoreboards come in many sizes and styles to suit any facility. From basic scoreboards to versions with sound and lighting effects, there are plenty of options. So what's the right ice hockey scoreboard for your venue? 
We've put together a buyer's guide to help you navigate the world of scoreboards so you can confidently make your decision.
You can also use our ice hockey scoreboard cost calculator to get a customized cost estimate for your installation project.
What are ice hockey scoreboards?
Ice hockey scoreboards are equipment typically found in rinks, arenas, or stadiums that display the score and game information during a match. 
These devices may also contain other helpful data such as penalty time, player stats, the current period of play, and more. Most scoreboards are controlled via an automated system, but some models also allow manual input.
Different types of ice hockey scoreboards
If you've started shopping for a solution, you'll see a few different types of scoreboards available. 
1 – Traditional Fixed-digit LED Hockey Scoreboards
These LED hockey scoreboards are usually mounted to a wall and feature a simple digit display with basic scorekeeping capabilities. For those of us who grew up playing scholastic sports, this is probably what you remember seeing in your gymnasium or ice rink. 
While they are relatively no-frills, modern fixed-digit scoreboards are ultra-reliable and efficient – making them an excellent choice for U12 schools, middle schools, municipal ice rinks, and commercial recreational facilities on a budget. 
Fixed-digit LED hockey scoreboard sizes:
Width: 8 feet – 24 feet

Height: 3 feet – 6 feet
Depth: usually 8 inches
2 – Traditional LED scoreboards with a video display
The next tier of scoreboard is a traditional LED board with a video display capable of displaying ads, multimedia content, and other in-game content. This kind of scoreboard is the way for clubs and organizations looking to fund their operations through advertising.
These models are slightly more expensive but have many features and customization options. They usually include additional stats such as shots on goal totals, player cards, penalty time countdown, etc. 
These types of scoreboards are common in ice hockey facilities at high schools, colleges, and semi-pro hockey league rinks.
Size guide for LED hockey scoreboards with a video display
Scoreboard:

Width: 8 feet – 24 feet
Height: 3 feet – 6 feet
Depth: 8 inches

Video display:

Width: 6 feet – 20 feet
Height: 3 feet – 6 feet 
3 – Full LED video scoreboards
Next, we have the complete LED video scoreboards, sometimes referred to as LED video walls also. These are usually mounted to a wall and feature a large display showing live game footage, ads, player stats, and more. These boards are perfect for venues looking to provide their fans with an immersive experience. Due to the steep purchasing cost, you can find these types of video scoreboards in ice hockey facilities and arenas that host games at a high level (college/professional) with thousands of spectators watching from the stands and on TV.
Size options:
Width: 24 – 36 feet

Height: 10 – 20 feet
Center-hung LED video scoreboard
Finally, we have a center-hung scoreboard suspended from your facility's ceiling. Often referred to as a jumbotron, it's most common in high-level arenas, stadiums, and rinks. 
These scoreboards can be large and feature full-color LED video displays with superior image clarity. You can pair them with robust sound and lighting to create a beautiful high-tech experience for players and fans.
Just like LED video scoreboards or video walls, center-hung hockey scoreboards don't come cheap. It normally takes a college athletic program or a semi-professional/professional ice hockey club with proper funding to be able to justify the investment. The boost in fan experience and engagement these scoreboards bring is massive though! 
LED Hockey Scoreboard Features
Hockey scoreboards come in different shapes, sizes, and various different features depending on the model. We have listed some of the common features included. It's a good idea to go through them and make notes of important features and not-so-important features for your needs to help you choose the right scoreboard type.
The benefits of having a high-quality ice hockey scoreboard
An ice hockey scoreboard is an investment that can improve your facility's quality and significantly impact your community. 
Having a scoreboard can attract sponsors and bring more people to matches. It also adds excitement and helps spectators keep track of the action on the ice. Plus, it creates an official atmosphere that encourages sportsmanship and respect. 
LED Scoreboards add to the overall experience of being in the arena or rink and can give players, coaches, and spectators something to cheer for. They also create a unique atmosphere that makes every game special. 
Depending on the level of play you plan to host, a small and basic scoreboard may be sufficient. But if you want to future-proof your facility, consider upgrading to a video-capable solution. As the world shifts more and more to the digital world, you need to keep up with the latest technologies to ensure an engaging atmosphere.
How to choose the right ice hockey scoreboard?
The first step to choosing the right scoreboard is defining your particular use case.
For example, if you are a high school sports program, will you only host games? If you plan to organize tournaments or special events, you'll need a scoreboard to accommodate larger crowds and more content.
Also, think about the size of your facility. Consider a fixed-digit scoreboard with basic scorekeeping capabilities if you have a smaller space. Or, if you plan to host major events at a high-level play, an LED video solution might be better suited for your needs.
The capacity of your venue will dictate the type of scoreboard you use. If you're installing your board in a large facility, consider the distance between the board and your spectators. You will need a larger display to provide optimal visibility from a greater distance.
Finally, evaluating your current budget and any plans for upgrading or expanding is essential. Knowing your financial capabilities can help you select the solution for your budget constraints.
Frequently asked questions about ice hockey scoreboards
How much do hockey scoreboards cost? 
Depending on the size and type of board you choose, you can expect to pay between $4,000 and $1950,000. Try our LED scoreboard cost calculator to get a customized estimate for your scoreboard.
Where to purchase a hockey scoreboard?
There are quite a few scoreboard manufacturers in the U.S., but working with a professional installer with experience is a must. They can help you compare models, and source quotes, and make the perfect decision for your venue. 
How are hockey scoreboards installed?
Hockey scoreboards are either mounted to a wall or hung from the ceiling. 
What common technical issues can arise, and how can they be fixed? 
The most common technical issue is a malfunctioning LED display. This can happen due to poor wiring or power surges that cause damage to the board's electronics. You will likely have to replace any damaged components or contact the manufacturer for assistance to fix the problem. 
Choosing an installer with a routine maintenance plan can help you mitigate these issues – and keep your investment safe.
Get a cost estimate for your hockey scoreboard
As you can see, there's a lot to consider when selecting a scoreboard for your hockey facility. But, if you do your research and work with experts, you can make the best decision for your budget and needs. 
Investing in a high-quality scoreboard will help create an excellent atmosphere for hockey games that spectators won't soon forget. Plus, it's an investment that athletes and spectators can enjoy for years to come.  
If you're just starting to plan your project, getting a cost estimate early is critical. Knowing how much you might need for your solution will help you better plan and prepare for the final cost.