How to Choose the Right Basketball Scoreboard for your Court?
These days, technology is everywhere, and your athletes and fans expect more from your basketball facility. A new LED basketball scoreboard is the perfect way to upgrade your gym and show your support for the team. When planning the installation of a new LED display, there are many factors that impact the decision-making process. But understanding a few key concepts will go a long way in helping you choose the right option for your basketball court.

To get a better understanding of the cost of your installation project, try our basketball scoreboard cost calculator.
What are the different types of basketball scoreboards?
The first decision you'll need to make is what type of display you want. There are four main types of basketball scoreboards on the market:
1 – Fixed-Digit LED Basketball Scoreboard
The first and most basic choice for your basketball scoreboard will be a traditional LED display. These displays are limited but can still show the score, time, and other important game information.
If you are on a small budget, or you are planning a new scoreboard installation for a smaller or lower-tier competitive level, a traditional display might be a perfect choice.
Common Sizes for a Basketball Scoreboard
Recreational / Youth soccer: 5'W x 2'H

Middle/high school: 6'-8'W x 2'-5'H

High school/college: 10'-12'W x 3'-6'H
Control
All LED basketball scoreboards need a way to control and operate the display. For a traditional display, this is typically done with a controller or mobile app.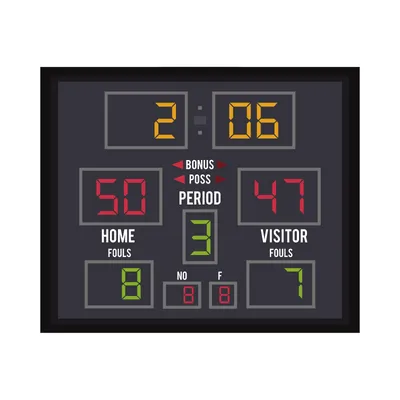 2 – LED Basketball Scoreboard with Video Display
The second type of LED scoreboard is a combination of a traditional display and a video display. These displays are perfect for schools or clubs that want to add some excitement and energy to their games.
An additional video panel allows your team to show highlights, commercials, or other fan-engaging content. And since they still have a traditional LED scoreboard, you can be sure that the score and game information will always be visible.
Common Sizes for Hybrid Display
Recreational / Youth basketball: 

Board: 5'W x 2'H

Display: 5'W x 2'H

Middle/high school: 

Board: 6'-8'W x 2'-5'H

Display: 6'-8'W x 2'-5'H

High school/college: 

Board: 10'-12'W x 3'-6'H

Display: 10'-12'W x 3'-6'H
Control
You'll need two types of controllers for LED scoreboards with video displays. The first is an interface or mobile app for the LED section. The second is a computer with specialized software to control the video.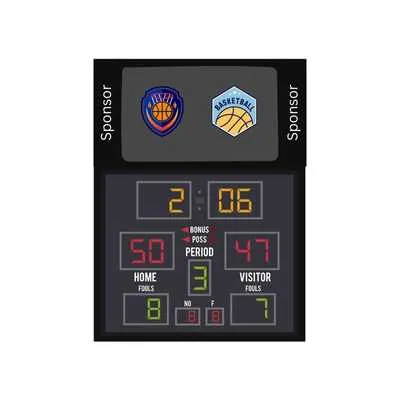 3 – LED Video Basketball Scoreboard
The third type of basketball scoreboard is an all-out video display. These displays are typically only seen in large arenas and stadiums, but they offer the ultimate fan experience.
With a full video display, you can show not only the score and game information, but also live action, highlights, commercials, or other engaging content. And since they are fully controllable with software, you can create a truly unique and exciting experience for your fans.
Common Sizes for LED Video Scoreboards
7' – 15'W x 3.5' – 7'H
Controller
You'll need specialized software to control a full video display.
4 – Center-hung Basketball Scoreboards
The fourth and final type is the quintessential LED basketball scoreboard out there. Suspended from the ceiling, these displays hang over center court, allowing spectators and athletes a full 360-degree viewing experience.
Center-hung basketball scoreboards can be traditional, LED and video, or full video displays (refer to the prices above).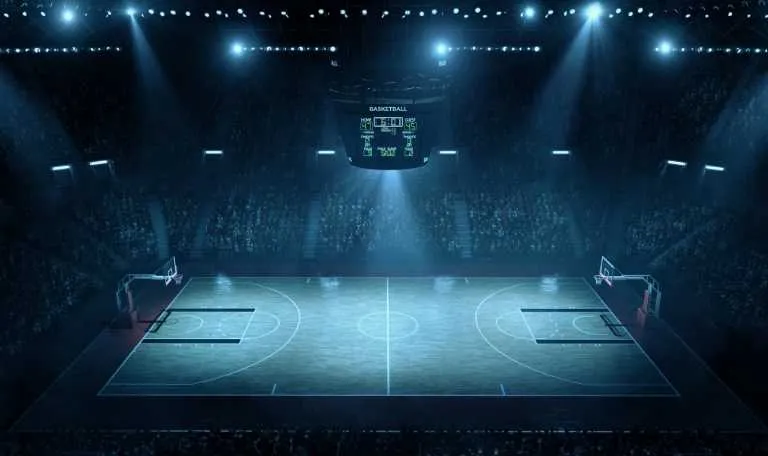 5 – Basketball Shot Clocks
A basketball shot clock is an important accessory to the scoreboard, as it shows the players on the attacking team how much possession time they left to make a shot. In addition to helping players make decisions in real time, the shot clock adds to the excitement of the game for the fans.
The shot clock is an LED display, smaller than the scoreboard, which is often placed above the hoop or backboard. It's worth mentioning that some scoreboard models come with integrated shot clocks, so take that into consideration when comparing different models.
LED Basketball Scoreboard Features
Basketball scoreboards offer various different features to help players understand the situation in the game at each moment and to build excitement in the stands. Make a list of features that are must-have and others that are not so important to help you choose the right scoreboard for your needs. Here are some of the most common features available:
Important considerations regarding basketball scoreboard cost
Resolution & Pixel Pitch
Resolution and pixel pitch are vital to choosing the right scoreboard for your needs because they dictate how sharp and clear the image will be. If you are displaying video, you'll want to make sure that the resolution is high enough to ensure a quality experience for your fans.
The pixel pitch is the distance between each LED light on the display. The smaller the pixel pitch, the closer the proximity of the LEDs.
However, a higher pixel pitch doesn't always mean a clearer image. The size of your arena and the distance between the crowd and the screen all play a role in what pixel pitch is right for your scoreboard. Each type of scoreboard mentioned above comes with its own range of pixel pitch. Consult with an installation expert to find the perfect choice for your arena.
Level of Competition
Different levels of competition will benefit from different types of LED basketball scoreboards. In general, younger ages and lower levels of competition will be just fine with a traditional display. However, if you are trying to attract and engage older and more experienced crowds and athletes, you'll want to consider adding video to your new display.
Recreational and youth basketball league scoreboards
Youth basketball clubs and recreational basketball facilities usually have limited resources to invest in high-end extras and amenities. This is also why the most common scoreboards you will find at youth level basketball are either manual scoreboards operated by volunteers during games or basic, LED baseball scoreboards.
Middle and high School basketball court scoreboards
The type of scoreboard used in middle schools depends largely on the type of gymnasium the school has. If the gymnasium is a multi-purpose sports hall, the school may opt for a portable scoreboard that can be stored when not needed. On the other hand, if they have a dedicated basketball court, a permanent, wall-mounted, LED scoreboard may be preferred. In high schools, the majority of basketball scoreboards are permanent, wall-mounted types due to the fact that high schools usually have full-sized basketball courts.
Collegiate and professional basketball court scoreboards
Colleges have well-funded athletic departments that invest much more in sports facilities compared to high schools for example. Basketball scoreboards are considered essential amenities because games attract big crowds and a video scoreboard or a center-hung scoreboard is a great way to keep the fans engaged.
How to Finance a Basketball Scoreboard Investment
Of course, the type of LED scoreboard you choose will have a lot to do with your budget. As you can see, the price can add up quickly depending on your needs. Luckily, there are several ways to fund some or all of your installation projects. 
Sponsorships
One of the most popular ways to finance a new basketball scoreboard is through sponsorships. This could be a single corporate sponsor or a group of local businesses that want to support your team and get their name in front of your fans. In just a few years, your scoreboard could pay for itself through this type of funding.
You can display logos on the scoreboard and around the court to give brands exposure and increase your chances of finding a sponsor.
Crowdfunding
Crowdfunding has become a popular way to finance all types of projects, and sports installations are no exception. With crowdfunding, you can solicit donations from the community to help fund your scoreboard project. This is a great way to get people invested in your team and ensure that your new scoreboard is something the whole community can be proud of.
There are a number of crowdfunding platforms out there, so be sure to do your research to find the best fit for your project.
Grants
Another option for funding your scoreboard project is to apply for grants. There are a number of organizations that offer grant money for sports-related projects, so it's definitely worth looking into. Federal, state, and local governments have amazing programs that can help you finance your new basketball scoreboard. 
Loans
Of course, you can always finance your scoreboard project with a loan. This is a popular option because it allows you to spread out the cost of the installation over time. There are a number of lenders that offer loans specifically for construction projects, so be sure to shop around for the best rates and terms.
How to Choose the Best Basketball Scoreboard Installation Company
Before you begin construction — or even planning — it's vital you find a trustworthy installation partner with experience with this type of project. To help you find the best partner, you should ask pointed questions, such as:
Are they a reputable company?
Do they have good reviews, referrals, references, or examples of past work?
What kind of warranty do they offer? 
Will they be there if something goes wrong in the future, or will they leave you high and dry?
Do they offer after-sales services?
Maintenance and repairs are key components of keeping your scoreboard running. Will they be there to help?
The next step in your journey is securing an estimate for your project. We recommend sourcing multiple quotes to compare and find the best combination of expertise and price.
Our basketball scoreboard cost calculator is the perfect place to start. It's easy to use, backed by real data, and can help you find the right installation partner in your area. Get started here today.
We also wrote about what influences the cost of LED scoreboards in a separate article. Take a look.