Baseball and Softball Scoreboards - How to choose the right one for your ballpark?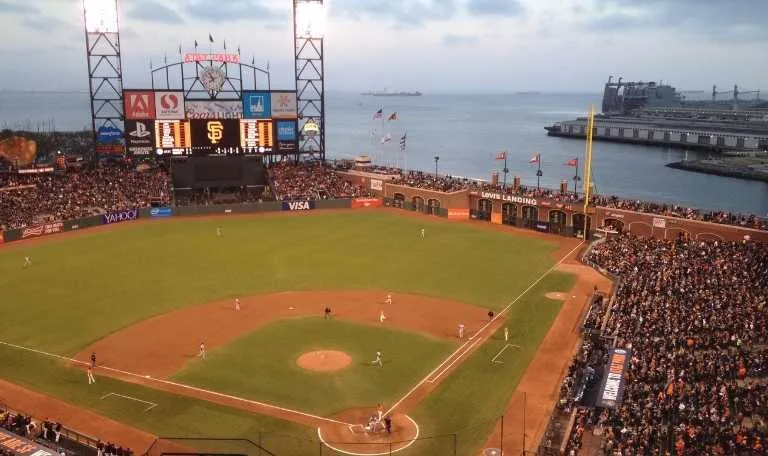 Baseball and softball scoreboards are essential for any sports facility operators hosting competitive games on any level. Scoreboards are a great way to boost fan engagement in the stands and to ensure that your fans keep coming back for more. Scoreboards have come a long way since the first ones appeared at ballparks over a century ago. Huge technological innovation has taken place and nowadays you won't find many manual scoreboards around the country anymore. Scoreboards based on LED technology have taken over thanks to their cost efficiency, ease of use, and the broad range of digital content that you can display on the screen (video, animations, replays, ads, promotion, etc.). 
In this article, we will walk you through the different types of baseball scoreboards to make your decision-making a bit more simple. Try our baseball scoreboard cost calculator to get a customized cost estimate for your scoreboard.
Different Types of Baseball & Softball Scoreboards
Baseball and softball scoreboards come in many shapes and sizes from small, basic, scoreboards found on recreational fields to huge LED video walls found in professional stadiums. To find the most suitable scoreboard for your sports facility you should consider the following:
Who are the main users of your ball field?
What is their competition level?
What are the dimensions of your baseball field?
How many spectators attend games at your ballpark on average? 
How much space do you have for the installation of the scoreboard?
What is your budget for the investment?
1 – Traditional Fixed-Digit LED Baseball/Softball Scoreboard
The most simple and basic option on our list is the traditional fixed-digit LED scoreboard. Traditional LED scoreboards will only display letters and numbers. This type of scoreboard is best suited for small venues with limited space. You can share basic data to keep spectators and athletes informed, but don't expect any bells and whistles with a traditional display.
With a traditional LED display, you can present innings, runs, team names, pitch counts, and player stats. These displays are a great solution for scorekeeping at the high school or small recreation level.
Because it is the most straightforward, it is also the most affordable solution for a baseball field. These displays are great for small high school fields or community parks that want to keep the cost of their installation low.
Typical Sizes of a Traditional LED Baseball/Softball Scoreboard
Recreational / Youth baseball: 8'W x 4-6'H

Middle/high school: 20'-24'W x 7'-10'H

High school/college: 24'-36'W x 9'H
Controller Type
To update a traditional LED display you can use a controller interface or even a mobile app. However, software licenses might be an additional cost you need to factor into your budget.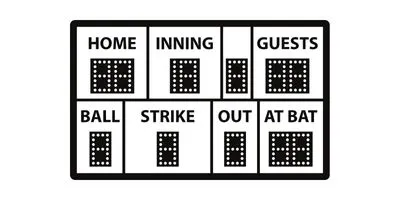 2 – LED Baseball/Softball Scoreboard with Video Display
The next step up in terms of features is an LED baseball or softball scoreboard with the addition of a video panel. These displays are best suited for medium to large venues because they offer more space to share data and information.
Not only can you continue to show traditional stats like runs, outs, and innings but you can also add player photos, animations, and sponsor logos. The extra video panel is an incredible way to create a connection with fans, players, and your local community.
These types of displays really help you add an extra level of excitement to the game.
Typical Sizes of an LED Scoreboard with Video Display
Recreational / Youth baseball:

Board: 10'W x 4'-8'H

Display: 7'W x 4'-8'H

Middle/high school: 

Board: 20'-24'W x 8'-10'H

Display: 13'-16'W x 8'-10'H

High school/college: 

Board: 24'-36'W x 10'H

Display: 16'-24'W x 10'H
Controller Type
Just like traditional displays you can use either a control interface or a mobile app for the LED scoreboard portion. For the video display, specialized software is needed to manipulate and share graphics and videos.
3 – Full LED Video Baseball/Softball Scoreboard
The last and most feature-rich option is a full LED video baseball/softball scoreboard. Just a decade or so ago, this type of scoreboard was only imaginable at the highest level of play. But with advancements in technology, video walls for baseball fields have become much more accessible.
A full video display offers you the ability to show traditional stats, player photos and videos, animations, and so much more. You can even use the video panel to play highlight reels in between innings or during timeouts. Instant replays, live-streaming capabilities, and fan cams are all possible with a video display.
Typical Sizes of a Full Video Display for a Baseball/Softball Field
High school/college: 36ft wide x 10-20ft high
Controller Type
Unlike traditional displays and the hybrid option, full video displays or jumbotrons are operated exclusively from a computer with software. The licenses can be quite expensive, so consulting with an expert before choosing is a must.
LED Baseball and Softball Scoreboard Features
Baseball and softball scoreboards come with various features that may or may not be relevant to you. You should consider which features are important for you, which ones you can do without, and which ones are a must-have before you make the final purchasing decision. Here is a list of typical features you will find for different types of baseball and softball scoreboards.
Important Considerations When Comparing Baseball and Softball Scoreboards
Size
Determining the correct size for your particular venue is a crucial step in selecting your LED scoreboard solution. Too small and your display will appear lost and difficult to read, too big and it may be overwhelming and fuzzy for viewers.
Resolution
Resolution is another critical factor to consider as you're evaluating different types and sizes of displays. Pixel pitch (or the proximity between pixels) is a measure of resolution. The smaller the pitch, the higher the resolution and vice versa.
Most experts will explain that for every 1 mm of pixel pitch, the viewing distance must be at least 3.5ft. For example, a 20mm pixel pitch requires at least a 70ft distance. Be sure to consult with a LED scoreboard specialist before choosing your screen size and resolution.
Competition Level
For younger athletes and crowds, a full video display might be too distracting and over-the-top. And, at the high school and collegiate levels, a traditional display may not be enough to really capture the attention of fans. It's important to consider the level of play when making your decision about which type of scoreboard to select.
Recreational and little league baseball scoreboards
Little league clubs and organizations typically operate on small budgets which is why traditionally the scoreboards used for little league games do not require electricity but are controlled manually by volunteers. However, thanks to the rapid developments in LED technology, electric, fixed-digit LED scoreboards are becoming more and more popular as their price tag keeps getting smaller and smaller.
Middle and high School baseball scoreboards
Middle schools and high schools around the country typically use either manual scoreboards or fixed-digit, LED scoreboards. Electronic, LED, scoreboards are easier to control and provide more information, in an easier-to-consume format compared to manual scoreboards.
Collegiate and professional baseball stadium scoreboards
At college and university levels the resources and budgets available to athletic departments are much larger compared to lower competition levels. Baseball games at this level host huge crowds and get plenty of exposure on TV also. The higher exposure brings higher expectations for the sports facility. A large LED video scoreboard that integrates the scoreboard and video content in different forms is the ideal way to boost fan engagement, which is why most athletic departments and professional clubs invest heavily in high-end LED video scoreboards.
Energy Efficiency
When shopping for your LED baseball scoreboard, be sure to compare energy consumption between brands. Remember, your facility will be paying the bills for your new scoreboard, so finding an energy-efficient option should be a priority.
Sound System
Some scoreboards and brands offer an integrated sound system. This extra feature can really seal the deal on a one-of-a-kind experience for your players and fans.
Customization
Don't forget to customize your scoreboard. You can add team or school colors, logos for your organization, or even sponsors (a great way to subsidize some of the cost of your new scoreboard).
Finding the Right Installation Partner
Choosing the most qualified installation team is just as important as selecting the right type and model of scoreboard for your facility. A subpar installation job can lead to damage of your new investment and expensive repairs down the line.
When looking for a qualified installer, you should ask yourself:
Are they a reputable company?

What kind of warranty do they offer? 

Do they offer after-sales services?

Maintenance, repairs, training
Always compare quotes from multiple vendors before making a decision.
Calculate the Cost of a Baseball or Softball LED Scoreboard at an Early Stage
If you are ready to get started with your LED baseball scoreboard project, you'll need an estimate for the total cost. Our simple cost calculator can help you find what you need. Fill it out here and receive up to 6 free quotes!