How much does turf cost for a soccer field?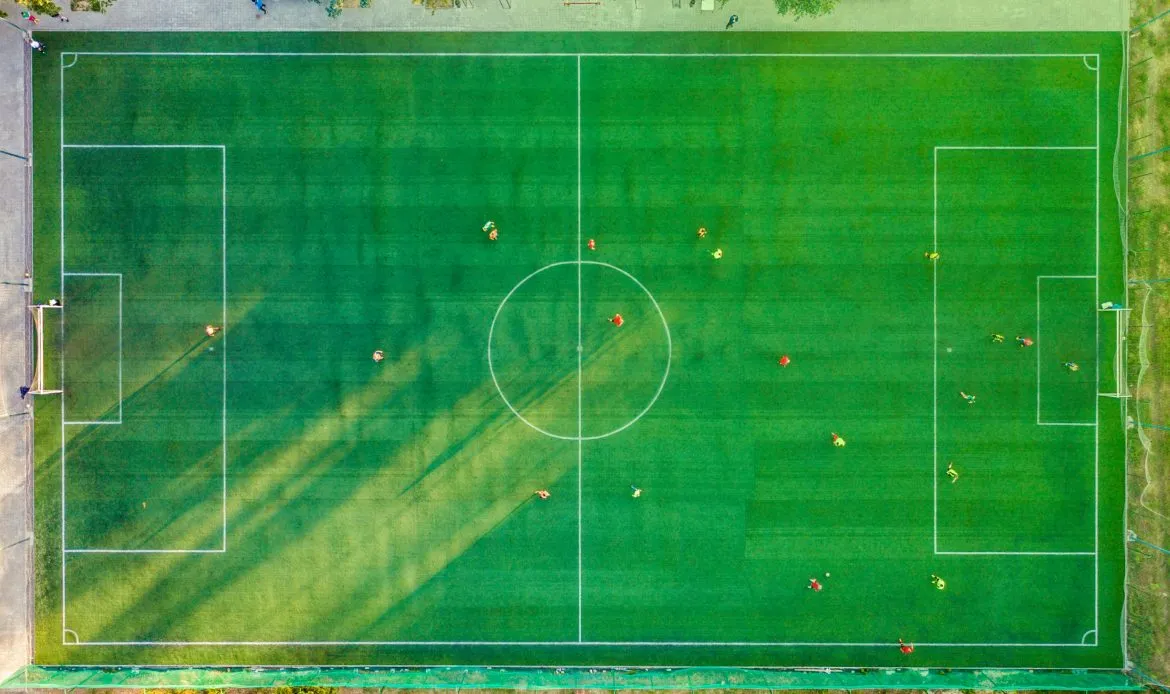 Cost to install an artificial turf soccer field
Artificial turf soccer fields cost $550,000 – $1,200,000, depending on the size of the field, the quality of the artificial turf, and any additional equipment equipment or operations. The amount of excavation and grading the property needs, the drainage and electrical requirements, lighting systems and fencing all add to the costs of the field itself. 
Cost to replace an old artificial turf soccer field
The cost to replace an artificial turf soccer field typically ranges somewhere between $350,000 to $650,000 depending largely on the same factors listed above for the new installation of a turf field with the exception of not having to install the base layer or drainage system underneath the playing surface.
Synthetic soccer turf fields tend to last for around 10 years depending on the turf quality and how well the the surface has been maintained over the years. Normally once the playing surface is showing signs of wear and tear and no longer meets the safety, playability and aesthetic demands, it is time to replace it. 
If your sports facility already has an artificial turf surface installed, and you want to understand how much a resurfacing project would cost for your turf soccer field, try our turf soccer field resurfacing cost calculator.
| Soccer field construction costs | Turf soccer field | Natural grass |
| --- | --- | --- |
| | | |
| | $6,000 - $10,000 x 10 years = $60,000 - $100,000 | |
| | 2,800 hrs x 10 years = 28,000 hrs. | 800 hrs. x 10 years = 8,000 hrs. |
| | | |
Artificial turf matches or exceeds the look, feel and playability of natural soccer fields
The most important feature soccer players look for in a pitch is consistency. They need to know how the ball is going to roll and bounce, no matter where on the field they are. 
The second feature is player safety. An uneven pitch, one with bumps, divots, soft patches or pebbles is a serious injury risk, from bruises and twisted ankles to sprains and tears. Even a well-maintained field can still put soccer players at risk, if it is too hard under their bodies, whether they are running for 90 minutes at a time or going to ground to make a tackle.
Artificial soccer fields are designed with these factors in mind, and the current generation of artificial turf comes very close to the playing characteristics of natural grass, letting the inherent advantages of a synthetic surface carry the day. For example, one aspect of FIFA's certification for artificial pitches is how high the ball bounces when dropped from a given height, and how consistent that bounce is from different places on the pitch. FIFA addresses player safety by examining how well the pitch absorbs impact forces. 
Synthetic turf manufacturers achieve these standards through the material used for the "grass" itself; the length and width of the fibers; how they are spaced apart and woven together; and the type of infill material used. These features are all on the product sheet for each turf type, and will raise or lower the cost of a football field. 
The infill granules are a significant factor in how a turf field "plays." Most synthetic pitches use systems partially comprised of sand and rubber granules, where the granules have the most effect on the field's feel and playing characteristics. The most common infill granules are SBR recyclate, PUR-coated SBR, TPE and EPDM. Infill with cork or another natural substance is also becoming increasingly popular with sports field managers.
A FIFA-certified synthetic pitch will give you a high level of confidence in your pitch, and allow you to attract more competitive players, teams and leagues. However, it will also raise the price of building or renovating a soccer field, and the turf is just one component of the overall cost.
Construction considerations beyond the turf
When projecting the costs of a new soccer pitch, planners have to consider everything that goes under and around the pitch. If you are replacing an existing synthetic surface, you should assess how much of the infrastructure you can reuse. There are several layers between the turf itself and the actual ground: sand, gravel, steel structural supports and then a mesh that lies directly below the turf. The more you can reuse, the less the overall cost.
Building a new pitch, however, will start with excavations and grading, and then the first-time installation of the supporting layers. For an outdoor artificial pitch, the planning and budget will factor in things like the quality of the soil and the climate, in order to assess the necessary amount of drainage. 
Construction does not stop at the touchline, though. Soccer fields need to have enough space around the boundaries for players to safely run or slide, as necessary; for substitutes and officials; and simply to take throw-ins and corner kicks. This entire playing surface will need adequate lighting, since most games and training will take place in the evening; and fences for security and safety. 
Consider an LED soccer field lighting system
The topic of LED sports lighting tends to pop up at some point during a soccer turf field installation project, for a good reason. Without a proper lighting system, the soccer field cannot safely be played on once the sun goes down. Extending the hours of usage also enables the sports facility operator to monetize the field better and generate more revenue. 
LED sports lighting technology is the option to go for because it ensures quality and uniform lighting at your soccer field at a very affordable price compared to a conventional HID lighting system. Thanks to the much longer lifespan of LED fixtures, your initially higher upfront purchasing cost will be paid for in about three to five years. 
Get a customized cost estimate for an LED sports lighting system by using our cost calculator at an early stage to avoid surprises in the planning and budgeting phase of your project. 
Artificial soccer fields are worth the up-front costs
Teams and clubs that keep natural grass pitches in playing condition year-round have extensive maintenance staff and equipment. Facilities that have neither the budget nor the need for competition-grade grass have a much smarter option in an artificial surface.
Synthetic turf is more resilient, longer-lasting and easier to maintain than natural grass. While the upfront costs of an artificial soccer field are higher than using a natural surface, the synthetic option is much cheaper over the long-term. 
Artificial pitches help on the other side of the ledger as well. They're almost as important to your marketing as your operations. Players, teams, league and tournaments will look for the quality, consistency and safety of artificial turf. By bringing in more soccer, your facility brings in more revenue. 
These projects are significant investments not only in your facility, but your community. As a result, you may be eligible for grants, credits and revenue opportunities to finance a new turf field. The state and city sports associations, local community leaders, and area non-profits focusing on health, fitness and recreation are the first points of contact to tackle an artificial turf project and put it on a secure financial footing right from the start.
Artificial soccer fields can start around $80,000 for a small pitch with basic infrastructure and amenities, and take about three months to build (weather permitting, of course). If you have an idea of what you want, head over to our cost calculator, plug in your specs and receive a quote to kick-off the next stage of your project.
Get a cost estimate for your turf soccer field
Whether you are in the planning phase of a new turf field construction project or thinking about resurfacing your existing synthetic soccer pitch, it's a good idea to ask for many quotes for comparison. 
We make this process fast and easy for you. Our artificial turf soccer field cost calculator takes into consideration all the different factors and moving parts that influence the price tag of a turf field installation project and in less than five minutes you receive a detailed report with an accurate cost estimate customised to your project.
We work with some of the best synthetic turf field builders in the US and would be happy to hook you up with them when you are ready to take the conversation further with a professional sports builder.