How much do turf football fields cost?
Over the last few decades, artificial turf has become increasingly popular. This is partly due to manufacturers closing the gap between the look and feel of turf and natural grass. 
The first artificial turf pitches, built in the 1960s and 1970s, were hard pitches that had little in common with real grass. That changed in the 1990s, when the first artificial turf football fields featuring synthetic fibers that resembled blades of grass hit the market. These new pitches also used a sand and rubber infill as artificial soil, adding the grass-like feel. 
Today, the new generation of artificial turf systems can hardly be distinguished from natural grass, whether you are playing the game or cheering on your team.
More and more football clubs are holding their games and training sessions on artificial turf. Here you can find out how much turf football fields cost to install, the advantages of this surface, and what you should bear in mind when planning. 
If you are in a hurry and just want to get a cost estimate for your football field project, try our turf football field cost calculator.
What influences turf football field cost?
Installation of an artificial turf football field costs between $750,000 to $1,350,000, depending on the quality of the turf, local conditions, infill material and regional price differences. For example, an synthetic turf football pitch for professional sports must meet different requirements than a sports turf for practice or a public sports facility. These differences are reflected in the material and construction costs.
Whether you are building a new one or renovating an old one, how much a turf field will end up costing eventually is due to the following criteria. Use our artificial turf football field cost calculator to get an accurate estimate for your project.
Quality of the artificial turf system
There are a variety of manufacturers that differ in price. The product range of individual suppliers includes artificial turf with different features and in different price categories. Also, infills differ in prices (natural cork is more expensive than synthetic materials), which must be budgeted into the overall project.
Structural situation of the sports facility
It is usually cheaper to replace an existing pitch than to build one from scratch. In most cases, the underlying infrastructure can be used, thus reducing the overall costs. 
Size of the field
Since both the turf and the underlying drainage layer are priced per square foot, the cost increases as the size increases. The dimensions of a football playing field are specified for game use (360′ x 160′). However, smaller fields can be used for practice. In addition, a perimeter of obstacle-free space must also be factored into the cost calculation: the comfortable, safe surface can't end abruptly at the touchline.
Regional differences
Labor and shipping costs can differ depending on the state in which the artificial turf is to be installed. In urban areas, prices tend to be higher than in more rural areas.
Design of the artificial turf
A customized design on the artificial turf, such as a club logo or a branded  end zone, incurs additional costs.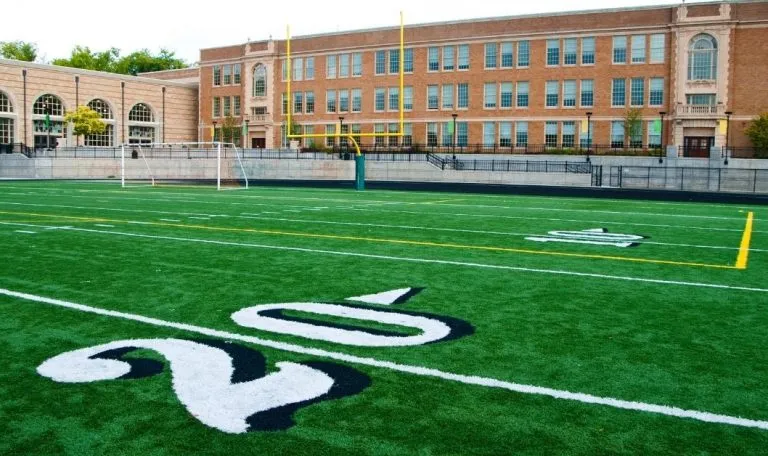 Costs and advantages of building an artificial turf football field
An artificial turf football field offers numerous advantages to cities, schools and clubs. First and foremost is the high level of playability. This is because, unlike natural grass, synthetic football fields do not require regeneration phases. This considerably increases the potential usage time, as they can be played on daily and in any weather. Even in bad weather, several teams can cycle through for practices and games without mashing the field into a muddy, unplayable landscape.
Many operators and owners of athletic fields such as high schools, colleges, cities and clubs struggle to maintain their grass fields year-round and keep them in playable condition. Artificial turf requires much less maintenance and guarantees an optimal surface for many years with little effort. Studies have also shown that the risk of injury is no higher than on natural grass. Modern artificial turf surfaces are elastic and provide a uniform surface; and they meet all the requirements of football associations and leagues.
Cost comparison: Football artificial turf pitch compared to natural turf
The cost of purchasing an artificial turf football field is higher than that of a natural grass pitch, but this investment pays off when the field is used intensively. A football turf field can easily be played on for 2,500 to 3,000 hours per year. That is three to four times as much as a natural grass pitch. If the field operator does not need that much time on the pitch,, they have the option of renting the field to other groups, clubs or schools, creating a reliable source of income.
In terms of care and maintenance, the artificial turf can also save costs. This is because it does not need to be mowed or watered. There is also no need for fertilizer/chemicals. Artificial turf does require some regular upkeep: braushing, aeration, raking and sweeping. But overall, the maintenance costs for natural turf are about two to three times higher.
Football artificial turf: installation and design
Whether building something new or renovating an existing field, it is recommended to involve an artificial turf manufacturer, a sports facility construction company or a specialist planner from an early point in the planning process. An expert opinion can be used to examine the intended sports facility and devise the most suitable solution.
Before the turf is laid, a drainage base must be installed. This consists of compacted stone as a base for the artificial turf. This layer allows rainwater to run off easily, ensuring it does not collect on the playing field. Then the artificial turf carpet is laid on top of the drainage base.  Infill granules are distributed evenly across the turf. They can be rubber and sand, or a natural infill such as cork. This combination of components provides a natural foothold for the athletes and helps absorb impact.
About two months should be allotted for the construction of the drainage base. If extensive earthworks are necessary in advance to create a level surface, plan on a longer construction window.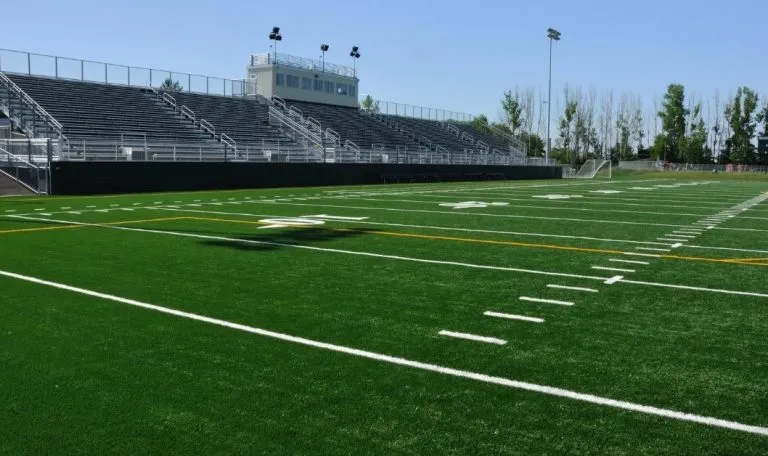 How much does it cost to maintain a football turf?
Artificial turf football field maintenance cost can be derived from the following factors:
Cost of labor

Cost of materials

Cost of artificial turf maintenance equipment
Cost of football turf field maintenance varies a lot due to the fact that some facility operators prefer to handle maintenance in-house and others want to outsource most of the work to professional maintenance companies. 
The actual labor consists of cleaning, evening out the surface, disinfecting and refilling the turf with infill material. For an average football turf field you can expect to spend around 300 hours of labor per year.
On top of the labor costs, facility managers need to take into account the cost of materials. These include new infill (cost depends on which material you choose), cleansers and disinfectants.
For a standard sized turf football field (57,600 square feet) the overall maintenance cost rounds up to about $8,000 per year. This estimate does not include the cost of necessary sports turf maintenance equipment. You can read more about maintenance machinery and tools in our artificial turf field maintenance cost guide. 
Calculate turf football field cost - Compare prices
Artificial turf football field cost usually falls between $750,000 to $1,350,000, depending on the size of the field and the features of the sports facility. The cost will vary depending on the product quality and the factors mentioned above.
Use our artificial turf football field cost calculator to get an accurate estimate for your project specifications. 
During the planning phase, requirements and desires should be discussed with an artificial turf manufacturer or sports field builder, and the specifications of the associations or leagues should be considered. Modifications entail significantly higher costs, so they should and can be avoided with detailed planning. Sports facility operators should obtain different offers and compare the prices of the suppliers. In addition, it is worth taking a look at synthetic turf football fields in the immediate vicinity. Which club or school uses which artificial turf system from which manufacturer? How satisfied are they with their facility? These points can help in choosing the appropriate surface.
Financing a new football pitch
There are various funding programs for financing your artificial turf football field construction. Therefore, at the beginning of planning, check to see if the municipality supports the construction and whether state or federal funds can be accessed. If funding is not possible or if there is still not enough money, donations, sponsorship and other fundraisers should be explored; along with financing options directly through banks or through the construction companies and vendors.