Artificial Turf Infill: Material options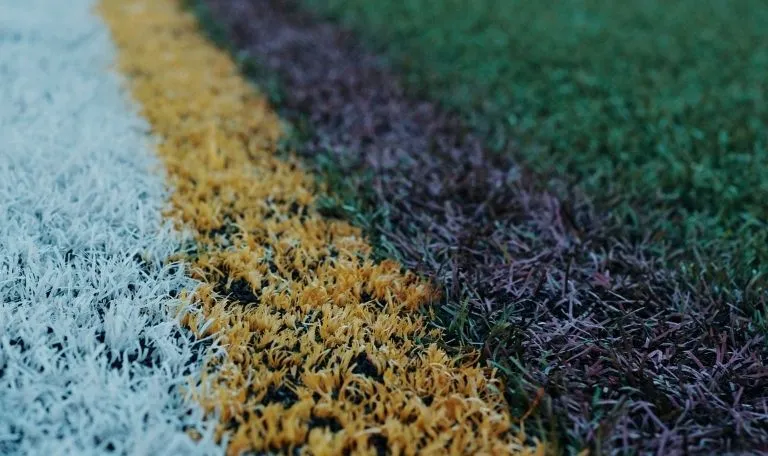 Cork is currently the talk of the town as an alternative infill granulate for artificial turf pitches. Many sports facility operators and municipalities face the decision of which infill material to use for their artificial turf pitches. Cork is an ideal choice because it is a natural raw material and – compared to other artificial turf infill granulates – does not pollute the environment.
Rubber infill granules, such as SBR recyclate or EPDM rubber granulate, release microplastics into the environment. Microplastic filters for artificial turf fields can reduce the discharge of the artificial turf infill by up to 95%, per the manufacturer's spec. Microplastic discharge, therefore, can be significantly reduced, allowing existing systems with rubber granules to be used. The costs associated with the installation of microplastic filter systems can be calculated using our artificial turf field cost calculator.
Manufacturers and suppliers of artificial turf systems for sports fields are already working on ways to achieve the necessary functionality of artificial turf fields (with or without infill) without environmentally harmful infill granules. 
In addition to cork infills, fields without additional infill are also being developed. These systems may be limited by what sports will be played on the field. Football and field hockey can be played on a field without infill, as can soccer. But this is a recent development. Not long ago, artificial turf with an infill was the athletes' choice. Cork is already used as infill granulate on many artificial turf fields. Cork's low weight  results in it sloughing off the field with wind and rain. Appropriate filter systems for artificial turf fields prevent the infill granules from entering the drainage systems. One concern around such losses it that cork – being a natural material – is not available in unlimited quantities.
Overview of artificial turf infill options
Artificial turf infill is a significant contributing factor in how much your turf field will cost. In the following overview you can get a quick glance at the most common infill materials used in sports turfs in the US.
PUR-coated SBR
Variant of SBR, coated with polyurethane layer. Abrasion of the coating depends on the intensity of use. It is less suitable for playing fields with high use or playability over long periods.
EPDM
Good elasticity, resistant to adverse weather conditions, works with any background colors, highly flame retardant.
EPDM fiber granulate
Especially UV-stable, looks more natural and is more pleasant to the touch when in contact with the skin.
TPE
Can be cut to size in terms of elasticity and aging, not suitable for high UV exposure and high temperatures. Most expensive granulate variant.
Cork
Natural origin, low heat storage and conduction. High potential for the future. Currently not subject to industry-standard certification or standardization.
SBR recyclate
Controversial as infill, as it is suspected of being carcinogenic. Used frequently in the past, rarely used today. Good functionality, including high elasticity. Consists of almost 100% recycled car tires. Highly weather- and UV-resistant.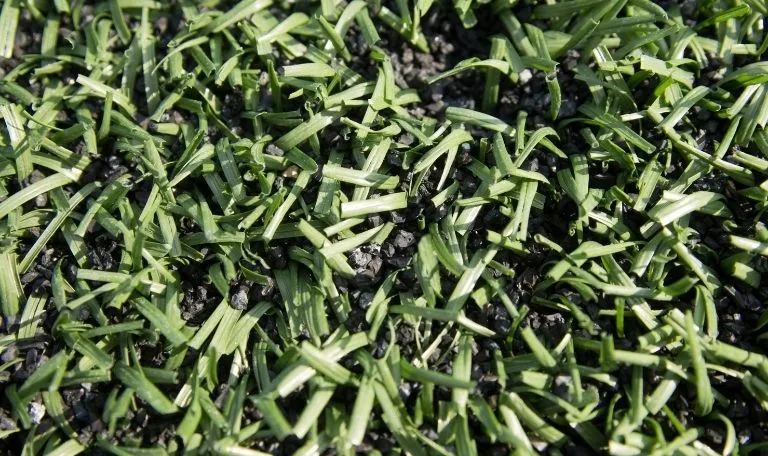 Promising developments in infill granulates
Artificial turf infill materials have steadily improved, with EPDM and SBR granules still the most common choices. These granules come closest to replicating the most desirable and functional properties of natural grass pitches for various sports, and their composition has been continuously refined and improved to support the player experience. 
But with the knowledge surrounding microplastics in artificial turf, the industry has a duty to develop alternative infill materials for artificial turf. Their constraints in designing a replacement are the sports functional properties of the system, optimal playability and the reduction of injuries.
What does cork cost as infill granules for artificial turf?
The costs of cork as infill granulate compared to rubber granulate can be calculated using our artificial turf field cost calculator. The required infill installation quantity is approximately 1,2 lbs of cork per square meter. Compared to the common infill granules made of EPDM or TPE, the installation quantity is significantly lower, as an average of 3 – 5 lbs per square foot are used with cork.