Calculate the cost of an indoor basketball court for a school or a sports facility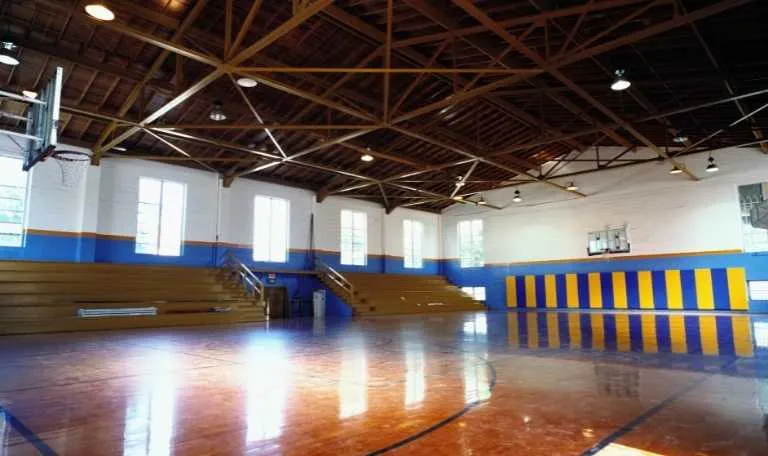 Installing a new indoor basketball court costs somewhere in the region of $22,000 – $124,000. The final price always depends on the size of the court, the surface material choice and geographical differences. 
Basketball court construction cost on different levels of competition
| Competition level | Size of court (ft) | Basketball court cost |
| --- | --- | --- |
| | | |
| | | |
| Middle school / Junior high | | |
| | | |
| Basketball half court cost | | |
| | | |
What is the annual maintenance cost for an indoor basketball court?
Basketball courts can last for a very long time if they are maintained properly. The maintenance costs range between $500 and $4,500 annually depending on which court surface you have installed. There are annual maintenance and upkeep tasks that every sports facility operator needs to take into account. Depending on the surface material you will need to plan for regular cleaning and mopping, stripping andwaxing, recoating, sanding and refinishing and line repainting.  
Basketball court resurfacing/replacement cost
Typically a basketball court last somewhere between 20 and 50 years depending on the court surface material and how well the court is maintained. Once the court reaches the end of its lifecycle you will need to resurface it if you want play to continue on the court. Resurfacing of a basketball court can set you back around $15,000 to $85,000 assuming you will only have to remove and reinstall the surface of the court and won't have to touch the base of the court. The price will eventually depend on which surface material you choose for the court. 
How much does it cost to paint a basketball court
Basketball courts need lines to designate the playing area. Your maintenance crew must regularly repaint these lines to maintain their brightness and visibility.
If your facility plans on hosting multiple sports, the pricing gets a bit more complex. But here is an estimate for both basketball-only courts and multi-sport facilities:
Standard basketball markings: $350 – $500
Markings for additional sports: $350 – $500 per sport
Adding a basketball court to your school or sports facility is an exciting venture. Establishing a top-notch venue for athletes to gather, play and experience the excitement of competition can bring your facility to the next level.
But what's the cost of building a court for your school or sports facility?
Building a basketball court is a big project, and many factors will affect the final price tag. In this article, we'll break down the costs associated with this type of project to get a better idea of what you might expect to pay.
What influences the cost of building a basketball court?
To start formulating a total cost for constructing a basketball court, you need to understand the different parts that go into it. Here are some of the main factors that affect the price:
The size of the court

Sub-floor choice

The type of surface materials

Accessories and amenities

Installation costs
Let's walk through each of these and see what factors impact price. By seeing each line item, you can better understand the big picture for your new court.
Size
The size of the court you choose will impact the cost significantly. A smaller court will be less expensive than a full-sized regulation court. Keep in mind that the dimensions of a regulation basketball court are 94 feet long by 50 feet wide.
Depending on the level of competition, or the age of your athletes, the size of your court will vary. Here's a breakdown of typical sizes based on these factors:
Elementary School: 50×42

Middle School / Junior high: 74 x 42 ft

High School: 84 x 50 ft

Colleges and Pros: 94 x 50 ft
When building a new court, you can choose a custom size for your space. Choosing a non-standard size can help you maximize your area and get the most use out of your new court. But keep in mind that this will add to the cost, as custom sizes generally require more materials and labor.
How much does a half-court cost?
A basketball half-court has the same width as a full court but half of the length (47 x 50 ft). The dimensions are exactly half of a full-sized basketball court, which makes the half court also cost half of what a full court would cost.

3 vs 3 small court: 45 x 35 ft
As you can see, size does matter when it comes to basketball court construction. The number of materials, the number of labor hours needed, and the skill level for construction are significantly impacted by your courts' size.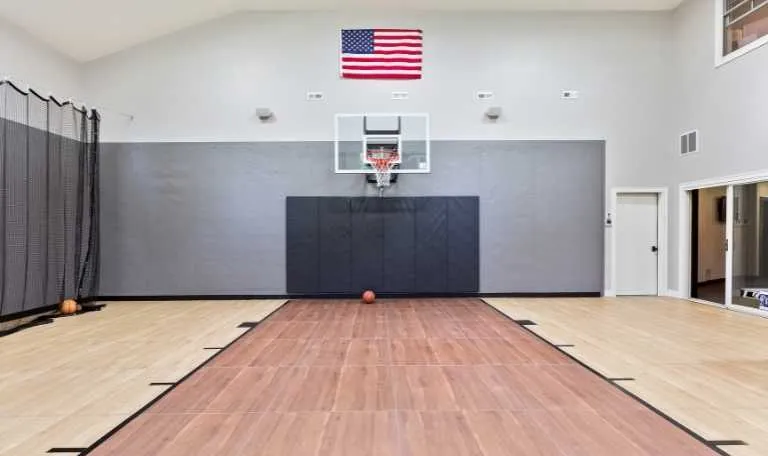 Subfloor choice
A brand new indoor sports court always starts with a concrete layer that serves as the base for the rest of the gym flooring system. Once the concrete slab is in place, typically round rubber pads are placed on the concrete base and then your choice of wooden subfloor layer is mounted on top of the rubber pads.
There are a few choices, each with its benefits and costs. Subfloor systmes are designed to provide shock absorption to prevent injuries and to increase the playability of the sport court. You should discuss with a professional sports flooring company about the specific needs and requirements the main users at your sports facility have.
Here are some of the most common base layer materials for your basketball court:
Plywood
Dimensional lumber
Laminated veneer lumber
Strand sheathing
Choosing the suitable material is essential to the maintenance and longevity of your new court. We recommend consulting with a professional basketball court installation company early in the planning stage. Expert eyes will recognize potential issues and ensure you make the best purchases and decisions for your project.
Indoor Basketball Court Surface Material Options
Once you've established the size of your new court, had it prepped, and chosen your base layer, it's time to choose a surface material. The material of your court will depend on a few factors. However, some industry-standard solutions can be found across every skill level, use case, and geographical location.
Natural materials: maple hardwood, linoleum
Synthetic: vinyl, laminate 
Rubber: vulcanized rubber, polyurethane 
Depending on your choice of surface material, you can expect to pay between $3 and $16 per sq. ft. for your court. The surface is arguably one of the most vital pieces of your new facility, so choose carefully.
Pro tip: use our easy-to-use pricing calculator to get an accurate estimate of basketball court building cost. 
'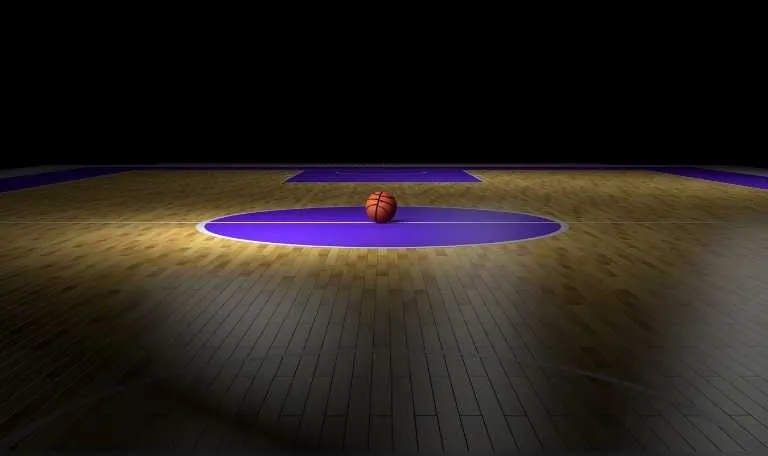 Court accessories
Now that you've got a solid foundation for your court, the real fun starts!
Choosing the right court accessories for your new facility helps elevate the experience for both athletes and fans. Here are some of the options to consider when looking at basketball court improvements:
1 – Hoop – there are countless options for hoops for you to choose from glass backboards, wall-mounted, portable, or even those planted and secured in the ground.
You can expect to pay between $500 and $2,000 per hoop on average. 
Aside from your court surface, your hoops are the most crucial piece for great competition. Choose an option that helps facilitate fantastic gameplay.
2 – Scoreboards – if you plan on hosting a competition of any kind, a scoreboard (or three!) is an essential addition to your basketball court facility. Scoreboards can be expensive, so planning and understanding your needs is critical.
The average cost for scoreboards is $2,000 – $5,000.
3 – Design factors – adding design elements to your basketball court is a fantastic way to show some school or team spirit. Logos, custom colors and graphics, or even unique court colors help reinforce your brand and build an incredible experience for athletes.
Imagine the excitement of walking out on a court with your High School's team name in the center? It's an unforgettable experience for young athletes. It helps keep alumni and community members connected to your team – driving more revenue from ticket and concession sales.
For design elements, you can expect to pay between $500 – $2000.
4 – Benches and bleachers – adding benches and bleachers to your court allows fans to get close to the action and athletes a place to rest. This is a must-have for any high-traffic court and is a requirement for most sports organizations in the country.
Bench: $200 – $600 per bench
Bleachers: $100 – $1,000 per seat
5 – Lighting – proper lighting is vital for athletes, especially when practicing or playing at night. Make sure you have a good lighting plan to keep athletes safe and help them see the court correctly.
LED lighting is an excellent modern choice that promotes sustainability and efficiency. Although LED lights can be expensive, the long-term benefits make them ideal for your court.
Plan on spending $5,000 – $15,000 for a quality lighting system.
How to finance a basketball court construction project?
As you can see, many factors go into how much a basketball court costs. But don't let that discourage you! There are many ways to finance your basketball court construction project.
Some standard options include:
1 – Seeking out grants or funds from local organizations or the government. Federal, state, and local funds are available for projects like basketball court construction. As an athletic facility, you are improving your community. Specific grants are dedicated to such projects and are available to help you fund construction.
In addition to governmental grants, organizations and brands like the NBA and ESPN offer amazing opportunities for schools and organizations to build courts. The ESPN Homecourt Program is an excellent example. This program provides a free design and construction package for qualified schools and organizations.
2 – Private financing – through a loan or other private means, you can finance your basketball court construction project. This option can be more expensive in the long run, but it allows you to get started on your project right away. 
3 – Crowdsourcing and fundraising – one of the most popular methods for funding a basketball court is through fundraising. This can take many forms, such as online crowdfunding, donation drives, or even sponsorships from local businesses.
Whatever option you choose, make sure you do your research and get an accurate estimate of the costs involved. With a well-planned construction project, you can have a beautiful new basketball court for your community to enjoy!
Important considerations for schools and sports facilities
When planning a basketball court project, the first question you need to answer is who will be using it?
Knowing your target audience and the level of competition being hosted will help you make key decisions about court construction.
Here are a few things to keep in mind:
Schools: When building a basketball court for schools, it's important to consider the age of the athletes. Younger students need a shorter court with lower baskets, while older students can use a traditional court. Also, be sure to have plenty of space for running and drills.

Sports facilities: If you are building a basketball court for use by a sports team, or as part of a larger facility, you'll need to consider the level of competition. A regulation court is 94 feet long and 50 feet wide – too large for most home facilities!
Be sure to plan accordingly and choose an appropriate court size for your needs.
The next consideration is choosing suitable suppliers and vendors for your labor and materials. Finding a trusted partner is vital to the success of your project. Look for a company that has experience in construction and basketball court projects.
When vetting potential candidates, here are a few questions and pieces of information to look for:
1 – History of past successful projects – do they work on similar projects? Do they have references, a portfolio, or proof that they can get the job done on time and a budget? Don't be afraid to ask for their qualifications. Seeing evidence will ensure your project is a success. 
2 – Certificates – is your potential partner certified to work on this project? Different locations and municipalities have additional requirements for labor and construction. Find out if they have the necessary permits to perform construction on your site – and avoid costly delays and headaches down the road! 
3 – Warranty – what type of warranty does a potential supplier offer for their materials? Does your contractor offer any grace period for potential issues and additional work? Be sure to get these in writing from every source to protect you against future risks. 
Finally, be sure to budget for ongoing maintenance of your basketball court. This is especially important for air-supported structures, which require more regular care. By planning for maintenance costs, you can ensure that your basketball court is a valuable asset for years to come.
Next, you need to consider permits for your basketball court. Of course, like any construction project, permits for building are essential. But an often-overlooked set of permits is post-construction. What do you need in order to host athletes and spectators at your facility?
Speak with local government officials to find out what is required for your project. They will be able to help you with everything from parking and traffic control, to sanitation and emergency preparedness.
Lastly, a proper and expert site audit and survey before the construction project begins are crucial to your success. 
Work with a professional team that knows what to look for at your site. Finding potential risks early can eliminate obstacles that might hinder or limit the building of a basketball court in your area.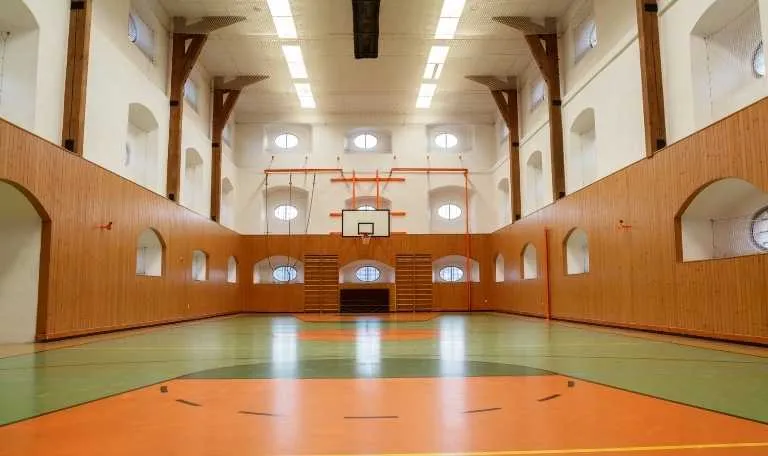 How to build and run a basketball court on a tight budget?
Most schools are operating on tight budgets. While building a new basketball court can be a costly venture, don't be discouraged by the price tag.
Here are a few ways you can save on your project:
1 – Shop around for the best prices on labor and materials. Don't be afraid to get quotes from multiple vendors, partners, and contractors. Be careful to balance price with expertise, you don't want to save money in the name of professionalism.
2 – Ask for discounts. Many suppliers, contractors, and partners offer discounts for large projects or repeat customers. Be sure to ask about these opportunities. Every dollar saved can help you complete your project within budget.
3 – Use cheaper materials for your surface. While hardwood is ideal for an indoor basketball court, it's not always a viable option. Synthetic materials are a great alternative for the budget-conscious.
4 – Purchase accessories and amenities abroad. Finding suppliers and vendors overseas is the perfect way to cut costs. We recommend coupling foreign materials with local labor and expertise for the perfect combination of cost savings and control. When buying abroad, be sure to consider the cost of logistics and customs. Depending on the country of origin, fees for transporting your goods to the States can be quite expensive. 
Also, you can look for second-hand options. For example, used basketball hoops and backboards can often be found at a fraction of the cost of new equipment.
If you are choosing one of these alternative methods for suppliers, be sure to verify the quality of the goods. Look for reviews, search for known issues, and do your research carefully. Ensure the supplier has certifications and meets domestic quality standards. The last thing you want is to receive damaged or inferior materials when you've already started your project. 
5 – Choose LED lighting over HID lights. The initial cost of LEDs can be a turn-off to some. However, when planning a new basketball court you need to consider the long-term costs of your facility. LED lighting offers sustainable and affordable illumination for your court. You can light your facility for a fraction of the cost of HID lights while spending less on maintenance.
By following these tips, you can build and run a successful basketball court on a tight budget. With careful planning and execution, your school will be able to enjoy this great amenity for years to come!
Estimate the costs of your indoor basketball court at an early stage
One of the most important things you can do when planning a new indoor basketball court is to get a cost estimate as early as possible. This will help you avoid any nasty surprises down the road and ensure that your project stays on budget.
We've created an easy-to-use indoor basketball court cost calculator to help you pinpoint the cost of your project.
Our team works with some of the most prestigious basketball court experts in the country. We can put you in touch with local teams that will turn your hoop dreams into a reality!