Pickleball court lighting cost: calculate your installation project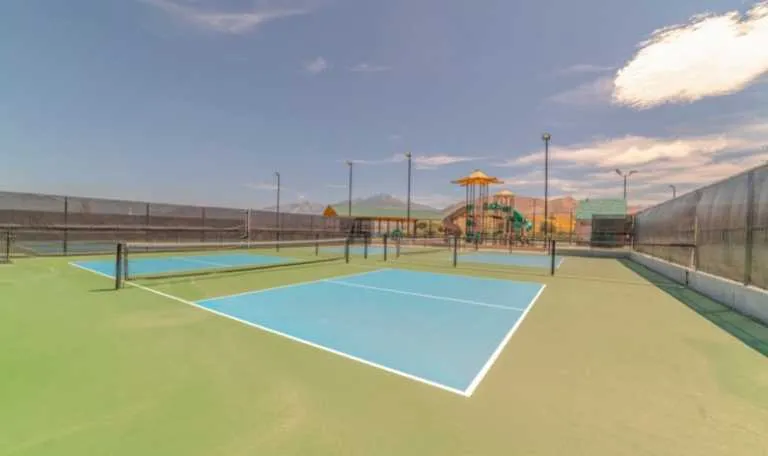 How much does it cost to install pickleball court lights?
Installation of LED pickleball court lighting costs somewhere between $17,200 and $122,000 depending on the quality of the LED lights, the competition level of your main users, the recommended illuminance level, the number of courts, and regional differences in labor costs.
If you are looking to upgrade the existing pickleball lighting system to LED for your sports facility, you can expect an overall price tag of somewhere between $25,000 and $85,000. The cost largely depends on the conversion method that you choose: retrofitting or replacing the whole lighting fixtures. You should always ask a professional lighting company to audit your existing lighting infrastructure before starting the project.
Use our pickleball court lighting cost calculator to get a customized cost estimate for your project.
Pickleball court lighting cost breakdown
| Cost item | Cost range |
| --- | --- |
| Pickleball LED Sports Lighting System * | |
| Pickleball Lighting - Installation of Poles | |
| Pickleball Lighting - Installation of Fixtures | |
| Pickleball Lighting - Wiring from Contactors to Steel Poles | |
| | |
* The LED Sports lighting system includes: galvanized steel poles, precast concrete bases, factory aimed and assembled luminaires and the control system
The Best Options for Lighting Your Pickleball Court
When you're developing a plan to install a pickleball court, you need to think about everything. The surface types, the colors, the nets, seating for spectators; a lot goes into creating a great venue. One often-overlooked piece is lighting.
There are a handful of options for lighting a pickleball court, and each has its pros and cons. Understanding these will help you choose the right type of lights – or combination – to meet your needs.
There is no perfect answer when it comes to pickleball court lighting. The best option depends on your unique situation and plans to use the court.
The most important aspect is to ensure that you think about this upfront. In the same way that a subpar court surface can make for a frustrating experience, so too can poor lighting conditions. Having a well-lit court is crucial for player and spectator safety.
While every court will have specific needs, we find that most are:
1 – Installing new fixtures for the first time, or…
2 – Retrofitting an existing pickleball court lighting system with LEDs, or…
3 – Replacing old LED lights with new ones
Here are some of the more common options for lighting your pickleball court to give you an idea of what to expect for costs.
LED retrofit for a pickleball court lighting system
LED lights are a relatively new technology that offers significant advantages over HID systems. These upgrades include better color rendering, lower heat generation, and more precise lighting control.
Features like adjustable color bins allow you to change your light to suit specific needs. For example, adding a yellow tint during doubles events could improve visibility for players on each side of the court.
Another nice feature is dimming capabilities, ideal for evening pickleball sessions.
In addition to a better on-court experience, LEDs offer incredible long-term cost savings. They last longer, use less energy and require less maintenance than older systems.
If you're considering replacing your existing HID lights with LEDs, here are some of the basic steps:
Get an expert opinion on whether to retrofit the old system or install new LED fixtures
Convert fixtures and upgrade the electrical system to support LED lights

Installation of your new lights

Calibration, testing and training to ensure it is operating correctly
The costs for doing this will depend on the type of lights you want, your electrical abilities, and how much work is required to upgrade the existing system.
Cost of a LED retrofit for a pickleball court lighting system: $25,000 – $85,000
Use our pickleball court lighting conversion to LED calculator to get a customized cost for your project.
How much does it cost to replace old LED pickleball court lights?
If your court already has LEDs installed, congratulations, you have made a wise choice. However, even LED lights are not eternal and will need replacing once they have lost enough of their brightness (somewhere between 50.000 and 100.000 hours). 
The overall cost of your upgrade will depend on the number of courts you have at your facility. But in general, the cost of purchasing new LED lamps for a single pickleball court costs between $1,800 to $5,600, depending on the quality of the LED fixtures and the required illuminance level.
The final price depends on the quality of light desired, the wattage needed, the amount of lumen output required and the total labor involved. It's best to involve a professional sports lighting expert early in your planning process. These experts can help you plan more accurately and budget appropriately.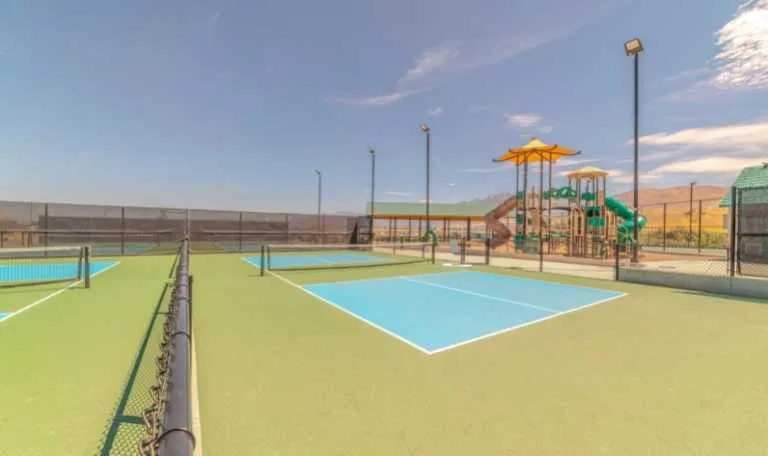 HID/Metal halide lighting vs. LED cost savings
HID lights are an older technology, used for many years. They're still popular, but they're expensive to maintain and relatively inefficient.
Making the switch to LED sports lighting will significantly impact your bottom line. You'll see your operating expenses drop considerably due to the lower wattage usage and labor needed. While the initial cost of LEDs can be a challenge for some budgets, here are some of the benefits:
Longer lifespan for each fixture

150 lumens per watt vs. 100 for HID (which depreciate over time)

Fewer parts needed and labor hours for maintenance
As you can see, the superior technology of LEDs will help you save a considerable amount over time.
Pickleball court lighting standards and requirements
One of the main factors in pickleball court lighting is the layout of your venue. According to regulations, you'll need between 70,000 – 100,000 lux (or 400w – 800w) to light your court correctly. If you have multiple courts, the area you need to cover will be more significant than a single court setup. With every court, more light is required, which will increase your overall cost.
There are two methods for lighting your court:
1 – Horizontal illuminance
These lights are placed around the players and playing surface to give a transparent backdrop. Whether or not you are televising your games, you need to pay careful attention to the lumens level for your horizontal illuminance. Non-televised games require an illuminance level of between 100 lux and 750 lux. This lumens level keeps players and spectators alike safe.
Horizontal illuminance recommendations for different competition levels:
| Competition level | Professional / College | Club / High School | Recreational |
| --- | --- | --- | --- |
| Average maintained foot candles | | | |
| Minimum maintained foot candles | | | |
| | | | |
2 – Vertical illuminance
Vertical illuminance is the type of light that most people think about when they think about sports venue lighting. Fixtures are placed atop poles or stanchions; light is directed downward to illuminate the playing surface evenly.
Vertical illuminance recommendations for different competition levels:
Competition level

Professional / College

Club / High School

Recreational

Average maintained foot candles
While the specific number of fixtures you need is unique to your scenario, there are a couple of best practices to follow:
Get your light as high over the court as possible.
The height allows even distribution of light across the surface. It helps visibility for all players and reduces glare, which can be a problem on outdoor courts. No matter where you decide to mount your light, make sure it's at least 16 feet high for a single handball court and 20 feet high for a doubles court.
If possible, light your courts from both sides. Two-sided lighting eliminates shadows and allows each player to see the entire playing surface. A pickleball court lighting system aims to maintain high visibility for players on each side. Lighting from both sides achieves this with even distribution throughout.
Pickleball court lighting layout & design
One of the key factors affecting the price of the installation of an LED lighting system for a pickleball facility is the area that needs to be lit up. Pickleball courts have standard dimensions, but some sports complexes need more than one court to satisfy the demands of their customers.
Another important factor determining the final price is the number of lighting poles and lighting fixtures is required. As explained already above the amount of brightness depends mainly on the level of competition: a pickleball court for professional level play needs a lot more luminance than a pickleball court for a municipal park. 
Below you can find the most common pickleball court layouts for comparison. You can click on them to find out more detailed information about each setup and visualize different design options for the courts.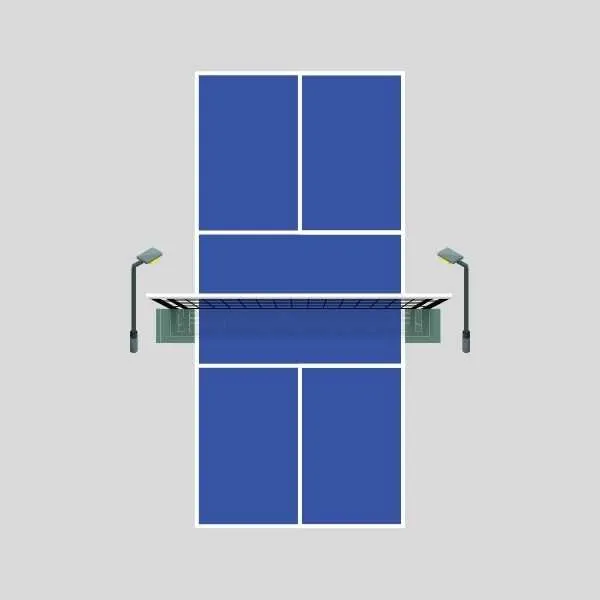 Single pickleball court
LED lighting layout with
2 poles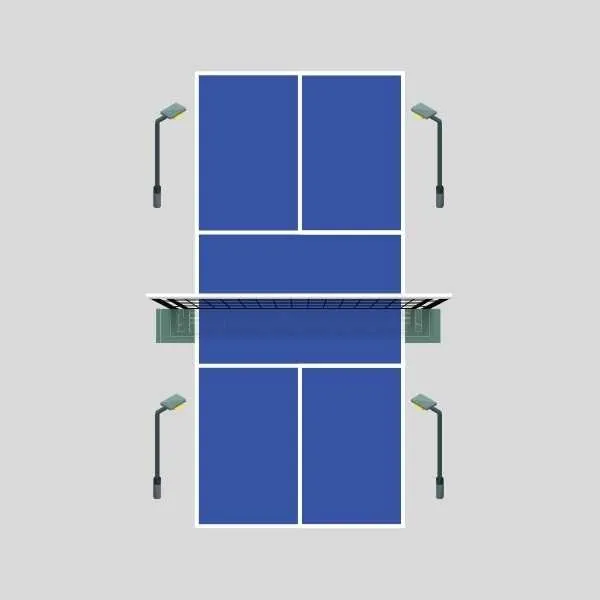 Single pickleball court
LED lighting layout with
4 poles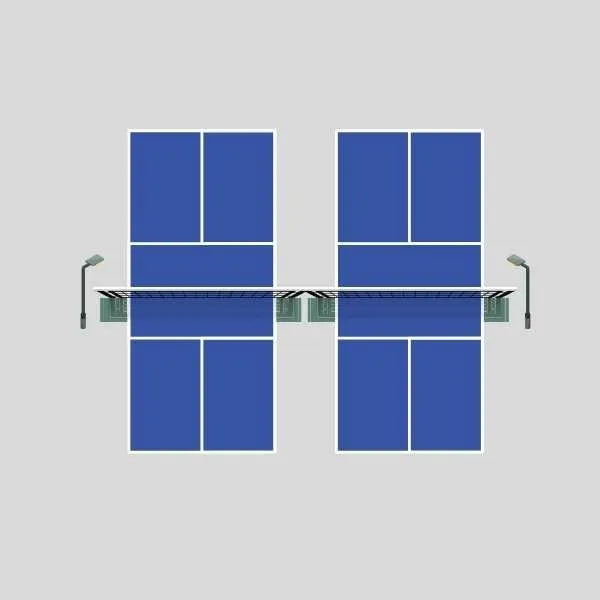 Two pickleball court
LED lighting layout with
2 poles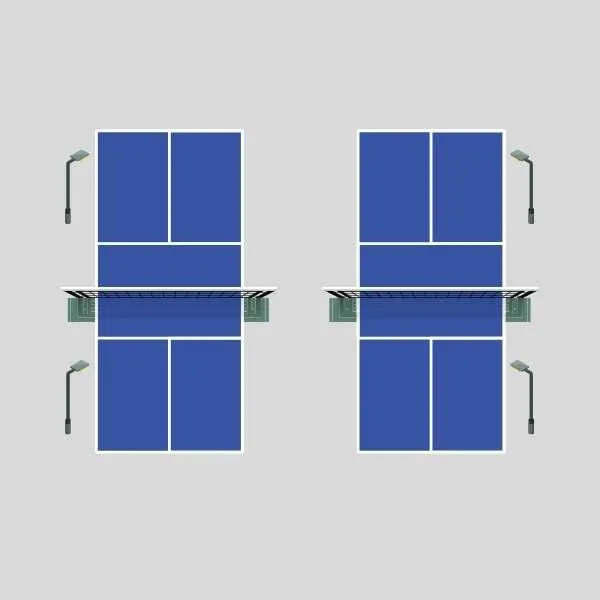 Two pickleball court
LED lighting layout with
4 poles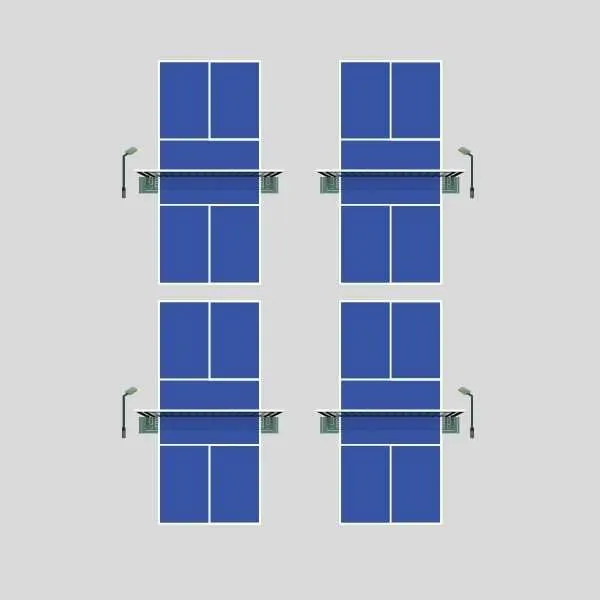 Four pickleball court
LED lighting layout with
4 poles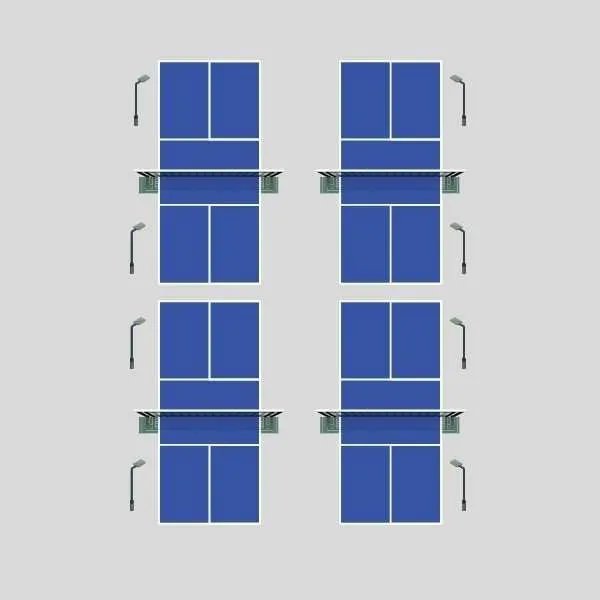 Four pickleball court
LED lighting layout with
8 poles
Important considerations about pickleball lighting fixtures
Now that we've covered the essential details of understanding pickleball court lighting costs, here are some additional considerations for your project:
Control system (mobile app)
Users can control many modern lighting systems through a centralized system. A setup that you and your team can manipulate through a mobile app is an excellent way to future-proof your system and make your operation more efficient.
Is your court outdoors? Non-glare LEDs can help cut down on harsh reflections from the sun.
Is your pickleball court in a residential neighborhood? Consider zoning laws and light pollution regulations. The last thing you want to do is anger your neighbors!
To maintain standards, look for LED lights with a color temperature of between 4000K – 5000K. This temp is the easiest on the eyes and the most useful for players and spectators.
Consider whether or not you will be televising games from your location. Color rendering is a critical factor for ensuring your court is TV-ready
For our experts, this is an essential step. Hiring a professional to conduct a photometric study ensures you have the right plan in place for your pickleball court lighting.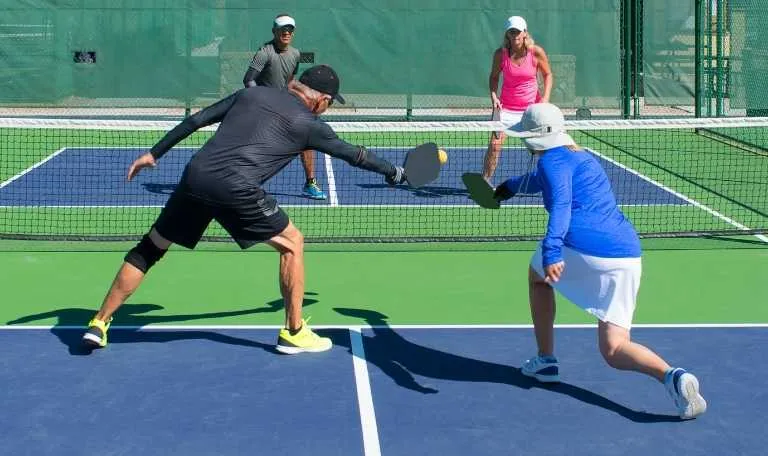 Calculate the cost of LED lighting installation for your pickleball court
Planning your lighting solution is an essential step at an early stage of your pickleball court project. Part of that step is securing a cost estimate to help with your budget and planning. We have created an easy-to-use pickleball lighting cost calculator to help. You can use it to calculate the cost to install a LED lighting system for a new pickleball court or the cost to upgrade your existing lighting system to LED.
Once you have your estimate, you should talk to a lighting professional. Our team works with some of the top providers in the US to help schools, recreational centers, and clubs find the best lighting for their pickleball courts.