LED Tennis Court Lighting Layout & Design Guide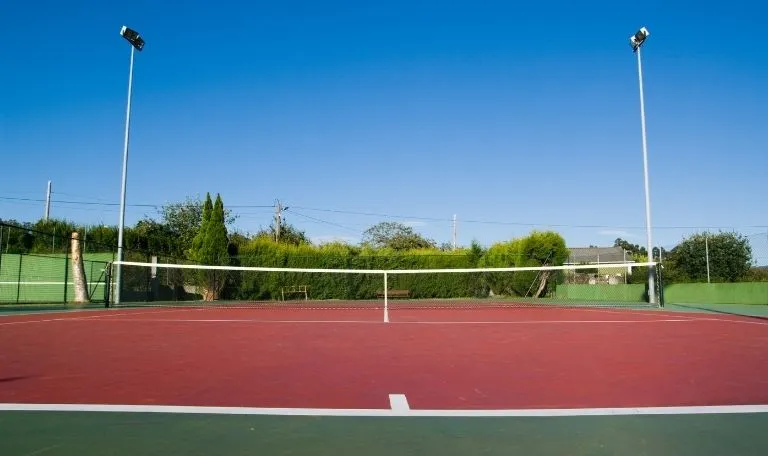 To enjoy any sport to the fullest, you must meet its lighting requirements. Fortunately, there are various types of field lighting systems for you to choose from. Tennis is a hugely popular sport that is played on a court. It can also be played in a variety of places including indoors, outdoors, and underground.
Whether your court is located in a high school, college, university, or college, you must ensure that the tennis court lighting is well designed. If not, you will find the time you spend on the court less enjoyable. You will also find yourself paying high energy bills. Hence, the importance of having proper court lighting can't be over-emphasized. In this article, we will be providing all the information you need on tennis court lighting.
If you are planning to install new LED lights or upgrade to LED lighting at your sports facility you can get an instant cost estimate for your project by using our tennis court lighting cost calculator.
Tennis Court Lighting Layout & Design
There are two types of tennis courts, namely indoor and outdoor courts. The International Tennis Federation (ITF) states that a standard court should be 23.77 meters in length. However, doubles have a width of 10.97 meters while singles have a width of 8.23 meters. In this section, we will be looking at the tennis court lighting design guidelines for both types of tennis courts.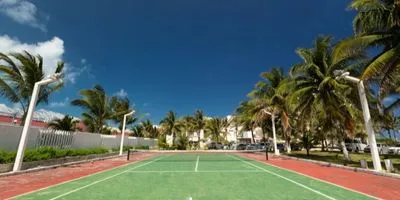 Outdoor Tennis Courts Light Arrangement
The lighting poles found in outdoor tennis courts usually have a height of between 6 to 8 meters. This height can vary depending on environmental factors. The lamps should be positioned on both sides of the net, and they should be 6 meters high. They should also offer the same amount of illumination.
Four Corner Arrangement: The light poles should be positioned at the four corners of the field. 
Two-Sided Arrangement: The light poles are positioned on both sides of the field.
Mixed Arrangement: This setting involves the combination of the two-sided arrangement and four-cornered arrangement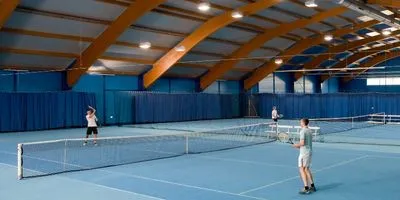 Indoor Tennis Court Light Arrangement
Top Arrangement: The lamps are positioned above the field and the light beam is placed perpendicularly to the court's plane.
Two-Sided Arrangement: The lamps are installed on the two sides of the court and the light beam isn't positioned perpendicularly.
Mixed Arrangement: This involves the combination of the two-sided arrangement and top arrangement.
Tennis Court Lighting Requirements & Standards
According to the United States Tennis Association (USTA) and Illuminating Engineering Society (IES), the right level of lighting for a tennis court depends on the level of competition. These levels are split into four broad categories:
Class I: Professional level: 125-foot candles / 1250 lux
Class II: College and medium level: 75–100-foot candles / 750-1000 lux
Class III: High school and private clubs: 50–75-foot candles / 500-750 lux
Class IV: Recreational: 30-50-foot candles / 300-500 lux
Tennis court LED lighting layouts per competition level
The planning of the lighting layout for a tennis court starts with understanding what the use concept of the sports facility is. A recreational tennis court which is open for local residents does not have to meet the same standards a college or professional tennis court is required to meet. This is mostly due to the fact that tennis matches at a college and professional level attract big audiences in the stands and via TV broadcast. In order to provide a good quality event to the spectators, the lighting system needs to be of a very high standard.
Important requirements that vary across the different levels of play are for example:
Brightness level
Number of poles
Light pole height
Uniformity
Glare
Light temperature
Color rendering index (CRI)
Below you can find typical tennis court layouts for different competition levels. You can click on them to find out more detailed information about each setup.
Recreational and training level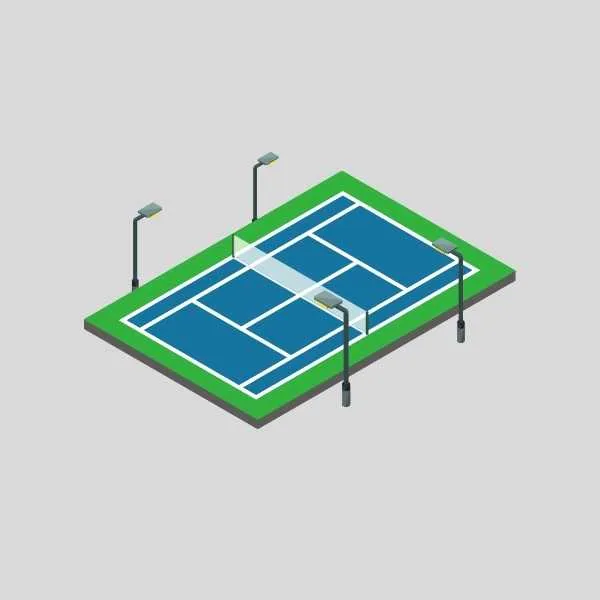 Single tennis court LED
lighting layout with
4 poles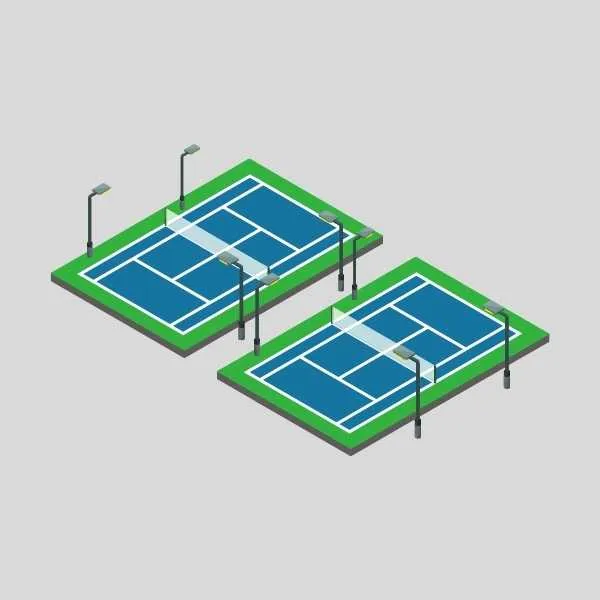 Two tennis court LED
lighting layout with
4 poles
High school and private club level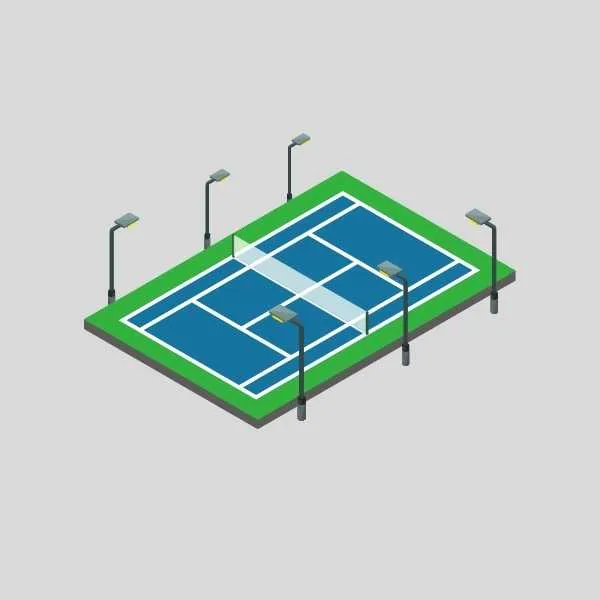 Single tennis court LED
lighting layout with
6 poles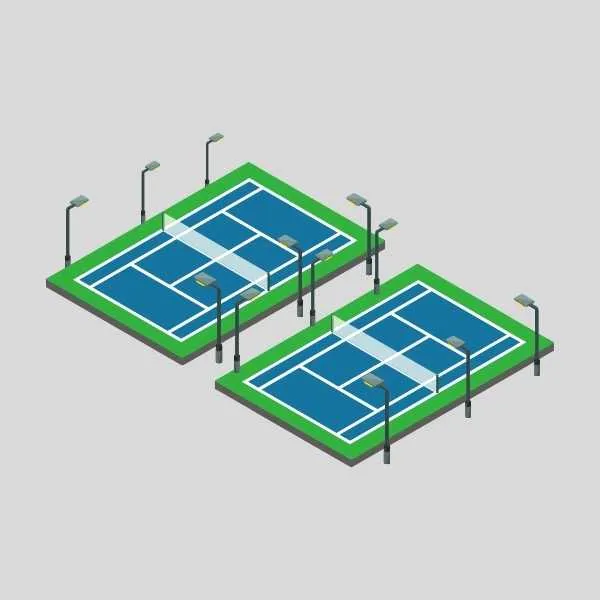 Two tennis court LED
lighting layout with
6 poles
College and professional level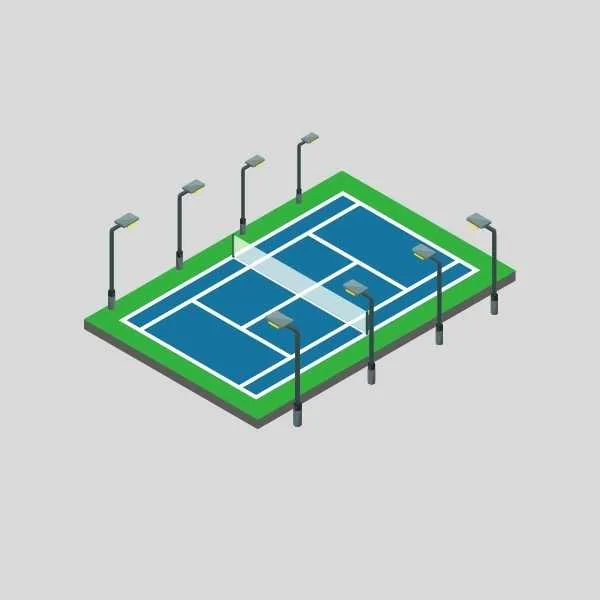 Single tennis court LED
lighting layout with
8 poles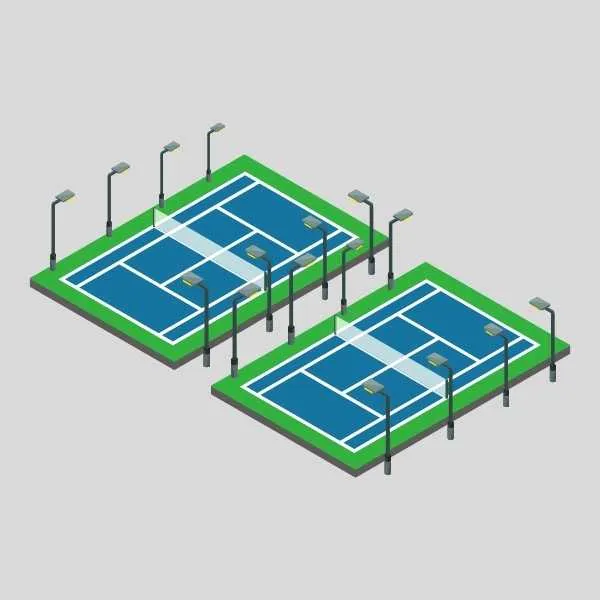 Two tennis court LED
lighting layout with
8 poles
Essential Design Considerations
Whether you are a sports club owner or an athletics director, you must consider several factors when investing in a tennis court lighting system to get the best results.
Glare
The glare is an intense, blinding light that is unsuitable for playing. Hence, one vital feature that your lighting system needs is anti-glare function. Experienced and professional LED sports lighting contractors equip their LED lights with anti-glare lenses to protect players and help them see things conveniently.
Waterproof
Good LED lights should have proper protection from the elements. This will enable you to use the lights in any environment without worrying about water damage. Our recommendation is to go for LED lights that have an excellent waterproof rating.
Color Temperature
Another vital feature that you must look out for when investing in a tennis court lighting system is color temperature. We recommend that your lighting system offers cool white light of between 5000 to 6000K.
Projection Angle
Asymmetric tennis court lighting is highly versatile. Whatever your lighting needs may be, this lighting system has various beam angles to meet them.
Uniformity
When it comes to proper tennis court lighting, you can't afford to overlook uniformity. A system with high uniformity will light up the court excellently. We recommend that you opt for between 0.6 to 0.7 uniformity.
Light Controls
Good tennis court lighting systems come with a wireless control feature to give you a smooth user experience. This will enable you to easily turn the lights on and off and track usage in different locations. It will also allow you to adjust the lights as needed.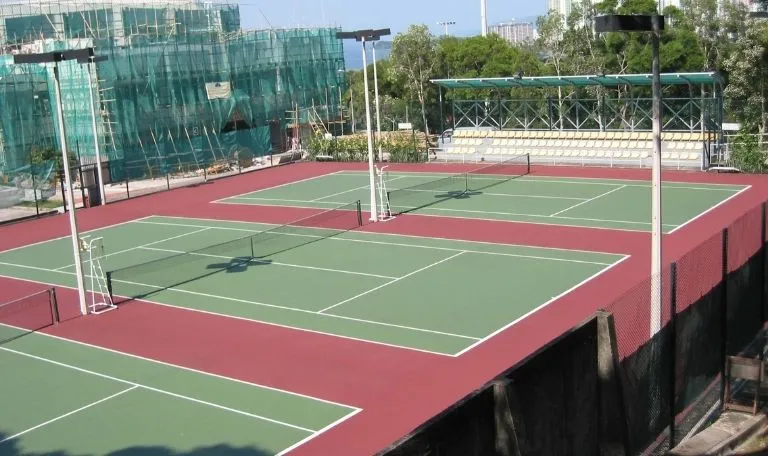 Energy Efficient LED Lighting Systems
The best type of lights used in both schools and recreational tennis courts today are LED lights. There are several reasons for you to choose LED lights over traditional lights like HIDs. To start with, LED lighting systems are incredibly energy efficient when compared to other lighting systems. You will get to cut down on your bills and save even more money over time. This is because LED lights last up to 100,000 hours and require little maintenance.
Another reason why you should opt for an LED tennis court lighting system is that it offers better light quality. LED lights improve the safety and performance of tennis players because they are halo and glare-free. The light will work in their favor regardless of the direction they look. Additionally, people staying close to the court will feel more comfortable since LED systems only direct light towards the field instead of lighting up the entire community.
LED Tennis Court Lighting Cost
The cost of having LED sports lighting on your tennis court will be determined by several factors. Firstly, ask yourself if you are installing a new LED system or upgrading an existing one. A new system will cost you more money. You should also consider the size of the court, the level of competition, and the number of spectators. Finally, you will spend more money on your LED system if TV broadcasting is available. We've written at length about tennis court lighting installation costs in a separate post! 
Though the cost of installing LED tennis court lighting seems to be higher than other options, there are several grants, rebates, and tax incentives that you can take advantage of. Any of these options will lower your expenses significantly. Check out this article about tennis court and lighting grants to learn more.
Tennis Court Lighting Contractors
It is normal to think that you will be saving some money by taking a DIY approach to your LED light installation. However, the service of a contractor is always more beneficial in the long run. Contractors are highly qualified and experienced professionals that only use the best equipment for the job. They also carry out proper photometric analysis and ensure that their installations meet the requirements of their clients. You will get a favorable warranty too. Get started by using our tennis court lighting cost calculator.
We've written tons of more articles about planning, costs, benefits, funding, and other important considerations in the LED sports field lighting section.