Pickleball court cost: Calculate your construction project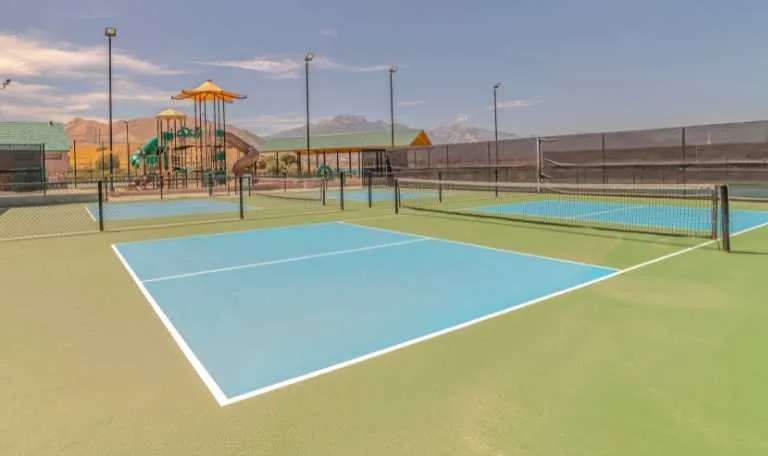 How much does it cost to build a pickleball court?
The construction of a new pickleball court costs somewhere between $20,000 and $50,000. Many items will affect the cost when planning a construction project for your pickleball court. Some significant factors include the playing surface, the equipment needed to carry out construction, and of course, labor (more on all of these below).
Try our pickleball court cost calculator, type in your court specs and get a customized estimate for your project.
Pickleball court construction: cost breakdown
Pickleball court installation cost items

Price range

Installation, including labor and site equipment

Pickleball court surfacing

Pickleball court net cost

Pickleball court fence cost

Pickleball court painting cost
What determines the cost of a pickleball court?
Once you've decided whether you are building a new venue or converting an old court, it's time to dig into the specifics.
Size
While the playing area for the court is 20′ x 44′, the USA Pickleball Association recommends an area of 36′ x 64′. The extra space provides your players with enough room to maneuver and play with the speed and enthusiasm they desire. Measure your space and identify any obstructions, trees, or uneven ground that must be handled before construction can begin.
Number of courts
Since pickleball courts take up less space than tennis or basketball, you may be able to fit multiple courts in your area. Given the sport's growing popularity, building a multi-court facility could draw many players and visitors to your venue. Each court will have its own set of costs and requirements. Multi-court setups become complicated quickly. It's best to consult a professional to help you plan.
Indoor or Outdoor
The location of your court will significantly impact the cost. If you are building an indoor pickleball court, the materials you need for the surface are different from the outdoors. You can use wood or rubber (often found in school gyms). These materials are less suited for outdoor use. They can become slippery from condensation and can erode quickly depending on the weather in your area.
Court Accessories
Fencing is a crucial need for your new pickleball court. It helps keep games contained balls from bouncing away and gives your athletes a safe space in which to play. If you've ever priced out fencing, you know it can add up quickly. You'll need the correct height and the proper quality fencing around the entire perimeter of your court.
Lighting is another essential piece to the experience of your court. Since many pickleball players are hobbyists, providing a safe space for evening or night play is critical. With adequate lighting, players can meet for their weekly games at a time that best suits their schedule. For a full breakdown of pickleball lighting costs, check out this article.
Further reading: 
Other accessories and amenities to consider
Bleachers

– you may want to provide seating for spectators. Especially if you are installing your court at a school or community center. Creating a space for families, friends, and fans to watch games is a fantastic addition. 

Roofing

– this is an optional accessory, but depending on your geographic location, it may be essential. You can install a self-supporting curved roof or even a pickleball air dome to help protect your surface (and players) from the elements. Also, roofs help cut down maintenance costs because debris and precipitation won't collect on the surface.

Net

– a requirement for every game

Backboard

– helps speed up games and benefits with ball control

Windscreen

– pickleballs are lightweight, so heavy winds can impact play. A windscreen reduces the effects of weather.

Customization and Design

– from court colors matching your school to logos, text, or graphics, you can customize just about every part of your new court.

Line painting – If you create a court designed only for pickleball, painting lines can add an elevated look.
3 Types of Pickleball Construction Projects
Pickleball is one of the fastest-growing sports in the US, and it's captivating players and spectators everywhere. The sport has quickly become the choice for many hobbyists, athletic clubs, and even professional athletes.
The sport's popularity has led to a demand for courts and, more importantly, the need for quality courts.
Depending on your specific scenario, the starting point for your project will impact your total cost.
For instance, starting from bare land, the total price will be more expensive than converting an existing basketball court. New courts will require more labor, materials, and equipment than switching from one sport to another.
The three types of projects are:
New pickleball court

Converting an existing court

Resurfacing an old pickleball court
How much does it cost to convert an outdoor court to pickleball?
Tennis, basketball, and badminton courts are excellent options for creating a pickleball court. If you are converting an underused or obsolete space, there are a few things to consider:
1 – The size of the court 
Tennis and basketball courts are roughly double the size of a pickleball court

Badminton courts are nearly the same size
2 – The surface
When converting an existing court, you already have some essential pieces needed for pickleball. Chances are, you have surface and perimeter fencing so that you can save quite a lot of money on construction.
However, depending on the age of your court, it may need resurfacing. For that reason,, it isn't easy to pinpoint an exact amount for conversion. On the one hand, it could be a relatively inexpensive venture (around $1,000). But if you need a full resurfacing, it can run the total cost up to over $15,000. It's best to consult a professional construction partner early in your planning process. An expert will help you identify what is needed to prepare your new court for pickleball.
Total cost: $1,000 – $15,000
How much does it cost to resurface a pickleball court?
No matter the surface or starting point, every court will eventually need to be resurfaced. Depending on your location, the weather, level of maintenance, and the amount of use, your pickleball court should last between 8 – 15 years.
We've found that around the 8 – 10 year mark is when you will start noticing significant cracks and damage in your surface. When planning your construction, begin crafting a strategy to fund your eventual resurface. Early consideration will save you significant headaches down the road.
Total Cost: $3,000 – $10,000
How much does it cost to maintain a pickleball court?
Like any sports court, maintenance is essential in keeping your venue safe and enjoyable for your athletes. Depending on your budget, there are a few ideas to consider.
1 – Indoor or Outdoor
Indoor courts may require less maintenance than outdoor pickleball courts. Fewer hours and less equipment and materials mean a lower overall cost for maintenance.
2 – Court Surfaces
The surface you choose for your playing area will affect the required amount of maintenance. Like asphalt or concrete, harder surfaces are more durable than clay or rubber surfaces. However, even with proper care, cracks and signs of wear can impact the level of play.
Some low-maintenance options for your pickleball court surface are acrylic and rubber. These surfaces require less-frequent deep cleanings.
When trying to understand how much maintenance will cost for a pickleball court, it's helpful to compare it to other sports. As stated above, a pickleball court is roughly half the size of a tennis court. On average, a tennis court will cost $1,800 to maintain each year. Depending on the surface you choose, you should budget for at least $1,000 per year. However, your specific use case may require more or less.
To get the most accurate estimate, find a local maintenance expert. Having a partner on your side will help you plan more effectively.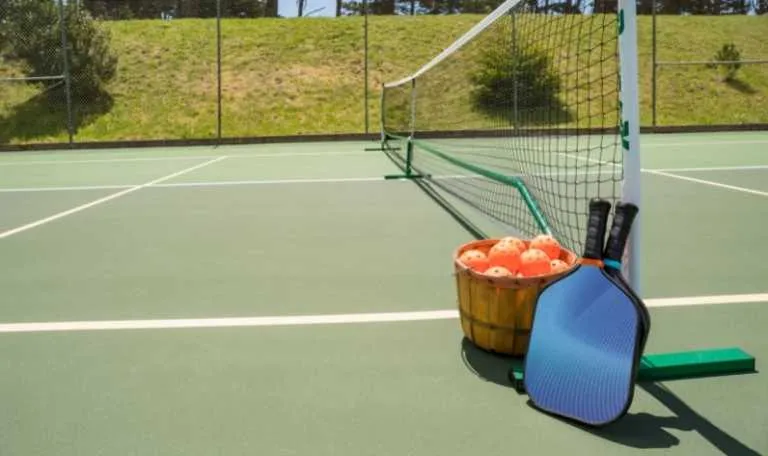 How to finance the construction of a pickleball court?
If you're wondering how to finance your pickleball court, you have a couple of different options. 
1 – Public funding
There are many grants and loans you can take advantage of to support construction. Both federal and state governments provide flexible options for funding. Your pickleball court is bettering your community – and there are entire governmental programs dedicated to supporting these initiatives.
2 – Private funding
If you can't get funding from public programs, consider private funding. There are private organizations in every community searching for projects to support. Also, consider fundraising (online or in-person), to generate the funds you need to create your pickleball court.
The excitement surrounding the sport of pickleball means finding donors could be easy.
Further reading: Mapping out grant opportunities for pickleball court construction and resurfacing
Get a cost estimate for your project at an early stage
There is a long list of factors determining the total cost of pickleball court construction. To help you plan more efficiently, getting a cost estimate early in the process is crucial. 
We've created an easy-to-use pickleball court cost calculator to better assist you in your quest to join the growing pickleball community. Fill in some basic information, and we'll connect you with top experts in your area.