Modular Sport Court Tiles Cost for Outdoor Activities: Calculator and Funding Opportunities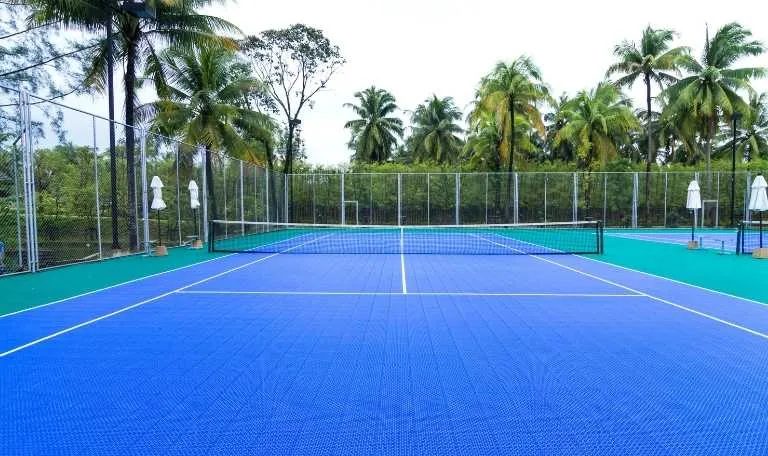 For athletic directors, facility managers, and sports complex owners looking to install new flooring or replace an existing one — it is an exciting time. Advancements in technology have added countless options for flooring and amenities that can elevate the look and feel of their facilities. One of the most popular new flooring options on the market is modular sport court tiles.
By definition, modular sports court tiles offer a flexible option to sports facilities looking to maximize their space. 
While they aren't the cheapest option on the market, their durability and low maintenance make them a great investment for those who anticipate high traffic in their facility — and want a consistent, high-quality playing surface that will last for years to come. 
Here, we will outline the cost of modular sport court tiles and all the factors that affect the price.
How much does it cost to install modular sport court tiles? 
There are many factors that influence the final installation price of sport court tiles for a modular sports floor. Typically the cost ranges somewhere between $20,000 and $95,000. The reason why it is hard to pinpoint a more specific price range is because every court and site are different. The condition of the base/foundation, the size of the court and the geographic location all influence the final price. 
If you are in the process of planning to install a modular sports flooring system, try our cost calculator to get a customized cost estimate for your project. 
Cost to install modular sport court tiles for different sports
| Sport | Cost range |
| --- | --- |
| Modular multi-sport sports court | |
| | |
| | |
| | |
| | |
| | |
What are modular sport court tiles?
Before we jump into what impacts the cost of modular sport court tiles, let's start with the basics. Modular sport court tiles are individual pieces that snap or clip together to create a seamless flooring surface. 
They are most commonly made from polymer, which makes them durable and easy to clean. 
This type of tile is also referred to as a "floating floor" because they are not permanently affixed to the subfloor — making them a popular choice for those who want an easy installation and the ability to remove the flooring if necessary.
Modular sport court tiles can be used for a variety of sports, including basketball, volleyball, roller hockey, futsal, and much more.
Why modular sports tiles are the best option
Cost-efficient
Although the initial investment of a modular sports tile floor may be higher than some other options, the long-term value makes them a cost-efficient solution.
Because they can be installed over existing flooring, you can cut costs on the preparation phase of your project. This makes them a perfect solution for facilities looking to upgrade an old or outdated floor without breaking the bank. 
Low Maintenance
Often, the tiles themselves have a grate-like makeup that allows water and debris to fall through, which keeps the playing surface clean and dry. You can easily spray clean the tiles with a hose, or sweep and mop them like any other floor. 
Modular sport court tiles are also stain-resistant, so you won't have to worry about spills ruining the look of your facility. If a tile does become damaged, they are easy to replace — which is much simpler (and less expensive) than having to replace an entire sheet of flooring. 
Durable and long-lasting
Since they are made from a tough polymer, modular sport court tiles can withstand high traffic and heavy usage. They won't easily chip, crack, or peel like other flooring options, so you can be confident that your investment will last for years to come.
Customizable
One of the main differentiators for modular tile floors is the ability to customize the look and feel. Gone are the days of boring, industrial, or commercial-looking flooring options for your sports facility. You can choose bright and exciting colors or even match them to fit the branding of your school, organization, or team. 
What influences the cost of an outdoor modular sports court?
Although the price range of a modular sports court can vary greatly, there are 5 key factors that impact the cost of your court.
1. Geographic Location 
Believe it or not, the location of your facility can play a deciding factor in your final cost. Labor, materials, and shipping costs will all be impacted by your geographic location. 
For example, a court installed in a rural area will likely have a low labor cost because there are lower taxes and overhead for contractors. However, the shipping costs of materials may be higher because they have to travel a greater distance. 
It's crucial to involve an expert sports flooring installer early in the process. They can walk you through the unique considerations for your project based on location and help you find the best solution to fit your budget. 
2. Size of the court
Next, and perhaps the most obvious, is the size of the court. But before you begin purchasing you need to decide on a few key details: 
What sports will you be hosting at your facility? 

Will you have multiple courts or just one? 

Do you need a warm-up or a practice area? 
In general, the bigger the court the costlier your project will be for your organization. But don't let a higher price tag discourage you from realizing your dream. There are ways to fund your court installation — more on that later! 
3. Site preparation and base layer
No matter your starting point, there will be some preparation involved to install your modular tile sports flooring. 
If you are installing your flooring over an existing surface, you'll need a great deal less work. However, you may still need to level the surface or do some repair work before installation can begin. 
On the other hand, if you are starting from scratch, there will be a great deal more work required to get the site prepped for installation. You'll likely need to excavate the area, install a drainage system, and pour a concrete base. 
This work can add a significant amount of time — and money — to your project, so it's important to factor it into your budget from the beginning. 
In both cases, you'll need a base layer installed beneath your modular tile flooring. This base layer can be made from a variety of materials, but the most common options are concrete, asphalt, or a sub-base layer of crushed stone. 
4. Customization
As we shared earlier, customization is one of the most exciting parts of choosing a modular style sports floor. The color combinations are endless and you can really maximize your branding opportunities. 
That being said, more customization means a higher overall cost for your project. If you want to take advantage of all the possibilities, be sure to factor in the cost of your customizations from the start. Things like colors, logos, lines, and graphics will all add to the bottom line. 
5. Amenities
The final piece of the puzzle are amenities or add-ons you need to complete your project. 
For example, you may need to purchase a storage system for your equipment or scoreboards and bleachers for your spectators. LED lighting, scoreboards, fencing, hoops, goals, netting… the list goes on.  While these aren't required for every installation, they are important to consider when creating your budget. 
Funding opportunities for modular sports flooring
As you can see the cost of a modular tile sports flooring system can add up quickly — but luckily, there are some easy ways to finance your project. 
Grants
The first place to start your search for funding is with federal, state, and local grants. There are a number of programs available that can help offset the cost of your project.  
For example, the federal government offers grants through the Department of Agriculture for projects that improve local communities. There are also a number of private foundations that offer grant funding for sports and recreation facilities — especially those serving underprivileged youth. 
Read more about sports facility grants and funding in our dedicated section.
Loans
If grants don't cover the full cost of your project, loans are another great option for financing your modular tile flooring. 
There are a number of government-backed loan programs available that can help you secure the funding you need at a low-interest rate. The Small Business Administration, for example, offers loans specifically for small businesses and non-profit organizations. 
Crowdfunding
If you're looking for a more creative way to finance your project, crowdfunding could be the answer. 
This option allows you to solicit donations from members of your community (or even people outside of it) to help raise the funds you need. In return, donors usually receive some type of perk — like a t-shirt, hat, or recognition on your website.
How to choose the best installation company for a modular sport court project
The final piece of the modular tile puzzle is choosing the right installation company for your needs. Depending on your location, there is no shortage of companies claiming to be experts in the field. 
So, how can you be sure you are choosing the right one for your project? Here are a few questions to ask:
Have they done similar projects to yours in the past? 

What kind of relevant certifications do they have?

Do they offer a warranty? 

What kind of after-sales services do they offer? 
We recommend securing and comparing at least 3 quotes from qualified companies before making your final decision. It can be tempting to choose the lowest bid, but you should never sacrifice quality for the price. 
A well-installed modular tile floor should last for decades with proper maintenance — so it's important to choose a company you can trust to do the job right. 
Get a cost estimate early
The cost of a modular tile flooring system can vary widely depending on a number of factors. 
To get an accurate estimate for your project, we recommend working with a qualified installation company. They will be able to take all the necessary factors into account and give you a realistic idea of what your project will cost. 
If you'd like to get started with an estimate before reaching out to installers, our easy-to-use cost calculator can help. Just input some information and we'll give you a solid number you can start planning around.
We'll also connect you with some of the top installers in your area so you can get started on your project as soon as possible!