Outdoor Volleyball Court Cost Estimate and Construction Considerations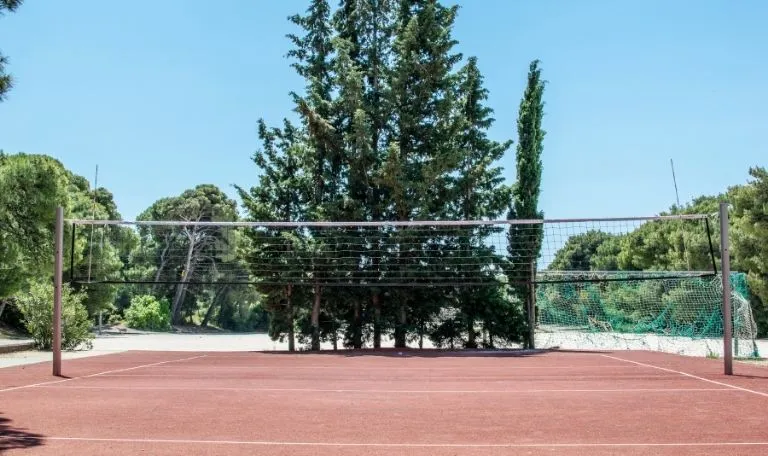 Volleyball is one of the most exciting games to both play and watch. It's fast, requires split-second decisions, and is very physically demanding. When we think of volleyball, the beach, the backyard, or even a school gym spring to mind. However, outdoor volleyball courts aren't limited to the sand or grass. Modern materials and construction techniques have made it possible to create volleyball courts that can be enjoyed by everyone, regardless of the terrain.
The average cost to install an outdoor volleyball court ranges somewhere between $22,000 – $119,000, depending on a number of factors, including the type of material used, the size of the court, and any special features or accessories that are included. 
In this article, we'll break down the major cost factors associated with outdoor volleyball courts so that you can make an informed decision about what type of court is right for you.
What influences the cost of installing an outdoor volleyball court?
Designing your new outdoor volleyball court can be a fun and rewarding process. Choosing the right court material, size, and layout is essential to ensure that you'll enjoy years of volleyball fun. 
But with so many options it can be difficult to understand where to begin. 
Let's dive in. 
Land & Site Preparation
The first consideration you need to make is preparing the site where your volleyball court will be installed. 
This includes tasks like excavating the area, leveling the ground, and adding any necessary drainage. The cost of this work will vary depending on the size and condition of your property. Your specific locale will also impact the cost of labor, materials, and permits required. 
Drainage and Base Layer
For any outdoor sports court – especially one for volleyball – your drainage and base layer system is crucial. 
Proper drainage will protect your court from water damage and ensure that players have a consistent, dry surface to play on. 
A good base layer will provide a stable and even foundation for your playing surface. Minimizing the risk of injury is always a top priority in any sport, and having a well-constructed base layer will help keep your volleyball court safe. 
Subflooring System
Next, you need to choose your subflooring system. The subfloor is the layer of material that sits below your playing surface and provides support and stability. 
There are many different types of subflooring systems on the market, each with its own unique set of benefits. 
The type of subflooring you choose will impact the cost of your volleyball court, as well as the installation process. Here are some of the most common types: 
1. Asphalt & Concrete
Two of the most common options for subfloors are asphalt and concrete. While they are cheap to install, they can be difficult to maintain in some climates. Locations with major temperature swings and a lot of moisture might not be ideal for these materials. 
2. Compacted Base
A compacted base is a subflooring option that is often used in commercial and institutional volleyball court installations. It's made up of a layer of compacted gravel and sand.
This type of subflooring is very durable and can withstand a lot of wear and tear.
3. Modular Shock Pad System
One of the safest and most enjoyable volleyball court subfloors to play on is a modular shock pad system. 
This type of subflooring consists of interlocking tiles or mats that sit on top of your base layer. They provide a cushioned surface that is easy on the joints and helps reduce the risk of injury. 
4. Installing Over An Existing Base Layer
If you are transforming an existing court into a volleyball court, you can save some money by installing it over your current base layer. 
However, it's important to make sure that your current base layer is in good condition and can support the additional weight of a volleyball court. 
If you're not sure, it's always best to consult with a professional before proceeding.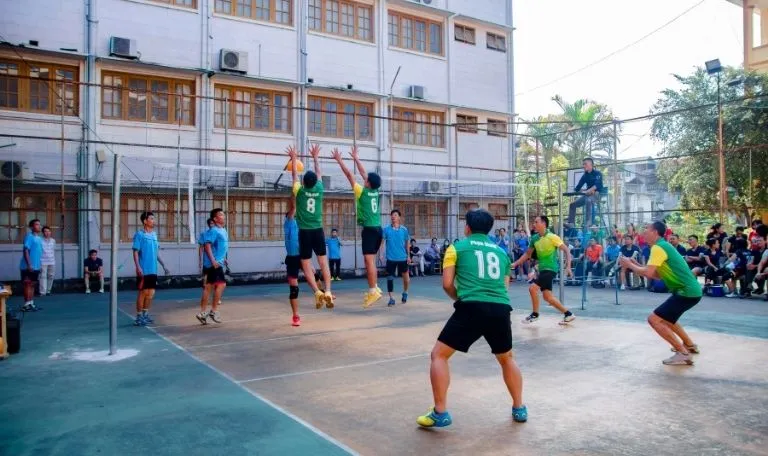 Court Surface Material Choice
1 .All-weather, Acrylic Court Surfacing System
These modern materials are comprised of acrylic and rubber. They offer the most bounce and have the best "feel" of all the court surface materials. Most importantly, they are very tough and can withstand a lot of wear and tear. 
2. Base Mat
This option is similar to what you find on a running track. The rubber is bound with polyurethane creating a very strong and durable material. This type of court surface is very popular because it's easy to maintain and offers a consistent playing experience. 
3. Polyurethane Sport Floor
The next choice is a polyurethane sports floor. This is created with a base mat covered by a porous layer coated in a texture spray. Polyurethane sports floors provide incredible drainage for your outdoor volleyball court. 
4. Modular Multi-purpose Sport Tiles
You can also choose a modular tile solution, similar to the base layer we discussed earlier. Because of its modularity, you can more easily replace individual tiles when they are damaged. 
5. Multi-purpose Artificial Turf
Artificial turf is a great solution if you intend on hosting multiple sports and activities. Knowing your use case will help you determine the right surface for your court. 
6. Size of the Playing Surface
With your materials chosen, it's time to start thinking about the size of your court. The level of play and the age of your athletes will help determine the size of court you need. 
However, a standard outdoor volleyball court size is 59′ x 29.5′
This size can accommodate 6 on 6 play, as well as beach volleyball-style games. 
If you're unsure about what size to choose, it's always best to consult with a professional. 
Benefits of modular sports court tiles
If you are planning to install a sports court for your school or commercial sports center, you might want to consider looking into modular court tiles as the solution for the playing surface material. 
When you consider the safety, playability and aesthetic aspects of your sports court, these modular tiles made of PVC perform very high compared to the alternatives. 
They have great anti-slip and bounce properties which reduce the probability of injuries. Secondly, they perform equally as well for a game of basketball as they do for soccer or volleyball. Thirdly, you have a lot of freedom of choice when it comes to the design of your sports court. You can mix and match different colored tiles or pick the court color to suit your brand, team or school. 
Modular court tiles are very easy and quick to install, dismantle and transport when needed, which helps you save money in labor costs.
Try our outdoor sports flooring cost calculator to get a customized cost estimate for a modular sports court tile floor for your sports facility.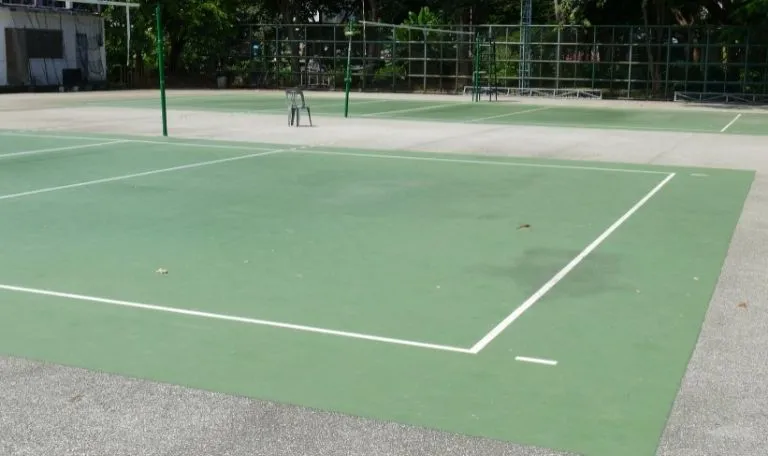 Customization
The great thing about creating a new court is the ability to customize its look and design. 
Everything from the color of your lines, to the court itself, can be colorized to match your city, organization, or brand. Each customization usually comes with a price tag, so choosing which are the most important to you is essential. 
You can even include logos to solidify your branding. 
Accessories
Once your court is installed, you'll need to add some accessories to make sure the game can be played. 
The most important accessories are the volleyball net, sleeves, and poles.
Without them, your athletes won't be able to enjoy your new outdoor volleyball court. Choosing a durable and weather-resistant net is essential to making sure your court can be enjoyed for years to come. 
You'll also want to make sure you have enough balls on hand for your athletes. Depending on how often your court is used, you may need to purchase multiple sets. 
Amenities
Lighting
LEDs are a fantastic option to light your volleyball court. They're more energy-efficient and have a longer lifespan than traditional light bulbs. 
Roofing / Sports Air Dome
If you want to provide a safe space for your athletes no matter the season, consider a roof or sports air dome.  This will protect your court from the elements and allow you to use it all year long. 
LED scoreboard
Adding a scoreboard is a great way to keep track of points and add excitement to your game. They come in a variety of sizes and can be either freestanding or mounted on a wall. 
Bleachers
If you want to create a spectator-friendly environment, adding bleachers or seating is a must. This will give your fans a comfortable place to watch the game and cheer on your athletes. 
Fencing
Fencing creates boundaries for your court and keeps spectators and players safe. It also provides a barrier to keep balls from leaving the playing area. 
Windscreens
If you are in a windy area, windscreens can help reduce the amount of wind that enters the court. This will keep the game fair and prevent any objects from blowing onto the playing surface.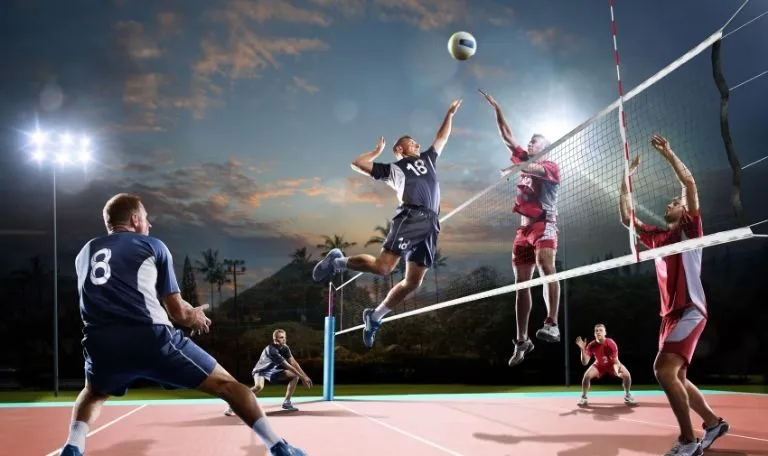 How to finance an outdoor volleyball installation project?
Grants
There are many organizations that offer grant money for public projects, like building an outdoor volleyball court. The US government even offers grant money for projects that improve the quality of life in underserved communities. Check out our sports facility grants and funding section for available grants! 
Crowdfunding 
Another financing option is to start a crowdfunding campaign. With this method, you'll solicit donations from interested individuals or groups. 
Many online platforms make it easy to set up a campaign and accept donations. 
Private Investors 
You can also look for private investors who are interested in funding your project. This could be individuals, businesses, or even foundations. 
Loans 
Many banks and credit unions offer loans for public projects. This could be a good option if you have a solid plan in place and the ability to repay the loan. 
Get a customized cost breakdown for your outdoor volleyball court project
To get a customized cost estimate for your outdoor volleyball court project, fill out our easy-to-use calculator.
We'll provide you with an estimate based on the information you provide, and if you wish, connect you with an expert in your area!