Outdoor Badminton Court Construction: Cost Calculator and Funding opportunities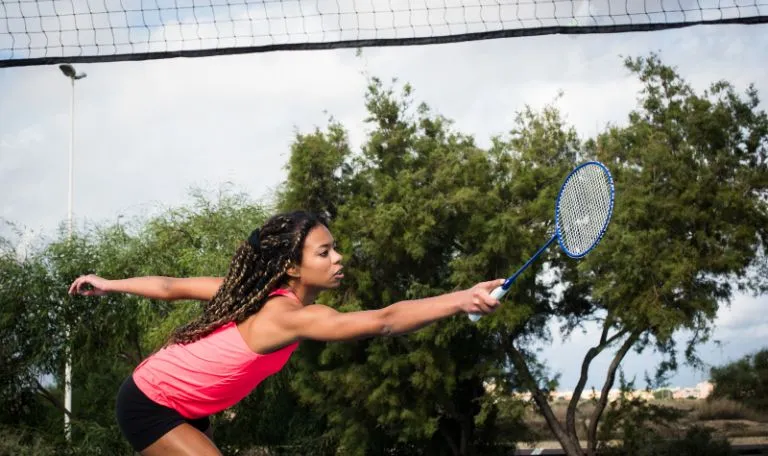 Growing up, we've all played a few backyard badminton games at the family barbecue. For hobbyists, outdoor badminton is pretty basic; just a net, some rackets, a shuttlecock and some open space. It's cheap, fun for all ages, and easy to set up. But for higher levels of competition, a little more thought and planning need to happen. Construction for an outdoor badminton court can cost a great deal more than your average backyard game.
Badminton is fast,  strategic, and an excellent workout. It's one of the most popular sports in the world for a reason. A well-constructed court is vital to playing the game correctly. 
This price will range depending on a few different factors such as the size of the court, the materials used, and any extras that you might want to add on. 
An outdoor badminton court for a community, school or commercial sports complex costs on average around $15,000 – $110,000 depending on the size of the court, playing surface material, amenities and the geographical location..
Get a cost estimate for your sports flooring installation project by using our outdoor sports court cost calculator.
Maintenance costs
The first after-construction cost to consider is maintenance. For any sports facility, routine and proper maintenance is key to extending the life of your court and keeping playing conditions optimal. A badminton court is no different.
Depending on your climate, you'll need to sweep, line, power-wash and resurface your court on a regular basis. These routine maintenance tasks will help to prevent any costly repairs down the road. 
Consider the cost of equipment, labor, and any materials needed to properly maintain your court on a regular basis. Working with a court installation company that offers a maintenance program is a huge bonus for smaller organizations with little to no in-house staff. 
Be sure to ask what services they can offer before signing a contract. 
Average yearly maintenance for an outdoor badminton court is: $1,000 – $3,000.
Resurfacing costs
The next cost to consider is repair, replacement, and resurfacing costs for your badminton court. Over time, all surfaces will show some wear and tear. 
The amount of traffic your court gets, as well as the climate, will play a role in how often you'll need to resurface. Additionally, the types of materials you choose for your court's surface, the effectiveness of your base layer and drainage system, as well as how well you maintain your court, will all affect how often you'll need to resurface. A good rule of thumb is to plan on resurfacing every 4-8 years. 
Average resurfacing costs for an outdoor badminton court is: $3,000 – $8,000 depending on the condition of the existing court and if the subfloor also needs to be replaced. 
What influences the cost of installing an outdoor badminton court?
Now that you understand the full scope of an outdoor badminton court construction project, let's take a deep look into the construction phase. 
1 – Land & Site Preparation
The first step in any building project is preparing the land. This might include clearing and leveling the space, as well as any necessary grading and drainage work. If your selected site is already prepared for construction, you can move on to the next step. 
If not, you'll need to factor in the cost of preparing the land for construction. The price will vary depending on the size and condition of your selected site. 
2 – Drainage and Base Layer
The next phase of construction is preparing the base layer and drainage for your court. Creating an even, level surface is key to playing the game correctly. 
The base layer is usually 4-6 inches of compacted gravel. This layer provides stability and prevents the surface from shifting. 
A properly installed drainage system is also vital to extending the life of your court. Proper drainage will help to prevent pooling water and flooding, as well as erosion. 
3 – Subflooring System
Next, you need to consider your subflooring system for your outdoor badminton court.  The subflooring system is what the playing surface will be attached to. 
There are a few different types of subflooring systems available on the market, so it's important that you select one that is designed for outdoor use. Some of the most common are:
Asphalt

Concrete

Modular shock pad system
To choose the best for your needs, consult with a professional badminton court installation team. They'll walk you through the pros and cons of each type of subflooring system to help you make the best decision for your project. 
4 – Court surface material options
It might help to think of constructing an outdoor badminton court like the layers of a cake. If the base and sub-layer are your cake, the court surface is your frosting. 
For players and spectators, the court surface might be the most important part of the court. After all, it's what they'll be looking at (and playing on) every time they step foot on the court. 
When it comes to choosing a playing surface for your outdoor badminton court, there are many viable options on the market: 
Modular Multi-purpose Sport Tiles

Polyurethane Sport Floor – base mat, covered by a porous layer coated in a texture spray

Base mat – rubber particles bound with polyurethane

All-weather, acrylic court surfacing system
The right choice for your project will depend on your budget, your climate, and the level of competition you are hosting. 
Why you should go for a modular sports court tile floor
Easy to install, dismantle and transport when needed
Save money in installation and labor costs
Improves the safety and playability of your sports court: anti-slip, good bounce, great water drainage properties
Lots of customization possibilities: pick the right color scheme to match your brand or team
Multipurpose flooring system that can be used for a number of different sports
Try our outdoor sports flooring cost calculator to get a customized cost estimate for a modular sports court tile floor for your sports facility. 
5 – Size of the playing surface
Once you have your materials, it's time to start planning the layout of your outdoor badminton court. 
A typical full-sized court will measure 44 feet by 20 feet. This is the size of the court that is used in international competitions. 
However, you can also construct a smaller court for recreational games or practice. A smaller court can measure 36 feet by 18 feet.
If you plan to host multiple games at once, you'll need to factor in the cost of additional courts. Each additional court will add to your bottom line. 
6 – Customization
If the court surface is the frosting, customization is the icing of our badminton cake! It's one of the most fun and rewarding parts of planning your outdoor badminton court. 
Customization of your court can include: 
Adding logos for your school, organization, or business

Choosing a custom color for the surface that matches your branding 

Adding line-markings to facilitate competition
These customizations might seem over-the-top, but they'll go a long way in creating a memorable experience for your athletes. 
7 – Accessories
Accessories for your court are another key component of your overall cost. You can't play badminton without a net, poles, and sleeves. 
Choose a durable net that is designed for outdoor use. You'll also need to purchase poles and sleeves that are of the correct size and weight for your court surface. 
8 – Amenities
Finally, you'll need to think about the amenities for your outdoor badminton court. Here are some of the most common (and important) amenities to consider: 
Shade structures – canopies or umbrellas to protect players from the sun
Seating – bleachers, benches, or chairs for spectators
LEDs Lighting – floodlights or spotlights to illuminate the court during evening hours 
Scoreboards –  digital or manual scoreboards to keep track of the game
Water fountains – to keep players hydrated during long games
Restrooms – for athletes and spectators alike
Your budget will be the biggest deciding factor when it comes to amenities. However, even a few simple amenities can enhance the experience for everyone involved in the game. 
How to finance an outdoor badminton court installation project?
We know, it can seem like a lot of money to finance an outdoor badminton court construction project. 
Here are a few ideas to get you started: 
Private donors – solicit donations from individuals or businesses in your community
Crowdfunding – set up a campaign on a crowdfunding platform like GoFundMe
Grants – research grants that might be available from your state or local government
Loans – take out a loan from a bank or credit union
Despite the initial cost, an outdoor badminton court is a wise investment. It will provide years of enjoyment for athletes of all ages and skill levels. 
Ready to Get Started? We Can Help!
A solid estimate is often all it takes to get started in the right direction. Our easy-to-use outdoor badminton court cost calculator can give you a good idea of the cost to build an outdoor badminton court in your area. Get started here, today!