Crafting a Winning Sports Facility Business Plan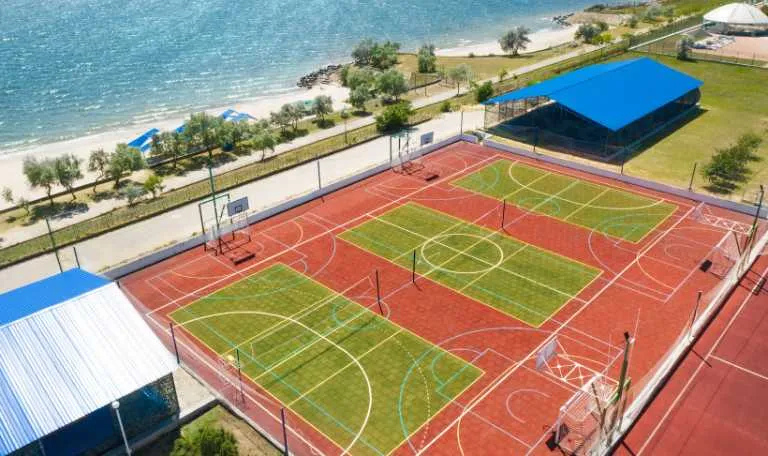 When starting a new sports business venture, it's crucial to have the proper planning and structure in place. Whether you're seeking financial support or backing, or just want to ensure your concept is sound, a sports facility business plan is an essential first step.
This is no different for those wanting to open a sports facility. A thoughtful, well-crafted sports facility business plan can help provide clarity and vision for your venture and lay out the steps needed to get it off the ground.
A comprehensive business plan will include everything from your goals, financial projections, target market analysis, legal considerations, and marketing strategy. You'll need to review the local market conditions and consider any pertinent data that may impact your business, such as demographics or economic trends. A strong foundation will help you anticipate challenges and identify potential opportunities.
This article will walk you through some of a sports facility business plan's most common steps and parts. With some knowledge, research, and the right strategy, you can create a plan to put your sports facility in an excellent position to succeed.
If you want to get an understanding of how much your sports facility construction project will end up costing, try one of our sports facility cost calculators to get a customimzed cost estimate.
Your Sports Facility Business Plan Starts with a Situation analysis
When creating your plan, it's essential to be realistic about what is achievable in the short-term versus long term. In your situation analysis, you'll need to consider the current state of your project, market, and industry to determine how it will impact your objectives.
By establishing "where we are now," you can make more informed decisions as it comes time to break ground or remodel your facility. 
SWOT Analysis
Anyone who has taken a few business courses or a leadership seminar is familiar with the SWOT analysis concept. But a new sports facility business plan is an essential piece that could spot potential opportunities or red flags. 
A SWOT analysis is a method of self-reflection and assessment that looks at Strengths, Weaknesses, Opportunities, and Threats. By asking questions about each area, you can better assess what internal or external factors could impact your success. 
For example, suppose you were opening an indoor soccer facility in town with a few competitors in the area. In that case, you'd want to analyze their strengths and weaknesses to determine how to set your facility apart. 
Company Assets Vs. Required Budget
Next, you'll want to take stock of everything your company or organization has in assets. This could be monetary funds, property, equipment, personnel, or any other resources to help you get your business moving. 
Then compare this to what's needed for the project. Consider what additional funding may be necessary and how it can be obtained. This could include a loan from a bank, an angel investor, grants, or crowd-funding. 
If you need help establishing a preliminary budget for your sports facility project, our team has created a helpful online cost calculator. With just some basic information, we'll give you a workable number to help you start planning. 
Return on Investment & Exit Strategies
Once you've got your goals and budget set, it's time to consider the return on investment. As a business owner, you'll need to consider what type of revenue you expect from your venture and how long it will take to start seeing returns. 
It's also essential to plan for any potential exit strategies. This could be anything from selling the facility at some point in the future, passing it down to family members, or working out a partnership agreement. 
Planning for these contingencies ensures your sports facility is set up for success in future years. 
Market analysis (potential and competition)
Finally, you'll need to establish an in-depth market analysis. This will involve researching local competition in your niche, potential customers in your area, and any trends or changes in demand.  
By understanding the nuances of your market, you can set realistic goals and create a plan tailored to your potential customers' needs. 
Your research should include understanding the market size, regional preferences, customer buying behaviors, service needs, and your competitors' offerings. By thoroughly analyzing this, you can determine how your sports facility will fit into the current landscape and make intelligent decisions regarding the launch. 
For example, if you're creating a pickleball court facility (a relatively new but exciting sport), is there enough local demand or interest in pickleball? How does that compare to the demand for other sports in the area?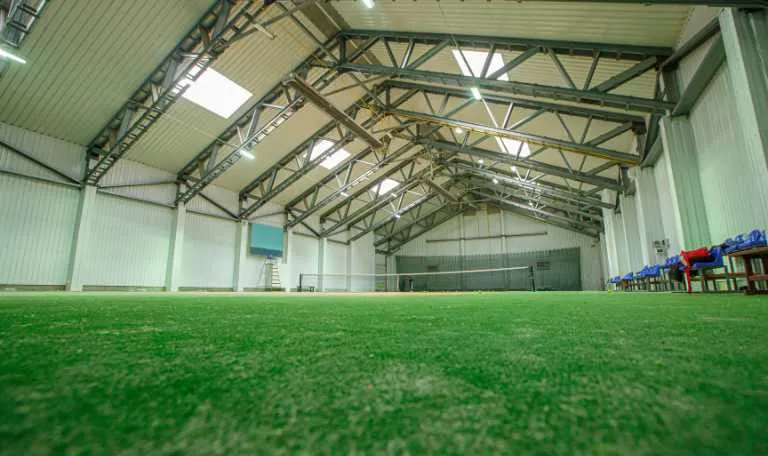 Objectives
Once you've laid the groundwork for your business strategy and plan, it's time to dive into specific goals and objectives. Having a clear direction with measurable outcomes is key to success. 
You might consider using the SMART framework—Specific, Measurable, Achievable, Relevant, and Timely. Doing this will help you determine the steps necessary to progress the project and track progress. 
In short, your "objectives" section should answer the question "Where do we want to be in five years" as a business. 
Your objectives can change over time, but setting up some initial beachheads will help you measure success and course-correct when needed. 
One example objective could be, "Generate $5,000,000 in revenue in year five." Having this milestone set, you can work backward to set up key performance indicators to help you track your progress and make the necessary changes to achieve that goal. 
Some example KPIs for this objective could be:
X number of requests for information per month (online/offline)

X number of members or customers in year 1, year 2, year 3, etc…

A retention rate of x% for each year leading up to your objective
Key Success Factors
Beyond objectives and KPIs, you must set key success factors to help you reach your goals. 
These factors will depend on the situational analysis completed in previous chapters. Still, it's critical to establish them so that you have some indicators of whether or not the project is successful. 
Consider you are opening a new tennis facility in an area with a few competitors. However, the competition has worn-out facilities and outdated branding and marketing. 
Therefore, it's crucial to establish a new and trendy marketing strategy and brand look to entice the local sports leagues, associations, and enthusiasts needed to drive revenue. You could leverage online channels like Instagram, Tiktok, user-generated content, and influencer marketing to put yourself ahead of the "old-school" competition. 
Sports Facility / Complex presentation
Next, you need to begin carving out the design and presentation of your sports facility. 
Facility Description
Provide a detailed description of your sports facility, including what type of sports you'll be offering, the layout, size, and dimensions of the courts/fields, any physical activities or amenities like a fitness center or pool, and additional services like food & beverage. 
Consider how you want to position your facility and ensure it's consistent with what your market research uncovered earlier in the document. 
Will you offer unique selling points or value propositions that your competitors don't? Customer experience is vital in any industry; you should strive to set your facility apart. For example, locker rooms or saunas could be a great addition to leisure clubs or all-purpose gyms. 
If you're hosting league-oriented sports, can you provide a scoreboard or analytics platform to measure individual and team performance? 
Management and Organization
Once you're done developing the details of your facility, it's time to dive into your management team and organizational structure. 
Be sure to highlight individuals on your team and note any qualifications or skills they bring. 
Your organizational structure should outline the roles and responsibilities needed to manage your facility correctly. This could include a general manager, marketing director, operations manager, facilities supervisor, and maintenance crew. 
You may also want to consider a board of advisors or community members who can help advise on decisions and provide feedback when needed. They can also help facilitate strategic partnerships and ensure your facility stays current with industry standards.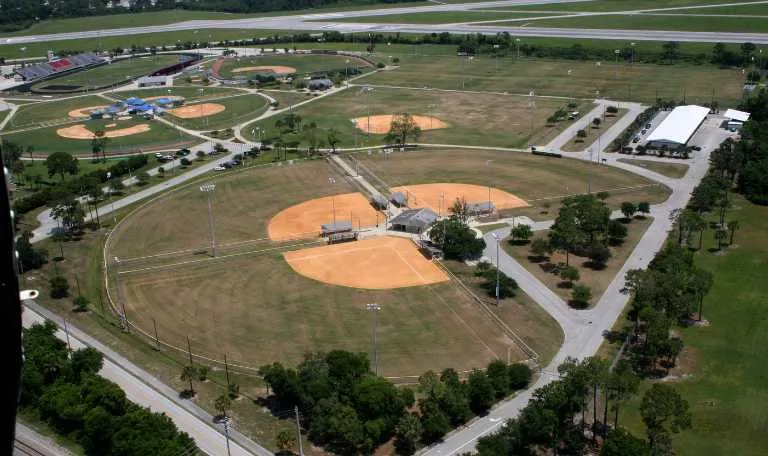 Sports Facility Marketing and Sales Plan
We discussed your marketing plan in the Key Success Factors chapter, but it requires its own section in your sports facility business plan.
Strategy
Every good marketing plan starts with a solid strategy. A great place to start is with the 4Ps of marketing: Product, Price, Promotion, and Place. 
This can help you figure out the best way to position your facility in the market and lay out a strategy for how to reach potential customers. For example, offering lower prices than your local competition could be a good talking point for promotional materials and advertising campaigns. 
Next, identify your target customer and describe the segments and buyer personas you plan to target with your marketing. Buyer personas are a semi-fictional representation of your target customer and can help you develop campaigns that resonate with them. 
Finally, which channels will you use? Will you be leveraging influencers or user-generated content? Do you plan on using social media, email, or other online channels to reach potential customers? 
Your buyer personas should inform all your decisions on content and marketing tactics. Although you might want to go "all-in" on TikTok, if your ideal buyers aren't platform users, it might be best to stick with more traditional forms of media – and vice versa. If you're targeting younger people, running ads on the radio might not be the best play. 
Tactics
Beyond listing the channels, you should map each touchpoint to ensure you provide content and messaging appropriate for each stage of the buyer's journey. There are two distinct categories for your marketing and sales efforts for sports facility businesses: new customer acquisition and retention. 
New Customer Acquisition
There are many different marketing frameworks to follow, but one of the most popular is AIDA:
A – Awareness: Get potential customers to recognize you exist 
I – Interest: Generate interest in your product/service 
D – Desire: Create a desire for them to buy 
A – Action: Prompt the customer to take action and buy 
Map your content to each stage to ensure you are moving buyers through your sales funnel. For example, you can create online content to help with your search engine ranking (SEO) and organic visibility. 
Additionally, you can use paid search to reach potential customers actively searching for facilities in your area. Lastly, social media is excellent for building brand awareness and targeting specific buyer segments with content they'll find relevant and exciting. 
These leads are then passed to sales, who can focus on converting them into customers. 
Customer Retention
Once a customer has purchased from you, keeping them engaged and returning for more is essential. This could include loyalty programs, special events or discounts, email newsletters, referral bonuses, and more. 
For example, you could offer a package deal for an entire family that wants to play sports together at your facility. Or you could create exclusive deals for members of local clubs or associations in the area. 
Keeping customers engaged and happy should be a primary focus of your marketing plan and given the same level of attention as acquisition efforts. 
Operations and Facilities Management
After you've figured out how you'll get people into your facility, you need to describe how you'll perform upkeep and other operational procedures. 
This is a critical aspect of the business plan and should offer details on how you'll maintain the facility to keep it clean and safe. This could include frequent inspections, regular maintenance, and keeping track of any safety or health regulations. 
You should also describe in detail what resources are needed to perform these tasks (staff, equipment, etc.) and how you plan on managing the facility. 
For example, if your facility hosts various sporting events throughout the year, how will you manage the scheduling and logistics? Or if equipment needs to be repaired or replaced, what steps will occur to ensure everything runs smoothly? 
Health and safety are a must, so be sure to provide the details of how you'll ensure that each and every person on your premises is safe. It's best to work with a partner or consultant to help ensure your facility complies with all local regulations and help you manage risks.
The more detail, the better, as ensuring your facility operates to the highest standards is key to running a successful business. Your customers will only return if they feel safe, secure, and well taken care of when they visit. 
Financial Projections
Lastly, your sports facility business plan needs financial projections and data to support your strategy. This final piece of the puzzle will help convince potential investors and lenders to back your project. 
Your financials should include historical data (if you're an existing business) and forward-looking projections. Include cash flow statements, income statements, balance sheets, and other important metrics related to your facility's finances. 
There are a few different ways to forecast the financials for your business. You can use a traditional forecasting approach or leverage a more agile method, such as developing scenarios to visualize different outcomes better. 
The goal is to provide confidence that your facility will generate enough revenue and profits over time to be a viable investment. Utilize industry benchmarks and data from other similar businesses in the area to create realistic projections. 
Investors and lenders will want to trust your forecasted numbers, so back them up with data and explain any assumptions you've made. It's insufficient to present raw numbers; you'll need to evaluate your plan's financial feasibility and profitability. 
Your business plan should include financials and projections that show you have a clear path to success in the sports facility business. 
Get Started with Your Sports Facility Business Plan
Creating a business plan for your sports facility is daunting but worthwhile. You need to be intentional about your marketing and sales efforts, understand operations management and customer retention, and create a financial projection that will give investors confidence in the success of your business.
At the end of the day, having a comprehensive plan in place is key for any business – but especially one as complex as running a sports facility.
With realistic goals, a detailed strategy, and an understanding of customer and operations management, you can create a thriving sports facility business – but first, you need to put in some work!
If you're ready to get started, take advantage of our sports facility construction cost calculators for an estimate tailored to your project.
Additionally, our services extend to connecting you with experienced and reliable contractors who can turn your vision into reality. Don't hesitate to take the first step towards building your dream sports facility.