Maple hardwood court cost: Calculate your project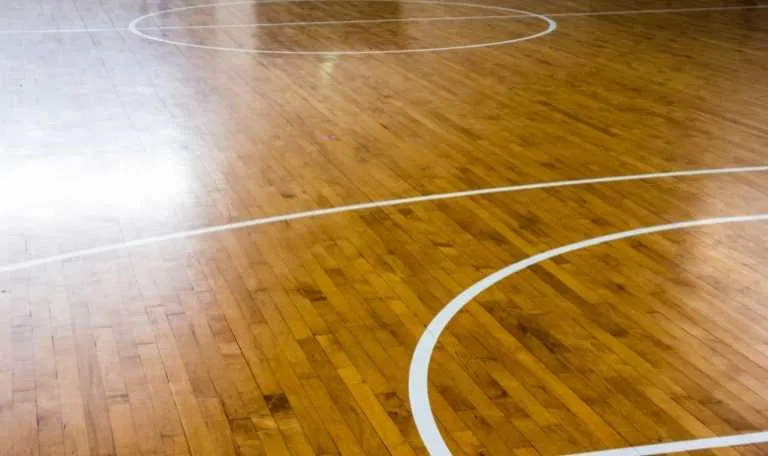 The cost to install a maple hardwood court for a gymnasium ranges somewhere between $58,000 and $184,000 depending largely on the size of the court. 
Maple hardwood court maintenance costs and tasks
Once your brand new hardwood court is installed, the costs unfortunately do not stop there. Maple hardwood courts are quite maintenance intensive and require regular cleaning, annual surface recoating, sanding & finishing every 7-10 years and line painting every now and then. Typically a maple hardwood court lasts for around 40-50 years if maintained properly. On average you will end up paying around $4,200 annually over the lifetime of the court in maintenance and repair costs. 
Sanding and refinishing costs of a maple hardwood court
The hardwood court needs to be refinished approximately every 7 to 10 years depending on how heavily the court is used and how well it is maintained. First the uppermost layer of the court is sanded and then a new layer of stain and lcquer is applied to give it a fresh and shiny look. The cost of refinishing a maple hardwood sports court ranges somewhere between $3 and $8 per square foot or $10,000 and $50,000. 
How much does it cost to replace the hardwood court surface?
As mentioned above a hardwood sports court lasts for a long time. However, they are not immortal and once you notice that the safety, playability and estethics of the court has deteriorated, it is time to replace the hardwood surface. Resurfacing a maple hardwood court costs in the region of $34,000 – $156,000. 
Get Your Court Project Started
We've created a comprehensive set of tools designed to assist facility managers and project planners in initiating their projects and connect them with the professionals in the industry.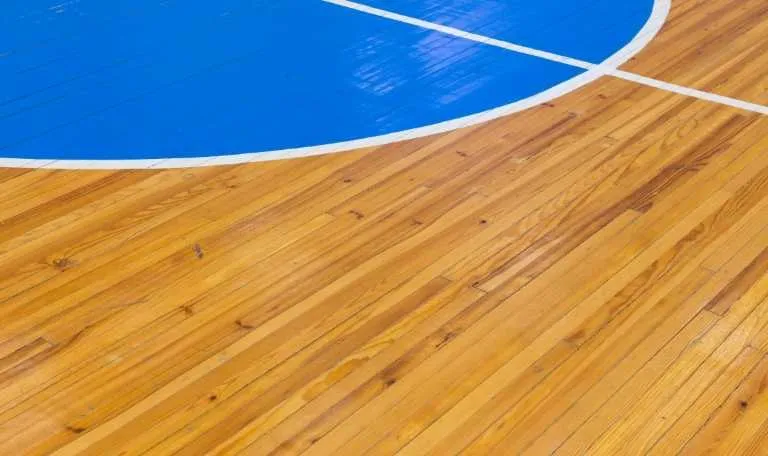 What influences the costs of installing a hardwood court?
If your team considers making the jump to maple hardwood, you're probably wondering about the cost. So, what factors into the price of a maple hardwood installation?
The size and shape of the court can significantly impact the overall price. Courts with curves or intricate designs can be more expensive to install than simple and straight ones.
A small school gymnasium will be much less expensive to surface than a collegiate facility with multiple courts. Understanding the level of competition and the needs of your club or community will help you determine the number of materials you need.
Purchase price of hardwood
Suppose you've ever performed an at-home renovation or remodel. In that case, you know that sometimes the materials cost more than the labor. The same is valid for installing a maple hardwood basketball court. The price of the hardwood itself can be a deciding factor in the amount of your final bill.
Unfortunately, there's no sure-fire way to pinpoint an exact cost for hardwood. The cost of wood fluctuates according to the world market. Like gas prices, the supply, demand, and logistics of harvesting and transporting wood dictate the prices.
However, you can use tools like our calculator early to estimate the price tag to cover your floor.
Geographical labor differences
Where you live (and where your athletes compete) can also play a significant role in the cost of your maple hardwood installation. The cost of living, especially the wages for laborers, varies significantly from state to state and even county to county.
This is another reason why having a ballpark figure before beginning your project. You'll want to have an estimate for the total cost, including labor and materials, to understand if a maple hardwood installation is feasible for your club or community.
We often see many projects miss the mark on understanding the actual labor cost. The result is over budget and past scheduled projects. It's crucial to consult a professional early in your planning process.
Price differences between suppliers
Finding the right supplier will significantly impact your overall costs for installing a maple hardwood court at your sports venue. Some suppliers may specialize in a specific type of wood or have more experience with a particular installation process.
Not only will the price for materials vary, but the installation process itself can be dramatically different among suppliers. Ask your supplier about their installation process and what is included in their quote.
Some suppliers may also offer a warranty on their work, which could help offset any potential problems that may arise after the installation is complete.
That's why it's essential to do your research and compare prices between suppliers before making your final decision.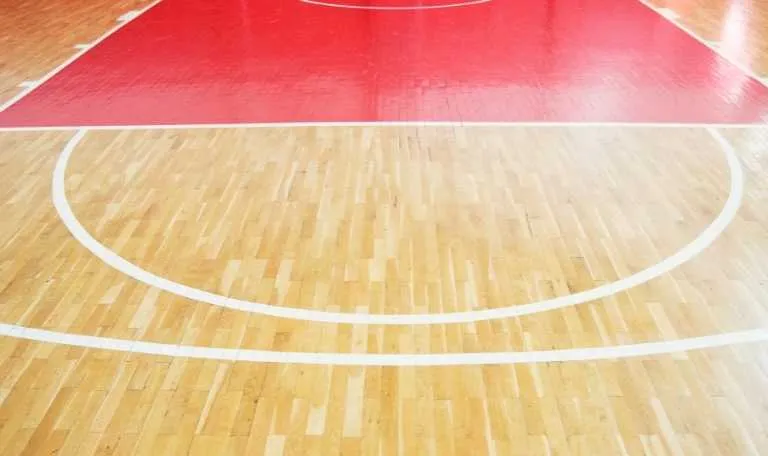 Pros and cons of a maple hardwood court
As with any sports court surface material, maple hardwood has pros and cons. Here are some of the key benefits of hardwood:
1 – Performance
Hardwood, especially maple, dramatically impacts the level of play for your athletes. With hardwood floors, shock absorption, rebound and bounce level, foot stability from enhanced vertical deflection, and area deflection are all improved.
The result is a surface that is easier on players' knees and bodies and an overall improved play experience.
2 – Easy upkeep
While your new hardwood court will need some cleaning and upkeep, the level of care necessary is much less than other materials. Mopping, dusting, and consistent cleaning will go a long way in keeping your surface at its highest quality.
3 – Aesthetic Appeal and Customization
A maple hardwood basketball court is a beautiful addition to any sports venue. It can set the tone for your facility. The natural wood provides a warm and inviting atmosphere while also offering professionalism. You can even customize the look of your court to be a unique focal point that creates a memorable visual for players and fans.
There are also some key disadvantages to consider when deciding if hardwood is a suitable surface for you:
1 – Sensitive to scratches and marks

Maple hardwood is naturally very durable, but compared to synthetic floors it is sensitive to scratches and marks. Typically users of the court use indoor sports shoes to avoid damaging the surface, but non-sports related activities can pose a threat when people walk and move around the court wearing non-athletic shoes. It is therefore recommended either to not host non-athletic events in the gymnasium or purchasing a gym floor cover to protect the surface.

2 – Sensitive to temperature changes
One downside to maple hardwood courts is that they can be sensitive to changes in temperature. This can cause the planks to expand or shrink. To avoid shrinking and expanding it is essential to keep the temperature inside the gymnasium as steady as possible throughout the year. This can be achieved with proper air conditioning and keeping an eye on the humidity levels.
When considering all the pros and cons, it's crucial to think about how athletes will use your court and what is most important to you. If a maple hardwood court is proper for you, consult a professional to get the best possible installation.
What sports can be played on a hardwood court?
When we think of a hardwood court, we instantly think of basketball. However, athletes from various sports can take advantage of the performance benefits that hardwood offers.
In addition to basketball, a maple hardwood court can be used for volleyball, badminton, tennis, aerobics, and dance. The surface is perfect for fast-paced games with plenty of movement, and the rebound will help athletes stay in control of the action.
Get Your Court Project Started
We've created a comprehensive set of tools designed to assist facility managers and project planners in initiating their projects and connect them with the professionals in the industry.
Maple hardwood court use cases and level of play
While maple hardwood courts are a perfect choice for most cases, it's not always the best option. One deciding factor in choosing a hardwood surface is the level of play you require.
In general, we recommend all levels of play from high school and above to consider hardwood for their courts.
The reason is that most athletes expect a certain level of expertise when they reach a certain level of play. And with hardwood, they can get that. The surface offers a better playing experience than other materials, often leading to more exciting and competitive games.
If your facility hosts middle school children or younger, you may want to consider synthetic materials. Modern materials offer an excellent alternative for younger athletes – and more youthful kids generally won't mind playing on non-hardwood floors.
Get a cost estimate at an early stage
When planning a surfacing project for your court, it's vital to know all the different line items that affect the overall cost of the gym flooring project. 
One of the best ways to get an accurate estimate is by having a flooring professional come out and look at your site. They will be able to measure the area, assess the condition of the substrate, and provide an estimate for materials and installation. This way, you'll know exactly what you're getting into before deciding.
Before you invite an expert out, consider using our easy-to-use pricing calculator. Our gymnasium flooring cost calculator saves you time in the planning process. Just type in your project specs and get a customized cost estimate that you can use for budgeting or building your business case for a maple hardwood court. 
Plus, we'll put you in touch with a top local expert that can help move your project in the right direction.