Cost of rubber gym flooring for weight rooms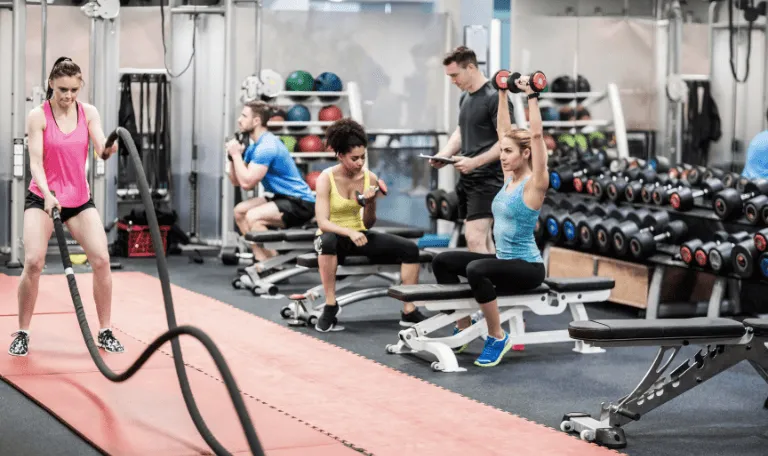 On average, the cost to install rubber gym flooring for a weight room for a high school or commercial gym is between $45,000 – $220,000. Before you run out and start purchasing materials, it's important to understand the different types of weight room flooring,  as well as, the layout and dimensions of the weight room and how they impact the overall cost.
Rubber gym flooring cost per surface type
| Rubber gym floor type | Cost range |
| --- | --- |
| | |
| | |
| | |
Prices include the total costs of weight room flooring installation for each flooring type. Cost items include subfloor, waterproofing, playing surface, field markings etc.
Gymnasium or Weight Room Floor plan
Gymnasiums and weight rooms come in different shapes and sizes. Rubber is the most common flooring material used at gyms and weight rooms, but it may not be the material that should be used in every section of your gym. 
Before the start of a gymnasium or weight room flooring project it is essential to make a floor plan that lays out the different sections of the gym, the dimensions of each section and the flooring materials that are to be used in each zone.  
Consider also who are the main users of your gymnasium and which floor type would fit their needs best:
At elementary and middle school level younger students, that don't use heavy weights, any flooring material would work. 
When you get to high school level, you'll need something more durable. The consistent use of heavy weights means you need a material that will withstand constant impact. 
If your weight room will be used by college athletes, you need the best of the best. These athletes are working with heavy weights on a daily basis and need a floor that can stand up to the wear and tear. 

Commercial gyms that are used by recreational gym goers will need a floor that can accommodate weight lifters and fitness enthusiasts on different levels. A multipurpose floor, like rubber, may be the ideal solution.
Different sections at the gym
1 – Cardio / Fitness zone
In this area your athletes will spend a lot of time making contact with the floor or sweating on the cardio machines. You will need a floor material that is somewhat shock absorbent, but more importantly is not sensitive to humidity and is easy to sweep up and clean. 
Synthetic flooring (vinyl or rubber) is usually the best option here. Vinyl and rubber gym floors are great for multipurpose use and are resistant to damage. 
2 – Heavy weights zone
You'll need a durable floor that can handle dropped weights. No matter the level of iron pumpers, heavy weights can wreak havoc on your floor. Choose something extremely durable. 
Rubber flooring mats, rolls or tiles are the go-to choice for this section. 
3 – Sport-specific training zone
You'll need a floor that can handle the specific activities being performed. For example, the football team will appreciate having a zone for artificial turf, the basketball players would like to play on hardwood floor and aerobics/dance can be performed on synthtetic flooring, such as, rubber or sheet vinyl. 
Pro tip:
Make a floor plan for your gymnasium, then measure the dimensions for all the different sections. Once the layout and the total surface area for each section are clear, try our
weight room flooring cost calculator
to get a customized cost estimate. 
Weight Room Flooring Material Options
Possibly the most common type of weight room flooring is rubber. This material is versatile, durable, and easy to install; which makes it a great choice for schools and gyms of all sizes.
Within the category of rubber flooring, there are choices to be made. 
1 –  Interlocking rubber tiles
These are fantastic for gyms that are constantly moving and shifting to accommodate different activities. The ease of installation and removal make them a popular choice for schools that need to quickly transition their weight room to another activity, such as a wrestling meet or aerobics. 
With this method, squares of rubber are pieced together much like a jigsaw puzzle. Once the entire floor is covered, or the area that needs protection is covered, the mats are interlocked together to create a smooth, seamless surface. 
2 – Stacked rubber flooring mats
This method is similar to the interlocking panels, except that the rubber mats are stacked for added cushion and impact resistance. This is a great option for weight rooms that see a lot of traffic and need extra protection for their athletes. 
By placing a higher density rubber on top of a softer more springy layer, your athletes will be better protected from impact-related injuries.
3 – Vulcanized rubber flooring rolls
This is a sheet of rubber that comes in rolls. The production process uses chemicals that render the surface impermeable to liquids.  This is the best choice for weight rooms that are exposed to moisture, such as those in humid climates or near pools. 
Vulcanized rubber is a great choice for weight rooms that want the seamless look of a single piece of flooring. It can cover large areas and present a smooth appearance – perfect for a weight room in an athletic club or high-tier competitive setting. 
4 – Virgin rubber flooring
The final type of rubber flooring is virgin rubber. Available in both squares and rolls, virgin rubber helps you elevate the aesthetic of your facility. 
You can match the color to your brand and school, to reinforce the experience for your athletes. 
Sheet vinyl flooring
The second choice on our list is vinyl flooring for your weight room.  Like rubber, it's easy to install and attractive. 
Vinyl flooring comes in a variety of colors and styles. You can find tiles that look like wood or stone, which can give your weight room a more luxurious feel. 
Most vinyl is water-resistant, making it great for athletic spaces looking to protect their investment (and their athletes). You can easily mop up spills, clean up after sweaty workouts, and keep your weight room looking great. 
However, there are some drawbacks to vinyl flooring for weight rooms. Because of vinyl's penchant to dent or crack, weight rooms that are dedicated to heavy free weights and dumbbell exercises should steer clear. Rubber is the smarter choice for long-term durability in these cases. 
Hardwood flooring
One final popular choice for weight room flooring is wood. Wood floors are beautiful, classic, and luxurious. They create an air of sophistication that can take your weight room to the next level. 
However, wooden floors are also one of the most expensive options on this list. 
They require more care and maintenance than other materials, and they're susceptible to water damage.
Subfloor options for rubber gym flooring
Depending on which gym flooring material you choose, the type of subfloor needed will change.
Subfloors are additional layers of material that provide support and stability for your flooring. They can also help with noise reduction, impact absorption, and thermal insulation. 
Rubber gym flooring is ideally installed on top of a dry, hard and flat surface. The ideal and most common foundation for a rubber floor is concrete. A hard concrete subfloor will not crack easily even in the heavy weights area of the gym. 
You can also install rubber gym flooring on top of hardwood or ceramic tile for example, but make sure to add an extra protective cushion between the base and the rubber surface. Hardwood and ceramic tile are more fragile and may crack if barbells and dumbbells are dropped on the rubber floor. 
Other Cost Considerations for Rubber Gym Floors
How big is the weight room?  
The size of your weight room will have a big impact on the cost. The larger the space, the more material you'll need and the higher the price tag will be. 
Different levels of competition and athletic events need more space. For Olympic-level or collegiate athletes, you'll need a much larger weight room than for youth athletes. 
Branding and customization
If you want to brand your floor with your school colors or gym logo, you'll need to factor in the cost of customization. It can be easy to dismiss this step because it doesn't feel vital to your weight room floor. However, having the right aesthetic can help you create a space that your athletes feel comfortable in and want to train in. 
Customization can also be a great marketing tool. If you have a unique weight room, it can help you attract new members and grow your business. At high schools and colleges it can foment a feeling of togetherness and team spirit among the students and athletes.
Gym flooring maintenance cost
 Once your brand new weight room floor is installed, the costs of upkeep start running. You should be budgeting somewhere around $1,000 – $5,000 annually for maintenance depending on which floor system you decide to install.
Each flooring type has their own requirements when it comes to maintenance: 
Wooden floors need daily mopping to avoide dust piling up. The surface also needs to be refinished once a decade which adds to the overall lifetime costs. 
Sports vinyl floors are low maintenance and only need to be cleaned on a regular basis. They don't need refinishing but their expected lifespan is shorter than that of wooden floors. 
Rubber floors are the easiest to repair but they are harder to keep clean compared to vinyl floors for example. 
How to Fund Your Rubber Gym Flooring Project
There is a lot to consider when planning, choosing and installing a rubber gym floor. The cost for your project can add up quickly with so many factors to take into account. 
When it comes to funding your project, there are a few options to explore. 
1 – Grants
If your weight room is for a school, there are many grants available to help fund your project. The Department of Education offers a variety of grants that can be used for construction projects, like installing a new weight room floor. 
Your team can also look to your local and federal government for grants. There are many options available to help alleviate the cost of installing a new floor. Check out our sports facility grants database to find out if there are any funding opportunities for your project.
2 – Donations & Crowdfunding 
Another option is to seek out donations and crowdfunding. This can be a great way to engage your community and get them involved in the project. 
Many people are willing to donate to a good cause, especially if they know their money is going towards something that will benefit the youth in your community. 
3 – Investors
Tap into your local community and see if there are any businesses or individuals who would be interested in investing in your project. 
Many people are looking for ways to give back to their community and this can be a great way to get them involved. You can also contact brands in the athletic space and see if they would be interested in sponsoring all or a portion of your project. 
4 – Bank Loans
If you're a school or commercial gym, you may be able to take out a loan to fund your project. This can be a great option if you have the ability to repay the loan over time. 
For businesses, having a solid business plan is essential to securing a loan. You'll need to show your potential lender how the weight room floor will benefit your business and how you plan to repay the loan. 
Get a Cost Breakdown Early
The cost of a rubber gym floor can vary greatly depending on the size, type, and complexity of your project. It's important to get an estimate early in the planning process so you can accurately budget for your project. 
You can use our online calculator to get a quick estimate for your rubber gym floor. Just enter the dimensions of your space and select a few key pieces of information and we'll give you a customized estimate for your project. 
We work with some of the top weight room flooring experts in the country. The cost breakdown helps you get a good understanding of the overall project costs and to ask the right questions to the installation companies when comparing quotes.