How to choose the best gym flooring for schools?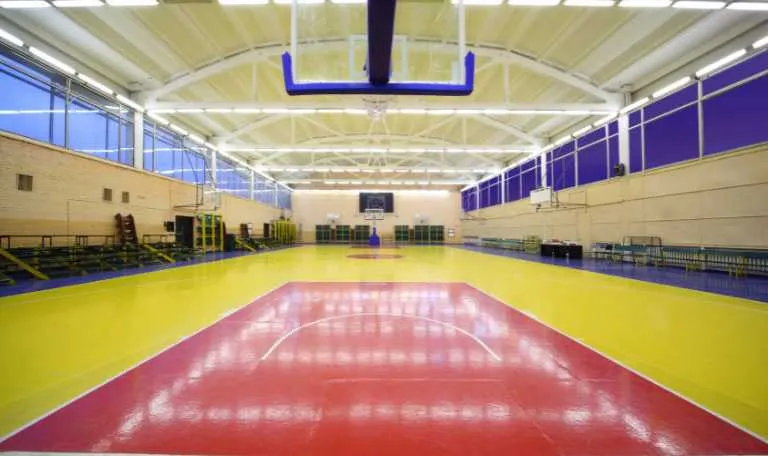 When most of us think back to our days of high school or elementary school sports, we often remember the clunky, uncomfortable gym flooring. It was difficult to move around without slipping and sliding, and it was especially hard on athletes' bodies. 
Today, however, school gym floors are far advanced from those of yesteryear. With advances in technology and design, there are many great options available that provide both comfort and safety. When considering the best gym flooring solution for your school, there are a few things to consider.
If you are planning to install a new gym floor for your school, try our gymnasium flooring cost calculator to get a customized cost estimate.
The different school gym flooring materials
When you first start planning your gym flooring installation, the choices can be daunting. But there are several popular types of flooring materials to choose from, each with its own benefits. 
Wood
A classic choice for gymnasiums, wood provides a traditional look and feel and is durable enough to withstand high-impact activities like basketball or volleyball. Usually made of maple or other hardwoods, wood flooring is also great for absorbing shock and reducing injuries.
Sports Vinyl Flooring
This type of flooring is made from vinyl material and has a padded backing, making it soft on the feet while providing an even, smooth playing surface. It's ideal for basketball, volleyball and other activities that require quick turns and fast footwork. Furthermore, sports vinyl flooring is available in a variety of colors and patterns to give your gym a unique and vibrant look.
Rubber Tiles
Rubber tiles are easy to install and can provide a softer, more forgiving surface for athletes. They're great for areas near the gym walls where players may need an extra bit of protection from hard surfaces. Rubber tiles also reduce noise in the gym and won't dent or scratch easily.
Polyurethane, vulcanized rubber, pad and pour, or even combination systems are all a great option for school gym floors. Each of these materials offers its own unique benefits, so it's important to consider the type of activity that will be taking place on the gym floor in order to choose the best solution. 
Best gym floor materials for elementary and middle schools
Most elementary and middle schools are what experts call multi-purpose facilities. This means these spaces are used for different sports, activities and events — which means your gym needs a floor that can handle it all. 
For this reason, the best choice for these types of facilities is a sheet vinyl flooring system. This type of flooring is cost-effective, versatile, and can withstand the rigors of both physical education classes and after school sports. It's also easy to clean and maintain, making it a great choice for busy schools.
Best flooring materials for high school gyms
High school gyms need to be able to withstand the demands of competitive sports like basketball and volleyball. However, some smaller schools may find they need a resilient multi-purpose option for their gym. 
If your high school gym is multi-purpose, go for a rubber surface or pad & pour polyurethane floor.  These floors are lower maintenance than other materials and offer adequate support for competitive sports and school dances alike. 
For pure competitive sports like basketball, look into a hardwood floor. Nothing beats the look, feel and sound of a wooden gymnasium floor for high school basketball and volleyball. This material is hard-wearing and provides excellent grip and traction.
The initial investment for a hardwood floor may seem steep, but with the longest lifespan of any gym floor it's well worth the cost.
Best gym floor materials for colleges
College gyms are almost strictly used for competitive sports at the highest level of play. That means you need specific materials to accommodate the demands of the athletes. 
The best choice for collegiate gym flooring is a hardwood system. Athletes in this age level and level of play expect the very best, and often games are televised. In order to create a great experience for players and fans you need to invest in the very best materials available.
Installing a gym floor for a school on a tight budget
We know how crucial budget constraints can be for schools. That's why it's important to find a gym flooring material that fits your budget and still meets the needs of the athletes. 
Fortunately, there are a few options you can pursue to save on materials and installation — without sacrificing the quality of your new gymnasium floor. 
The first is opting for reclaimed wood for your gymnasium floor. In this case, second hand doesn't mean lower quality. Reclaimed wood can come from a variety of sources, such as old basketball courts, gymnasiums and even bowling alleys! With some minor repairs it will look just like new and is one of the most eco-friendly options available. 
You can pair a reclaimed wood solution with grants and funding opportunities from your local, state and federal government. There are plenty of options here for new flooring, so working with a professional installer early in the process can make it easier to find the best fit for your school. 
Speaking of your installation partner, don't choose the first quote you see. Instead, get at least three quotes for your project and carefully compare each before making a decision. This will help ensure you get the right quality materials and installation for your budget. 
In addition to the materials, you'll need to consider the amenities of your new gymnasium floor. Here are some of the most common accessories and add-ons school sports programs choose for their new surface:
A gym floor covering

– helps protect your investment when hosting non-sports-related events and activities.

A lighting system

– LEDs are a popular choice for modern facilities. They are cost-effective and energy-efficient. 

A scoreboard

–  gives spectators a great view of the game in progress. 

Bleachers and stands

– increase seating capacity and spectator comfort. 
There are many more options available such as padding, curtains, and audio systems. Work with your installer to determine the right mix of amenities for your budget. 
Get a cost estimate for your school gym flooring project at an early stage
This article provided an overview of the types of materials and add-ons available when choosing the best gym flooring solution for your school. Whether you're looking for something more affordable or higher quality, be sure to get a cost estimate early in the process. This will help you secure funding, determine your budget, and plan accordingly.  
If you want to get started today, check out our easy-to-use online cost calculator. Just enter some key pieces of information and we'll give you a solid estimate you can use to begin your planning. Plus, we'll put you in touch with some of the top school gymnasium flooring experts in your area.