How much does it cost to rent a portable ice skating rink for temporary use?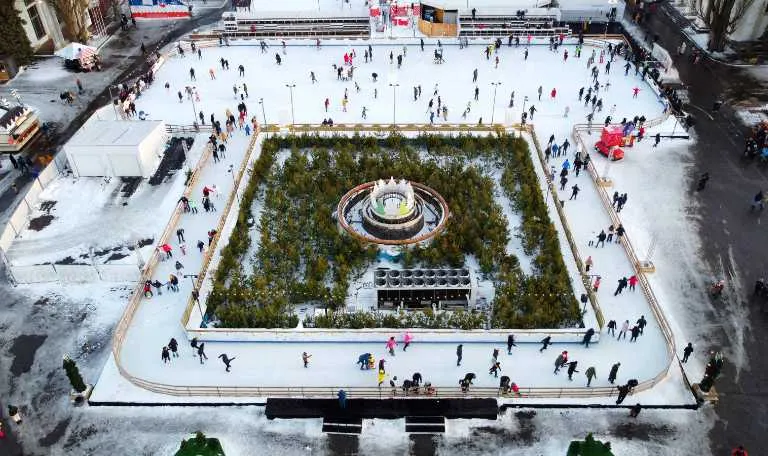 Portable ice skating rinks are becoming more and more popular for events, parties, and for facility owners looking to add a new stream of revenue. Especially during the winter months, you can rent portable ice skating rink and create an outdoor winter wonderland in any location. From mall parking lots to school and town commons, a portable ice skating rink gives your community a fun and exciting winter activity.
For seasonal events and revenue, a portable ice skating rink can be a great alternative to a permanent-use skating rink. Especially if you're only looking to host recreational events, a portable rink has everything you need without the overhead of year-round maintenance.
The cost of renting a mobile skating rink varies depending on the size, length of rental, and other necessary materials, such as resurfacing equipment or additional ice skating accessories.
Let's take a look at the different factors that can affect the portable ice skating rink rental cost.
Portable Ice Skating Rink Rental Cost
The cost of renting an ice skating rink for temporary use varies greatly depending on several factors, such as the choice of surface material (real ice vs plastic), the size of your rink, and your geographic location. To give you an idea of the rental cost, you can follow these indicative price ranges.
Ice rink rental cost (real ice): $21,500 – $71,200
Synthetic ice rink rental cost (plastic): $7,000 – $22,140
Use our ice rink rental cost cost calculator to get a customized cost estimate for your project.
| Portable ice skating rink rental cost | Real ice surface | Synthetic ice surface |
| --- | --- | --- |
| Ice rink including board system | | |
| Transport and construction of the ice rink | | |
| Operating costs for water and electricity | | |
| Rink cleaning/maintenance machine | | |
| | | |
| Ice skate sharpening machine | | |
| | | |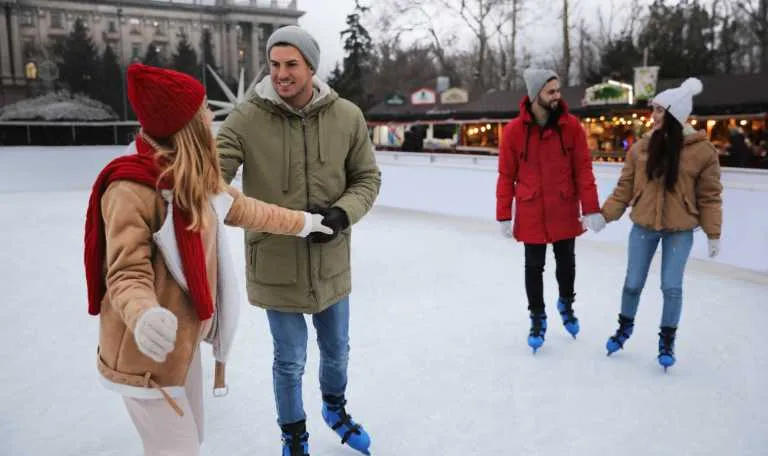 What influences the cost of renting an ice rink or a synthetic ice rink?
While the size and duration of your rental will influence the cost of renting a portable ice skating rink, there are plenty of decisions and additions to make.
Use concept
Are you hosting casual skaters, or are you expecting to attract competitive teams? Depending on the type of activity you are hosting you'll need to meet certain requirements. Here are a few of the most common types of activities we see at portable rinks:
Recreational event: Skating for the public

Sporting events: Hockey games, figure skating, curling, speed skating

Seasonal events: Christmas, holiday and community festivals
Choice of ice rink material
There are two types of ice rink materials you can choose:
Real ice – A real ice rink offers the best skating experience possible. But this quality comes at a price. Real ice is much more expensive than synthetic alternatives. Additionally, real ice requires much maintenance and energy to maintain. Therefore, the environmental impact of real ice rinks far outweighs synthetic ones.

Synthetic Ice – Synthetic ice is made of a special plastic material, allowing for a decent skating experience. They are much cheaper than real ice and require less maintenance and operational costs. Unfortunately, synthetic ice cannot be used in competitive play — so knowing what events you'll be hosting is essential.
Length of the rental contract
As with renting any product or service, the time you plan to use the rink will influence the cost of the rental. The longer you need the rink, the higher your costs. This won't be an issue if you are hosting a one-time event or seasonal celebration. But if you're looking for a more long-term ice skating solution, you may want to consider a permanent-use rink.
You can calculate your rental cost easily: number of days x daily rental cost = total cost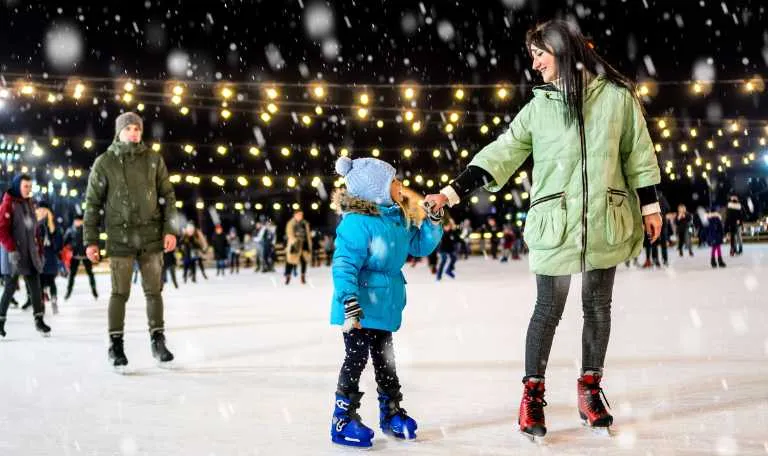 Size of the rink
The size of your rink will play a significant role in the overall cost of your portable rink rental. Generally speaking, the larger the rink, the more you'll pay. This makes sense — larger rinks require more materials and installation time, which adds to the cost of your rental.
Operating costs
As mentioned earlier, the operational costs between real ice and synthetic vary greatly. For natural ice, you'll need a resurfacing machine and energy to keep the ice cold. You can save on maintenance costs for synthetic rinks since they don't require the same power to keep them in working condition.
Customization
Logos, artwork, graphics, and more – you can brand your ice rink any way you choose. Adding a custom design can make your event more special and memorable. Depending on the complexity of your design, this, too, will affect the cost of renting a mobile skating rink.
Amenities
Consider the amenities you need to provide to create a memorable and safe experience.
Lighting and a sound system are essential when renting an ice rink. Additionally, board systems and scoreboards will be needed if you plan to host competitions. Each of these factors will affect your rental cost. 
Extras
If you're hosting casual skaters, rental skates are a must-have for your new rental rink. Similarly, benches and rubber walking mats can keep everyone safe on and off the ice.
Benefits of renting a portable ice skating rink
The rental of portable ice skating rinks for the leisure sector (Christmas market etc.) or for sporting events is very popular. More and more organizers rely on renting a mobile ice rink to attract visitors to their events or to optimize existing events.
Leisure Time Fun for the Christmas Market
A mobile ice rink is a perfect way to draw crowds around the winter holidays and at every Christmas event. By giving your community a way to get out and be active with loved ones can give them memories for years to come.
Operation and maintenance of the ice rink during the event
Most rental rink providers offer support throughout the entirety of your rental period.
This service includes support during the planning phase and in the operation of the mobile ice rink. In addition, the providers know how to make your specific rink and location profitable with marketing and more.
Use of the ice rink for sporting events
Mobile ice rinks are much more than a seasonal venture. An ice rink can also be rented for sporting events at your facility.
In many cases, the providers of rental ice rinks also equip ice rinks and arenas. Accordingly, the manufacturers know which requirements the ice surfaces must have to meet the specifications of all sporting competitions.
Cost-effective and energy-efficient
Modern rental ice rinks are can be operated cost-effectively and energy-efficiently.
As such, ice rink providers usually show the energy balance of their systems so that the customer knows what operating costs they'll accrue with their rental. Projects run by the rental companies partly offset the CO2 emissions from the operation of the ice rink.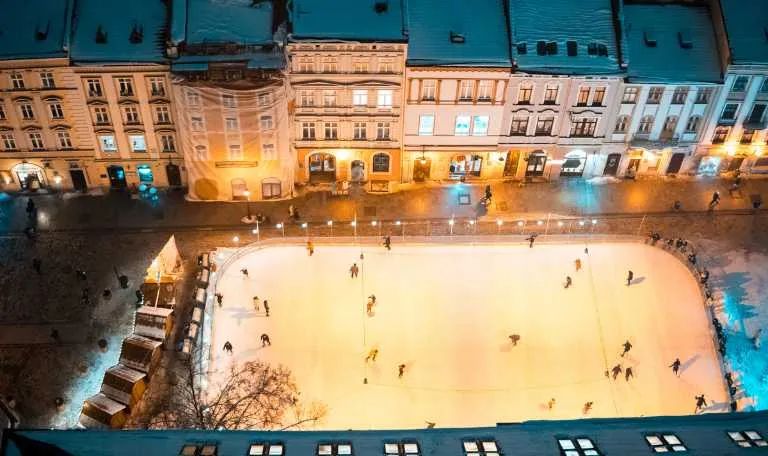 5-step game plan for your skating/winter event
1. Compare prices for renting a portable ice skating rink
If you want to rent a mobile ice rink, you should first compare the prices of the different providers.
However, the price should not be the only criterion by which you measure. A solid product quality, a low maintenance surface, and the costs for additional equipment should be included in the decision-making process.
Look at the event provider's references, compare (if possible) the product quality of the ice rink, and talk to neighboring cities or other organizers who have already used a mobile ice rink.
Calculate the expected operating costs for renting the mobile ice rink. What are the costs and how much, for example, for staff, electricity, water, rental equipment, security, etc.
2. Create a financing concept for the mobile ice rink
The financing concept is the most important building block when renting a mobile ice rink for a Christmas market or for a winter event. The first step is to hold talks with the city and potential financiers. Organizers must clarify what benefits the city (e.g. in the context of a Christmas market) derives from operating the ice rink and what positive effects are generated.
Get in touch with potential sponsors. Mobile ice rinks are often the focal point of a winter event. Emphasize the possibilities of sponsoring and talk to local companies about the advertising and brand-building value of sponsoring.
Define sponsoring areas and advertising opportunities within the framework of the event and create a meaningful sponsoring concept. A mobile ice rink offers, among other things, advertising space on the mobile board system. In addition, the ice skate rental station can be branded, and advertising material with sponsor logos can be set up over a large area.
3. Positioning of the ice rink on the event site
In many cases, the mobile ice rink can be built into an existing infrastructure (e.g. at a Christmas market). It must be clarified which connections (e.g., electricity and water) are available and to what extent they may be used.
What restrictions are there for operating the mobile ice rink during the event? Look at the meeting place ordinance of the respective federal state and speak to the local authorities. The staff can tell you what is permitted where and, together with you, examine possible open spaces for the ice system.
The search for a suitable area begins if the ice rink is not built into the existing infrastructure. But it is much more cost effective to use existing infrastructure in your space. Building something new requires time, money, and a lot of planning.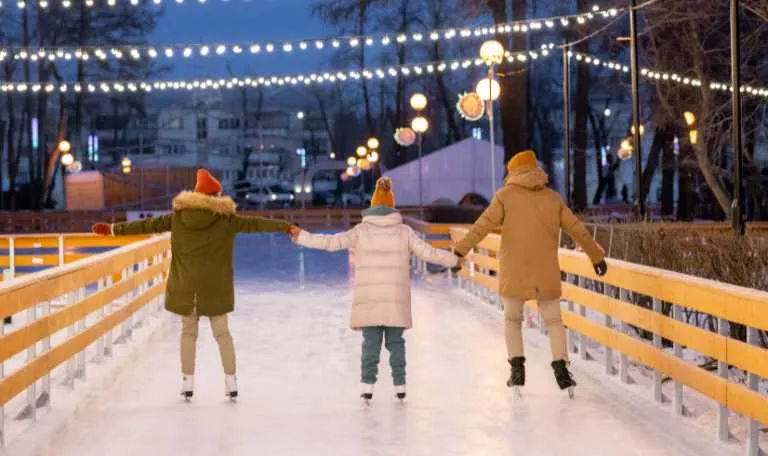 4. Organization of the winter event
The construction and operation of a mobile ice rink take time and cannot be organized "on the side." Plan sufficient staff for the ice rink operation (ice skate rental, cash desk, event technology, maintenance, organization, etc.) and ideally create a pool of assistants.
The marketing of the sponsoring areas requires time to get right. Plan enough time for acquisition and appointments with potential sponsors. The developed sponsoring concept helps to underpin the added value of your event in writing.
Your winter events and the mobile ice rink require a certain amount of advance notice and should be planned at an early stage. A corresponding PR strategy and the involvement of local media and multipliers are essential to market the project successfully. The application via social media and digital information channels should also be planned early and professionally supervised (possibly by an external agency).
5. After the event is before the event
If the first edition of the winter event was successful, the planning of the follow-up event should be planned early on. Which processes can be improved? How many staff is required for optimal operation, and which measures (marketing and PR) can be intensified?
Ask yourself whether the mobile ice rink served its purpose and to what extent the visitors were satisfied with the product. Does using a synthetic ice rink make sense? Should the ice surface be increased or decreased? How can operating costs be reduced and personnel saved when operating the ice rink?
How much does it cost to rent a mobile ice rink? Calculate the prices with our mobile ice rink cost calculator. After you have selected the product and entered the rental period, you will receive the cost estimate directly by e-mail in your inbox.
Consider installing LED lighting for your ice rink
Finally, you need to consider how you'll illuminate your new rental ice rink. Since daylight is scarce in the winter, you'll need to find a bright yet energy-efficient solution.
LED lights are relatively simple to install up above the ice rink, and they offer a powerful, bright light that will help keep your event running until later in the night. Plus, LEDs take far less electricity than traditional bulbs and are more reliable, which can help reduce operating costs overall.
While the initial investment for LED lighting may be more expensive than traditional bulbs, it pays off in the long run. Investing in LED lights can help you reduce your energy costs and add a beautiful touch to your event.
Get a cost estimate at an early stage to avoid surprises
As you can see, a portable rental ice rink can mean a lot of work and a significant investment. That's why it's important to plan ahead and get an estimate on costs at an early stage in the planning process.
When you account for all the costs of renting a mobile ice rink, you can plan your budget accordingly and avoid surprises. That way, you'll be able to maximize revenue and experience during your events.
Use our online cost calculator to get a custom estimate of your rental costs. All it takes is a few simple steps to get an accurate quote in no time. Contact us today to learn more about renting an ice rink for your winter events!