How much does a tennis court cost to build for a school or sports club?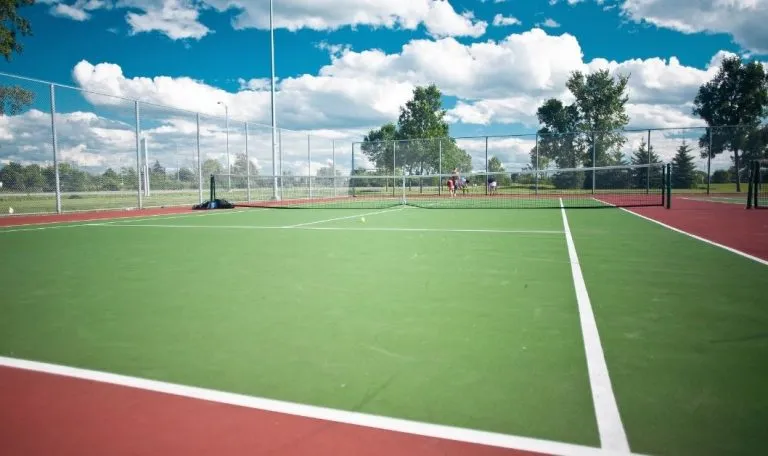 Cost to build a tennis court
The cost to build a tennis court typically ranges between $25,000 – $120,000 for a regulation-sized court. The price of a tennis court depends on many factors such as the geographical location and choice of the court surface material are some of the most important. Removing and disposing of the old floor, if necessary, adds to the cost.
The planning, construction and maintenance of outdoor tennis courts pose logistical and financial challenges for many clubs and municipalities. Anyone wishing to build a tennis court should gather information ahead of time from contractors, vendors and other sports facilities in your area to estimate the costs associated with tennis court construction. The experience of a neighboring club or a conversation with an experienced tennis court construction company can help here.
Tennis court operators should determine their requirements before deciding on a floor surface. Will it be used outdoors or indoors? Will it be covered in the winter? How sustainable should the tennis court be in order to keep renovation costs low over the long term?

The tennis court cost calculator can be used to reliably and accurately determine the budgets for the various types of surfaces.
Breakdown of tennis court construction costs
Tennis court installation cost items

Price range

Installation, including labor and site equipment

Tennis court painting cost

Tennis court canopy cost (optional)

Sprinkler system (optional)
What influences tennis court construction cost?
The cost of tennis court installation varies depending on the surface of the tennis court and the corresponding floor. For example, there are different hard court variants, artificial turf, or sand to choose from. Facility operators should know what specifications the court must meet,  and how much time and money is available for maintenance over the projected life of the court.
For example, if you decide on a clay court, the installation of an automatic sprinkler system should be included in the planning. Clay courts require constant irrigation, so the cost of construction, maintenance, and the water itself should be accounted for at an early stage.
Floor surfaces for tennis courts vary in price just as they do in material and color. The extent to which the current floor can be repurposed, the number of previous layers that need to be removed, the quality of the subfloor construction, and the selection of filler (e.g. rubber granulate) are all among the factors that go into an accurate price calculation. Logistically, project managers have to determine whether the center or the adjacent courts be shut down during the renovation work, or will the construction crew have to allot for the passage and presence of players.
Get a customized cost estimate for your court project by using our tennis court cost calculator.
Tennis court cost per surface material

Price range

Concrete tennis court cost

Natural grass tennis court cost

Asphalt tennis court cost

Artificial turf tennis court cost
All courts will need a net, and even these seemingly "background" elements vary in cost and materials. The tennis net has a height of 36 inches in the center and 42 inches at the posts. The cost differs based on the mesh of the net. They are mostly made of braided polyethylene, which provides stability.
Once the tennis court floor is installed you will need to paint the lines on the tennis court. Line painting is a small cost item in the overall budget, but nevertheless, it needs to be done. Typically tennis court painting cost ranges between $250 and $650 depending on where the tennis court is located.
Depending on the geographical location of your tennis court construction site, you may want to consider installing a tennis court canopy or tennis air dome above the playing surface to protect the players and the tennis court from the elements. If you are building a tennis court in the southern states you might want to protect your players from the sun and heat. The low cost of a tennis court canopy and its ease of installation & removal might be your best bet. 
On the other hand, a tennis air dome might be the most suitable option if you are installing a tennis court somewhere in the north. It allows you to extend the season of an outdoor tennis court facility while keeping the players warm and dry during the cold winter months. A tennis dome gives you also the added benefit of being able to take it down for the sunny season so that the users of your sports facility can enjoy playing tennis outdoors. They don't come cheap though. Typically the cost of a tennis air bubble installed ranges between $1,400,000 and $2,900,000. The heavy price tag needs to be contrasted against the increased revenue coming from the extended days and months of use vs. a normal outdoor tennis court.
Refurbishing a tennis court can cover everything from resurfacing the floor surface to converting the facility's lighting to LED. Facility managers need to keep the entire scope of the project in mind when they determine their budget for each component, even a component as crucial as the floor.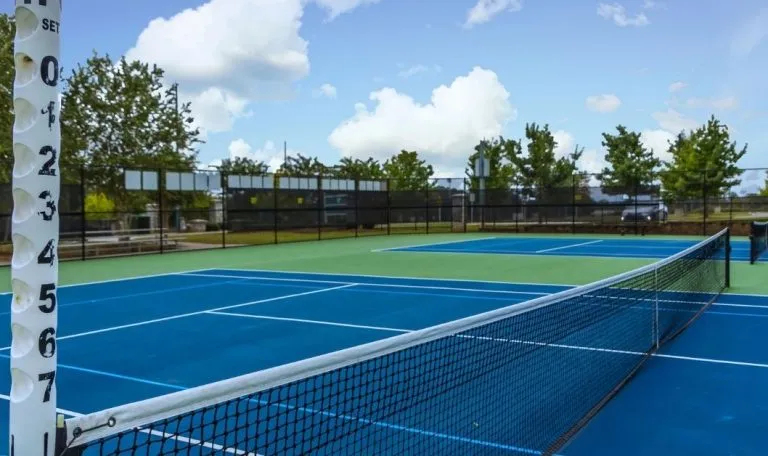 Tennis court maintenance costs and guidelines
Regular court maintenance is a basic responsibility of a tennis center or sports complex, and should be performed by a specialist as much as possible. How much you wil end up having to pay for maintenance depends largely on the type of surface your tennis court uses. On average tennis court maintenance costs around $1,000 – $3,000 annually.
Clay courts, in particular, need to be watered and leveled regularly to remain in a playable condition. This is largely due to weather conditions on outdoor courts, but the sport itself puts wear-and-tear on outdoor and indoor clay courts. Tennis players abruptly stop their approaches, slide across the surface to make a shot and then quickly change direction. Each part of that movement compresses, indents and otherwise deforms the surface. The resulting unevenness must be smoothed out for player safety and consistent ball movement.
So-called drag nets even out the clay over the entire court, while lattice mats combat moss growth. System mats or combination mats remove leaves and branches. Even the lines on clay courts require upkeep: they should be cleaned with a broom so they stay visible to the players and not subjected to additional pressure from clay that accumulates on top of them
Overview of tennis court maintenance tasks for different surface types
Tennis court surface type

Regular tasks

Intensity of maintenance

Mowing, watering, weed removal

Raking, brushing, refilling of clay

Brushing and removing debris

Regular sweeping and debris removal, annual washing and painting

None (resurfacing and line painting needed every few years)

None (resurfacing and line painting needed every few years)
Construction and design factors: Planning a new tennis court
So, you plan to build a new tennis court for your school, college, or sports club? Congratulations! But before you get too excited about the new project, there are many things you need to consider. Installing a new tennis court involves many variables, and it is not something you want to consider doing by yourself. In this section, we discuss all the key considerations you and your project team need to be aware of already in the project's planning phase. 
Planning the construction project in advance and working with a certified tennis court construction company will save you a lot of headaches down the line. Budgeting is obviously an essential part of the planning phase. We cannot stress enough the importance of estimating the project's overall costs at an early stage. Our tennis court cost calculator is the perfect place to start crunching the numbers!
Once you decide the time is right to build a tennis court, the first thing to do is ensure you have enough space to build on. Whether it is for a school, athletics club, park, or even a personal project, it is essential to focus on the site positioning and assess the surrounding area. 
The good news is most land areas and building sites do not require much investigation. However, to avoid any problems down the road, it's advisable to contact builders or contractors specializing in tennis court construction. They can advise on some essential factors such as the soil condition. 
Other issues that may need to be addressed include waste and fill materials or the presence of peat or different organic soils, plus the possibility of excavation. Water retention issues need to be checked, as is the possibility of using the tennis surface off-season for other sports such as ice hockey or skating during the cold month. Additionally, ease of access for machinery must also be factored in.
The amount of investigation needed depends on each site location and must be agreed upon by all interested parties before the process before the necessary work can begin.
Site preparation, earthwork, drainage, and subbase construction
The next step is to remove all grass, topsoil, and other non-essential materials from the court area. To reduce waste and logistics costs you can store the topsoil, which can be re-used for landscaping after the tennis courts construction has been completed. 
Drainage could cause you some issues as work must comply with local regulations and building guidelines. If in doubt, an expert can advise on the best course of action. We suggest contacting a professional in tennis construction at the beginning of the building process.
Once the court area is cleared, it needs to be filled with an embankment fill, preferably using well-graded granular soil. Building contractors can advise on soil quality, which depends on various factors, including material density and water consistency. After the embankment fill has been correctly filled, the base course can be applied to the tennis court surface.
Tennis court orientation and construction
Building tennis courts in an appropriate setting is crucial to the success of your project. Courts should either provide shade or avoid direct sunlight for you and your club members. Ideally, courts are built on a north-south axis. If this is not possible, one should be aware that courts on an east-west axis are optimally playable only in the morning.
The nearby shrubbery and plant life need to be considered during the design stage of building a tennis court. An experienced contractor can immediately gauge the area surrounding the tennis court and make crucial decisions regarding potential distractions from the effects of wind or direct sunlight. Additionally, a fence around the court will protect against trespassers and stray balls. These factors seriously affect the playability of a tennis court and the reputation of a tennis club or sports facility.
The dimensions of a standard tennis court are 78 ft x 27 ft. However, those are not the dimensions you have to plan for: courts need playable space behind the baselines and outside the sidelines. The standard dimensions court builders plan for are 120 ft x 60 ft x, an area of 2,200 square feet. In addition, courts require a run-out zone of at least 18 feet behind the baselines and outside the doubles lanes.
According to international standards, a distance of 12 feet is required between multiple courts, and only four courts are permitted next to each other in a single row. These design standards minimize the disturbances and distractions that could occur if the courts are in use at the same time. Moreover, these specifications allow the tennis facility to host competitive games under standard conditions.
Choice of tennis court surface
The court surface is the one feature everybody notices at a tennis center. When choosing the appropriate tennis flooring surface, club managers are spoiled by a variety of choices for the design, material, and color. 
Many factors go into the decision of what floor to install: Who are the main users  and what are their expectations for the floor's look and performance? What features do other nearby tennis complexes have, and to what extent does this influence the decision? And, of course : How much does each option and combination of features cost, both up front and in the annual operating and maintenance costs?
Many tennis center owners and athletic directors face the decision of which surface their tennis courts should have for the next several years. These projects share a few common questions: 
What is the cost of a new surface for an indoor or outdoor tennis court?

What is the club's budget for installation, resurfacing and maintenance?

Which court surfaces do the club's members or the main users of the courts prefer?

How high-maintenance and cost-intensive is each surface, and how often will they need to be resurfaced?
A beautifully finished court can create a buzz among tennis enthusiasts, and that's why the painting of court lines is a pivotal part of the tennis court construction process. Before applying paint, tennis contractors or builders will survey and clean any leftover moss, debris, or dirt. A fungicidal wash may also be necessary. You want a neat finish, so applying 50 mm tape before the painting begins is advised A taping machine is a helpful tool to avoid any paint bleeding onto the court playing surface.
Acrylic is a popular choice among tennis center owners and athletic directors. It is durable, dries quickly, and is weather-resistant, however, water-based paint is better if the court surface is asphalt and tarmac. The color contrast between the playing surface and lines is essential while playing tennis to determine if the ball is out of play. Experts in the field can advise on which color combinations work best for you and your customers.
Line marking is an exact and technical process, and therefore seeking professional assistance is essential. Airless spraying or the double roller technique can be used to apply the paint. Professionals can determine the amount of paint needed, as using too much paint may cause thickness, affecting the playing experience. 
Customization of the tennis court
Do you want your school or club logo blazed around the tennis court, or maybe your sponsor is keen for more visibility?
Customizing your tennis courts and surrounding fences/windscreens is a popular choice for schools and clubs that take their sport seriously.
Customization enhances the look of the tennis court area, opens potential revenue streams, and increases team spirit. The polished look customization offers will add importance and a touch of class and professionalism, which will be appreciated by tennis club members. It could also attract new members looking for a tennis club or sports facility that is willing to go that one step further to please their clients.
Depending on budget constraints, custom tennis logos are hand-painted, reproduced digitally, or masked and then painted. Applying logos and branding to the windscreen and court covers is a good option. They provide strong visibility, use high-grade vinyl that is UV resistant, and are easily applied using digital printing or painted onto the material. Windscreens also offer the opportunity to cover existing fencing with customized graphics for companies that want to get their message out to a wider audience.
Tennis enthusiasts appreciate the whole tennis experience, which can be achieved by purchasing various accessories. Some aspects of a tennis court are obligatory, such as tennis nets and fencing. The choice of net depends on the length of the tennis season, court surface, and frequency of use. Options such as braided or twisted nets should be planned in advance and discussed with a specialist tennis court builder or contractor.
Using an air dome or tennis bubble covering is another option that needs you should consider, especially if members and clients expect to play tennis all year round. Additional elements such as LED lighting and the tennis air dome storage facilities should be assessed with experts in advance, preferably during the summer months. 
Calculate tennis court construction costs at an early stage
When choosing a tennis court surface, price should not be the only factor in your decision. The most important things to consider are who will be using your court, and for what style and level of play. A recreational facility bears significantly lighter demands for its tennis courts than, for example, a court that will be used for national or international tournaments. It's also highly advisable to do some research and find out if there are grants available for tennis court construction.
Once you have an understanding of your players and usage needs, the cost of the tennis floor surface for an indoor tennis hall or outdoor tennis court can be calculated using the Tennis Court Construction Cost Calculator.