Gymnasium floor design considerations for project planning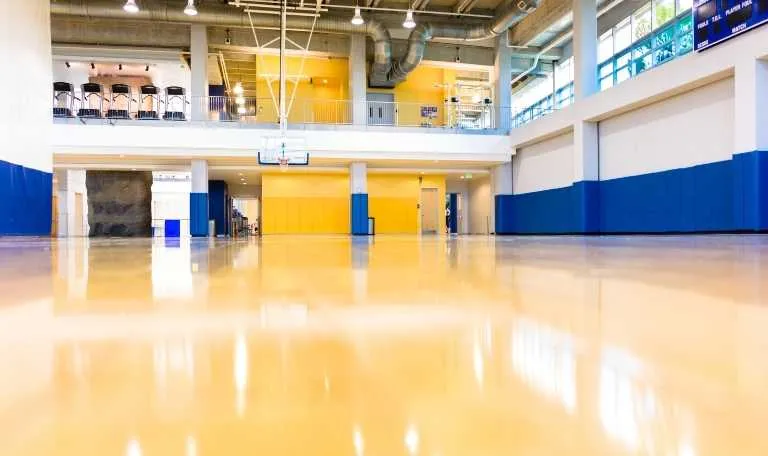 Looking to upgrade your gymnasium floor design for your sports facility? Before you start purchasing materials and planning the installation, there are a few things you need to understand. Designing a new gym floor can be a challenge if you don't know where to start, but this guide will help get you on the right track.
Building a new gymnasium floor is a great way to improve the look, feel, and function of your facility. Whether you're starting from scratch or refurbishing an existing space, the planning process is where your project will take shape. 
Here are the top considerations for a new gymnasium floor.
If you want to know how much your gymnasium flooring project may cost, try our cost calculator to get a customized cost estimate.
Establish the Use Case for Your Gymnasium Floor
The first step to understanding how to design your gymnasium floor is understanding what it will be used for after completion. 
Level of Competition
This means you need to know what level of competition will be hosted in your facility. If you are a school athletic director, the answer to this question might be simple. But the requirements for middle school, high school, and collegiate level sports are different. To ensure you are making the right design choices you should work with a professional installer early in the process. 
Additionally, if you are planning a new gymnasium floor for a community or commercial sports facility, you'll need to consider who will be playing. Will you be hosting tournaments for local schools or organizations? The decisions you make during the planning phase can greatly impact the revenue you can access in the future. 
Spectators
Next, you'll need to decide if your facility will accommodate spectators. If you are planning on hosting large-scale events, you'll need to factor in additional floor space and seating capacity when making your design choices. In most cases, you can choose different floor plans to maximize capacity without sacrificing the quality of the playing surface. 
TV Broadcast
The considerations for spectators don't stop for the folks in the stands. If you plan on hosting televised competitions, there are additional technical requirements that need to be considered. From lighting to flooring material, you'll need to make sure your facility can accommodate the specific needs of a TV broadcast. 
Get Your Gym Flooring Project Started
We've created a comprehensive set of tools designed to assist facility managers and project planners in initiating their projects and connect them with the professionals in the industry.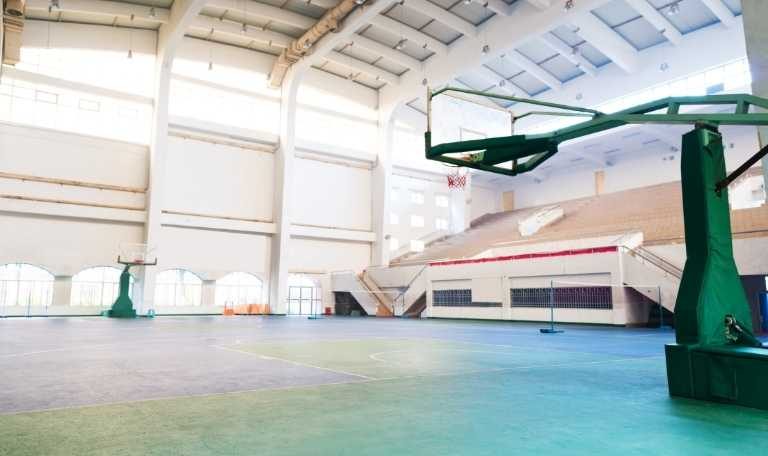 Three pillars of gymnasium floor design: Usability, Aesthetics, Safety
For gymnasium floor installation and design experts, there are three main pillars to consider when planning a new project: safety, usability, and aesthetics. 
Safety should always be the top priority when working with any type of athletic facility. That's why it's important to partner with an experienced contractor who can help you navigate the specific code requirements for your area. 
Aesthetics are also important in creating a welcoming environment for athletes and spectators alike. You'll need to choose colors and materials that complement the existing architecture of your facility. This is your chance to create a space that is ready for years of play. If you cut corners or make poor choices in your materials and design you'll be putting your investment at risk. 
Gymnasium floors see a lot of wear and tear, so usability is another important factor to consider. You'll need to decide how often the floor will be used, what kind of activities will take place on it, and how easy it will be to maintain. Routine maintenance is vital to protecting your investment and the health of athletes and spectators alike.
Gymnasium floor plan: the layout
Now that we've laid out the basics of a new gymnasium floor, it's time to start digging into the design. 
The first step in planning your new sports floor is choosing a design. To do this, you'll need to consider the overall space you'll need for your surface. If you are planning on a single multipurpose court or playing area, calculating the space needed is simple.
However, if you plan on multiple gym floors or a design that incorporates different activities, the process is a bit more complex. For instance, you could have a facility with multiple basketball courts to host tournaments. Or perhaps you want to plan a recreation center with a court and weight room. The possibilities for your new facility are only limited by the available square footage.
In both cases, it's best to work with an architect or flooring expert to create a custom plan that meets your specific needs. Choosing a partner that has experience building the type of gymnasium floor you desire is essential. 
Gym floor dimensions for different indoor sports
Gymnasium floors in schools or recreational sports centers tend to measure around 110 feet in length and at least 60 feet in width. This is because typically all gyms in the US want to accommodate a full-sized indoor basketball court (94' x 50').
Especially for school gymnasiums, having a large gym floor is essential for its functionality. The floor area can be divided to serve as several indoor sports courts simultaneously. One side may host a game of basketball on a half-court while at the same time the other half may be used for volleyball for example.
Important considerations regarding the layout and size of the gym floor:
Safety is always at the forefront when laying out the dimensions of a gymnasium floor. A safety zone or a clearance must always be reserved between the sidelines of the playing area and the gymnasium wall.
If you are planning to host competitive games on the indoor sport court you will also have to consider how much space will be needed for bleachers and how they will be positioned. Some gyms opt to place bleachers only on one side of the court whereas others decide to have spectators watching the games on both sides.
Oftentimes school gyms and recreation sports centers also want to accommodate a dedicated space for weight lifting, cardio, and fitness. When it comes to weight rooms you must consider the space needed and the flooring materials used. You can read more about weight room flooring considerations in our separate article.
Indoor sports courts typically come in standard sizes, but there is variation between age groups and levels of competition. You can find all the relevant information about the dimensions of different indoor sports courts for your gym floor installation project in the guides below.
When ready, try our gym flooring cost calculator to get a customized cost estimate for your gymnasium flooring installation project.
| Sport | Dimensions of court (ft) | Court area size |
| --- | --- | --- |
| Indoor basketball court dimensions | | |
| Indoor volleyball court dimensions | | |
| Indoor badminton court dimensions | | |
| Indoor tennis court dimensions | | |
| Indoor pickleball court dimensions | | |
Gymnasium floor design and customization considerations
While you are planning the layout of your gymnasium floor, it's essential to start considering the materials you will use. Of course, you won't know how much flooring you'll need until you've finalized a layout, but knowing potential prices early can help you budget. 
When it comes to the material of your gym floor, you have several options depending on your budget, sports and activities you'll be hosting, and the overall look and feel you want to achieve. Here is a list of the most popular gymnasium flooring material options: 
Modular indoor sport court tiles

Wood

Sports Vinyl Floor

Sport Linoleum Floor

Vulcanized Rubber Floor

Pad & Pour Polyurethane Floor

Combination System Floor
In addition to the type of flooring you choose, you can also plan for customizations and add-ons like logos, graphics, and other design elements. These can really make your floor stand out and show off your school spirit or company brand. 
Planning the line markings for the sports you plan on showcasing is another vital step. Of course, the more sports you plan on hosting the more intricate the line marking system and design will need to be for your facility. This is where a trained expert can really excel at helping you plan efficiently. Hiring the right company will help your vision come to life! 
Finally, a new gymnasium floor isn't complete without a set of upgraded amenities for your players and fans. The list of potential additions is virtually endless, but most facility managers choose some of the following: 
Hydration Area
Keep your athletes and fans safe and hydrated with an easily accessible water station.
Gymnasium floor covering
Gym floor covers are a great way to protect your investment and extend the life of your floor.
LED lighting
New, modern illumination is perfect for any new gymnasium floor. LEDs are cost-effective, energy-efficient, and will showcase your new court or playing area.
Bleachers
If you plan on hosting crowds, adding bleachers is a must. There are many different styles and sizes available to accommodate any budget or space.
Scoreboard
Last but not least, you need a way to keep your fans updated on the game. A new scoreboard is a perfect way to do that.
Get Your Gym Flooring Project Started
We've created a comprehensive set of tools designed to assist facility managers and project planners in initiating their projects and connect them with the professionals in the industry.
Get a cost estimate for your gym floor to kick start your project
The process of designing a new gymnasium floor can seem daunting, but with the right professional on your side, it doesn't have to be. 
The most important part of planning is taking all of these design considerations and turning them into a reality. Trying to do it all on your own is not only time-consuming but can be expensive if you make mistakes. 
Instead, work with an expert from the beginning. That way, you can be sure you are getting the most value for your money and ending up with the perfect floor for your facility. 
If you're ready to get started on your project, use our easy-to-use cost calculator. Just input some key details and find out an estimate for your new gymnasium floor.