Pickleball Court Construction Companies in California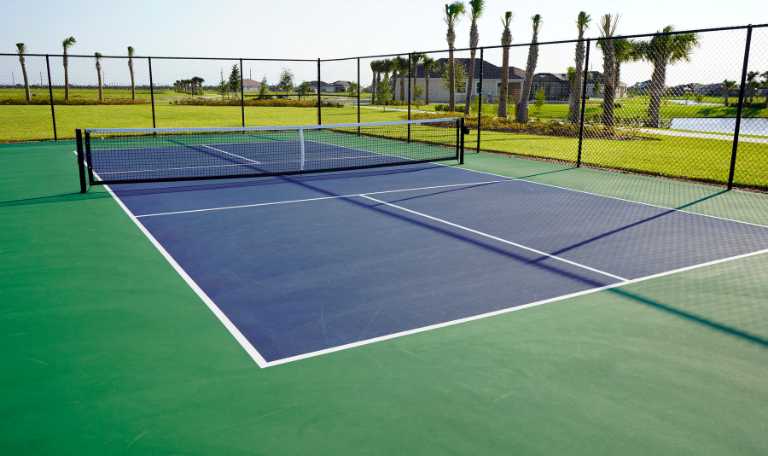 As a facility manager, whether for an educational institution, municipality, or commercial sports facility, you've likely noticed the sport of pickleball gaining traction as both a community builder and fitness enhancer. That's why it's crucial to find the right pickleball court construction companies in California when considering an outdoor court project. This guide is designed to smoothly navigate you through the complexities of selecting the ideal construction partner.
You can also try our pickleball court cost calculator, if you are planning to build a court and want to get a quick and accurate cost estimate for your project. 
The Rise of Pickleball in California
Pickleball has seen a meteoric rise in the Golden State, with an increasing number of players and dedicated courts. The sport has become a cornerstone for community engagement, offering both young and old an avenue for physical fitness and social interaction.
California-Specific Construction Considerations
Building in California comes with its own set of unique challenges and opportunities. The state's diverse climate—from the arid deserts to the coastal regions—affects material choices and construction methods. Additionally, California has stringent building codes and zoning laws that must be adhered to. Environmental sustainability is also a growing concern, and many facility managers are looking for eco-friendly construction solutions.
Types of Pickleball Court Construction Companies
When it comes to construction, one size doesn't fit all. Here are the types of companies you might encounter:
Full In-house Providers: These companies handle everything from design to construction.

Manufacturers: Specialize in producing the materials used in court construction.

Installers: Focus solely on the installation process.

Contractors: Offer a broader range of services, often subcontracting various aspects of the project.

Suppliers: These companies provide the necessary materials but may not be involved in the installation or design.
Each type has its pros and cons, and your choice will depend on your specific needs and the complexity of your project.
Key Factors for Choosing a Construction Company
Selecting a construction partner is a critical decision. Here are some factors to consider:
Experience: Look for companies with a track record in pickleball court construction.

Certifications: Ensure they meet all state and local regulations.

Customer Reviews: Testimonials can provide valuable insights into a company's reliability.

Budget: While cost shouldn't be the only factor, it's an important one.
Top Pickleball Court Construction Companies in California
1. Versacourt
VersaCourt is a leading manufacturer, designer, and installer of high-performance, high-quality court systems. With a focus on safety and community engagement, the company serves both residential and commercial clients. Although they offer a wide range of sport tile systems, our focus here is on their specialization in pickleball court construction.
Services Offered for Pickleball Courts
VersaCourt's pickleball court offerings are designed for high performance and durability. Their "Pickleball Performance" tile ensures a high-performing ball bounce for each dink, thanks to their innovative tile design and unique six-point locking system. The technology, known as PlayRight™, delivers a seamless and comfortable playing surface.
New Pickleball Court Construction: VersaCourt oversees your project from design to completion, ensuring your vision for a pickleball court becomes a reality.
Pickleball Court Resurfacing: The company offers top-tier resurfacing services to restore your court to its original quality.
Successful Projects
As one of the leading pickleball court companies in the United States, VersaCourt has a strong presence in California, where they have successfully completed hundreds of pickleball court installation projects. Their extensive experience and innovative technology make them a go-to choice for facility managers across educational institutions, municipalities, and commercial sports facilities in the Golden State. With a track record of delivering high-quality, durable courts, VersaCourt has solidified its reputation as a trusted partner in pickleball court construction in California.
Certifications
Versacourt has earned the ISO 9001:2008 certification, demonstrating its commitment to implementing a robust quality management system. This certification signifies that Versacourt has established and adheres to internationally recognized standards and processes for ensuring the quality and consistency of its products and services.
2. Brady Brown Construction Inc.
Established in 2002 and based in Escondido, California, Brady Brown Construction Inc. brings over three decades of specialized expertise to the realm of pickleball court construction and maintenance. With a service area that spans San Diego County and Orange County, the company is equipped to manage projects of varying scales, from expansive commercial facilities to intimate residential courts. Their dedicated residential team underscores their commitment to exceptional customer service and masterful craftsmanship. Whether you represent a municipality, an educational institution, or you're a homeowner, Brady Brown Construction stands ready to exceed your pickleball court expectations.
Services Offered for Pickleball Courts
New Pickleball Court Construction

: Brady Brown Construction excels in turning your pickleball court vision into a concrete reality, managing the project from start to finish.

Pickleball Court Resurfacing

: If your existing court is showing signs of age, the company offers premium resurfacing services to bring it back to its original glory.

Re-painting

: Give your pickleball court a fresh, revitalized appearance with their expert repainting services.

Pickleball Court Repairs

: For courts that have suffered wear and tear or damage, comprehensive repair services are available to ensure optimal playing conditions.
Successful Projects
The seasoned professionals at Brady Brown Construction have an extensive portfolio that showcases their versatility in pickleball court installations. Their client list is diverse, including Home Owners Associations, country clubs, apartment complexes, gated communities, private residences, schools, and public parks.
3. SportMaster
SportMaster is a leading manufacturer and supplier in the sports surfacing industry, specializing in pickleball court surfaces and construction. The company not only focuses on the quality and durability of their products but also has a nationwide network of installation partners who build the courts on their behalf. Employing methods similar to those used in tennis court construction, SportMaster ensures that each pickleball court has the proper slope and drainage.
Product Portfolio
SportMaster offers a range of pickleball court surfacing systems, including the PickleMaster surfacing system and the ProCushion System. The PickleMaster system comes in 17 standard colors and is engineered for non-slip pickleball play. The ProCushion System is designed to provide optimum resilience and joint-friendly play, offering multiple layers for shock absorption.
Services Offered via SportMaster Contractors
Outdoor Pickleball Court Installation: Comprehensive services from initial construction to final surfacing.
Court Resurfacing: Maintenance and resurfacing services to keep courts in top condition.
Patching and Leveling: Additional products for patching, leveling, and crack sealing.
Successful Projects
As one of the leading pickleball court companies in the United States, SportMaster has an extensive track record of success, completing thousands of pickleball court installation projects across the country. A significant portion of these installations are located in California, making them a trusted and reliable choice for facility managers in the Golden State. Their nationwide network of installation partners and focus on high-quality, durable products solidify SportMaster's reputation as a go-to partner for pickleball court construction.
Certifications and Partnerships
Official court surface of USA Pickleball
Official surface of USPTA
Memeber of the American Sports Builders Association (ASBA)
4. Pickleball Builders
Pickleball Builders is a professional pickleball court construction company based in Escondido, California. With 20 years of experience in building courts, they specialize in serving both residential and commercial customers in Southern California. They pride themselves on being reliable and dedicated to bringing your pickleball court vision to life.
Services Offered for Pickleball Courts
New Construction: Building pickleball courts from scratch.
Resurfacing, Restoration & Repairs: Maintenance services to give your pickleball court some tender loving care.
Court Conversions: Services to convert existing courts into pickleball courts.
Court Accessories & More: Offering a range of accessories to complete your custom pickleball court.
Successful Projects
Serving a diverse clientele that ranges from five-star resorts and large private corporations to municipalities, homeowner associations, and individual property owners, Pickleball Builders has carved out a niche for itself in the SoCal region. With an abundance of experience under their belt, they have successfully completed numerous pickleball court installations. Their commitment to quality and customer satisfaction is evident in every project they undertake, making them a trusted name in pickleball court construction in Southern California.
5. Champion Sport Surfaces
Champion Sport Surfaces is a Northern California-based company specializing in the repair and resurfacing of various sport surfaces, including pickleball courts. With over a decade of experience in the industry, they serve a wide range of clients, including residential, commercial, and public works projects. Their goal is to provide long-lasting surfaces using materials akin to those used in professional sports events, all while ensuring customer satisfaction.
Product Portfolio
Champion Sport Surfaces offers pickleball court construction using either asphalt or post-tension concrete. The latter is their preferred method due to its ability to resist cracking and eliminate the need for control joints. They also emphasize the importance of a vapor barrier for concrete courts to avoid moisture issues.
Services Offered for Pickleball Courts
Pickleball Construction: Building courts from scratch.
Pickleball Surfacing: The process includes cleaning, crack and surface repairs, filling low areas, and the application of base and color coatings.
Successful Projects
Champion Sport Surfaces has earned a reputation as a respected builder in the Northern California area, with numerous successful pickleball court installations under their belt. Their expertise is evident in a variety of projects they've completed over the years. Notable examples include a pickleball court at Shasta High School in Redding, CA, another at Memorial Park in Grass Valley, CA, and a multi-sport court that includes pickleball in El Dorado Hills, CA. These projects showcase their commitment to quality and their ability to deliver durable, professional-standard pickleball courts.
Questions to Ask Potential Construction Partners
Before making a decision, arm yourself with the right questions:
What is your experience with pickleball courts specifically?

What is the projected timeline for completion?

Do you offer any warranties or maintenance services?

Can you provide references or case studies?
Constructing a pickleball court in California goes far beyond the simplistic notion of merely laying down asphalt and drawing boundary lines. The endeavor is a multifaceted one that demands meticulous planning, a nuanced understanding of the region's specific conditions, and the selection of a construction partner who can meet these unique challenges. Given California's diverse climate and stringent construction regulations, it's crucial to choose a company with a proven track record in navigating these complexities. 
Whether you're dealing with the dry heat of Southern California or the more temperate conditions in the North, each geographical area presents its own set of considerations that can impact the materials used, the court's durability, and even its playability. Therefore, the importance of partnering with a seasoned construction company, one that understands these intricacies and can guide you through the labyrinthine process, cannot be overstated. This is not just about building a court; it's about creating a lasting community asset that meets professional standards and withstands the test of time.