Outdoor Basketball Courts: Cost Calculator for Contruction Projects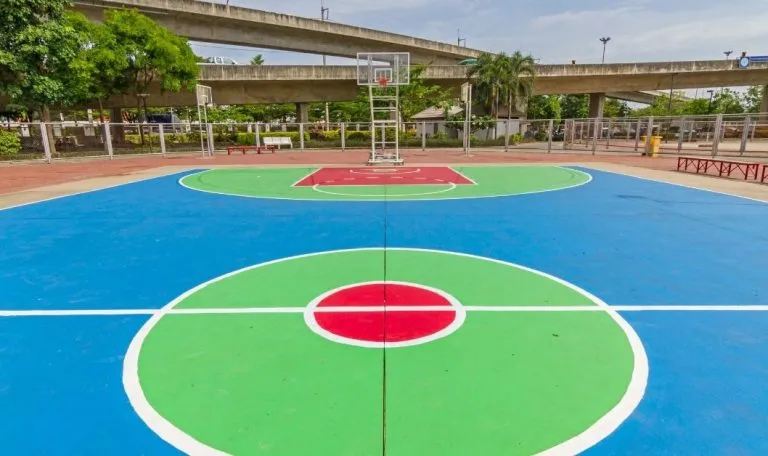 Installing a new outdoor basketball court is a great way to create a safe and fun place for the entire community to be active. A court can be a meeting place for friends and neighbors, a place for organized sports leagues, or simply a great way to get some exercise. The cost of an outdoor basketball court will vary depending on the size and features of the court, but there are some general things that you can expect to pay for when budgeting.
The cost of an outdoor basketball court for schools, commercial sport centers and municipalities start with a very rough price range of $12,500 – $115,000. That includes the costs of the substructure, base layer and the playing surface itself.  
What goes into the price of an outdoor basketball court installation project?
1 – Land Preparation
The first thing that you need to consider is the cost of preparing the land for the court. This can include leveling the ground, removing debris, and grading the area. 
Grading is the process of making sure the land is level and even. Land that isn't level will cause problems with drainage and can make playing on the court difficult. 
In addition to leveling the land, you'll need to consider the removal of any existing court structures. If you are replacing an outdated or dangerous court, you will need to factor in the cost of the demolition as well.
2 – Base and Subfloor
Once your land is prepared, you'll need to consider the cost of the base and subfloor. If we compared building a court to the construction of a house, the base and subfloor would be the foundation. 
The court surface, your players, and the equipment will all be resting on the base and subfloor, so it's important to make sure that it's properly constructed.
Some common materials for these layers are:
1. Asphalt 
One of the cheapest options on our list,  asphalt is a popular choice for many outdoor courts. The main advantage of using asphalt is the low initial cost. However, one downside to consider is that asphalt is sensitive to temperature changes. 
If the court is in an area with large temperature swings, you may find that the surface cracks and crumbles over time. Asphalt will also need to be regularly resurfaced every few years to maintain a smooth playing surface.
2. Compacted Base
A more durable option, a compacted base is made up of a mix of materials like sand, gravel, and crushed stone. The materials are combined and then compacted using heavy machinery. 
This process creates a very strong foundation that can withstand a lot of wear and tear. 
3. Concrete
Like asphalt, concrete is a popular choice for many outdoor courts because of its low cost. Concrete is also very durable, so it doesn't need to be resurfaced as often as asphalt. 
One downside to concrete is that it doesn't provide much shock absorption for your athletes. Minimizing the impact the court has on knees and ankles is an important factor to consider when choosing a base layer material.
4. Modular shock pad system
A newer option on the market, modular shock pad systems are becoming increasingly popular. These systems are made up of interlocking tiles that fit together like a puzzle. 
The tiles are usually made from rubber or another shock-absorbent material. This type of system is ideal for courts that will see a lot of high-impact use. 
The modular nature of the system also makes it easy to repair or replace individual tiles if they become damaged.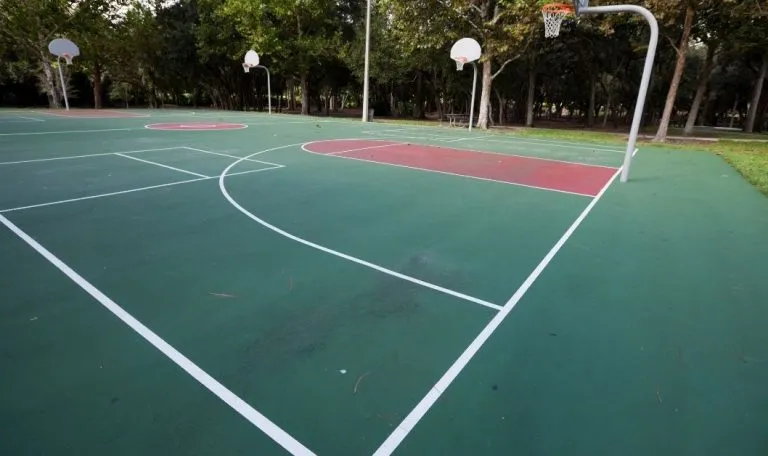 3 – Playing Surface Choice
Once you've chosen the base layer for your court, it's time to decide on a playing surface. The type of surface you choose will impact the look, feel, and cost of your court.
There are five main types of playing surfaces to choose from:
1. Modular sports court tiles
Like modular base layers, these tiles are pieced together to form the surface. Modular court tile systems are becoming more and more popular thanks to the ease and low cost of installation, excellent anti-slip and water drainage properties. They are also durable and can be used for multiple sports. They have great bounce for physical activity which helps you prevent injuries and create a safe playing environment for your students or customers.
2. Concrete
Concrete courts are a solid budget-conscious option. They're very durable and easy to maintain, but they don't provide much cushioning.
3. Asphalt
Asphalt is a popular choice for lower-budget courts as well. It's easy to install and provides a smooth surface for playing. However, it can get hot in direct sunlight and doesn't provide much in the way of protection for your athletes.
4. Multi-purpose artificial turf
When we think of basketball courts, we don't immediately think of artificial turf. But modern materials make it possible to install turf to play multiple sports on the same surface.
5. Polymeric rubber (EPDM)
One of the best options for a playing surface, polymeric rubber provides great cushioning and bounce. It's also slip-resistant, making it a good choice for outdoor courts that might get wet.
Choosing the right combination of materials is vital to the longevity of your court. Talking with a professional court installer early in the process will go a long way in producing great results.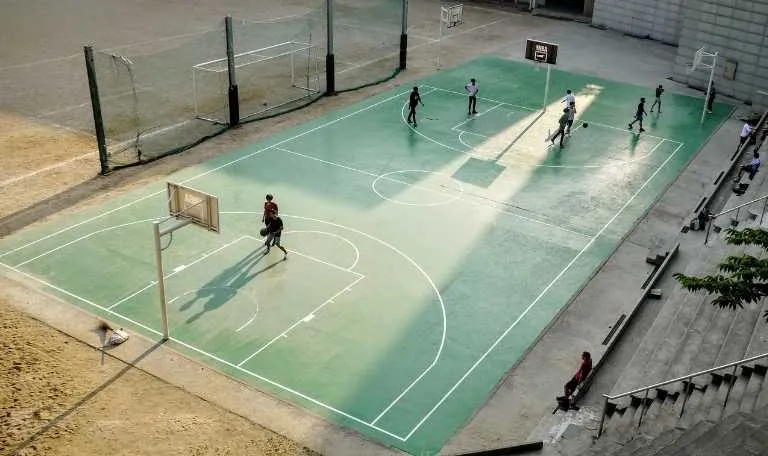 4 – Layout and Dimensions of the Court
Now that you have your surface material chosen, you need to think about dimensions. This is probably the most vital component of your overall price. To get started ask yourself:
What types of activities are you hosting? 

What level of competition will be participating?

Do you want multiple courts?
Depending on your answers to those three questions, you'll be able to start narrowing down the size and layout of your court. 
Here are some general guidelines: 
Shooting Court – 30ft x 30ft

3 vs 3 Court – 45ft x 35ft

Half Court – 50ft x 47ft

Full-sized Court – 94ft x 50ft (NBA, NCAA)

High School – 84′ x 50′

Junior High – 74′ x 42′
5 – Design Considerations
Now that you've got your court layout locked in, it's time to start making it unique. There is a multitude of design considerations when building a new outdoor basketball court. 
6. Line-markings
The level of play and the types of activities you are hosting will dictate the line-markings you need on your court. However, you can get creative and use special colors to fit your city or brand. 
7. Surface Colors
In addition to colors for your markings, you can choose colors for your surface. Differentiating the key from the rest of the court, or even the sidelines, is a great way to add some visual interest to your court. 
8. Custom Logos
Logos are a great way to add some personality to your court. You can use them to represent your city, school, or company. You can even place local or national sponsors (a great way to raise some funds for your project). 
9. Amenities
Finally, what types of amenities will you need for your court? 
Lighting
Since it's outdoors, you'll probably want some type of lighting system to illuminate your court. Night basketball (especially in the summer) is a great way to bring the community together and make use of your court when the temperatures are cooler. 
LEDs are an energy-efficient modern solution that will bring even light to your facility.
Fencing 
You might also want to consider adding a fence or other type of boundary system to define the playing area and keep balls from leaving the court. 
Fencing is also great for security and can be used to control access to your court. 
For Your Spectators 
You might also want to consider benches, water fountains, and other types of seating for spectators. 
Hoops and Scoreboards
What court would be complete without a hoop and scoreboard? 
You'll want to consider the type of hoop you need for your level of play. You might also want to include a shot clock or scoreboard to help facilitate your competitions.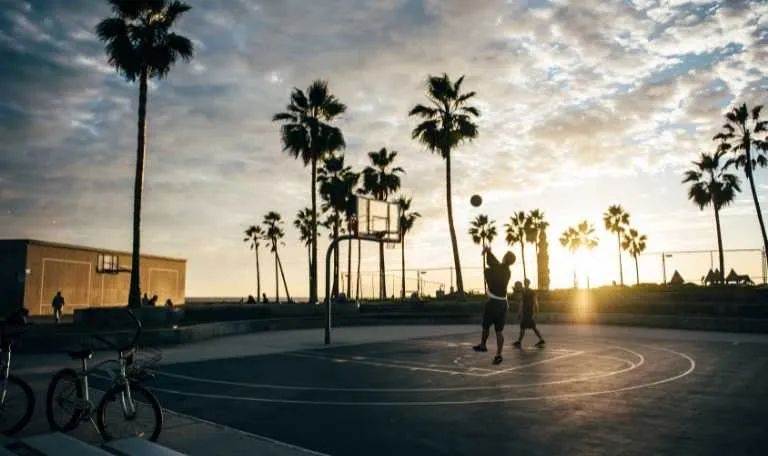 How to finance an outdoor basketball court construction project?
All of these components might sound like a lot. If you're worried about your budget, we have a few tips for you. 
Grants
One way to finance your project is to apply for grants. There are many organizations that offer funding for community projects like yours. Your local, state and federal government might also offer grant money. 
Sponsorships
As we mentioned before, you can use sponsorships to offset the cost of your project. This is a great way to get businesses involved in your community. 
Crowdfunding
If you're having trouble getting traditional financing, you might want to consider crowdfunding. Platforms like GoFundMe make it easy to set up a campaign and start raising money. Or you could do it the old-fashioned way and host a bake sale or car wash!
How to choose the right sports court contractor for your project?
As you can see, the price of a court can add up quickly. However, it's not the only factor to consider when installing an outdoor basketball court. 
Choosing the right contractor can make all the difference in the world. Here are a few questions to ask when vetting possible partners: 
What experience and know-how do they have?

Ask if they've installed outdoor courts before and ask to see some examples in your area. 

Are they skilled in completing projects similar to yours?

Find out what types of locations your potential contractor has worked on in the past. If they've only completed residential projects, they might not be the right fit. 

Where are their vendors located?

Ask if they source all of the materials locally or stateside. If they are using foreign suppliers, ask for references and find out as much as you can online about the source. 

Do they offer post-installation services?

Some providers offer maintenance programs that can help alleviate the cost of upkeep.

What is the warranty?

Get everything in writing and make sure you understand what's covered (and for how long).
Doing your due diligence in the planning stages of your project will help ensure a successful outcome for your outdoor basketball court.
Keep these tips in mind and you'll be sure to find the perfect court and contractor for your needs.
Need a quick cost estimate? Our outdoor basketball court calculator can help! Just enter your project details and we'll give you a ballpark (or court) price range. We work with some of the nation's leading contractors, and we can connect you with the best.