Multi-sport courts: Cost Calculator and Grant Programs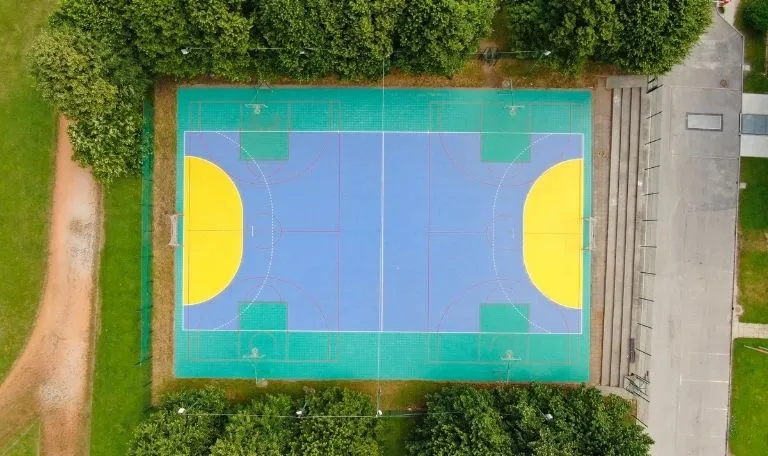 If you're like most athletic directors or coaches, you understand the importance of having a versatile and reliable multi-sport court. However, what you may not know is how much it will cost to have one installed at your school or facility. 
Building a multi-sport court is a great way to provide a space for a variety of sports. Modular sport court tile systems are especially popular for multipurpose use. They can be used for everything from tennis to basketball to pickleball. And, they are a great addition to any community. 
We don't want to bury the lead here, so we'll give you a price range upfront. 
The average cost to install a multi-sport court for a school or a commercial sports complex ranges somewhere between $26,000 and $128,000. A stark difference between the low-end and the high-end comes down to the decisions you make throughout your planning phase. The specific needs of your facility will impact the total price.
There are a few main factors that go into the overall cost of a multi-sport court, including the type of court you choose, the size of the court, and the company you hire to install it. 
However, when you start to research, plan, and budget for your new court, you'll uncover some intricate details that impact the final price.  
Here's a look at everything you need to know about the cost of a multi-sport court.
If you are in a hurry and just want to get a customized cost breakdown for your multi-sport court installation project, use our outdoor sport court cost calculator. 
What influences the cost of a multi-sport court?
Before diving into the nitty-gritty of multi-use sports courts, let's take a look at some of the more obvious and basic factors that affect the cost. 
Layout and dimensions of the court
Size
The first and most significant factor in the cost of a multi-sport court is size. More square footage usually means a higher price tag. The size and area that your court will take up will depend on several things: 
1 – The types of sports you want to play 
The more sports you intend to host, and the more intricate the dimensions of each sport, the larger your court must be. You'll want to be sure you know exactly what activities will be hosted before you start planning your court. 
2 – The level of competition you're hosting 
If you're only hosting elementary school games and practices, you won't need as large of a court as you would if you're also hosting high school or collegiate-level events. 
3 – The age group playing 
Larger athletes need more space than young children. If your main focus is on recreation for all ages, be sure to factor in additional space for older athletes. This additional space should include sidelines, walking areas, and enough space for spectators. 
In general, when planning the size and dimensions of your multi-use court, you need to know the exact width and length. Working with a professional court installer early in the process will help you determine the perfect dimensions for your facility. 
Here are some common dimensions by type of facility:
Schools and City Recreational Centers
These more relaxed settings can have small or half courts measuring 26ft x 46ft, or full-sized multi-sport courts of 56ft x 90ft. 
Commercial Sports Centers
Higher-level centers can range from 60ft x 120ft to 100ft x 120ft. They will typically host a full-sized court, plus one or two smaller half-sized basketball courts. Here's an example:
1 Multi-sport court + half basketball court

1 Multi-sport court + two pickleball courts

1 Multi-sport court + basketball shooting court
Land preparation
Once you've decided on the size, layout, and dimensions of your multi-use court sports facility, it's time to plan construction. Multi-use facilities will require some extra planning when it comes to land preparation.
Not all property is created equal. The land that your facility will be built on will have a big impact on the price of construction.
Some things to consider:
1 – The type of ground you're working with at your site
If you're starting from scratch on undeveloped land, there's a good chance you'll need to level the ground before you can start building. This process is called site grading, and it can cost a lot to level your area.
2 – If the ground needs to be prepped for utility installation
You'll need water, electricity, and possibly gas to run to your site before construction can begin. The price of this will vary depending on how far away these utilities are from your proposed build site.
3 – If there are any obstacles in the way
Trees, large rocks, and other obstacles will need to be removed before construction can begin. This process is called clearing, and it can add a significant amount to your total price tag.
These are just a few of the considerations you need to make for land preparation. To better understand the full cost of this phase of construction, be sure to consult with a professional court installer.
Subfloor
Moving up from the land it rests on, is the subfloor of your new court. The subfloor is the layer of material between the ground and the playing surface. It provides a stable foundation and base for your court.
There are several different types of subfloors that can be used for multi-sport courts, each with its own unique benefits and drawbacks. The type of subfloor you choose will have an impact on the price of your project.
The most common types of subflooring are:
Concrete
Concrete is the most popular type of subflooring for outdoor courts. It's durable, low-maintenance, and relatively affordable. The price of a concrete subfloor will vary depending on the amount of concrete needed, as well as the cost of labor in your area.
Asphalt
Asphalt is another popular type of subflooring, particularly for tennis courts. It's a bit more expensive than concrete, but it's also easier to repair and maintain.
Playing surface material
Next, you'll need to consider the surface for your multi-use court. There are several popular options available, and the type of material you choose will have a big impact on the price of your project.
The most common types of playing surface materials are:
Modular sports court tiles
Modular tiles are a popular choice for multi-sport courts. They're easy to install, low-maintenance, and offer good traction and ball bounce.
Multi-purpose artificial turf
Artificial turf is another popular option for multi-sport courts. It's durable, low-maintenance, and can be used for a variety of sports.
Concrete
Concrete is a popular choice for outdoor courts. It's one of the cheapest but offers the least amount of protection for your players.
Asphalt
Like concrete, asphalt courts are a popular choice. But in climates with extreme weather, they can be tough to maintain over the years.
Polymeric rubber (EPDM)
EPDM is a type of rubber that's used in many commercial and residential applications. It's durable, weather-resistant, and has excellent ball bounce and impact absorption.
Be sure to consult with a professional court installer to determine the best playing surface material for your needs and budget.
The case for modular sports court tiles
1 – Outdoor modular sports court tiles are easy and quick to install (and dismantle), which also means that you will save money on labor costs independent of your geographical location.
2 – Modular court tiles are made of PVC, which provides excellent anti-slip and shock-absorbing properties. Your knees and ankles will thank you later!
3 – Modular tile courts have optimal water drainage properties thanks to the vented surface that allows water to drain from the surface, preventing water from collecting on the playing field.
4 – Modular court tiles come in various colors which allows you to design the look of the playing surface to suit your team, brand, or sports facility. You can even play with different color combinations to create multi-colored playing surfaces and attract more attention to your sports facility.
5 – Outdoor modular sport court tile systems can be used for multiple sports, from basketball and soccer to volleyball or badminton, whether you are planning to install a court for a school, college, municipality, or a commercial sports center.
Try our outdoor sports flooring cost calculator to get a customized cost estimate for a modular sports court tile floor for your sports facility.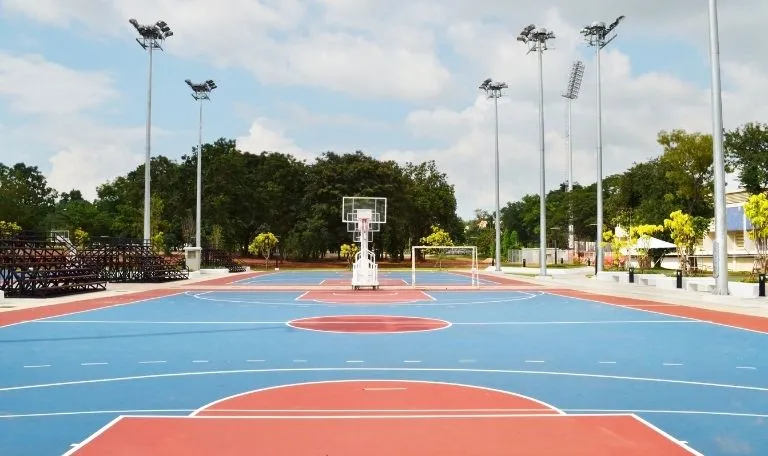 Cost of multi-sport court maintenance and resurfacing
When planning your new court, its entire lifespan needs to be considered. That means thinking ahead to maintenance, resurfacing, and the inevitable replacement of your materials.
Annual maintenance costs $1,500 – $4,000
Routine maintenance is vital to the longevity of your multi-sport court. It helps to prevent big problems down the road and keep your court looking and playing its best.
Most experts recommend having your court professionally cleaned and inspected at least once a year.
Resurfacing costs around $4,000 – $10,000
Resurfacing is cheaper than the alternative of replacing your entire court. But it's still a significant investment that should be factored into your budget.
he frequency of resurfacing will depend on the type of playing surface material you choose, as well as how often your court is used.
As a general rule of thumb, modular tiles and concrete need to be resurfaced every 25-30 years, while artificial turf can last up to 8-15 years before it needs to be replaced.
Eventually, you'll need to replace your playing surface material entirely. The lifespan of your court will depend on the type of material you choose and the maintenance plan you create with your installer.
Getting the most out of your court
Consistent and proper maintenance is the key to getting the most out of your court. 
By following a regular cleaning and inspection schedule, you can extend the life of your playing surface and avoid costly repairs or replacements down the road. 
Experts recommend outdoor courts, and heavily trafficked surfaces are professionally cleaned every 12 – 18 months. Repainting lines, light cleaning, and spot repairs may need to be done more frequently. 
All courts should be inspected regularly for any damage, irregularities, or wear and tear. This will help you spot any issues before they become major show-stopping problems.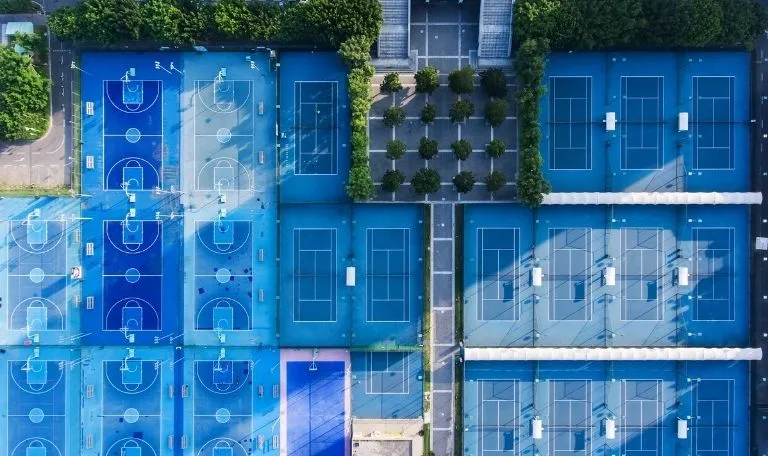 How to finance your multi-sport court construction project?
The cost of building a multi-sport court can vary widely, depending on the size and complexity of the project. Here are a few tips to help you finance your construction project: 
1. Grants
There are a number of government grants available to help offset the cost of building a multi-sport court. Federal, state and local programs are available, so be sure to do your research to see if you qualify. 
2. Crowdfunding
Crowdfunding is a popular way to finance construction projects. Platforms like Kickstarter and GoFundMe offer a way to solicit donations from friends, family, and strangers. 
3. Loans
If you are starting a new business venture or expanding an existing one, a personal loan can be a good option to finance your construction project. Be sure to shop around for the best rates and terms. 
We have aggregated a long list of sports facility grants and funding opportunities that may apply to outdoor sports flooring installation projects. Take a look! 
Get a cost estimate for budgeting at an early stage
It's vital to understand the overall costs of your project before breaking ground.  To get a general idea of the cost of your project, consult with a local court installer. 
They will be able to give you an estimate based on the size and complexity of your project.  Working with a trusted multi-use court installer in your area will ensure that your project stays on budget – no matter what arises.  
Be sure to take your time and do your research to find the best court installer for your needs. 
Need a quick estimate for your multi-use court project? We can help! Our easy-to-use outdoor sports court cost calculator will give you a rough estimate of the cost to build your dream court.