Mini Soccer Pitch Design & Cost Guide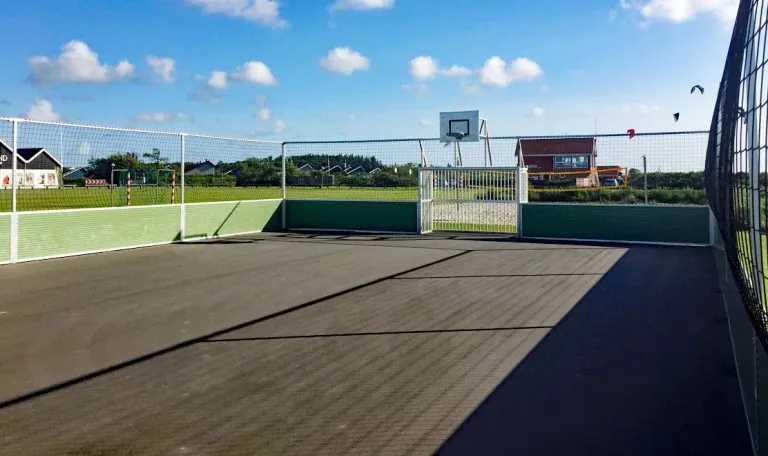 Mini Soccer Pitch System: What is it?
Since these types of fields are still relatively new in the United States, you may be wondering what exactly is a mini-soccer pitch system, also known as, a mini-soccer field, micro soccer pitch, or small-sided soccer field. In short, it is a smaller version of a regulation-size field that is designed for recreational or amateur play. The dimensions are typically around 60 yards by 40 yards, however, they are customizable to fit any space and need. 
The mini-pitch system comes complete with a LED sports lighting system, as well as fencing, goals, benches, and lockable storage. Assembly can be done within a few weeks, depending on the size and amenities of the pitch, saving you money on installation. It's a truly ready-made solution for your club, school, or city.
There is a long list of variables that influence the cost of installing a mini-soccer pitch. Further down the article, we will go through the influencing factors one by one. However, if you are planning to build a mini soccer field for your facility, you can expect the final price to land somewhere between $44,000 – $125,000. 
Try our mini soccer pitch cost calculator to get a customized cost estimate for your project.
The design of your mini soccer field will have a big impact on the construction costs.  First, you'll need to decide the number and size of your fields. Mini soccer pitch systems come come in many shapes and sizes which makes them easier to install in urban environments where finding space for sports facilities can be challenging. 
Mini soccer pitch dimensions
Here's a quick breakdown typical dimensions for mini soccer fields in the United States:
49 x 32 feet (1,568 sq ft)

66 x 43 feet (2,838 sq ft) 

66 x 131 feet (8,646 sq ft)

79 x  49 feet (3,871 sq ft)

82 x 148 feet (12,136 sq ft)

98 x 49 feet (4,802 sq ft)

98 x 164 feet (16,072 sq ft)

115 x 197 feet (22,655 sq ft)
As you can see, the price will vary greatly depending on the size of your field. Knowing who will be using the facility, as well as the level of play, will help you determine the best dimensions for your needs. 
Indoor Mini Soccer Pitches
The fantastic thing about mini soccer fields is they can be built indoors as well as outdoors. However, there are a few key differences you'll need to consider when planning your facility. 
For example, an indoor field will need specialized lighting and ventilation to create an optimal playing environment. This can add to the overall cost of the project but is a necessary expense if you want to use the space year-round. 
On the other hand, an outdoor facility will require a drainage system to ensure proper drainage and avoid flooding. This is a crucial component in any sports facility and one that should not be overlooked.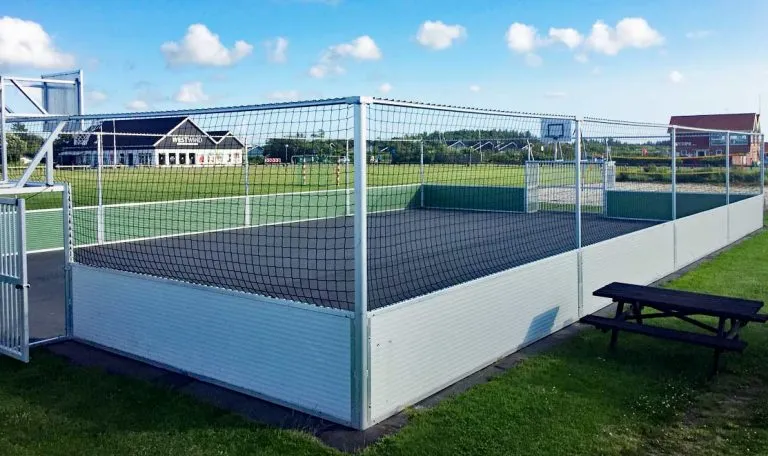 Mini Soccer Pitch Construction Process
 

1 – Land & Site Preparation

The first step in any construction project is preparing the land. This includes clearing and leveling the area where the facility will be built. 

It's important to work with a professional installer who has experience preparing sites for mini soccer fields. They will know how to properly grade the land to ensure proper drainage and avoid any flooding issues. 

This is a crucial step in the construction process and one that should not be overlooked. 
2 – Base Layer & Drainage System
The next step is to start working on the base layer and drainage for your facility. 
This is typically done by excavating the area and installing a gravel base. Once the base is in place, a drainage system will be installed. 
The type of drainage system you need will depend on the location of your facility and the amount of water that needs to be drained. Wetter climates will require more elaborate systems than drier areas. However, even in dry climates,  it's important to have a drainage system in place to avoid damage to your surface.
3 – Subfloor
After your base layer is created, you'll need a subfloor. 
The subfloor is the layer upon which your playing surface will be built. It provides stability and support for your playing surface.
There are a few different options when it comes to choosing a subfloor material. The most popular choices are:
Concrete

Asphalt

Gravel

Modular sports pads
Consult with your installation partner to make the best choice for your project. 
4 – Playing Surface
Last but certainly not least, is the playing surface. 
This is the part of your facility that everyone will see and use on a daily basis, so it's important to make the right choice. 
There are a few different options when it comes to playing surfaces, but the most popular choices for mini soccer fields are:
Artificial turf
Perhaps the most obvious choice for a mini soccer field playing surface is artificial turf. It's rugged, durable, and can withstand a lot of wear and tear. Artificial turf will instantly give your facility the look and feel of a traditional soccer field. 
Artificial turf is a fantastic choice for outdoor courts because it offers superior drainage to other options. 
Granulated surface (rubber, EPDM, polyurethane)
Another great choice for your mini soccer field playing surface is granulated surfaces. These surfaces are made from rubber, EPDM, or polyurethane and offer a number of benefits. 
Granulated surfaces are slip-resistant and have excellent drainage properties. They provide a nice spring for your players – keeping everyone safe during competition. 4,802 sq ft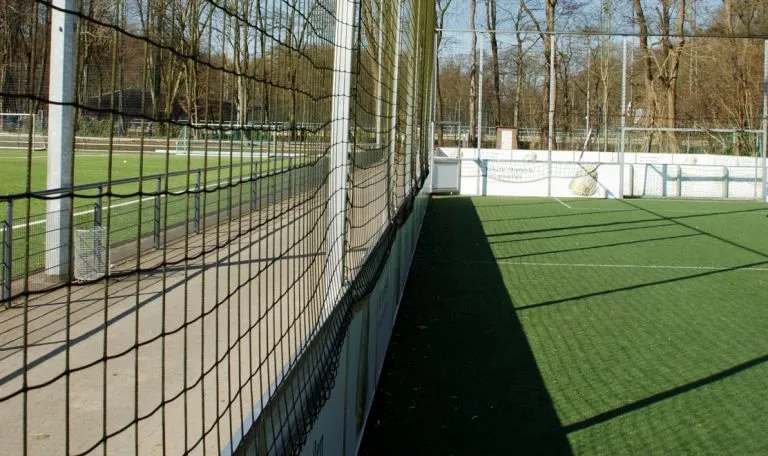 Mini Pitch System Installation Cost
There are a host of different vendors, suppliers, and types of mini soccer fields available. This means that costs can vary, depending on the size and amenities of the pitch.
On average a mini soccer field costs somewhere between $44,000 – $125,000 per field.  
Your final cost will be contingent upon: 
Number of fields

Dimensions of the playing area

The type of playing surface

The amenities added to your facility 
These are just a few of the cost considerations you need to make when planning. However, it's a great starting point to give you an idea of what you can expect to spend. For a more in-depth budgetary plan, it's best to partner with a professional installer as early as possible. They will guide you through the planning process and help you hone in on your mini soccer pitch system construction cost. 
Try our mini soccer field cost calculator to get a customized cost breakdown for your project.
| Mini Soccer Field System Component | Cost range |
| --- | --- |
| Ground preparation and substructure | |
| | |
| Soccer Goals for Soccer Courts | |
| | |
| Artificial grass / outdoor sports floor | |
| Delivery and installation | |
| LED Sports Lighting System | |
Maintenance Cost
In addition to construction, you'll need to consider the cost of maintenance. Regular and routine upkeep is essential to keeping your facility in top shape.
The frequency of maintenance will depend on a few key things:
The type of surface

Amount of use

Level of play

Your local climate
Most installation companies will offer maintenance services to help alleviate some of the burden from your staff. This is typically an additional cost, but one that is worth considering to keep your facility running like new.
Resurfacing Cost
With any sports facility and field, there will come a time when resurfacing and repairs will be needed.
Don't overlook this crucial part of the budget!
Be sure to factor in around 50% of the total construction cost every 8 to 15 years for resurfacing. This will help you stay ahead of any major repair projects and keep your facility looking and performing its best.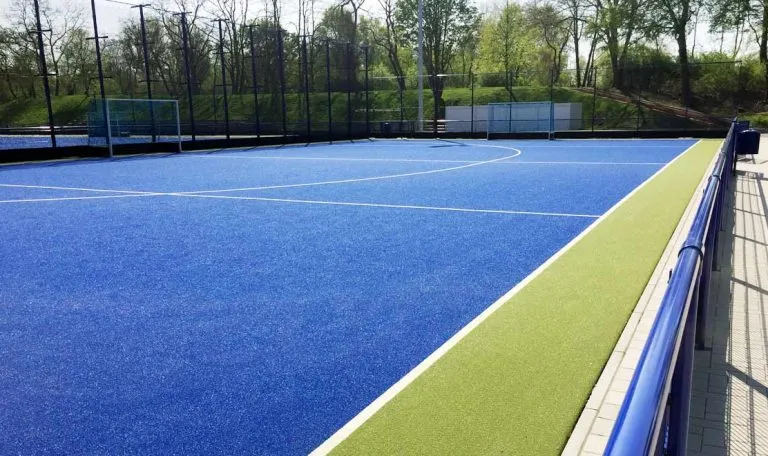 Other considerations for your Mini Soccer Field
Customization
We could spend a lot of time on the potential for customizations, but here's a quick list of the most common and popular choices: 
Logos and sponsor names on the court and exterior walls

Unique colors for the surface to reinforce branding

Line markings are important for soccer. But if you plan on hosting other sports or events, you may want to consider painting lines for those as well.
LED Lighting System
Whether indoors or outdoors, you'll need to light your new mini soccer facility. The most economical choice is LED lighting systems. 
When it comes to LEDs, here's what to consider:
The number of poles needed

Quality of the fixtures

Illumination level needed
All of these will depend on the level of play you are planning on hosting, as well as the size of your facility. An expert installer will know just what to recommend. 
Accessories
No mini soccer facility is complete without the right accessories. Here are a few of the must-haves: 
Goals – Obviously, you'll need goals for your matches! But did you know that there are different types of goals? You'll want to consult with an expert to ensure you're getting the right ones for your project. 
Fencing – Fencing is another key element of your mini soccer facility. It serves several purposes, including keeping the ball on the court and providing a barrier between your court and the rest of the world. 
Lockable storage –  You'll need somewhere to store all of your equipment when you're not using it. Lockable storage is the best way to keep everything safe and sound. 
Amenities
Last but not least, don't forget the amenities! Water fountains, restrooms, and a place to change are all important for your players' comfort. 
For spectators, consider bleachers,  concession stands, and a covered area in case of inclement weather.
How to find grants and funding opportunities for a mini soccer field construction project?
There's a lot to consider when pricing the construction of a new mini soccer field. Luckily, there are a few ways to offset the cost of your project. 
Grants
One way to do this is by applying for grants. There are a number of organizations that offer grant money for sports-related projects. 
The US Soccer Foundation, for example, offers grants for mini soccer field construction projects. They also offer training programs and resources to help you get the most out of your new facility. 
Sponsorships
Another way to offset the cost of construction is through corporate sponsorships. Many businesses are happy to support local sports teams and facilities. This is a great way to get the community involved in your project. 
Crowdfunding
Finally, you could also consider crowdfunding. This is a relatively new way to finance projects, but it's become increasingly popular in recent years. 
With crowdfunding, you can set up a campaign and solicit donations from the community. This is a great way to get people involved and invested in your project. 
Calculate the costs at an early stage
Understanding the cost of a mini soccer field construction project is essential. Getting an estimate early in the process will help you budget for the project and make sure it stays on track. 
We have an easy-to-use cost calculator ready to help you get started. Just enter in some basic information, and receive an estimate of the costs associated with your project. 
Get started today and be one step closer to bringing your mini soccer dreams to life!