Top U.S. Basketball Court Companies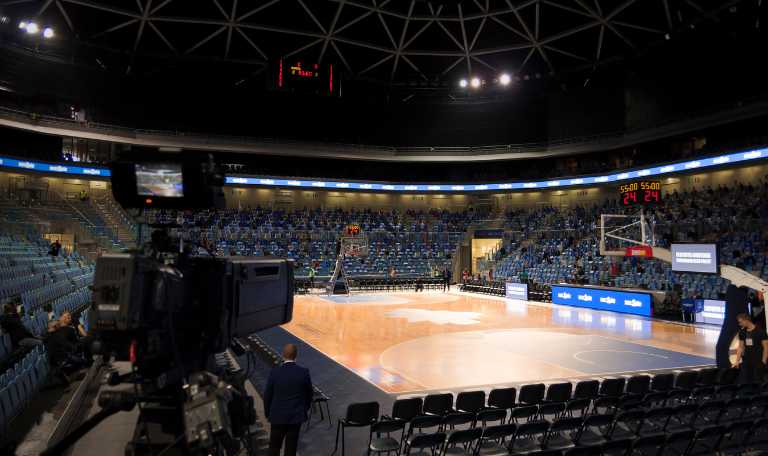 Basketball's imprint on the American sports landscape is indelible, with its rhythm pulsating through the veins of educational institutions and professional complexes alike. For those charged with the stewardship of athletic facilities, the task of erecting or revitalizing a basketball court is a venture of considerable scale and importance. This article is crafted to navigate the terrain of basketball court companies throughout the United States, offering insights to facility managers and community developers who stand at the forefront of fostering athletic excellence.
Get Your Basketball Court Project Started
We've created a comprehensive set of tools designed to assist facility managers and project planners in initiating their projects and connect them with the professionals in the industry.
Navigating the Court Construction Arena
The quest to build a basketball court in the United States is as varied as the country's geography itself. From the sweltering heat of the southern border states to the frosty conditions of the north, the choice of construction materials and court design must be tailored to withstand an array of environmental challenges.
Compliance with a Patchwork of Regulations
The United States does not have a one-size-fits-all approach to building regulations. Instead, it presents a mosaic of local and state ordinances that govern construction practices. A discerning facility manager must, therefore, align with a construction partner that is adept at maneuvering through this regulatory patchwork, ensuring that the project adheres to the pertinent codes and environmental directives.
Budgeting for the Bounce
The financial aspect of court construction is as critical as the physical build. With the cost of labor and materials not being constant coast-to-coast, a prudent budget that reflects the economic realities of the locale is paramount to the project's feasibility and success. 
Different Types of Basketball Court Companies
The industry is populated by a cadre of specialist basketball court companies, each bringing their expertise to the court:
Full-Service Providers offer comprehensive solutions from design to installation.
Manufacturers focus on producing high-quality court materials.
Installers are experts in laying down the court as per design specifications.
General Contractors oversee the entire project, often subcontracting to niche specialists.
Selecting a Construction Partner
When choosing a company, consider their national experience, portfolio diversity, customer feedback, budget alignment, and customization capabilities. These factors are crucial in ensuring a successful basketball court project.
Comparing Basketball Court Companies
Knowing how to compare basketball court companies is pivotal to the success of your endeavor. It's essential to weigh their industry tenure, project diversity, client feedback, financial alignment, and the ability to tailor to your needs. Here's how to approach this decision-making process:
Track Record: Seek out a firm with a robust history of delivering basketball court projects with excellence.
Project Showcase: Examine the firm's previous work to evaluate their craftsmanship and design capabilities.
Client Satisfaction: Read through client testimonials to discern the firm's standing and consistency in client satisfaction.
Financial Feasibility: Verify that the firm's services align with your financial parameters and project timeline.
Personalization Prowess: Ensure the firm has the flexibility to incorporate unique design elements and features you desire.
Code Knowledge: Ascertain that the firm is well-versed in the specific building codes of your area and adept at navigating the permitting process.
Effective Communication: Choose a firm known for its transparent and proactive communication practices.
Assured Quality: Look for a firm that stands behind its work with solid warranties and aftercare services.
Basketball Court Companies in the U.S.
Ecore
Ecore's sports flooring products in the U.S. are designed to cater to a wide range of athletic activities, providing surfaces that are tailored to the needs of athletes and facilities. The company's sports flooring line is extensive, covering everything from gymnasiums and fitness centers to weight rooms and indoor tracks.
Products offered
Ecore's flooring solutions, perfected over decades, deliver performance-grade, impact-absorbing, and slip-resistant floors to elite sports facilities globally, ensuring athlete and staff safety for optimal competition focus.
Composition Rubber: Ecore's VCR surfaces offer slip resistance for sports areas, suitable for both cardio and strength training zones. Products include Performance Monster, Beast Plus, Beast, Rally, Modzilla, and UltraTile.

Turf: Ecore's durable turf is designed for various athletic activities, offering safety and performance enhancements when attached to a base layer. Options include FlexTurf Monster, FierceTurf Monster, RageTurf Motivate, Rally, BattleTurf, and ClashTurf.

Heterogeneous Vinyl: These floors feature a durable, design-flexible top layer bonded to a rubber base for safety and comfort. Varieties include Bounce 2, Baller Motivate Class I, and Baller Rally Class II.

Safety Vinyl: Ecore's safety vinyl is slip-resistant and ideal for wet areas, merged with a rubber base for extra protection. HydroGrip Motivate is an example of this product.
Customization and Design
Ecore emphasizes that their flooring solutions are customizable with options for colors, logos, and graphics, ensuring that facilities can find floors that meet their specific needs and aesthetic vision. The company's focus on safety, performance, and ergonomic design is evident across all product lines, aiming to keep athletes safe while enhancing their performance through floors that are less stressful on joints and muscles and that facilitate energy return for quicker recovery.
Certifications
Here is a condensed list of some of the certifications Ecore has earned throughout the years:
Environmental Product Declaration (EPD) – Confirms product life cycle assessment compliance and LEED v4 suitability.
Health Product Declaration (HPD) – Discloses product ingredients' health impacts, aligning with LEED v4.
LEED – Products designed to assist in earning LEED points for building materials and indoor environmental quality.
FloorScore – Certifies products for low indoor air emissions, suitable for schools and office buildings.
MindClick Sustainability Assessment Program (MSAP) – Ecore products rated as Leader for environmental and social impact.
Get In Contact
Business address: 715 Fountain Ave. Lancaster. 17601
Phone number: 866-795-2732
Robbins
Robbins Flooring stands out as a premier basketball court manufacturer in the United States, providing cutting-edge, safety-oriented flooring solutions. Their products are a testament to the company's dedication to athlete welfare and performance enhancement. With a client roster that includes elite NBA and NCAA teams, Robbins Flooring's reputation is bolstered by its commitment to research and development, resulting in floors that minimize injury risk and maximize comfort. These high-performance floors are scientifically proven to offer exceptional vibration control, optimal deflection, and consistent ball bounce, leading to noticeable reductions in player fatigue and quicker recovery times.
Products offered
Robbins Flooring provides a variety of floor systems designed for athletic performance and safety. Their offerings include:
Hardwood sports flooring systems
MVP™: Reduces vibration for athlete safety, with excellent energy return.
Bio-Channel®: Durable, anchored floors with long life and low costs, supporting heavy loads.
Eclipse™: Economical, anchored system for optimal safety and performance, supporting heavy equipment.
Air-Channel® Star: Sleeper system with added comfort, suitable for heavy loads.
All-Star™ Plus: Portable system for quick setup and durability, with customizable graphics.
Danzaire™: Sprung dance floor designed to prevent excessive rebound, with energy-return features to reduce fatigue and injury.
Synthetic sports flooring systems:
Pulastic®: A multi-purpose synthetic option with a seamless, easy-to-clean surface, offering long lifespan and low maintenance costs.
Galaxy®: A durable rubber flooring designed for intense use in weight rooms, incorporating recycled rubber for LEED credit eligibility and featuring anti-microbial properties.
Durathon®: High-performance rubber flooring preferred by top NCAA and professional track programs, resistant to wear from track spikes and athletic use.
Robbins Fusion Systems: Multi-purpose flooring that combines different surface types, like wood and synthetic, for versatile sporting needs.
Pulastic® Combi Systems: A dual-layer floor with a synthetic surface atop a wood subfloor, providing durability, color options, and injury risk reduction.
Successful Projects
As a leading name in the sports flooring industry, Robbins boasts an impressive portfolio of successful installations. Below is a curated list of some of their key projects:
Drake University – Des Moines, IA

Charlotte Hornets – Charlotte, N.C.

The Advocate Center – Chicago, Ill.

Calvin College – Grand Rapids, Mich.

Newport Central Catholic HS – Newport, KY
Certifications and memberships
Founding member of the Maple Flooring Manufacturers Association (MFMA)
Robbins Flooring systems hold FloorScore® certification, ensuring low VOC emissions for better indoor air quality and supporting LEED building standards.
Get In Contact
Business address: 4777 Eastern Avenue
Cincinnati, OH 45226
Phone number: 800.543.1913
Versacourt
VersaCourt produces and installs a wide range of safe, top-quality, high-performance court systems designed to unite families and communities. With one of the broadest selections of indoor and outdoor sport tiles, VersaCourt provides an array of colors, game lines, accessories, base options, and customization possibilities, surpassing most competitors in the industry. VersaCourt operates across the United States, offering its comprehensive range of court systems and installation services nationwide making it one of the top basketball court companies in the industry.
Products Offered
VersaCourt specializes in, easy to install, sport court tiles for a range of applications, including basketball, tennis, pickleball, volleyball, hockey, and roller derby. Their products are known for durability, safety, and low maintenance, with options for both indoor and outdoor use. VersaCourt's unique Court Lock technology enhances security for public courts by deterring theft, ensuring that their commercial installations remain safe and intact. This technology, along with their customizable court designs, positions VersaCourt as a versatile provider for recreational and competitive sports flooring.
Successful Projects
VersaCourt is recognized for its innovative sports surfacing used by a diverse range of organizations, including schools, parks, sports facilities, and resorts. 
The company has been involved in several notable projects, such as the playground updates for Christian Heritage School in Dalton, Georgia, and The Meadows School in Las Vegas, Nevada. These projects showcase VersaCourt's commitment to creating fun, safe, and organized play areas. 
Additionally, Crosspointe Church in Dalton, Georgia, utilized VersaCourt's services to revitalize their outdoor space for community activities and events. 
Certifications & Partnerships
ISO 9001:2008 Certified
VersaCourt tennis courts are ITF tested and rated for both recreational and competitive use.
Official supplier of portable volleyball courts to the New England Regional Volleyball Association.
Get In Contact
Business address: 138 Duckworth Rd., Dalton, GA 30721
Rhino Sports
Rhino Sports stands out as a leading developer, manufacturer, and installer of athletic courts across the United States. Renowned for creating high-performance and long-lasting courts, Rhino Sports meets the needs of a diverse clientele, ranging from amateur enthusiasts to professional athletes. The company is committed to incorporating cutting-edge technology in its court designs, ensuring they deliver top-tier athletic performance.
Nationwide Services
Rhino Sports is adept at engineering outdoor basketball courts that resist the wear and tear of diverse American climates. They offer comprehensive services that cover the entire lifecycle of a basketball court, from the bespoke design tailored to meet specific client needs to the meticulous execution of construction. Post-installation, Rhino Sports continues to support its clients with maintenance and resurfacing services to ensure that courts remain in prime condition for years to come. Their attention to detail extends to the quality of play, with flooring solutions designed for durability and consistent performance, including the acoustics of gameplay.
The Rhino Court Tile Innovation
With over two decades of research and development, Rhino Sports has perfected its Rhino Court tile, a proprietary product that epitomizes the fusion of performance and durability for outdoor basketball courts. This innovation is the result of years of dedication to quality and performance, resulting in a playing surface that can endure the rigors of weather and intense play while providing an optimal experience for players, right down to the sound of the basketball shoes on the court.
Expansive Project Portfolio
Rhino Sports boasts a proven track record of delivering successful basketball court projects in a multitude of environments, from private residences to expansive commercial sports complexes, public parks, and academic settings. Their operational footprint extends throughout the United States and into Canada, demonstrating their capacity to address a wide array of client demands and project scopes with the same level of excellence and commitment.
Broad Service Reach
Rhino Sports caters to a national market, bringing their specialized services to clients in residential, commercial, municipal, and educational sectors across North America. This widespread operation underscores their versatility and the widespread trust in their ability to deliver superior outdoor basketball court construction services from coast to coast.
Get Your Basketball Court Project Started
We've created a comprehensive set of tools designed to assist facility managers and project planners in initiating their projects and connect them with the professionals in the industry.
Connor Sports
Connor Sports is a prominent U.S. hardwood sports flooring company established in 1872. It supplies high-quality portable and permanent floors to high schools, sports complexes, NCAA facilities, and professional NBA and WNBA teams. As the official court provider for the NCAA March Madness and Final Four since 2006 and a supplier to NBA and WNBA champions, Connor Sports is a trusted name for championship-level basketball flooring. The company's offerings also extend to dance and performance stage systems, demonstrating its versatility and commitment to serving a wide range of athletic and performance needs.
Products Offered
Connor Sports specializes in a variety of flooring systems designed to meet the needs of different types of athletic and performance activities. Here's an overview of the types of flooring systems they offer:
Hardwood Basketball Courts: Connor Sports is well-known for its high-quality hardwood basketball courts, which are used in professional leagues, collegiate arenas, and high school gyms. These courts are designed for durability, safety, and performance, with options for both permanent installations and portable solutions for event venues.

Gymnasium and Multi-Purpose Floors: The company provides flooring suitable for a variety of sports and activities, ensuring versatility for gymnasiums and multi-purpose athletic facilities.

Volleyball Courts: Connor Sports designs floors that cater to the specific needs of volleyball play, focusing on athlete safety and optimal ball response.

Aerobic and Dance Floors: Their flooring solutions for aerobic and dance activities are engineered for resilience and comfort, accommodating the dynamic movements and providing the necessary support for performance.

Weight Room Flooring: Recognizing the need for high-impact and heavy-duty use, Connor Sports offers specialized flooring that withstands the rigors of weight training and equipment.
Below is a shortlist of some of Connor Sports' completed projects. These projects demonstrate Connor Sports' range in serving various segments including NBA practice facilities, community centers, middle and high schools, and universities across different regions of the United States. 
Philadelphia 76ers Practice Facility (NBA, East)
Osceola Arena Gymnasium (Community, Southeast)
Bellview Middle School (K-12, Southeast)
Stockton University (University, East)
Clarion University (University, East)
College of Wooster (University, Midwest)
Collierville High School (K-12, Southeast)
Ohio State University (University, Midwest)
Crosstown Charter School (K-12, Southeast)
Forest Stewardship Council® (FSC) certification [FSC-C007438], which underscores their commitment to environmental responsibility by sourcing high-quality materials. The FSC certification ensures that the lumber used in their court construction comes from responsibly managed forests that provide environmental, social, and economic benefits.
Sport Court
For over 45 years, Sport Court has been at the forefront of developing high-caliber sports flooring for facilities across the United States. Their nationwide network of CourtBuilders™ collaborates with various institutions to install premium gymnasium and athletic flooring. Sport Court's commitment to excellence ensures that each court is built for safety, quality, and durability, supporting the development of talent and the making of memorable sporting experiences. Their expertise in sports flooring reflects a blend of innovation, dedication, and craftsmanship, catering to the rigorous demands of competitive play.
Products Offered
Sport Court offers a range of indoor and outdoor sports flooring systems designed to cater to various performance needs and budget considerations.
Sport Court's indoor flooring lineup includes:
Maple Select™: A top-tier modular system with the look and feel of real hardwood, designed for optimal playability and style.
Response HG™: The chosen surface for NCAA® Volleyball and USA Volleyball National Teams, crafted for high-level competition.
Response™: A safety-focused upgrade for aging floors, enhancing athlete protection and floor functionality.
Defense™: An affordable, low-upkeep option suitable for budget-conscious facilities, maintaining quality and safety.
Sport Court's outdoor flooring options include:
PowerGame+™: Offers top safety and playability for backyard multi-sport courts.
PowerGame™: A durable outdoor modular surface designed for safe, extended play.
SportGame PB: A surface optimized for pickleball, focusing on safety and performance.
Sport Court's playing surfaces are installed globally, spanning the United States and over 170 countries across all continents. With the most extensive CourtBuilder network, Sport Court assists clients from the initial design to the final installation. Their courts, ranging from home game courts to high school gyms and public recreational areas, are crafted to enhance the performance and safety of athletes at every level.
Snapsports Athletic Surfaces
For over four decades, SnapSports has been a leader in providing superior athletic flooring and sports tiles for commercial use across the U.S. Their flooring solutions are engineered for performance, safety, and durability, catering to a variety of sports needs. SnapSports is renowned for its advanced sports technology and unique sports tiles, ideal for hosting tournaments and enhancing every aspect of athletic play.
Products Offered
SnapSports provides top-tier court systems for both indoor and outdoor commercial use, engineered for the highest levels of performance, durability, comfort, and safety. Their courts are suitable for a wide range of venues, from local recreation centers to large stadiums, and are designed to positively impact every athlete's experience. The company's flooring options cater to a variety of sports, including basketball and handball, ensuring that every game and practice session is enhanced. SnapSports' commitment to quality is recognized globally, with their athletic surfaces being chosen for competitive play worldwide.
Certifications, Memberships and Endorsements
Here are some of the certificates, memberships and endorsements that the company has gained over the years:
SnapLock® holds ISO 9001:2015 Certification for Quality Management.
Member of the American Sports Builder Association.
Technical Partner with FIBA Equipment and Venue Center.
Official Playing Surface for the United States Futsal Federation.
Certified by the International Handball Federation.
Tested and rated by the International Tennis Federation.
Official playing surface of the Special Olympics.
Questions to ask Basketball Court Companies
Before finalizing a contract, ensure you have answers to the following:
What is your national experience with basketball court projects?
Can you provide a timeline and budget estimate for a project of our scale?
What materials and designs do you recommend for our climate and use cases?
How do you manage permits and regulatory compliance?
Can you provide references from past projects across different states?
Get Your Basketball Court Project Started
We've created a comprehensive set of tools designed to assist facility managers and project planners in initiating their projects and connect them with the professionals in the industry.
Investing in a basketball court is a strategic move that benefits the physical and social fabric of a community, providing a venue for sport, entertainment, and social gathering. The decision to build a court involves navigating a diverse field of U.S. construction companies, each with distinct skills and experiences. A thorough evaluation process is crucial to find a partner that not only meets your project's specific goals and adheres to regional construction codes but also shares your vision for creating a space that will serve as a cornerstone for community interaction and athletic development.
Knowledgeable and capable basketball court companies will offer a blend of reliability, evidenced by a strong portfolio and positive customer feedback, and financial and operational transparency to ensure the project stays within budget and on schedule. They should also be capable of customizing the court to fit the community's unique needs while providing clear communication and robust post-construction support. By meticulously selecting a company that stands out in these areas, you can ensure that your investment will yield a high-quality basketball court that enhances the community's vitality and stands as a beacon of community pride for years to come.