8 Tips for Purchasing a Scoreboard for Soccer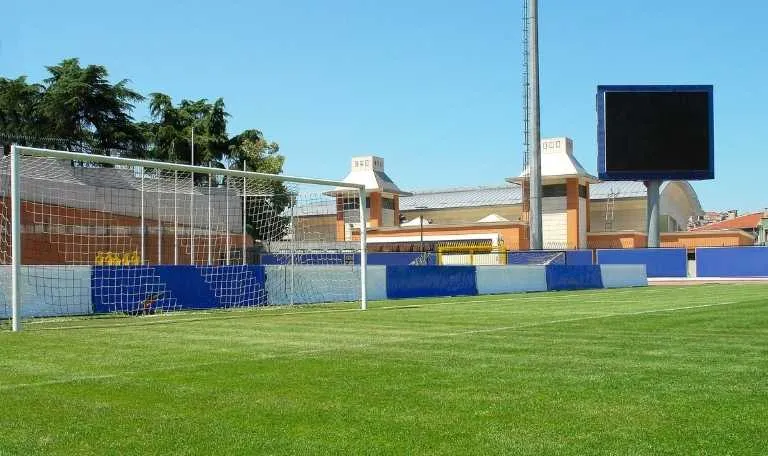 Looking to upgrade your soccer facility? Choose a new LED soccer scoreboard to keep fans, athletes, and spectators engaged, informed, and inspired throughout the game.
But before you purchase, it is important to understand all the factors associated with choosing an LED soccer scoreboard so there are no surprises down the road. A new scoreboard is a major investment, and you need to be sure that you are making the right decisions at every step of the process.
If you are planning to install a scoreboard or a video display at your sports facility, try our
soccer scoreboard cost calculator
to get a customized cost estimate for your installation project. 
1 – Compare the different types of soccer scoreboards and video displays
Traditional LED Soccer Scoreboard
When you hear the words LED soccer scoreboard, you probably think of a traditional display. These are the most simple type on our list, but they are also the most popular. These displays have the ability to present letters and numbers — which could be a powerful upgrade depending on your current solution.
For soccer, this type of display means an easy way to show team names, home or guest scores, game time, first and second half, shots on goal, corner kicks, and more.
If you are looking for the most affordable update to your current school's scoreboard, this is likely the option for you. They are perfect for younger-aged athletes, lower levels of competition, and smaller venues.
Size Chart
Recreational / Youth soccer: 10'W x 4'-8'H

Middle/high school: 16'-20'W x 4'-8'H

High school/college: 20'-24'W x 8'-10'H
How to Control a Traditional Display
Traditional LED displays for soccer fields use a controller interface or mobile app.
LED Soccer Scoreboard  + Video Display
This type of LED soccer scoreboard is a step up from the traditional display in both features and price. The addition of video brings a new level of excitement and energy to your game-day experience.
Not only can you show all of the stats and information that comes with a traditional display, but you can also add things like sponsor logos, advertisements, fan-cam footage, and game highlights. This is the perfect way to take your brand to the next level and get more people in the seats.
Size Chart
Recreational / Youth soccer: 

Board: 10'W x 4'-8'H

Display: 7'W x 4'-8'H

Middle/high school: 

Board: 16'-20'W x 4'-8'H

Display: 11'-13'W x 4'-8'H

High school/college: 

Board: 20'-24'W x 8'-10'H

Display: 13'-16'W x 8'-10'H
How to Control an LED Digit Display with Video
Video scoreboards are controlled with an interface or mobile app like traditional displays, but they also have the ability to be integrated with a computer loaded with specialized software.
Full Video Soccer Scoreboard
A full-video display is the top of the line when it comes to LED soccer scoreboards. Not only do they include all of the features and benefits of the previous two types, but they also offer a much larger display. This gives you the ability to show even more information and highlights as well as create a truly immersive game-day experience.
These displays are perfect for a high-level competition where every advantage counts. They are also great for large venues that want to make a big impact.
Size Chart
High school/college: 36ft wide x 10-20ft high
How to Control a Full Video Display
Full-video displays are controlled entirely by a computer with specialized software.
2 – Pay attention to the resolution and pixel pitch of the video display scoreboard
The next consideration for calculating the cost of an LED soccer scoreboard is the resolution and pixel pitch.
Here's where knowing the exact dimensions of your sports facility and how far away your spectators and athletes will come into play. Pixel pitch refers to how close your pixels are to each other — and the closer you are to the screen the further you want your pixels apart.
A general rule of thumb: for every 1 mm of pixel pitch, the viewing distance must be at least 3.5ft
Consulting with a professional early in the process will help you choose.
3 – Check what kind of a controlling system is included in the package
In general, there are two types of control systems for LED displays.
Wireless

Fiber-optic
Both have their advantages, but if it is fiber-optic you will need to consider the extra cost of installation.
4 – Decide if you want an integrated sound system with the soccer scoreboard
Connecting your new LED video scoreboard with your sound system is a great way to get the most out of your investment. It also gives you more control over the audio at your event.
You can synchronize graphics and video with sound to create a more cohesive experience.
5 – Look for reputable soccer scoreboard installation companies
If you take anything from this list, it should be that you need to find the best installation company possible. Search online, ask around in your community, and carefully consider your choice. No matter how amazing your scoreboard is, if your installation is subpar, your investment will not pay off in the long run.
6 – What kind of warranty do they offer?
Make sure that the company you choose offers a comprehensive warranty. This will give you peace of mind in knowing that if anything goes wrong, you're covered. In addition to your provider, find out what the manufacturer covers for your actual scoreboard.
7 – Do they offer after-sales services?
You'll want to consider what kind of support the company offers after your scoreboard is installed and up and running. Do they have a help desk you can call with questions? What kind of training do they offer? Finding a company that will perform ongoing maintenance and repairs is a great way to ensure your scoreboard stays operational for years to come.
8 – Compare quotes
Last but not least, you'll want to compare quotes from multiple vendors, installation companies, and providers. Don't settle for the first offer you receive — take the time to do your research and find the best possible solution for your needs.
When it comes to LED soccer scoreboards, there are a lot of factors to consider. But with a little bit of planning and research, you can find the perfect solution for your sports facility.
Our soccer scoreboard cost calculator will give you a free estimate for your project. Just enter some basic information and we'll provide you with a number you can plan around. Plus, we'll put you in touch with some of the top installers in your area!
We also wrote about LED scoreboard costs more in detail in another article.