Volleyball court dimensions for installation project planning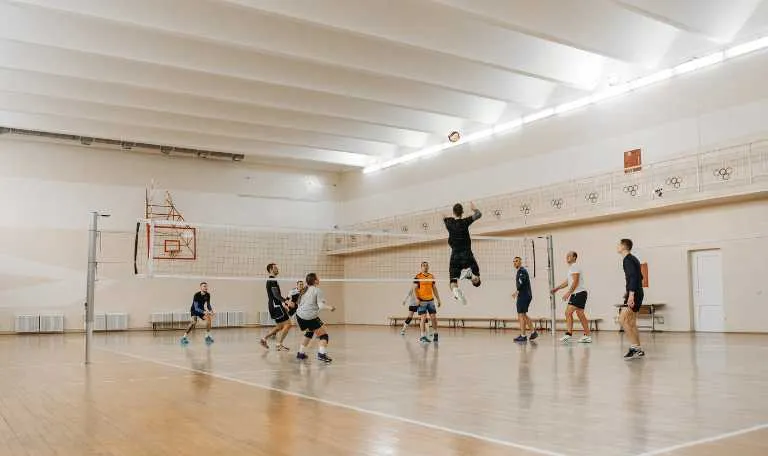 There's a lot to consider when planning a new volleyball court installation project at a sports facility. From court materials to amenities and lighting, you need to consider all the necessary components that will make up your court. One of the most important considerations is the size and dimensions of the court.
Depending on the age of your athletes and the level of play you plan on hosting, the size and shape of your court can vary greatly.
We've put together this guide to help sports facility operators and managers accurately measure and plan a volleyball court installation project. Knowing how much space you will need is the first step in planning a successful venture.
Calculating the costs of volleyball court installation can be a daunting task. Our indoor sports flooring cost calculator makes it quick and easy for you. Give it a try.
Get Your Badminton Court Project Started

We've created a comprehensive set of tools designed to assist facility managers and project planners in initiating their projects and connect them with the professionals in the industry.
What are the dimensions of an official volleyball court?
If you are planning on hosting official events for professional, semi-professional, and amateur tournaments, you must adhere to the standards set by the International Volleyball Federation (FIVB), USA Volleyball (USAV), the NCAA, and the National Federation of State High School Associations (NFHS).
Dimensions
The official volleyball court dimensions measure 29 feet 6 inches wide by 59 feet long. This is a total area of 1,743 square feet.
In addition to the playing area, your court design must include a safe zone around the perimeter. The free zone must measure a minimum of 10 feet to allow for player movement and spectator safety. It's recommended to have a safe zone of 50 feet to 80 feet to accommodate additional seating, team benches, and coaches' boxes. 
With this additional space, the total area for your new volleyball court is around 4,000 sq ft.
Dimensions for recreational volleyball courts
For sports facility managers at commercial gyms or recreation venues, recreational volleyball court dimensions may differ from the official standards.
Usually, a recreational volleyball court will measure around 30 feet wide by 60 feet long, with a total area of 1,800 square feet. The free zone may be slightly smaller than the official court at 8 feet or more. As with all volleyball courts, the space should provide ample room for players to move and spectators to watch safely.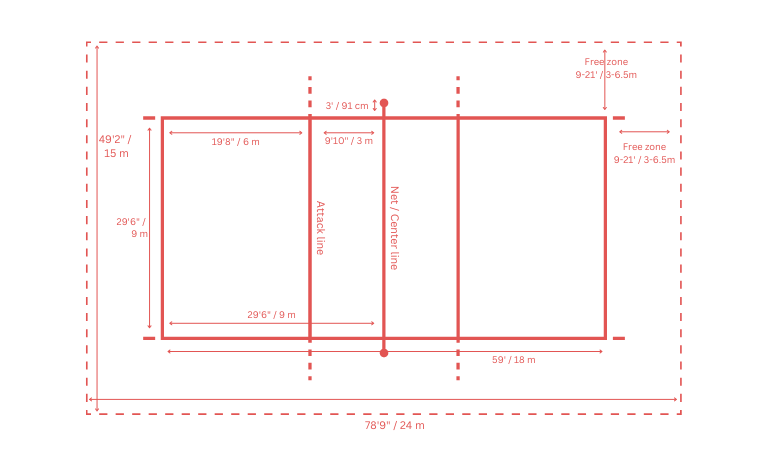 Volleyball court dimensions for youth volleyball
For younger players, the court size should be adjusted to fit their size and skill level. Although less space is needed, the court must still follow the same three-section format and adherence to safety protocols.
Dimensions
At K12, elementary, and grade school level gyms, volleyball courts should measure 14 feet 9 inches wide by 29 feet 6 inches long or 872 sq ft. 
These measurements are half of the official court size. The free zone should be adjusted accordingly and measure 8 feet or more, meaning you will need a total area of at least 1,750 sq ft.
One important distinction for younger age groups is the elimination of the attack line. This simplifies the court design and allows new players to focus on the basics of passing, setting, and spiking without having to understand the nuances of rule enforcement.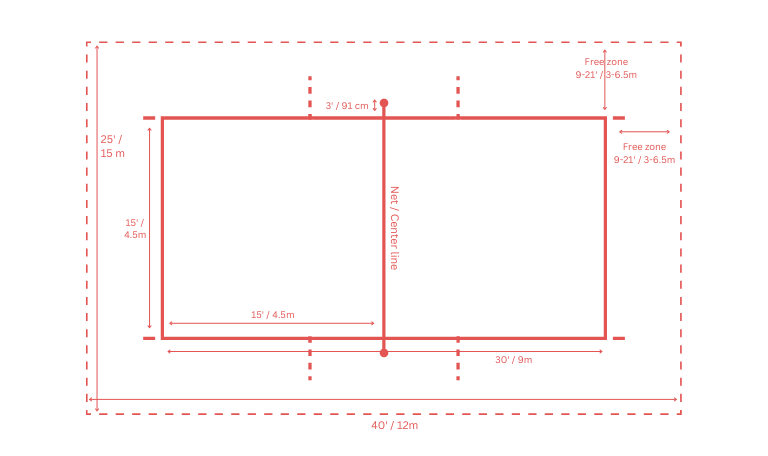 Before you begin planning your volleyball court, it's best to work with a trusted court installation company to ensure your project runs smoothly. Here are a few of the factors they will need to consider.

The total area needed for the volleyball court

As stated above, it's not just the area needed for the court that is important. If you plan on hosting spectators, team benches, or coaches' boxes, you will need to factor in additional free zone space for safety.
In addition to the space around your court, you need to consider the space above. Your ceiling height should be at least 23 feet high to accommodate the proper height of the net, and not interfere with play.

Will you be installing more than one court?

Many facilities choose to install multiple volleyball courts for larger tournaments and other events. In these cases, the courts must meet standard spacing guidelines to provide ample space between them.
If you plan on installing more than one court, a court installation company can help determine how to arrange your facility effectively while still adhering to safety standards. Of course, with each additional court, you'll need more space and resources to construct them. This may require the construction or removal of columns and other obstructions to ensure your courts are properly spaced.

Will other sports be played on the sports court also?

To maximize your facility, some court installation companies will design and install multipurpose sports courts. With this type of setup, your court can be used to play volleyball, basketball, badminton, or even pickleball. Line markings for each sport will need to be planned and installed to separate the court into different sections.
If you have an existing high school or college basketball court, you can fit two full-sized volleyball courts inside. Your team may need to share the space with other sports, but it can be an effective solution for limited facilities.
Roll-up dividers might also come in handy if you plan on having multiple activities taking place at the same time. This will also ensure that your facility is able to adjust to changing needs and can be used for a variety of sports or events.
Get Your Badminton Court Project Started

We've created a comprehensive set of tools designed to assist facility managers and project planners in initiating their projects and connect them with the professionals in the industry.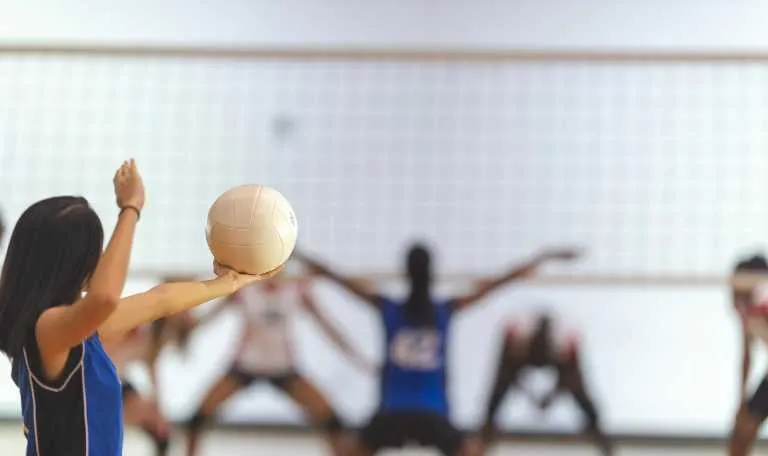 Get a cost estimate for your volleyball court installation project
Getting a solid understanding of the total costs of the volleyball court installation project is an essential task in the early planning and budgeting phase of your project. It is important to understand the different cost items in the project, to avoid unwanted surprises along the way. It will also help you in the fundraising efforts as oftentimes grant programs and other potential funding sources require matching funds or will only cover the costs up to a certain percentage of total costs. 
Our indoor sport court cost calculator makes calculating the project costs easy and it provides you with a customized breakdown in a matter of minutes.