Indoor Volleyball Court Construction:
Cost Calculator & Grant Opportunities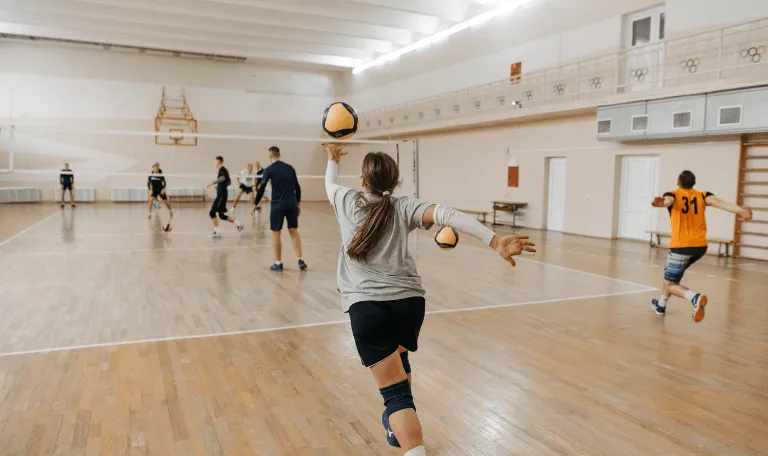 There are many moving parts when it comes to building an indoor volleyball court which makes it challenging for a high school, college or a commercial sports center to set a budget for the construction project.
Typically a full sized indoor volleyball court costs somewhere between $32,000 and $185,000 depending on several factors such as the size of the court, surface and subfloor material choice and geographical differences in labor costs. 
In this article we dive deep into the details of what goes into the price of an indoor volleyball court.
If you are in a hurry, try our gym flooring cost calculator to get a customized cost estimate for your weight room flooring installation project in a matter of minutes.
What about the maintenance costs?
Once the brand new volleyball court is installed your upkeep costs start running. The annual costs largely depend on the type of floor you have chosen. A wooden court has different maintenance requirements compared to a synthetic floor. Wooden courts need refinishing around once per decade whereas synthetic floors only need smaller repairs from time to time. On the other hand a wooden court's lifespan is a lot longer than that of a synthetic floor. All in all you should budget somewhere between $1,000 – $5,000 per year for indoor volleyball court maintenance, cleaning, repairs and refinishing costs. 
Get Your Volleyball Court Project Started

We've created a comprehensive set of tools designed to assist facility managers and project planners in initiating their projects and connect them with the professionals in the industry.
Understanding Indoor Volleyball Court Costs
For athletic directors and sports facility managers, creating a safe and functional space for their athletes is always the top priority. Indoor volleyball courts are one of the most popular ways to provide year-round playing opportunities,
But with the high construction cost, it's essential to get a detailed project estimate before making any decisions. Knowing the total cost of your project before starting will impact decision-making throughout the process.
While many factors impact cost, knowing several critical details about your project will help you get a more accurate estimate for your indoor volleyball court construction.
What influences the price tag?
1 – Size
Your choice of court size will be dictated by the amount of space you have available and the number of volleyball courts you want to include in your facility. The standard size for an indoor volleyball court is 60 feet by 30 feet, but you can find variations that are as small as 54 feet by 27 feet.
Knowing the competition, you will be hosting is crucial in choosing a court size for your facility. Higher levels of competition, such as NCAA matches, will require a standard-sized court.
Plan on hosting lower levels of competition or recreational play. You may be able to get away with a smaller court size.
2 – Surface
The surface of your indoor volleyball court also has an impact on cost.
PVC Floors
The most common type of surface for an indoor volleyball court is PVC. This synthetic surface offers a consistent and durable playing surface that is easy to maintain.
PVC floors are designed to be durable while keeping players safe. When athletes dive and slide for the ball, PVC limits the scrapes, abrasions, and burns associated with other materials.
Vulcanized Rubber Floors
Have a facility that will see much use? Vulcanized rubber is an excellent solution for high-traffic floors. Schools, event centers, and other public places often choose vulcanized rubber because of its incredible durability.
Vulcanized rubber is made by joining multiple layers of rubber together with heat and pressure. This process creates a flooring material that can withstand heavy use without showing wear and tear.
Vulcanized rubber floors are easier to install than their PVC counterparts. The installation process is less labor-intensive, leading to cost savings on your project.

Beyond the Surface
Below the surface of your court are the base and subfloor layers. These two pieces are crucial in providing a level and stable playing surface.
The base layer comprises materials such as concrete, asphalt, or rubber. The subfloor is typically made of plywood or particle board.
These layers add stability to the court and help reduce the impact on the players. The cost of these materials will be determined by the size of the court and the type of surface you choose.
Configuration
The configuration of your volleyball court also impacts the cost of construction. The most common type of indoor volleyball court is a single-court facility. This facility has one full-sized court that can be used for practice or competition.
If you have the space and budget, you may want to consider a double-court facility. This facility has two full-sized courts that can be used simultaneously for practice or competition.
Double-court facilities are more expensive to build and maintain, but they offer more flexibility.
Other Considerations regarding indoor volleyball court costs
In addition to the court, you will also need to consider the cost of lighting, seating, and storage.
Lighting
Indoor volleyball courts must be well-lit to provide a safe environment for players. The type of lighting you choose will impact the cost of your project.
The best type of lighting for an indoor volleyball court is LED. LEDs provide long-term cost savings and improved safety for athletes as modern technology.
LEDs are more expensive than traditional light bulbs but last longer and use less energy. You will save money on your electric bill in the long run.
Seating
If you plan on hosting competitions, you will need to provide seating for spectators. The seating cost will be determined by the size and type of seating you choose.
The most common type of seating for an indoor volleyball court is bleacher seating. Bleachers are a cost-effective solution that can be installed quickly.
Storage
You will also need storage for balls, nets, and other equipment. The storage cost will be determined by the size and type of storage you choose.
A locker room is the most common type of indoor volleyball court storage. Locker rooms provide a safe and secure place to store equipment when it's not in use.
They also offer a place for athletes to change and shower after practice or competition.
Other "Physical" Considerations for your Indoor Volleyball Court
Line markings – every court needs competition lines. The more courts, the more complex the lines will be.

Sleeves and poles – volleyball isn't volleyball without a quality net and suspension system.

Customization – you can place logos and custom colors on your court to reinforce branding and school spirit.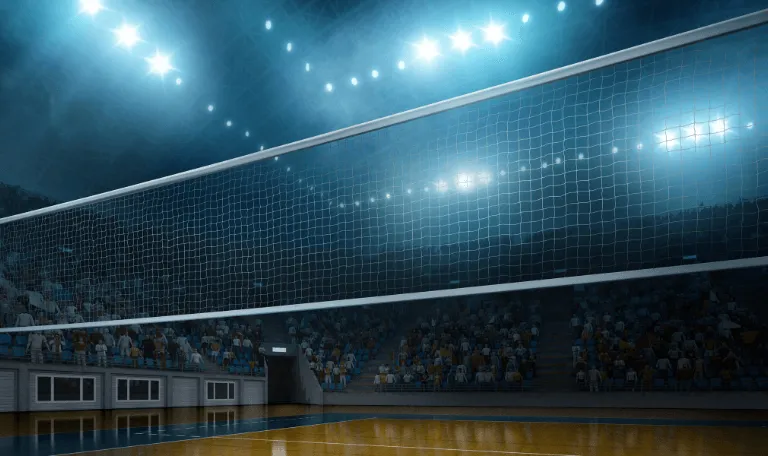 Geographic Considerations: Labor, Materials, Permits
The next set of factors to consider is your location. The construction cost will vary depending on your area's labor, materials, and permits.
Labor
The local market rates will determine the cost of labor. In general, urban areas have higher labor costs than rural areas.
Materials
The cost of materials will also vary depending on your location and your source.
You can cut costs by ordering materials overseas. However, it would help if you worked with a trusted partner to avoid problems with quality or delivery.
Permits
The final cost consideration is permitted. Most cities and towns require a permit for any construction project. The cost of the permit will be determined by the size and scope of your project.
Get Your Volleyball Court Project Started

We've created a comprehensive set of tools designed to assist facility managers and project planners in initiating their projects and connect them with the professionals in the industry.
How to Finance Your Indoor Volleyball Court
As you can see, there are many factors to consider when building an indoor volleyball court. Each decision and addition you make can potentially add to your bottom line.
It would be best if you were mindful of your budget as you make choices about your court's design, materials, and location. Once you clearly understand your project's cost, you can begin to look for financing options.
There are many ways to finance an indoor volleyball court.
Grants
The first financing option to consider grants. Many organizations offer to grant money for gym flooring construction projects.
The most common type of grant is a government grant. You can search for government grants at Grants.gov.
You can also check with your state's volleyball association or local parks and recreation department.
We have also listed a long list of sports facility grants in our funding section that might be worth browsing through! 
Loans
Another financing option is to take out a loan. There are many banks and lending institutions that offer loans for construction projects.
The terms of the loan will vary depending on the lender. You should shop around to find the best interest rate and repayment plan.
Investors
Another way to finance your project is to find investors. Investors will provide the capital you need to get your project off the ground in exchange for a percentage of the profits.
This is ideal if you have a solid business plan but lack the capital to start.
You can find potential investors by networking with people in your industry. You can also search online for investment firms that specialize in construction projects.
Crowdfunding and donations
The final option for funding your indoor volleyball court is crowdfunding or soliciting donations.
Crowdfunding is a way to raise money by soliciting small contributions from many people. There are many crowdfunding platforms that you can use, such as Kickstarter and Indiegogo.
Donations are another way to raise awareness for your project and involve the local community. You can solicit donations from businesses, individuals, and foundations. You can also hold fundraisers to support your project!
Indoor Volleyball Court Costs - The Bottom Line
Building an indoor volleyball court is a big undertaking. That's why we recommend getting a cost estimate early in the process. A more firm understanding of your total cost will help you find the partners you need to make your project a reality.
Want a quick and thorough estimate of your project? Get started here with our indoor volleyball court cost calculator. Just input a few pieces of information, and we'll give you an accurate estimate for your court!