Synthetic turf field maintenance equipment and cleaning machines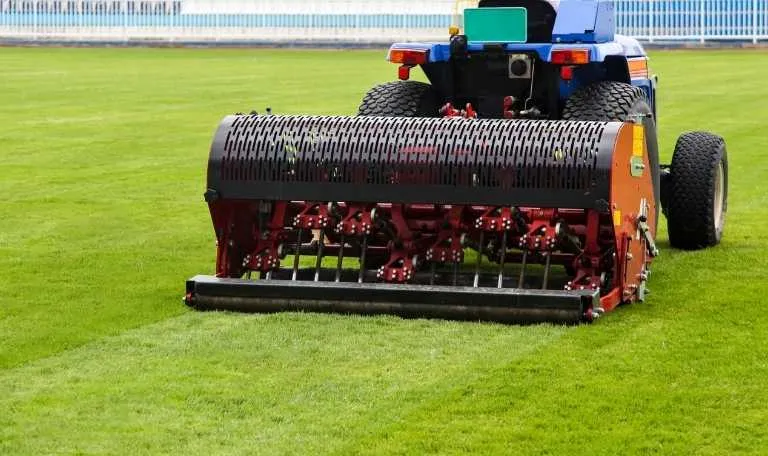 How much does synthetic turf field maintenance equipment cost?
The cost of turf field maintenance equipment for a sports field ranges from $8,800 to $85,000 depending on the type of machine, the quality of the equipment and the size of the sports field. Often times purchasing turf field maintenance equipment is a wise investment for any club, college or municipality. However, sports facility operators should consider if they have the knowhow to handle all necessary maintenance tasks or should some of the work be outsourced to a professional turf maintenance company. 
Synthetic turf field maintenance and cleaning are important factors in getting the highest levels of activity and longest life out of the facility's investment in an artificial turf field. Maintenance costs are also something that can be easily overlooked by clubs and facility managers when estimating how much a turf field costs to install.
The significant reduction in the amount of work required for sports turf cleaning, care and maintenance is the main reason for turf's popularity. However, less maintenance does not mean no maintenance. The sports field has to be cleaned at regular intervals with the appropriate sports turf maintenance equipment.
If you want to get a personalised estimate for the maintenance of your sports turf, try our artificial turf field maintenance cost calculator.
What influences the price of synthetic turf field maintenance equipment?
The cost of artificial turf maintenance equipment can be calculated using the artificial turf maintenance cost calculator. For clubs or facility managers who are planning to install a sports turf it is essential to make sure to include maintenance costs in the budget also. In addition to the multifunctionality of the machines, the following criteria influence the purchase price:
Quality of the machine
Type of machine
Type and frequency of maintenance 
Type and size of the sports facility 
The maintenance equipment inherently varies in price, which mainly depends on the quality of the machine. Here, the material and workmanship play the main role in price differences. A machine that is well-built has a much longer life and does not need to be replaced very quickly.
Anyone considering buying this equipment should be aware of how often and in what way the artificial turf maintenance should be completed. Depending on the design and equipment, there will be advantages and disadvantages that a buyer must take into account. With some equipment, it is also useful to look at any necessary accessories that have specific benefits. Overall, maintenance equipment should always be individually adapted to the sports facility.
The fact that the equipment can be used on other sports fields besides football fields is also a cost factor. The versatility of a device, for example, on sports fields other than a soccer field, is an advantage that may well be reflected in the price. With a versatile maintenance device, there is less need to make additional investments in equipment. 
Finally, facility owners may have the option of applying for financial support for the maintenance of the soccer field. Thus, the purchase of an artificial turf maintenance device may not be an insurmountable hurdle, even for smaller clubs.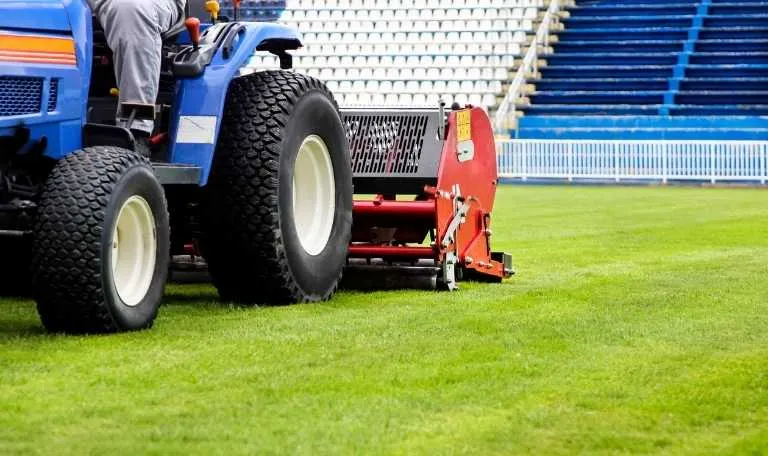 Types of synthetic turf field maintenance equipment
Clubs have access to a wide range of artificial turf maintenance machines. Specialized companies also offer regular maintenance services and ensure that the field is optimally and professionally maintained.
Specialized artificial turf maintenance tools are used on the sports fields of numerous towns, universities and schools to help clean and maintain artificial turf fields. The maintenance equipment is available in a wide variety of designs and variants. Before purchasing, clubs and municipalities should carefully consider which machines are needed and which maintenance tasks should be contracted out to a specialist as part of advanced maintenance. 
Trailers and smaller ride-on machines are suitable, for example, for cleaning the surface, recycling the infill granules and brushing the turf fibers. The most economical option for regular artificial turf maintenance is a multipurpose machine that can perform all of these tasks and maintain the turf in one step. The machine should level, clean and remove leaves, return the granules and re-integrate the infill material. 
Clubs should ensure that maintenance machines are operated only by trained personnel. Mistakes during maintenance can permanently damage the system and significantly reduce the life of the turf.
Anyone considering the construction of a new artificial turf pitch should include all maintenance costs – including  the costs associated with artificial turf maintenance and the costs associated with the purchase of appropriate equipment – in the project planning at an early stage.
Turf field equipment for regular maintenance
Machines for regular maintenance of artificial turf fields are usually equipped with wheel-driven rotary brushes and individually adjustable screens. Infill granules can be cleaned of dirt and dust with the help of these machines and evenly redistributed on the field.
Attachments for sports field maintenance
Towed machines that can be pulled by small tractors or quads are suitable for regular maintenance. These machines are available in various working widths and can be configured according to the size of the playing field. For smaller fields, such as soccer courts or mini-pitches, make sure the equipment can fit through doorways and gates, and that the attachments are retractable.
Ride-on machines for regular maintenance
Ride-on machines with rotary brushes allow for the maintenance of larger playing fields. These are equipped with gasoline or diesel engines, and can be used for surface cleaning, recirculating infill granules and brushing the artificial turf fiber.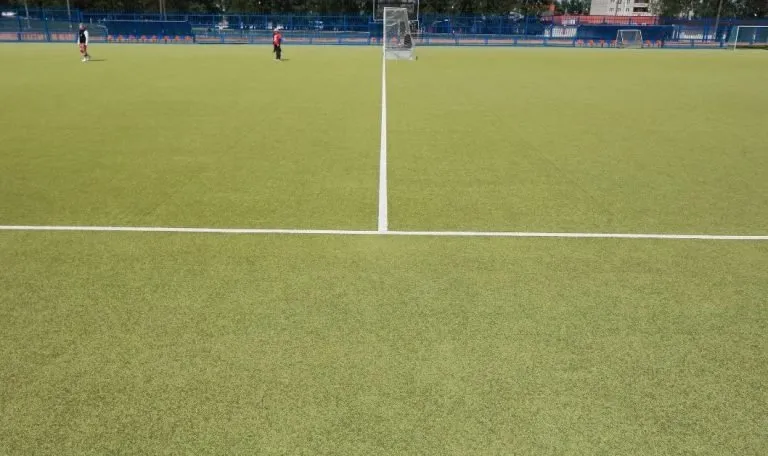 Advanced maintenance equipment for turf fields
Machines for advanced maintenance can fulfill all the regular maintenance tasks, and are largely suitable for loosening the turf, deep cleaning and refilling the granulate.
Pushers for artificial grass pitches
Pushers with driven brushes and suction turbines are especially suitable for soccer courts and small soccer fields. Due to their compact dimensions, they can be easily transported over stairs or pushed through narrow door and gate openings.
Towed machines for the maintenance of playing fields
Towed machines perform the same maintenance tasks and fit on any landscape tractor. These machines can also be ordered with different working widths and adapted to the appropriate pitch size.
Ride-on machines for advanced maintenance
Ride-on machines for artificial turf cleaning and maintenance can be used for loosening, turf cleaning and for refilling the infill granules. In some cases, they are equipped with folding triangular brooms and can be configured to different working widths depending on the size of the pitch.
Multipurpose equipment and complete solutions
Artificial turf maintenance equipment comes in specialized designs that may perform only some of the tasks of sports field maintenance. 
Multifunctional maintenance machines, on the other hand, can perform all regular and advanced maintenance tasks. These maintenance machines clean the artificial turf, recycle the artificial turf granules, remove dirt, vacuum leaves and work the infill granules back into the artificial turf. In heavily used areas of the pitch, such as the penalty areas, the artificial turf granules are regularly distributed and, depending on the level of use, also regularly refilled. If this is not done at regular intervals, there is a risk of damage to the stressed playing field areas of the artificial turf pitch.
Multipurpose equipment are expensive, though. The purchase is worthwhile for municipalities that have numerous sports fields and would otherwise have to invest in a fleet of specialized machines. Also, for companies that specialize in the professional maintenance of artificial turf playing fields , these complete solutions are usually a good choice.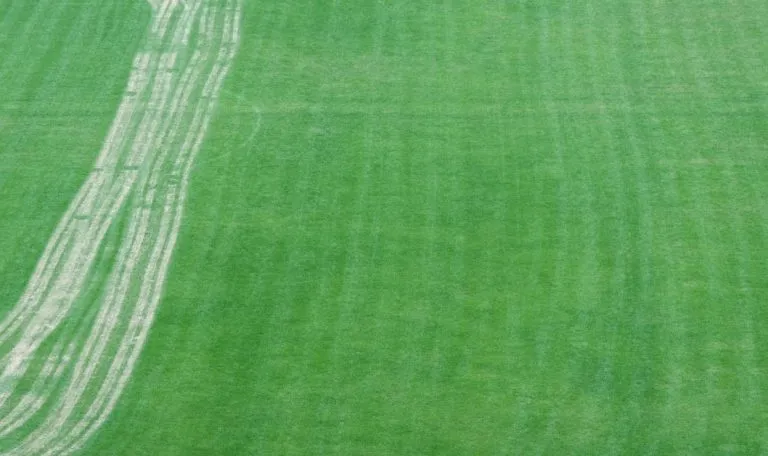 What to consider when purchasing artificial turf maintenance machines?
In order to regularly remove leaves, branches and dirt from the pitch, clubs can use conventional leaf blowers and more precise tools to remove dirt from the pitch. 
Special maintenance equipment is needed for artificial turf cleaning, and is available as a ride-on unit or as a trailer-mounted unit for attachment to a tractor or quad.
When purchasing artificial turf maintenance machines, clubs should consider the following:
Which machines are needed for regular maintenance and which additional attachments can be combined for the different maintenance measures?

Are the maintenance machines suitable for the specific turf system you have? Can they be used regardless of the surface's manufacturer?

The maintenance equipment should be easy to operate and not cause any difficulties in daily handling.

The working width of the machines must be adapted to the size of the pitch or the area of the sports facilities. A cleaning machine for a regulation soccer field has different dimensions than a maintenance machine for a soccer court or a small field.
Artificial turf field maintenance: Keeping an eye on costs
Not every municipality, sports complex or educational institution needs a large fleet of artificial turf maintenance equipment. However, investing in a multifunctional piece of equipment for regular maintenance and the appropriate attachments for an existing landscape tractor can be worthwhile. How much a turf field will end up costing overall is a combination of construction and maintenance costs. Which is why clubs and municipalities should consider the maintenance and care costs of an artificial turf pitch at an early stage and find out the costs for maintenance equipment right from the start.
You can estimate the price for maintenance and machinery in detail using our artificial turf field maintenance cost calculator.