Badminton court lighting design and cost guide
Thinking about adding lights to your badminton court? Whether you're looking to upgrade your existing lights or install brand-new ones, proper lighting is a great way to add a whole new level of enjoyment and visibility to your badminton games.
While there are many factors at play when it comes to badminton court lighting cost, generally these projects run between $18,000 and $135,000.
As you can see, the cost varies greatly depending on the size of your facility, the number of courts, the level of competition, and a host of other factors. Let's take a look at what goes into the final price for installing lights in a badminton sports facility.
Choosing your badminton court lighting system
Badminton court lighting systems using LED technology have become the benchmark in the last decade when it comes to sports lighting systems. LED lights may be costlier upfront but their much longer lifespan, energy efficiency, and zero maintenance costs pay back the initial investment quickly. Metal halide lighting systems are still commonly in use in the US, but the tide is changing fast. In case you have a traditional metal halide system installed, you can quickly and easily upgrade the existing lights via LED retrofitting. 
An LED badminton court lighting system also has certain benefits related to the components and configuration of the system.
Light fixtures and poles: LED fixtures weigh less than metal halide luminaires which means your light poles can be made of less robust material, which can bring down the cost
Power supply: LED fixtures require less wattage, which means reduced utility bills. 
Wiring: an LED system requires less wiring work from the contractor as they do not need a ballast. Instead, they use a driver that regulates the supply of electricity to the fixtures.
Control: LED badminton court lighting systems come with a control system that allows advanced control and adjustment of the lighting levels, dimming, and scheduling for example.
LED Badminton court lighting fixture types
There are many types of badminton court lighting fixture types to choose from. Each type has its own carachteristics and you should always consult a professional sports lighting company to help you choose the right one. In the end the profile of users and the shape and size of your sports hall or gymnasium determine the best solution. 
These are the main types of lighting fixtures for badminton courts:
LED High Bay (UFO) lighting fixtures – as the name insinuates, these luminaires are pretty much shaped like a UFO that are mounted on the ceiling. They are a very common lighting solution at badminton courts or gymnasiums that have high ceilings. They offer a high brightness level and uniform illumination for the whole court.
LED floodlights – These fixtures are similar to High Bay lights, in the sense, that they are mounted also on the ceiling. However, they offer a broader light beam which makes them suitable for sports halls with a lower ceiling also.
Other types of LED lighting fixtures may be used to supplement the illumination provided by high bays or floodlights. For example, strip or linear LED lights can be installed along the sides of the court or in areas that are harder to illuminate using high bays or floodlights.
In case you have an existing metal halide lighting system that you want to upgrade to LED technology, you should take into consideration that the new LED light fixtures require a lot less wattage. Here are some recommendations: 
60W – 100W LED badminton court light fixture replaces a 250W metal halide fixture
100W – 200W LED badminton court light fixture replaces a 400W metal halide fixture
300W – 400W LED badminton court light fixture replaces a 1000W metal halide fixture
400W – 500W LED badminton court light fixture replaces a 1500W metal halide fixture
600W LED badminton court light fixture replaces a 2000W metal halide fixture
Try our badminton court lighting cost calculator to get a customized cost estimate for your project.
Examples of LED badminton court light fixtures
LED Badminton Court Light Fixture
Tunable white lights
350W
46,000+ lumens
1600K-6300K
CRI up to 93
LED Badminton Court Light Fixture
Full RGB and tunable white
350W
1800K-10000K
CRI 70-90
LED Badminton Gym High Bay Light Fixture​
Ceiling-mounted
100-200W
Up to 26,000 LM
3000K-5700K
CRI 70-90
LED Badminton Gym Linear High Bay Fixture​
Asymmetric lighting
70W-400W
Up to 56,000 LM
3000K-6500K
CRI 70-90
LED Badminton court lighting design & layout
For all badminton classes, there are some basic rules to follow for lighting. First, lights should be at a 45-degree angle to the court. Secondly, all lights should be hung from the ceiling at 33 feet / 10 meters or higher. 
Finally, the arrangement of lights should avoid creating shadows across the court. This means multiple lights per row are required to eliminate dark areas. 
How many fixtures do I need?
The number of LED lighting fixtures you will need to light up your badminton court or gymnasium depends on the number of courts (total area to be lit) and the competition level. 
Here's a simple calculation to give you an idea of how many LED lighters you would need for a gymnasium/sports hall that hosts four standard-sized badminton courts (recreational vs pro):
LED Lighting fixture efficiency: 130 lumens per watt (LPW)
Dimensions of the gymnasium/sports hall: 94′ x 50′
Area of a badminton court (sq ft): approx. 4,700 square feet
Lumen output needed (footcandles x square feet): 141,000 – 470,000 (recreational-pro)
Total wattage needed (lumens / LPW 130)

recreational: approx. 1,100w
professional: approx. 3,600w

For a recreational gymnasium/sports hall with 4 badminton courts, you will need at least: 12 x 100w LED sports lighters

For a professional gymnasium/sports hall with 4 badminton courts, you will need at least: 18 x 200w LED sports lighters
Indoor badminton court LED lighting layout for recreational use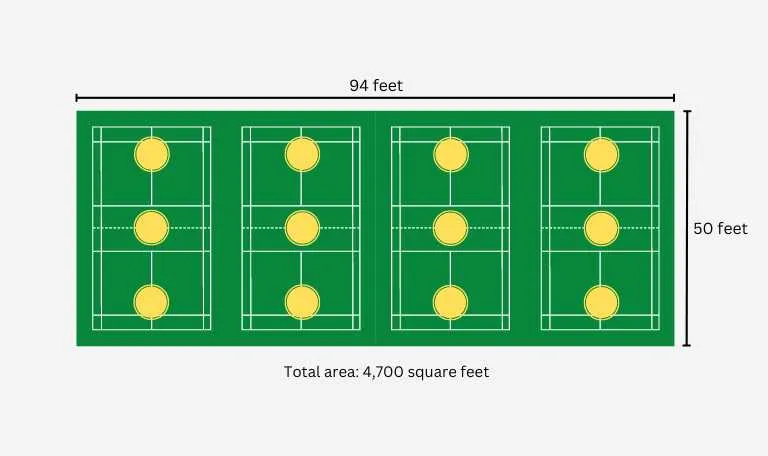 Indoor badminton court LED lighting layout for professional use
LED Badminton court Lighting standards & requirements
Badminton competition and lighting is broken into three classes. Each class has different light levels, uniformity, and glare control requirements. 
Class 3 is for recreational play, Class 2 is for regional competitions, and Class 1 is for international competitions. For HD TV broadcast, the requirements are a lot higher and you may need to provide up to 200 footcandles / 2,000 lux to ensure optimal viewing experience. Different classes will have different lighting requirements and costs associated with them. 
Light uniformity should also be taken into account. Poorly lit courts can cause distracting glare or shadows, negatively impacting players' performance and safety. 
Color Temperature is another important factor when choosing lighting for your badminton court. Higher color temperatures (5000K+) are typically used in sports venues because of their bright, white light and high-lumen output.
Badminton court lighting specifications
| Indoor badminton court lighting Levels | Footcandles | Uniformity | CRI |
| --- | --- | --- | --- |
| | | | |
| Class II: Regional competition, high schools | | | |
| Class III: Training/Recreational | | | |
What influences badminton court lighting cost?
New installation vs. retrofit
There's good news for facility owners and teams looking to upgrade existing badminton court lighting to new LEDs. Some of your existing infrastructure, like wiring and mounting beams, may be reused, thereby reducing the overall cost of the installation.
If a new installation is required, however, it'll add a significant amount to the overall project costs. Working with a professional sports lighting contractor -familiar with badminton – can help you save money by suggesting the most cost-effective solution for your specific needs.
Who will be using your badminton court?
Next, you need to know who will play badminton on your court: recreational players, students, or competitive teams. The type of player influences the cost and quality of lighting you'll need.
Standard LED fixtures with ~20-30 foot candles should suffice if it's a recreational or youth facility. However, if you plan to host competitive tournaments, you'll need fixtures that provide higher lux levels of 50-75. These will require more powerful lighting and potentially more fixtures to meet your requirements.
Size of your badminton facility
How big is your facility?
You'll need fewer fixtures and less lighting power if you have a single court. On the other hand, if you have multiple courts—or a facility designed for multiple sports—you'll need additional fixtures and wattage to ensure that all court areas are illuminated for competitive play.
The typical badminton court measures 44 ft x 20 ft (length x width).
Adding in the space needed for benches, walkways, and spectators and multiplying by the number of courts will give you a rough estimate of the total area that needs to be lit. Here are some typical measurements to help:
5 ft between the court and the sidewall

6 ft 6 inches between the court and the back wall

4 ft between courts
Type of lighting fixtures
Today's sports arenas have two options for badminton court lighting: LED and HID. 
LED fixtures are the most popular choice since they're brighter, more energy efficient, and last longer than traditional bulbs. Additionally, their lifespan is much longer, and the maintenance is much lower. However, the initial investment can be higher than the older, less-efficient alternative. Typically the ROI for LEDs is a lot better in the mid-to-long run. 
HID (High-Intensity Discharge) lighting is another option, but it lacks the energy efficiency of LED fixtures and has a shorter lifespan than LEDs. You'll need to replace HIDs much more quickly than LEDs.
Working with an experienced sports lighting contractor can help you choose the best fixtures for your court while staying within budget. 
Quality of LED fixtures
With so many costs involved, it can be tempting to cut corners and choose cheaper fixtures. But remember, the quality of your lighting impacts the players' experience. So, it's important to invest in sports-grade LED fixtures that provide adequate light levels for competitive play. 
You may also want to consider safety and security measures like motion sensors or dimmable lights for public facilities. 
A professional sports lighting contractor familiar with badminton can help you make the best choice for your facility. They'll be able to suggest the most cost-effective solution for your specific needs. 
Geographical location
Believe it or not, where in the country your facility is located could influence the cost of lighting. Shipping, labor costs, permits, and taxes all vary from state to state. So, the same project in two different states could have different pricing. 
It's important to partner with a lighting contractor who is familiar with your geographical area and can provide accurate estimates for your project. 
Space is an issue
Ensuring you have enough space for your court is critical for proper lighting. If you are cramped for space, you might have a difficult time — or need to find a unique solution — to add lighting. Since fixtures are mounted at around 33 ft in height, and the shuttlecock is in the air for only a few seconds, it's important to have room to mount your lights and enough space between them. 
Additionally, visibility for players, judges, and spectators is paramount. Make sure they can see the shuttlecock and all of the exciting action — without being blocked by your lighting equipment. 
Modern control system
Finally, a modern control system should be considered so you can adjust the lights remotely. This will allow you to change light levels or turn off certain lights depending on your needs. Additionally, advanced lighting systems can help conserve energy and reduce costs over time. 
Badminton court lighting companies
Companies specializing in indoor badminton court lighting focus on delivering solutions that cater to the unique requirements of this fast-paced sport. Given the swift movements of the shuttlecock and the sport's precise nature, it's essential to have consistent, glare-free illumination across the entire court. These lighting experts design systems that ensure even brightness, enhancing player performance and providing clear visibility for both participants and spectators. When selecting lighting for an indoor badminton court, it's crucial to collaborate with professionals who are familiar with the sport's specific needs, guaranteeing optimal light distribution and minimizing shadows for both competitive and casual games.
Pro tip: If you are currently looking for a reliable and knowledgeable sports lighting vendor, try our sports lighting partner finder and get connected with suitable lighting partners. 
Funding tips for LED badminton court lighting
Many financing options are available if you're concerned about the cost of lighting. You can work with a lighting contractor to find grants and energy rebates to help offset the costs associated with your project. Additionally, you can look into leasing or loan options to finance your lighting system. 
Check out our database on sports facility grants here to get a better idea of your options.
We have also written about LED sports lighting grant programs for schools and businesses. Take a look! 
Get a cost estimate at an early stage
As you begin to plan your LED sports lighting project, the most important step is to get a cost estimate from a professional. Ensure you're working with an experienced lighting contractor who is familiar with your geographical area and can provide accurate estimates for your project. It's also important to include a detailed project plan and product selection process to ensure the lighting system meets your budget, performance, and safety requirements. 
Want to get started online? Our easy-to-use LED badminton court lighting cost calculator will give you an accurate cost estimate for your badminton court lighting project.