Outdoor basketball court flooring and multi-sport courts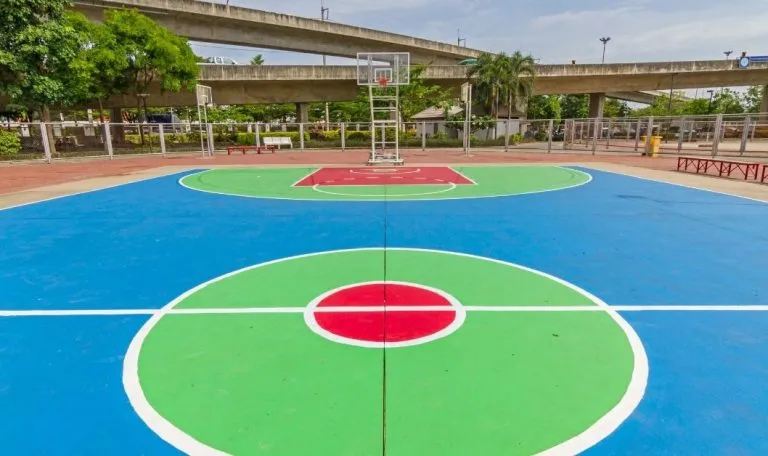 Outdoor sports flooring is available in many options from an array of manufacturers and vendors. The choices of color, thickness and suitability to the sport and environment are almost unlimited. However, anyone considering the purchase of an outdoor basketball court flooring or a surface for a multi-sport court should pay attention to a few basic points.
Know who will be playing what sport at your facility
Not every flooring surface is suitable for every type of sport, and certainly not every surface can handle multifunctional use. The first step, then, is determining the use  concept: who will be doing what. With that in mind, you can begin selecting the floor surface accordingly.
For example, the outdoor basketball court floor that is open to the public must meet different requirements than a floor for a multi-sport court at a private club. The latter will not have to worry as much about vandalism (and, therefore, how washable the surface is) and probably has a dedicated grounds crew who can cover the court during adverse weather, meaning the court itself can be less rugged.
Read our 10 questions and answers about outdoor sports flooring to learn more about what to consider when planning to install or renovate sports surfaces for your sports facility.
Which outdoor sports floor for which sport?
Water-permeable  surfaces are suitable for general sports use, school facilities and multifunctional playing areas. 
Outdoor sports floors can be categorized into different flooring types. Facilities for international competitions and high-performance sports are often equipped with water-impermeable systems In the municipal sector, multifunctional sports facilities are increasingly being built for more than just the classic "pick-up" sports such as basketball and soccer. More and more, trendy sports and a wider age range of users coming to the fore. The surface must meet all of the overlapping requirements for these activities, while looking good and withstanding daily use and any weather.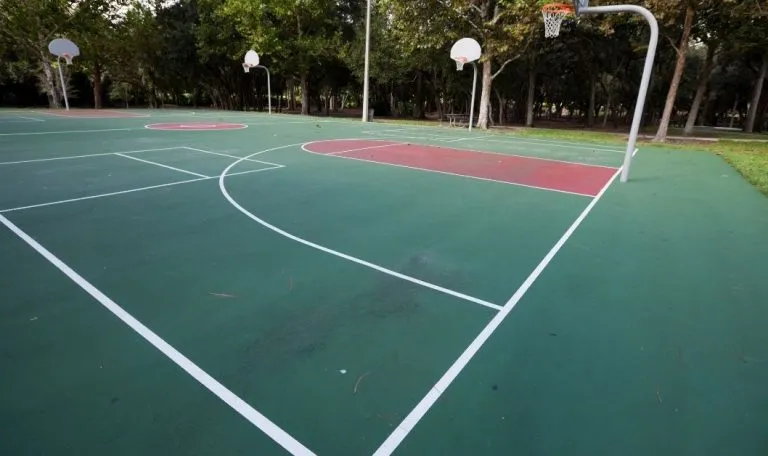 How much does it cost to build an outdoor basketball court floor?
Prices for an outdoor sports floor, such as an outdoor basketball court floor, vary depending on the thickness of the surface, substructure, product quality and regional differences. The higher the requirements for the sports floor, the more expensive the product. 
Clubs and municipalities can start with a very rough price per square foot of $3,00 to $8,50. That is only for the surface itself – the costs of the substructure, base layer and construction go on top of that. 
When building a multi-court or basketball court, additional equipment and installations can enhance the facility. An LED floodlighting system for evening use, an integrated outdoor fitness course or a calisthenics park can attract additional target audiences and make the sports facility attractive for even more users.
Outdoor basketball court flooring installation costs
This overview shows typical line items involved in building or renovating the flooring surfaces of sports courts, either as a standalone project or as part of a larger vision:
Removal and disposal of the bonded base course

Removal and disposal of the existing sports surface layer

Fine subgrade

Drainage and dewatering

Unbound base course for running tracks and segments, thickness

Bound base course (asphalt layer)

Synthetic surface, including lining 

Trough gutter for running track drainage, including gutter drains

Exterior edging of the court surface (e.g., low concrete curbs)
You can easily calculate the costs of equipping  a multi-sports court, a multi-court or get an outdoor basketball court cost estimate using the Outdoor Sports Flooring cost calculator.