How to build a running track for a high school or college?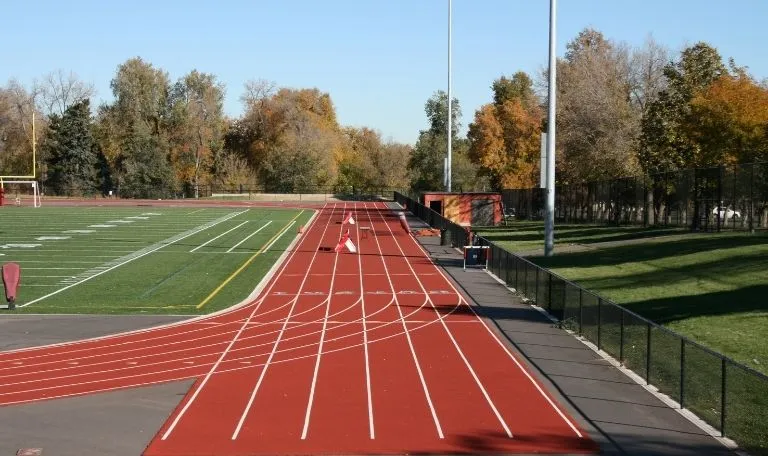 The oval office. From the ancient Greeks to coaches and athletics directors across the country, the running track is the centerpiece of athletics facilities. Even if the football field gets more fans and the soccer field gets more usage, the track has a 2,500 year head start on being the place to go for sport, athleticism and fitness. 
We're here to help schools and clubs get started on building new running tracks. Let's take a few laps around the construction process, handing the baton off between design, construction and finance.
Construction process for a new running track
Before any dirt is moved, you'll need a survey of the proposed site. This will not only demarcate the boundaries of the track and site the locations for the field events, but also determine the amount of grading and leveling you'll need to do. 
A four-lane, 400m track has a 26,000 square foot footprint. An eight-lane track takes up 49,500 square feet. 
This is a much larger footprint than other sports fields. Indeed, many times the track surrounds a football or soccer field. This increases the possibility of the track & field facilities butting up against existing buildings or infrastructure. In many cases, this results in some of the field event facilities like throws circles or pole vault pits being far away from the track itself. If you end up putting a runway or throw circle away from the track, you'll need to account for that in the survey and design.
Once the survey is complete and the ground is level, the construction team will start building the sublayers. The sublayers of a running track are very similar to what you'll find in any outdoor sports field, as are the major steps in preparation and construction. Your soil characteristics will influence the subbase and base you need, and these, in turn, will shape the drainage considerations. The main consideration in drainage, though, is whether you choose a porous or non-porous track surface (more on that below).
Plan for 10-12 weeks from breaking ground to running the first lap. 
Running track surface material options
While you may find websites that talk about cinder or gravel tracks as if they are still a viable option, we're hard-pressed to think of any tracks built in recent memory with these surfaces. Most runners only know of them from hearing "back in the day" stories from their coaches! The option is still on the books, but asphalt tracks are the standard "entry level" running track for elementary schools, middle schools and recreation centers.
Asphalt tracks
Asphalt tracks are the lowest cost and require the least amount of day-to-day care. Areas that have hot summers or cold winters should be aware that high temperatures can cause asphalt tracks to get a bit sticky, while frigid temperatures make them very hard and can lead to cracking. Asphalt tracks are also the least preferred option among competitive runners because they are quite hard, even under normal weather conditions; and because athletes cannot wear track spikes on them.
Rubber tracks
Rubber tracks are increasingly affordable to a wide range of facilities, as new forms of rubber expand the range of price points.
Rubber tracks can be either porous or non-porous, and this comes down to the material used in the rubber. Latex tracks are porous. Water simply drains through the track into the drainage system below. They are made of granular rubber, with the color sprayed on after the track is installed.
Sandwich tracks
Sandwich tracks have the same lower layer as porous tracks, but then have a "full-pour," non-porous polyurethane layer on top. This means sandwich tracks are non-porous. They combine many of the surface qualities of the polyurethane track but at a lower cost than a full poly track, given the porous base layer.
Because water does not simply pass through the track into the drainage system, non-porous tracks require more sophisticated drainage systems and design, contributing to the higher cost.
Polyurethane tracks
Full-pour polyurethane tracks are the highest quality. These are the tracks you'll find at top high schools, Division I colleges and professional or national-level facilities. They have the perfect combination of firmness and bounce to maximize athlete performance. Polyurethane tracks are remarkably durable to both regular, high-force usage (fast, powerful athletes in spikes) and weather.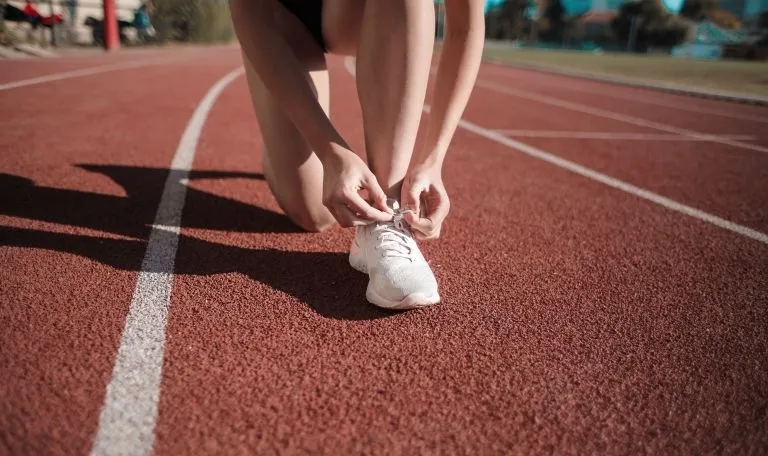 While some sports allow for variation in the dimensions of their playing surface, competitive tracks have a hard-and-fast rule: lane 1 is 400 meters. 
The main question for athletic directors or facility managers is how many lanes to have. Tracks that intend to host international or national level meets need to have at least 8 lanes, and some will have 9 or 10. As you work down the competitive levels, tracks can have 6-8 lanes for colleges and high schools; and as few as 4 for schools and recreational facilities.
Not all 400m ovals have the same dimensions, though. Some will have longer straightaways and narrower turns, others will approach a circle. A more rounded track will need a longer lane extension to facilitate the 100m sprint and 110m hurdles. 
World Athletics, the governing body for track & field, lays out the standards for what has to fit inside Type A, B, C and D running tracks. Part of their consideration is whether the field event facilities have to be within or adjacent to the oval. Part of your consideration is whether the track will need to fit a football or soccer field within it.
The specifications of your track and the level of competitions you plan on holding will also determine the details you will need. Relays and hurdles require a complex series of lane markings; and the steeplechase is defined by the water trap between the third and fourth turns. Competition-grade tracks also need to have a rail or curb along the inside of the curves to ensure athletes do not step off the track and into the infield during a race. 
Finally, there's the aesthetic aspect. Most tracks are red, but blue tracks are not uncommon across the sport. However, every once in a while you'll see a track in school colors, whether that's green, blue, black or gold. Aside from visuals, you'll want to determine how the color of the track will affect the amount of heat it absorbs and releases, and how that will affect the track's longevity and the athlete experience. 
| Type | Dimensions (length x width) | Track length | No. of lanes | Certification |
| --- | --- | --- | --- | --- |
| Type A: International & national competitions | | | | |
| Type B: Regional and inter-regional competitions | | | | |
| | | | | |
| | | | | |
Important considerations for high school running tracks
High school athletics directors will most likely go for Type C or D running tracks. However, if you are in a large state and hope to host regional or state championship meets, you may need to consider going up to a Type B. Hosting those meets will require you to have facilities or markings for events you might not otherwise accommodate, such as the full range of throws or the steeplechase.
Your ambitions for the track will also shape your surface selection. Even if hosting the state meet is not on your to-do list, a higher quality surface may allow you to attract clubs and events to rent your track to increase your program's revenue. Of course, the better surfaces will cost more money, so you need to assess the impact of the surface on gains in revenue or reputation.
From a 4-lane track with all the least expensive options to a 9-lane World Athletics Type A track, the price range is $50,000 – $1 million. That's likely the widest price range of any sports venue we have cost calculators for! 
You can also check out our dedicated guide to running track construction costs for high schools, colleges or sports clubs, if you want to dig a little deeper! 
Running track construction companies
It's definitely worth your time to pull together your specs, your "must haves" and "nice to haves," and your working budget, plug the info into our cost calculator and get a more focused idea of what a new track will cost. 
As part of the estimate, you'll also have the option to be placed in contact with companies that specialize in running track construction so you can see how each details affects the price of the overall project.